AI music generators employ a variety of source materials, which the platform analyses to generate varied lyrics, pace, and music using the sounds of various musical instruments.
Original, copyright-free music is generated by AI music composers, which you may use in your newest YouTube video or social media video ad. You don't even need to be a sound designer or a musician to utilize AI Music Composers to make soundtracks for your videos because you can upload previously recorded music and build variants on it.
Deep learning networks, a form of AI that analyses massive quantities of data, are used in the AI music generator. People must provide software with a massive amount of source material encompassing numerous types of music. The programme then examines the data for patterns like chords, pace, duration, and note relationships. It can compose its own tunes by learning from all of the input.
The music created by an AI music composer is convincing on a micro-scale. They may fail you when it comes to appreciation. You can utilize the AI music generators below to come up with your own conclusion.
Best AI Music Generator Online Free tools
MuseNet
Musenet is the creation of the OpenAI company. OpenAI is known for their state-of-art results for text generation (GPT3) and image generation (DALLE2) using Artificial Intellingence. The same company has come up with musenet which is an AI Music Generator.
OpenAI's MuseNet claims to be able to make songs with up to 10 different instruments and create music in up to 15 distinct styles. It may also impersonate classical musicians such as Mozart and modern singers such as Lady Gaga. 
MuseNet analyses music over lengthy periods using a deep neural network trained on a data set of MIDI files acquired from internet sources.
Musenet is completely free to use and no sign up is required to generate AI Music.
Generate AI Music with Musenet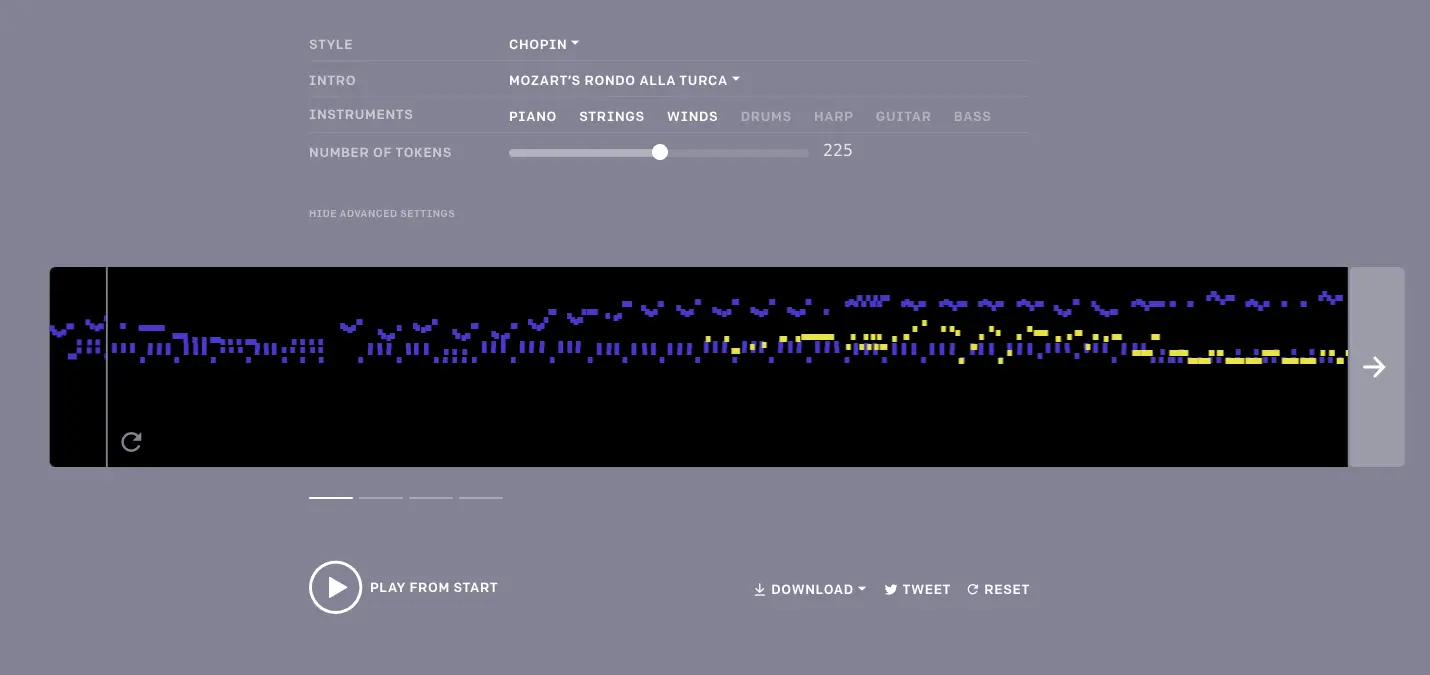 It is pretty easy to generate AI Music with Musenet. Just head over to the Musenet and start interacting with the model, no login and sign up is required.
Select your preferred composer or style and start generating by tapping on the left arrow.
Also, to interact with the model select the advanced setting option and there you can add whatever instruments that you want and also select the number of tokens.
You can easily download the songs in mp3, wave, MIDI and OGG format.
Musenet is one of the best AI music generators where you get to interact and generate music with the model itself. However, there are other AI music generators which gives you more feature to add  
If you want to generate lyrics for your music then you can check our list of 15+ Ai Lyrics Generator for Free.
AIVA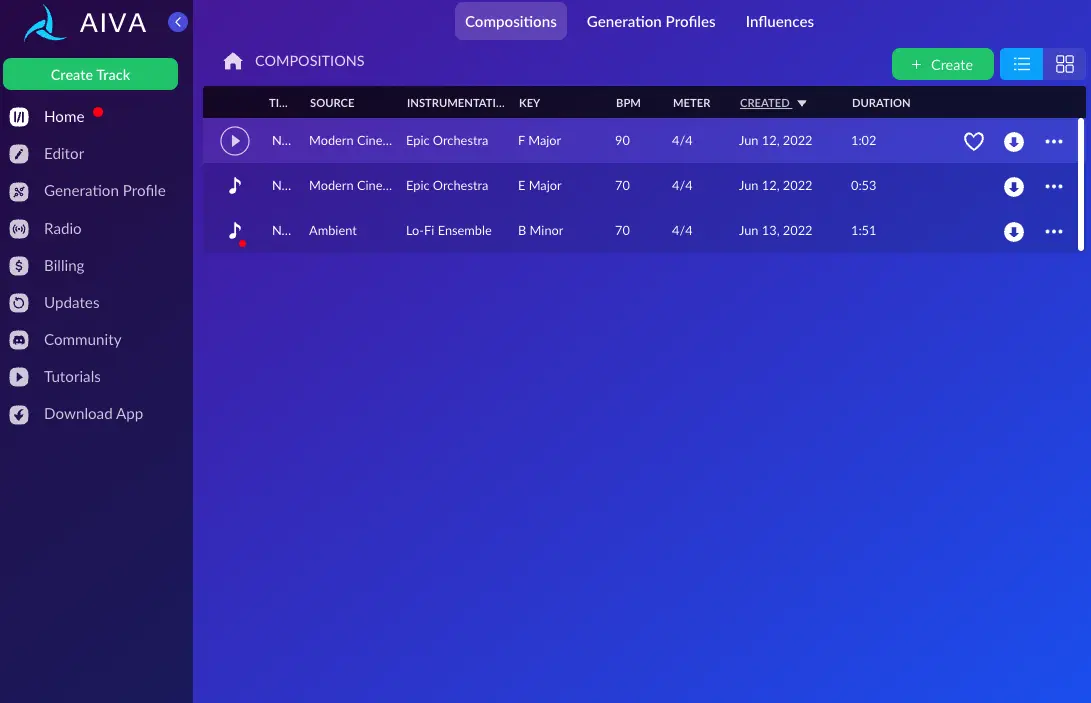 AIVA is an AI-assisted internet tool for creating soundtracks and themes. Users have access to a good range of options, and the generated results are quite good. 
Their predefined algorithms allow you to compose music in various styles, including cinematic, pop, and rock. 
A free version of the application allows you to make infinite tracks and have some fun with it, but it is limited to only three downloads per month.
AIVA looks to be a specialist in creating emotional soundtracks for advertisements, video games, and films. It allows you to create music without a license.
By selecting a preset style and pressing Create, you can rapidly have this AI music composer make music for you. Additionally, folks who require a more specialist music composer may find this useful. It may be used to make changes to existing songs.
AIVA does not support uploading of the Music file and adding effects to create a new version. You have to create music from scratch from its dashboard.
The free version will suffice if you don't need a more specialized and sophisticated AI music composer.
AI Music Composed by AIVA
How to generate AI Music with AIVA
Create a new account on

AIVA

.

Go to create Track and select the style you require.

Select the emotion, duration and Composition.

Click on "Create Track".

As soon as the track is completed it will apper on your dashboard.

You can hear and download the AI generated music. (Remember: You only have three downloads each month)
Amper Music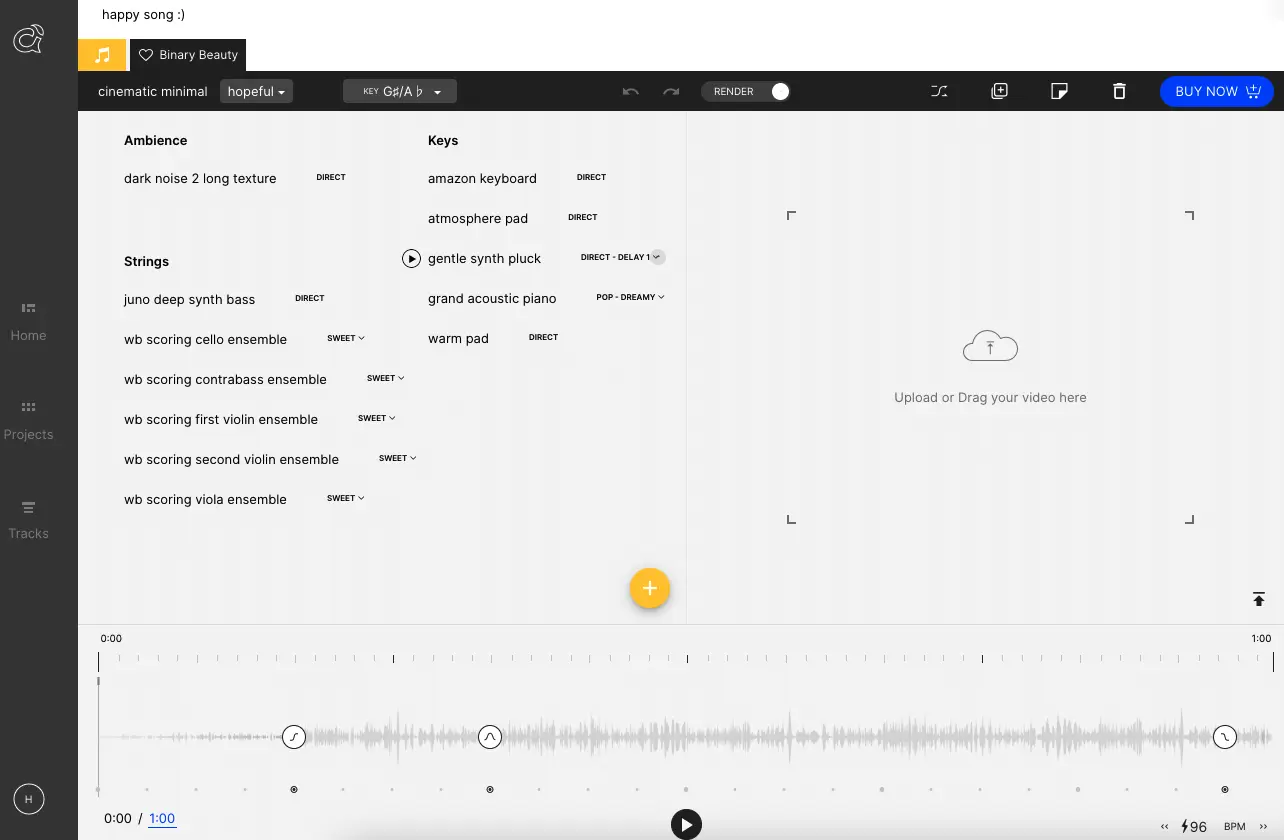 Amper Music is a cloud-based platform that provides AI-generated algorithms that enable users to make music in a range of music genres, making it easier to compose soundtracks for movies and video games. 
One must first establish an account on this platform in order to utilize the free edition of Amper Music, which has a restricted number of functions. By upgrading to the pro edition of Amper Music, you will be able to fully utilize the capabilities of this fast-evolving AI Music Composer.
Amper AI creates tracks from preset samples and outputs audio rather than MIDI. To vary the song's mood, adjust the pace, key, mute individual parts, or switch out complete instrument kits from there. You can export this audio as a whole or as individual instrument layers ("stems").
To use Amber AI to generate music go to its website and create an account. I have for myself created and tested one so there is absolutely no problem. Play with the  styles and other compositions to generate the music. You will be required to pay for the generated music to download and claim its licenece.
Amber Music is the best AI Music Generator in the industry which makes it worth mentioning even though it is a paid one. 
Amper Pricing (Per License)
Personal ($5)
Enterprise Basic ($25)
Branded ($99)
Online Ad ($499)
Humtap
Humtap is ideal for musicians who have trouble remembering their ideas since they can simply hum a tune, and the program will construct a whole song utilizing various instruments.
Humptap is a great free AI Music Generator but is only available for iOS devices only.
This AI-powered technology allows users to make studio-quality music on their phones using a natural human voice. Simply hum a tune, and the software will create a whole song for you using various instruments. One can add vocals to the music that is created and alter your vocals with five different effects.
With a simple tap, you may change the tempo of a song or add beats.
Furthermore, rhythms may be added with a single tap, and you can add vocals once the music has been made. Humptap also includes video editing features, so you can make videos for all of the songs you write with it.
You may add music to your memories by uploading films or photographs from your camera roll. You can store all of the songs and videos created with the Humtap AI music composer on your phone, but you can't post them on social media straight from the app.
Boomy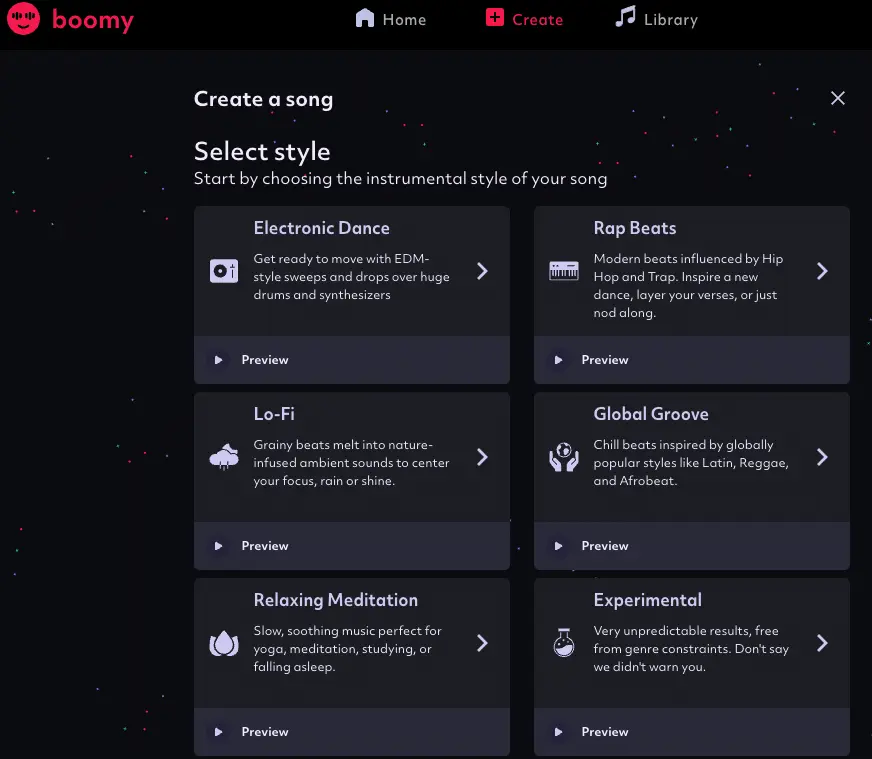 Boomy AI systems are always the hit-makers. It helps beginners and reduces the obstacles to their career path in music creation. It enhances their success in the music industry. It offers a good opportunity for getting revenue. Users can compose their tunes within seconds and upload them to websites. As Boomy has connections with more than 40 famous websites worldwide, users can receive their streaming revenue. It offers free music to every user like SoundDraw. Users can only create music online and they can't download it on their devices.
Pros
Allows users to earn revenue by uploading their music on social media platforms like youtube, Facebook, etc.

Free for everyone.

Possess a unique combination of qualities and capabilities.
Cons
The best features are available only in the pro version.
Ecrett Music
Ecrett is an online music composer who is very simple to use and creates wonderful music tracks. If users want to create music for video, they don't want to risk much; they can make it simple by just uploading the video to their site. Then they can choose the scene type and mood of the video. Scene type may be party, travel, fashion, etc and the moods may be from joyful to melancholy. After Uploading and choosing all the required fields simply click create music. Now the soundtrack for the video will be produced. Subscriptions are always required for regular use. Ecrett Music is an excellent platform for video background music without any copyright issues. The soundtracks are carefully made and selected based on the requirement of renowned musicians and composers. It has a huge music library that enables users to select the ideal soundtrack depending on the tone and vibe they want for their videos. It  provides a straightforward and comprehensive user interface.
Pros
Free version available.

Free from Copyright issues.

Simple to use for everyone without prior knowledge.

Excellent user interface.

Has numerous soundtracks.
Cons
Limited usage of the application.

Editing music tracks is not possible.
ORB Composer
Users can't create music on their own in this ORB Composer, as this AI generates music based on their preferences. Basic knowledge is required to make an interface with  ORB Composer.
Probably all of the chord progressions used in popular music are included in this extensive chord collection progressions along with the AI music creator. This tool is exclusively for musicians who are ambitious about exploring their intelligence in creating music using AI music generators and also for beginners who want to learn about new musical genres. Users can make use of available six music templates and compose different musical blocks.
It involves sound research and experimentation. It also helps in inventing new musical genres. 
It provides the most robust user interface.
Pros
Enables flawless connectivity with DAW platforms.

Ensures a continuous chord progression.

Improves the tone of the music and enhances the lyrical melody creation.

Free to use.
Cons
Soundraw.io
Soundraw.io is one of the best  AI music composers which allows users to customize a song using AI-generated phrases. Customization is one of the main advantages of Soundraw.io. This makes it give limitless musical enhancement. This allows users to download their work but it is limited. For unlimited downloads, one should upgrade to the premium version.
It gives a unique and simple user interface which makes it easy to use. Soundraw.io
Provides good quality output by allowing customization. Mixing AI capabilities with human tools makes it more creative. Users use this platform for Premiere Pro and Google Chrome plug-ins. 
Soundraw.io offers unlimited song creation and saves them all for further references in the future. This also allows music customization for radio and TV ads, business videos, and motion pictures. It enables 50 tracks to be downloaded each day.
Pros
Incredibly simple to use.

Combines AI generation with manual tools.

Offers Google Chrome and Premiere Pro Plugin with bookmark facilities.
Cons 
Only a few tools are available in the free version and need to upgrade to the pro version for other benefits.

Offers only 7 days free trial.
Chrome Song Maker
Chrome Song Maker is not a kind of  AI music generator, but it allows everyone even the beginners to create their music based on their choices. It helps its users to create music even if they don't know what is pitch, rhythm, or notes. This gives a unique interface by placing beats on the X-axis and tones on the Y-axis. Users should enter all the details in the square box provided in the grid pattern provided to create wonderful music.
The Five tonal instruments such as synth, piano, marimba, strings, and woodwind are available. Along with it has four percussion choices such as blocks, congas, a kit, and electronics. It has an innovative user interface that is simple to use and offers several percussion and tone instruments to create perfect music. Chrome Song Maker offers a wide variety of tools even in the free version. Users can create a loop of up to 16 bars and enhance it in the way they want. 
Pros
Probably it gives rapid, simple, and attractive music creation.

Easy  User interface.

Provides a choice of various instrument soundtracks.
Cons
Can't be able to create music automatically.

Not an AI  music generator.
Evoke Music
Evoke Music is another choice for applying artificial intelligence to compose music for films, games, podcasts, etc. Based on the user's membership plan they can use a variety of functions, starting from context awareness to hourly added unique music. This is currently available in the beta version. It offers solid monetization architecture, that is the users get paid for creating creative music on their site as they consider it as one of the contributions given by the user for their website. It is well known for its big bespoke music generator tool as it creates more unique music than any other tool. Users can generate creative music just by entering the keywords. It has a separate specialization for users who search for music for any movie, TikTok upload, or marketing campaign. It provides a massive royalty-free music library at users' doorstep.
Pros
User-Friendly Interface.

Irresistible features for artists.

Provides Monetization for every work created by the user.
Cons
Only a few features are available in the free version.

Accessibility of tools varies on pricing.

High Price.
Solaris Virtual Vocalist
Solaris Virtual Vocalist is powered by Synthesizer V from Dreamtonics, which is similar to other vocal synthesizers.
In this tool, users can create a vocal draft and save it for future use. This gives entire freedom and accessibility to its users. The ability of this platform allows users to buy each vocal in various languages,  vocal ranges, and tones which makes it most distinctive and user-friendly.
 Along with this Solaris allows its users to access any song lyrics and melodies as they can imagine for any singer. It produces an output within a fraction of seconds from the maximum input given by the users. But the control of AI is still with the user.
Pros
Allows recording vocals for future use.

first Synthesizer to provide Virtual Vocalist in native English library.

Enables the purchase of voices in a variety of languages.

It is free.
Cons
Doesn't allow users to make music in the app
Amadeus Code
Amadeus Code is an iOS-based tool that allows both experienced musicians and music enthusiasts to quickly create new melodies. The Amadeus Code's AI engine contains chord progressions from some of the most renowned songs ever written and allows you to utilize them to construct new and inventive musical structures. 
You may also utilize gestures for composing new songs or reproducing certain pieces of songs you've already produced. Despite the fact that Amadeus Code allows users to export audio and MIDI files to audio editing software, you must still buy all of the songs you wish to save.
FAQ for AI Music Generator
How do I make an AI song?
There are many AI music generators available online. You can choose any one of them to generate your AI song.
Can AI create original songs?
Yes, AI can create original songs. There are many AI music generators available online that can generate original songs.
Is AI music better than original music?
It is difficult to say whether AI music is better than original music. It depends on personal preference. Some people may prefer AI music because it is more creative, while others may prefer original music because it is more authentic.
Is Aiva copyright free?
Yes, Aiva is copyright free. You can use AI-generated music in any way you want without having to worry about copyright infringement.
How do I make royalty music for free?
There are many AI music generators available online that can generate royalty-free music for you. You can choose any one of them to generate your royalty-free music.
Conclusion
Since a growing number of AI music generators have emerged, some of you may be wondering whether AI music is good enough to replace original performers. Most likely not. Will it also result in job losses? We all have different responses. It has the potential to make you lose your job, but it also has the potential to inspire you. It may be both a danger and a chance.
One of its advantages is that it allows persons with little or no musical experience to produce and obtain creative music using AI music creators. In this regard, it is most likely a satisfactory product.
Aayush Kumar Gupta is the founder and creator of ExploringBits, a website dedicated to providing useful content for people passionate about Engineering and Technology. Aayush has completed his Bachelor of Technology (Computer Science & Engineering) from 2018-2022. From July 2022, Aayush has been working as a full-time Devops Engineer.