Hearing your custom-created text in celebrity voices sounds too good to be true, but with help of deep learning AI models, this wonder has become reality. Now there are online websites such as fakeyou and uberduck which can synthesize the celebrity voice from your custom text within a matter of a few minutes.
After coming to know such a thing was even possible, I was excited to try them out. I am amazed by the voices that I heard from these sites, and it was soo real that even my friend wasn't able to differentiate till I told him.
Also, I have attached the experimental voices that I had generated and also mentioned the exact steps that I took that will help you out.
Celebrity Text to Speech Free Voice Generator Online Websites
Most of us like to find an online solution that we can use anywhere and anytime, that is why I have collected a list of the two most famous celebrity text to speech generators websites and how to use these websites to generate your custom celebrity voice.
FakeYou.com
FakeYou.com offers one of the best famous celebrity voices text to speech as I have heard till now. It was just amazing to hear a few sentences generated in the voice of Albert Einstein, it felt so real that I was just taken away. I will suggest you try fakeyou.com as my first preference.
One of the best things that I liked about fakeyou.com is that it is an online free website that anyone can use and it's not hidden behind any paywall. Also, one of the amazing things is that you can join in to support them by uploading your voice models, which makes this site open-source and backed by its community. I am personally a huge supporter of open-source sites, therefore this website becomes my first preference.
This site gives me goosebumps as it is so realistic.
Listen to this sample that I have generated.
I had created a text to speech in Vegeta (Dragon ball character) voice "You say I'm arrogant, I say damn right. That's pride. Pride in the Saiyan I am."
Listen to the generated sample.
Felt so real.
I have attached the screenshot for the voice and text that I had entered onto the site. To repeat you can do the same.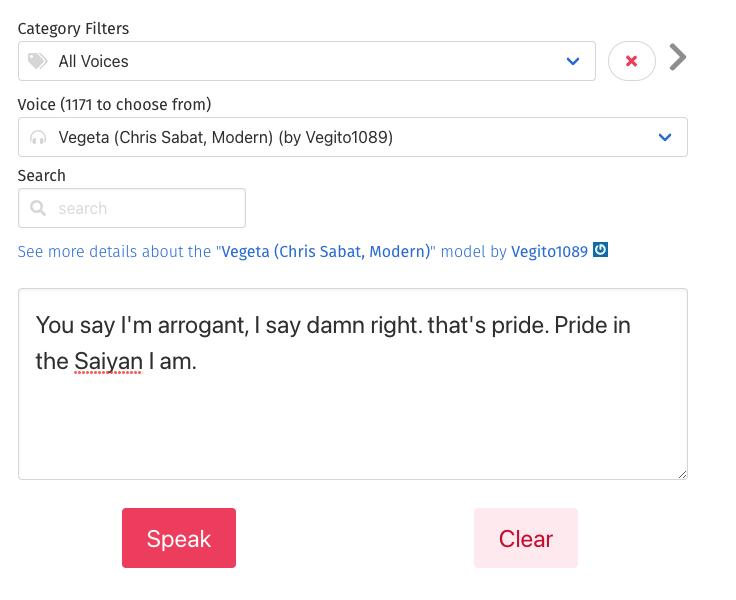 There are many categories on this website, if you are looking for celebrities you can search them in the real people people category. Also, you can just type the name of the celebrity that you are searching for, if available, it will provide you with the same name model.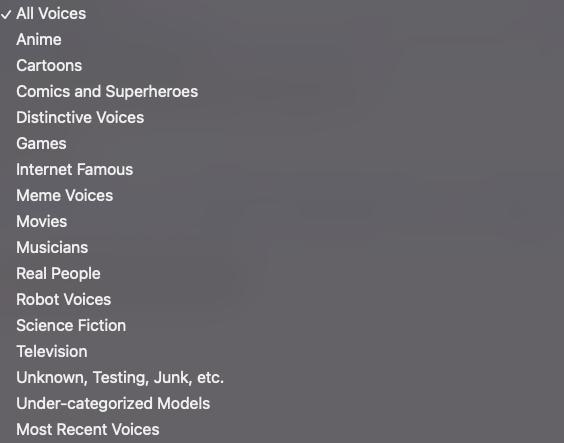 Sometimes, it can fail but it might be due to the reason that the sentence that you wrote is complicated, or the processing is not able to handle it.
After generating the text of your choice you can download the file in .wav format, or it will provide you with a URL that you can access to listen to the text to speech that you have generated.
I am just in awe of this site, hands down to its creator.
How to generate celebrity text to speech with fakeyou.com
One of the best things that I found great is that there is no hassle to sign up and you can directly go and generate your text to speech.
There are so many categories on this website, if you only want to generate celebrity text to speech then I will suggest you look in the real people voice category, as most of the celebrities are in this category.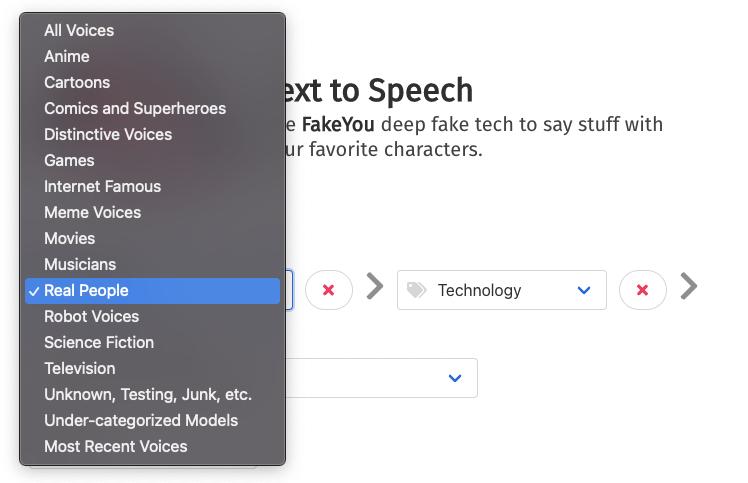 Also, you can use the tag for sorting like the author, actor, comedian, etc.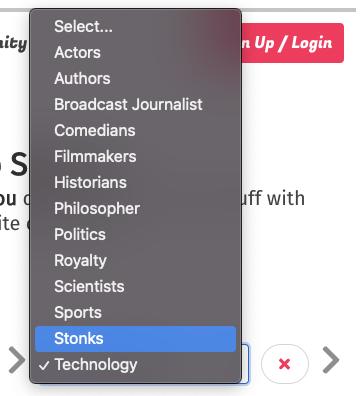 Also, you can directly write the name of the celebrity in the search box, if available they will drop down for the same.
For example, I will be using Bill Gates' quote "We all need people who will give us feedback." to generate the text to speech
Listen to the sample below.
Sounded more real than actual >.<
Now go and generate your text to speech for the celebrity that you want.
---
UberDuck.ai
Uberduck.ai is another free text to speech online website. It has an easy-to-use interface and can synthesize your custom text. 
You can find many character voices on uberduck.ai, For testing purposes, I found Sheldon Cooper's voice from Big Bang Theory. As compared to our first preference i.e. Fakeyou.com, I found the voices to have a little less tone and pitch variation but they were able to produce voices similar to these characters and that is again a mindblowing fact of how they do so. I think I would have to create one such site for myself and make it free for you guys also, if you like my idea comment down 🙂
Also, if you are a developer this website can offer you free text to speech API so you can use it for your project.
One thing with uberduck.ai is that to generate the voices you would have to sign up with your email, discord, or google account. I guarantee you that it is worth it, you should sign up and use it for once if you are wanting to generate text to speech similar to your favorite character voices.
How to generate celebrity text to speech with uberduck.ai
First of all, make sure that you have signed up for this site, as it will not synthesize the text from its homepage until you have signed up.
Now, when you have signed up then you will be able to enter your custom text in the "Enter text to synthesize" box.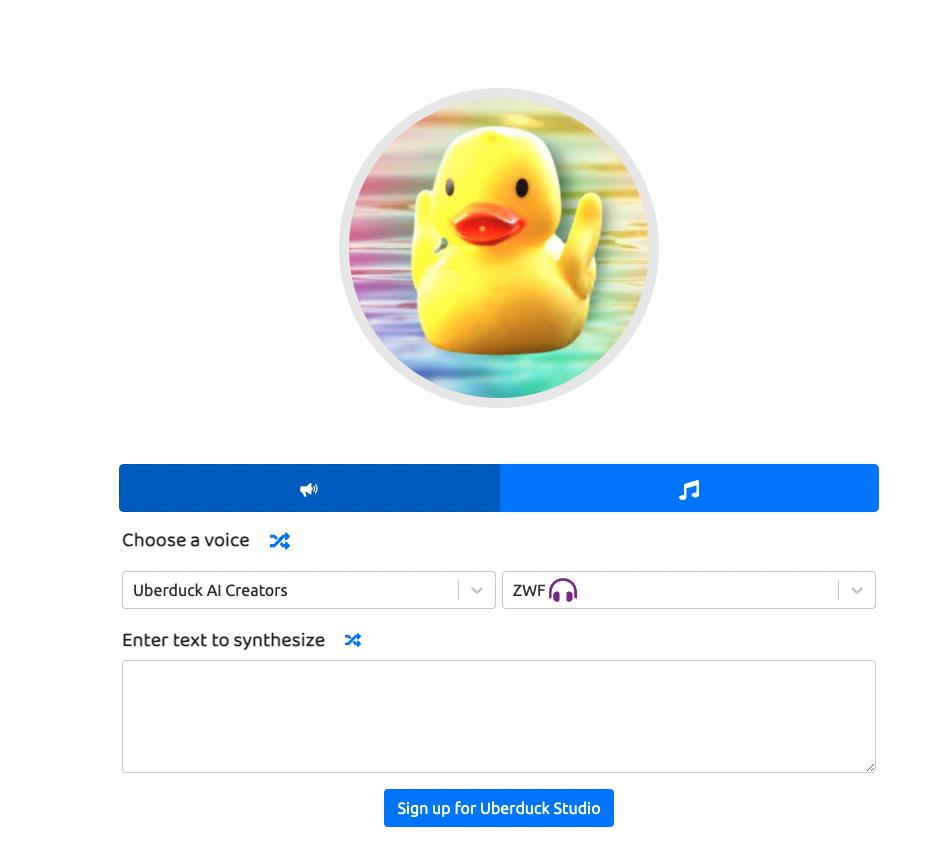 The website's text-to-speech categories are based on movies, anime, games, and many more titles. When you select the title then it will show you the personalities to select from.
For example, I had selected the Actors category and then the famous actor's name was shown. 
Also, if you don't want to select from the given category then you can directly enter the name of the exact person you want in the box, make sure to enter it into the right box, I have attached the screenshot for the same.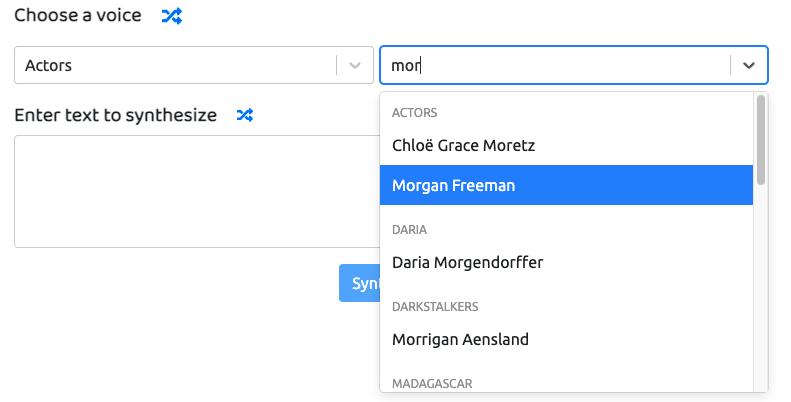 For testing this site, I used Morgan Freeman's quote "If you want to see a miracle, be the miracle" and generated his voice.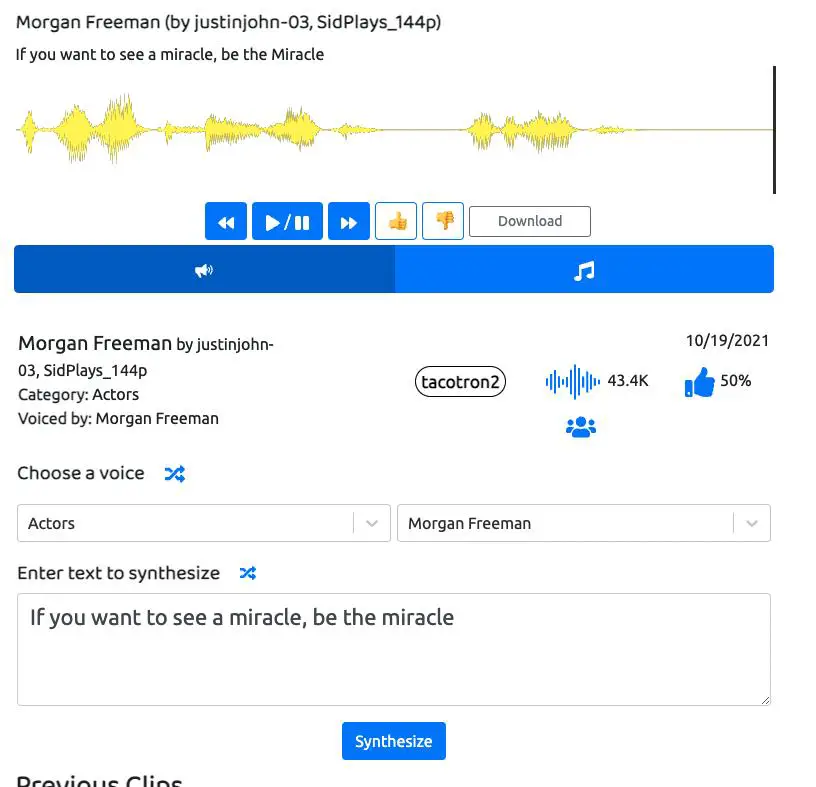 Listen to the sample of this text, close to real.
Now, go generate your celebrity text to speech using this site. Also, this website has its discord bot which you can use on your servers, you can go ahead and check it out.
---
Other Celebrity text to Speech Voice Generator Softwares
Our first preference will be fakeyou.com and the second one will be uberduck.ai, but if you want to go towards some paid and some better speech to text then you will always have the option of the below software.
Murf
Murf is one of the powerful features to create voice overs for eLearning, videos & presentations. It is a text-based voiceover maker. Here your script is uploaded for the voice recording, and the tool converts it into authentic voices. It can check with multiple parameters used for representing the brand, product, business, presentation, etc.
Feature of Murf:
  Murf generates voiceovers from the text and converts your voice into editable text that can be edited like a word document or converted into AI voice.

  Murf Studio can sync the time of your voiceover with the visuals.

  Here you get more than 100 realistic voices across 19 famous languages.

  It also provides the features of adding pauses, changing the speed of narration, emphasis, etc.

  It contains several skills like checking the script with a grammar assistant and can add free background music.
iSpring Suite
iSpring Suite is robust for creating online courses with a built-in text-to-speech tool. With iSpring,there is no need for a narrator to record a voiceover for a class or a video tutorial. iSpring Suite converts text into natural-sounding speech with a few clicks. 
Features of iSpring Suite:
  It offers 300+ natural sound voices.

  It assists 52 languages, including English, French, German, Italian, Spanish, and Portuguese.

  It works with a PowerPoint interface.
Speechelo
Speechelo is one of the best cloud-based solutions to create a voiceover that engages people. It is helpful for sales, training, education, etc., offers various facilities like pauses and voice tones, changing speed & pitch, etc.
Features of Speechelo:
  It has over 30 human-sounding voices.

  Here you get both male and female voices.

  It has three tones to read the text, standard style, positive manner, and serious tone.
Natural Reader
The natural reader is made for personal use and learning purposes. It will be useful for learning foreign languages. It is simple to use, and you can get started by loading documents directly into its library.
Features of Natural Reader
  Built-in OCR

  Choice of interfaces

  Built-in browser

  Dyslexic-friendly font
Capti Voice
Capti voice app is especially made for education and productivity purposes. It is designed to help adults and children listen to documents, web pages, and e-books. It is the perfect app for those who want to learn English and other languages and study lengthy reading assignments on the go.
Features of Capti Voice
  Speech tracking word by word

  Cross-device sync

  Screen-reader accessibility

  Advanced text navigation

  Offline use
Voice dream
The Voice Dream Reader is one of the best text-to-speech apps for mobile users. It offers you premium Acapela Heather voice users. This app is perfectly designed for Apple users. It gives users over 30 languages and 200 representatives.
Features of Voicedream
  Reading Modes

  Audio Controls

  Visual Controls

  Library Management

  OCR
Azure Text To Speech
Azure Text to Speech provides you a chance to include intelligent text-to-speech features in the application. The tool offers excellent audio controls to help you create realistic voice overs of the text.
Features of Azure Text To Speech
  Lifelike speech

  Customizable voices

  Fine-grained audio controls

  Flexible deployment
---
Frequently Asked Question 
How do you make a celebrity speak?
Fakeyou.com: This website is used to create funny celebrity's videos and we can narrate them to speak as we required. You can visit the website, choose the best star, and specify the voice text to speech online using the link above.
What is Text-to-Speech software?
Text to speech is a voice assistant technology to read a voice text aloud, and the sound we listen to through text to speech is computer-generated, and we can control the reading by speeding up or slowing it down.
Does every text-to-speech tool have the same voice quality?
Voice quality may vary depending on which solution you use here; you can make the sound similar to how children speak with the tools and also highlight the text they are reading.
How does text to speech work?
A majority of text to speech work similarly. Users upload the text file the type in the text they must convert to voice. After that, they will select from the available agent and see which sound is perfect for the voiceover.
How to Get More Text-to-Speech Voices?
This software can review prepared notes for a company meeting or lecture by having them read aloud to you directly on your PC. In addition, it allows the program to provide electronic text to employees or clients who are visually impaired.
What is the Cost of text to speech software?
The voice text to speech software price ranges $29,95 for the primary option utilizing the Windows voice. Then depending on how many text voices we choose it ranges up to $159  for purchase. 
What is the most advanced text to speech technology?
CereProc has developed the most advanced text-to-speech technology. Here the voice is not the only natural sound. Users can make use of this technology to get celebrity's speech as output as required. The CereProc team has vast experience across the entire speech technology domain.
How to Message to a celebrity?
Writing a unique message to the celebrity should be short and sweet to read. Emailing is one of the best ways to contact a star. They will receive many messages directly on their social media platforms, especially from fans.
Conclusion
The above list of software is helpful for the best celebrity voice text to speech online. Each tool is unique for a particular group of users. Affordable tools like Natural Reader are great to use.
Aayush Kumar Gupta is the founder and creator of ExploringBits, a website dedicated to providing useful content for people passionate about Engineering and Technology. Aayush has completed his Bachelor of Technology (Computer Science & Engineering) from 2018-2022. From July 2022, Aayush has been working as a full-time Devops Engineer.