If you are searching for the best female to male changing tools for iOS, Android and online, then you're in the correct place to get it. Voice changer is commonly used to hide your privacy with others. Each tool has its unique features, and various collections of voice effects.
Here we present to you top 10 voice changer tools available for various platforms. Here, we have given its advantages and disadvantages to choose best of all.
Best Female to Male Voice Changer Online
First, we will look into our voice changer options that are available free and online. These online voice changer websites can be easily accessed on any device therefore it also remains our first preference. 
LingoJam.com
LingoJam.com ranks on the top whenever you will search "female to male voice changer", therefore it tops our list too. LingoJam.com is free and you don't have to log in with any ID to use it, which makes it much easier to use. 
LingoJam.com has a simple and slick user interface, either you can record the voice from your microphone by providing it access from your browser or you can upload the recorded voice on the site.

On LingoJam.com you can do a lot with your voice. Like you can increase and decrease the pitch of your voice from the dropdown menu.
Although LingoJam.com is a great voice changer tool, it's effortless and easier to use. But changing your sound such that it sounds female is not an easy thing.
The online voice changer website such LingoJam.com, all they can do is to change the pitch of your voice.
The other approach is developing a deep learning model for changing the pitch and intensity of the voice, which will be a tough job. So for now we can manually change the pitch of our voice so that it becomes closer to female or male.
How to change female voice to male voice using LingoJam.com
LingoJam.com has created a separate page for the voice changer on their website. Go to this – female to male voice changer LingoJam.com.
Once you are on the website, you have the option to upload the voice file or go record your own.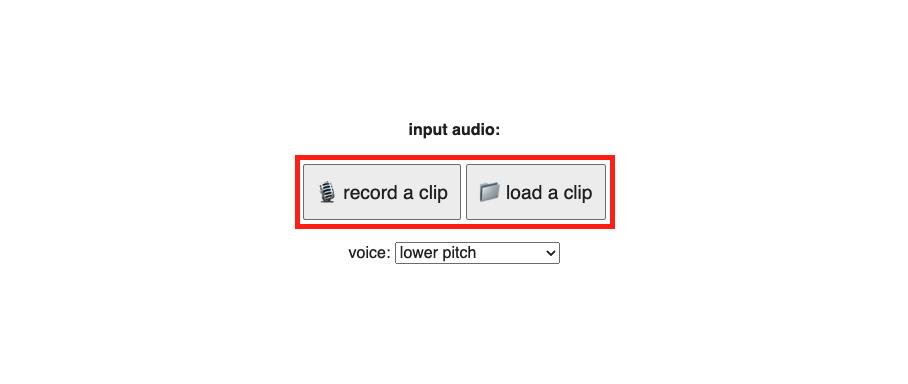 The pitch is already selected as "lower pitch" by default. If you do not like the output of the file and want your voice to be deeper then you can select other options from the dropdown menu.
I suggest you be in "lower pitch" options, as you will go towards "higher pitch" options your sound will have more frequency which is a characteristic of a feminine voice. That's why you want to stay in only the "lower pitch" area while generating male voices.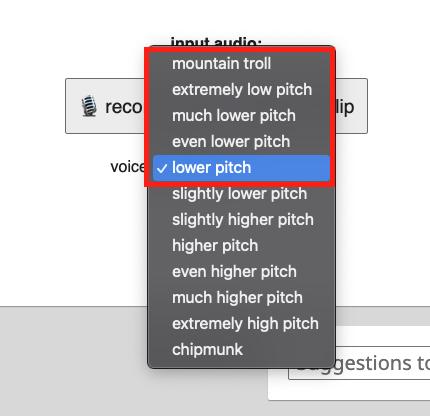 Once you are done with the settings then you can download the voice file in .wav format.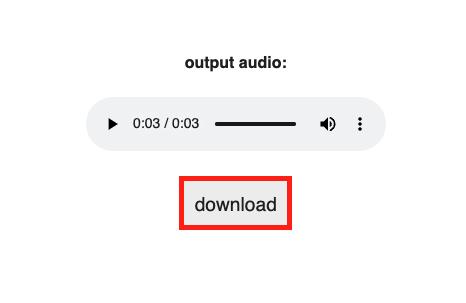 VoicheChanger.io
VoiceChanger.io is a free and online website where you can convert your voices from female to male and vice versa.
I would prefer VoiceChanger.io over LingoJam.com.com, as VoiceChanger.io has a much cleaner interface and they are solely dedicated to voice change effects.
As I had stated earlier, on these online websites such as LingoJam.com and VoiceChanger.io, all they can do is they can change the shift of your pitch by increasing or decreasing the frequency of the voices. 
If the voice has a higher frequency or higher pitch, such sounds are close to female voices whereas if the voice has a lower frequency or lower pitch then it is lower to male voices.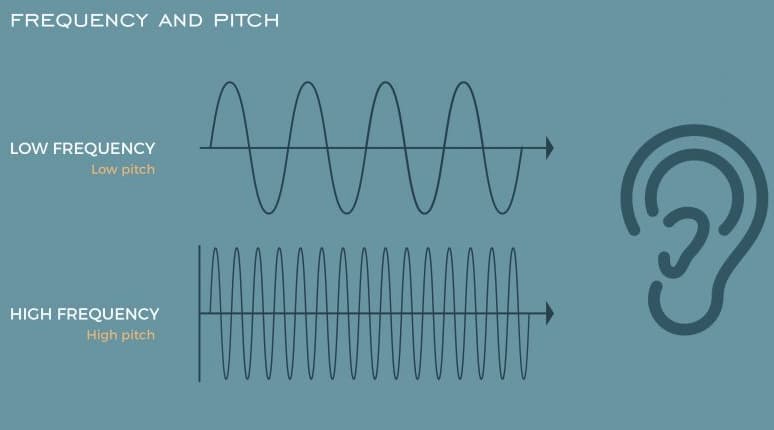 All we have to do is to change the female(higher pitch) voice to a male (lower pitch) voice.
Apart from changing female to male voices, it also offers you different voices options. It includes aliens, anonymous, robots, and more. Here, you may customize your voice to get new and desired voice output. And why are you waiting? Get into it to play on. 
How to change female voice to male voice using VoiceChanger.io
First of all, go to the VoiceChanger.io website and select a custom voice, or directly go to the VoiceChanger.io custom changer.
You have the option to either record your voice from the browser or you can load a clip of the voice on the site.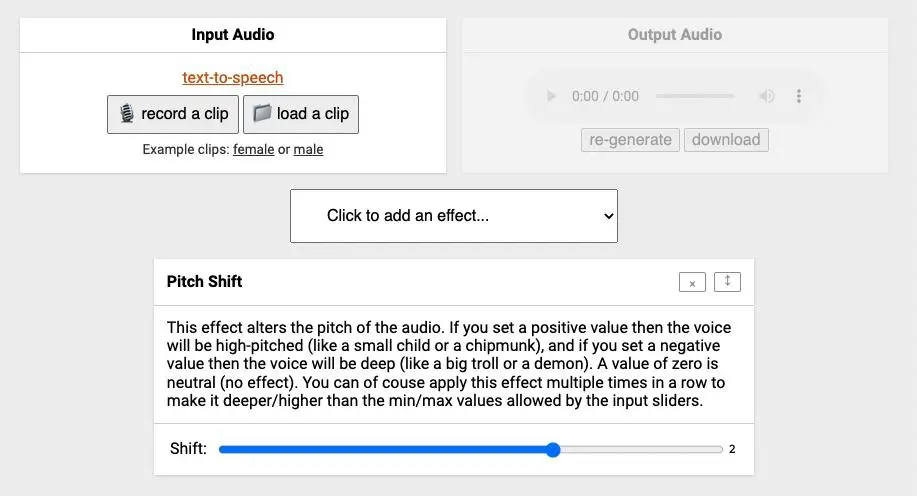 When you are done with the voice file, then you can change the pitch towards a lower pitch which will make it closer to a male voice.
Download the file and enjoy the voice changer.
Best Female to Male Voice Changer App and Softwares [ iOS and Android ]
There are other great methods for changing your voice to male voice using apps and softwares that are free. We have already compiled the list for female to male voice changer using the online website above, make sure to check them out.
Voice Changer
Voice changer is free and comes for android users. With over 10 million downloads in google play store, it is a famous app for female-to-male voice changing. It has a simple design and is easy to use for beginners. It allows you to share your voice to your friends on social media. Moreover it has 50+ voice effects with which you can entertain your friends. It also has editing options of the voice you recorded. Apart from female to male voice changing it allows you to add sea, rain, wind sounds. 
Pros:
Huge collection of sound effects and ambient sounds.

Option to upload already recorded clips from mobile. 
Cons:
It works only for android mobiles.

To access premium features requires paying money.

Disturbance of ads, once we changed voice.
Voice Spice
Voice Spice is another best app available online to change the voice from male to female and vice versa. This is compatible with both iOS and Android platforms. The only option to download this app is to get it from its official website. Apart from changing its voice, you can record, greet, and map your voices with this. 
Pro:
It is available online as well as app version.

Option to convert text to speech of different languages.

Possibility to adjust your voice volume while recording.
Cons:
No option is available to upload pre-recorded clips.

Limited voice effects only.

Available only on the official website. 
Celebrity Voice Changer
Celebrity Voice Changer is made for iOS users. The name suggests it is specially made for transforming your voice into celebrity voices. It has a collection of famous Hollywood celebrities, artists, and many more. Here you can record your voice via video mode. Moreover, you can add captions to your video using the built-in editor option. 
Pro:
With the search bar option, easy to search for required female artists. 

Clean and simple interface.
Cons:
Only for iOS users.

Only limited editing options.
RoboVox Voice Changer Pro
RoboVox Voice Changer Pro is an application to change voices for users in Android. It is easy to use with 32 different voice styles to convert as your voice. The app allows you to change the pitch of a particular voice according to their needs. Its feature has pitch and modulation settings that let you customize the sound.
Pros:
It has a great style of voice collection.

Has pitch and modulation settings.

Advanced vocoder technology
Cons:
You can't find every sound in it.

Requires some learning curve initially.
AV Voice Changer Software
AV Voice Changer Software is professional-grade software to change your voice. The software allows easy access and modifies every characteristic of your voice. It has three different versions like Basics, Gold, and Diamond, which you can choose on your requirement and budget.
Pros:
You have the option to record your morphed voice and edit by waveform.

The virtual driver technology in the software is advanced.

It's suitable for role-playing games and web chat applications.

You can create several sound effects.
Cons:
The advertisement pop-ups while using the software.

Its pricing range is higher.
VoiceFx
If you are looking for an accurate voice transition tool, try VoiceFx. With this, you can change your voice to the opposite gender, a child, an alien, a drunk, and more. With VoiceFx, you can perform online streaming without any lag issues.
It has a recording option built in it. In addition to it, we can set the converted tune as a phone or notification ringtone. The converted file will be stored in mp3 format and shared on social media. 
Pros:
A unique feature of live streaming is available. 

Option to set as ringtone. 

Real-time conversion. 
Cons:
Compatible only with phones. 
Live Voice Changer
Live Voice Changer is an application that changes your voice immediately as you speak. The app is one of the best voice-changing apps. It has a fantastic audio editor, voice and sound recording, and fun audio files. With Live Voice Changer, you can share via messages or social media platforms. 
Hence, with the equalizer, you can change the tone of your voice to tweak irregularities in audio. The best voice changer app has more than ten effects during calls. 
Pros:
Professional musicians can use the app for voice training.

It may offer an inbuilt loop playback and noise reduction feature.
Cons:
While recording audio, it may freeze.
Voxal Voice Changer
The Voxal Voice Changer is a good voice changer app for the users, bringing powerful voice-changing features. It allows you to apply effects to already recorded voices. Using Discord, you can talk without delay for sounding out in real-time while recording the voice changer app. 
The app has huge effects like a robot, girl, boy, alien, atmospheric, echo, etc. The app works with all voice chats like skype, google chat, etc., without using Discord.
Pros:
It has a huge collection of voice-changing features.

You can use all popular voice chat services such as skype.

Allows recording the voice in real-time.
Cons:
It supports platforms like Windows and macOS.
Conclusion:
Here, we presented you with the best voice changer tools, especially from female to male voice. 
We hope that each tool's pros and cons help you choose the best of all. So make use of one, and share your experience with others. By the way, these tools have unique features with special editing options.
Aayush Kumar Gupta is the founder and creator of ExploringBits, a website dedicated to providing useful content for people passionate about Engineering and Technology. Aayush has completed his Bachelor of Technology (Computer Science & Engineering) from 2018-2022. From July 2022, Aayush has been working as a full-time Devops Engineer.