Even the most seasoned cryptocurrency user can be put off by high gas prices. One of the most efficient ways to use your crypto assets is to connect them to a Layer 2 network that inherits the security guarantees of Layer 1 Ethereum, regardless of whether you're a crypto native or a newcomer. There are no transaction fees, and the overall user experience is better as a result. Dapps that aren't available on the mainnet may also be available to you.
The Layer 2 most preferred solution for Ethereum scaling is Polygon's Proof of Stake network, which is a well-organized and simple-to-use platform for Ethereum scaling and infrastructure development (previously Matic).
That's why in this article we aim at helping you bridge ETH to Polygon as inexpensively as possible.
In my attempts to bridge ETH to Polygon (MATIC), I have found methods that are trusted, expensive and inexpensive. I have listed them as my preference for using these methods in the future.
PoS Bridge

on Polygon website. I know it's expensive but one of the most trusted & used in the community, just you have to time it right for the gas fees to drop. I have mentioned the method to do so in the appropriate title check it out.

QuickSwap

DEX. The QuickSwap uses a liquidity pool and hence you don't have to pay the gas fees instead a fraction of liquidity provider fees. This makes it one of the cheapest and most inexpensive methods that I highly recommend to you.

Umbria Narni Bridge

. This uses the same concept as QuickSwap providing you a liquidity pool rather than an on-chain validation protocol, resulting in a small fraction of fees. I will prefer QuickSwap over Umbria Narni Bridge, for QuickSwap ease of use and popularity of the project.

Kucoin Exchange

. Kucoin is similar to other CryptoCurrency Exchanges where you can swap tokens. Kucoin allows you to withdraw money in MATIC which will help you to bridge Eth to Polygon.
So My recommendation is PoS Bridge > QuickSwap > Umbria Narni Bridge > Kucoin Exchange.
Now you can continue with the article for getting into details of Step by Step Methods for Bridging Eth to Polygon (Matic) with the above methods mentioned.
---
Cheapest Way to Bridge ETH to Polygon ( MATIC ) OpenSea
First of all, we will discuss the most recommended and easiest method to bridge ETH to Polygon then we will continue with the cheapest and most inexpensive method for doing the same. 
Also before proceeding with bridging the assets, we will require to have a Polygon mainnet network saved into our wallet.
By default the wallets (such as Metamask) are on Ethereum mainnet, to perform transactions on a Polygon network we require a Polygon mainnet in our wallet.
It's simple steps you can follow in this article or video for making the Polygon mainnet.
All you have to do is open your wallet and click on "Add a network".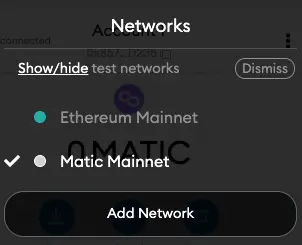 And then fill up with the details of the MATIC mainnet that you can get here: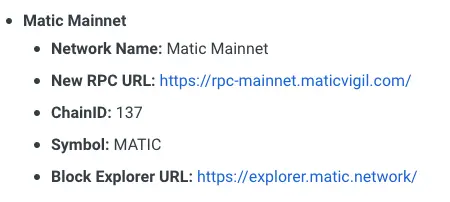 Fill the above details in "Add a Network".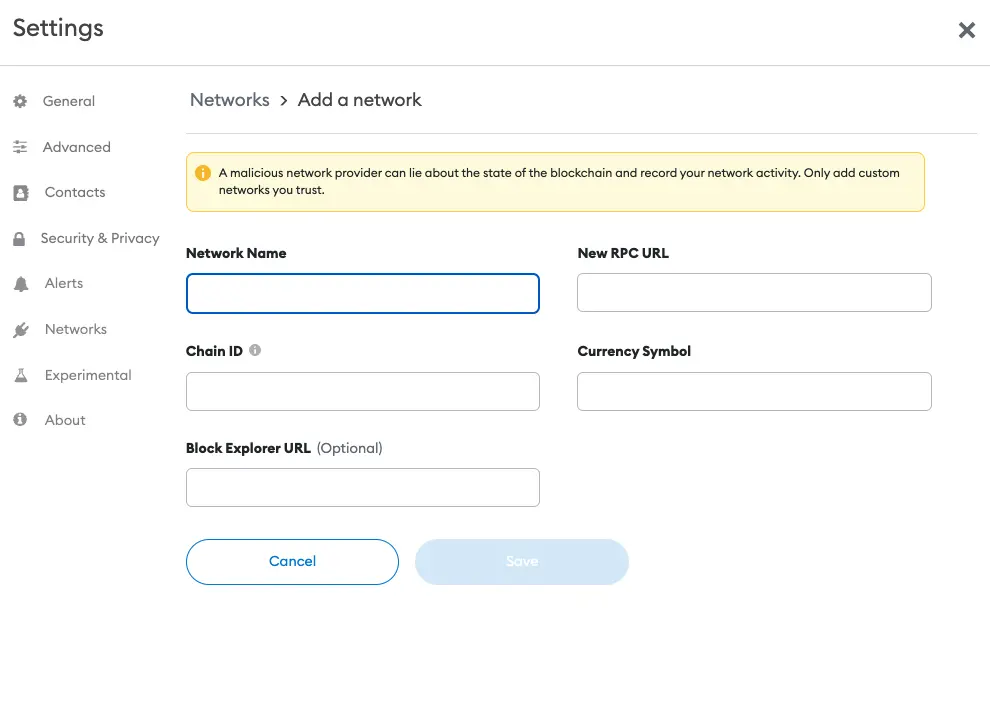 ---
Easiest Method to Bridge ETH to Polygon ( Most Recommended )
If you want to convert Ethereum to Polygon in the easiest way possible then this method is best for you, it's more secure and is offered by the official Polygon site. But the downside to this method is that it is the most expensive one, as you are required to pay the gas fees.
As this is the most recommended and secure method therefore it's worth knowing before getting to the cheapest methods to bridge eth to the Polygon.
Let's get started.
How to Use PoS Bridge to convert ETH to MATIC
The first step which is required in every bridge is that you have your metamask wallet and have some Ethereum in that metamask wallet so that you can convert it to the Polygon. 
Please make sure that you are through with it, you can find good guides on Youtube on How to Make Metamask Wallet and How to have Ethereum in your Metamask Wallet.
When you are done with the steps then go to the official Polygon site and then under the Use Polygon you can select the PoS bridge. For your ease, I have mentioned the direct link to the bridge – PoS Bridge.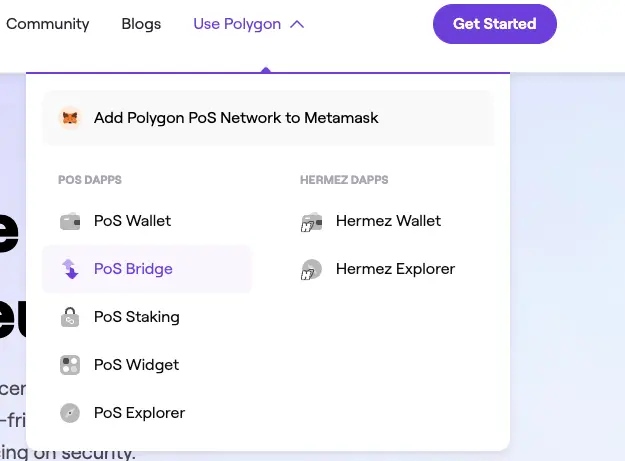 You will be simply required to connect with your Metamask wallet (it's the most secure method, don't overthink connecting).
It will redirect to a page where you can easily convert Polygon to Ethereum and vice versa.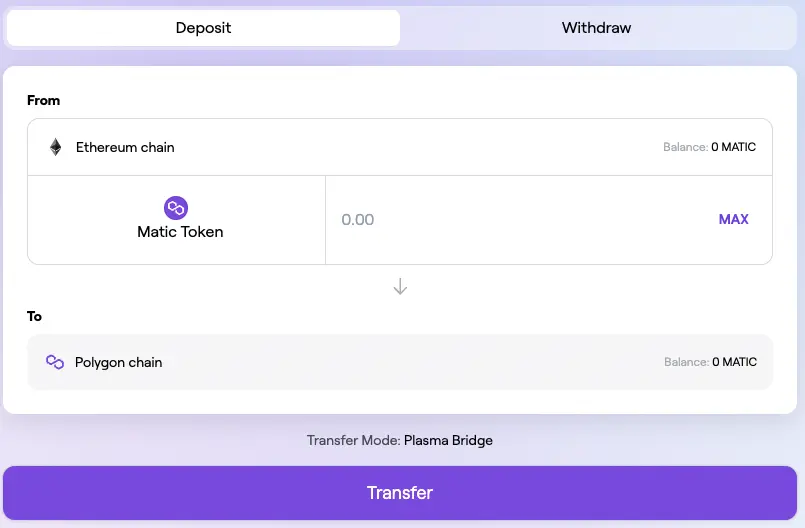 All you have to do is click "Transfer" after selecting the tokens you'd like to transfer. Depositing your money should take no more than seven to eight minutes.
A progress bar will show you when your transfer is complete after you sign and approve the transaction in your MetaMask wallet, where the gas fee is also quoted.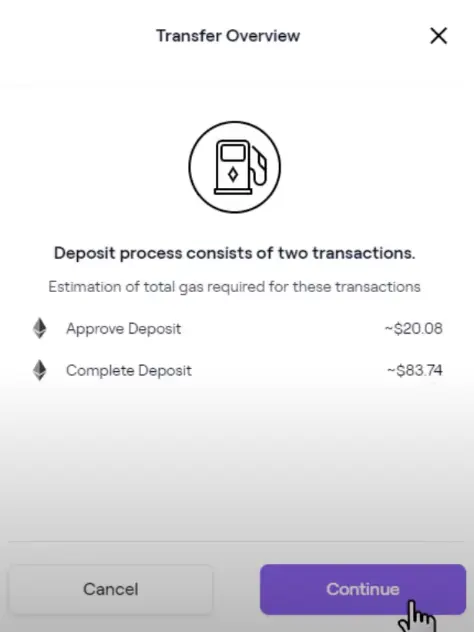 Trick for lower fees – I have this extension that is useful to keep track of gas fees. You might use this as well to make traction whenever the gas fees are the lowest.
There's a three-hour window for moving funds from the Proof of Stake (PoS) bridge to the Ethereum network, which is protected by validators.
VOILA! You are done with the expensive but secured method to bridge ETH to Polygon now let's see what the alternatives to this method are less expensive.
---
Bridge ETH to Polygon (MATIC) using QuickSwap
According to Binance Academy, "QuickSwap is a fork of Uniswap developed by Nick Mudge and Sameep Singhania on the Polygon blockchain platform. It offers a Decentralized Exchange (DEX) experience using an Automated Market Maker (AMM) model for users to exchange tokens. QuickSwap has no order book, as users trade from pools of tokens known as liquidity pools"
So in simple words, Quickswap is used to swap different tokens using the liquidity pool concept, where users can bridge tokens from Ethereum to Polygon and trade them as a pair on QuickSwap, as long as the liquidity pool exists. This also means you are not required to pay heavy gas fees instead some transaction fees for using the liquidity pool. 
To perform transactions on Quickswap all you need is a wallet connected to the platform and Matic to pay some transaction fees.
Let's go step by step for bridge ETH to a Polygon using QuickSwap
How to Use QuickSwap to bridge ETH to Polygon (MATIC)
You can easily access QuickSwap using a desktop or mobile device.
The QuickSwap Exchange is located at https://quickswap.exchange/

Please Make sure that you are at the right address if you are reaching it through a different source.
Connect your wallet. You will require a desktop extension or a mobile wallet app. Both MetaMask and Trust Wallet are great options. You have to take care that the Polygon Network should be supported by your wallet.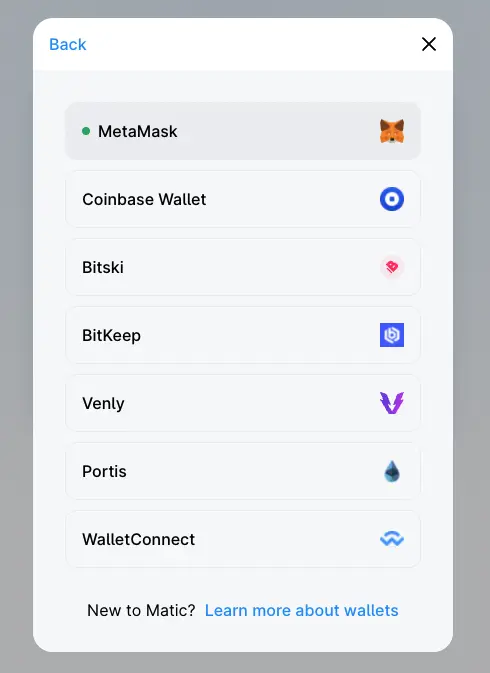 Make sure that you are on the "Swap" tab to exchange the tokens, located at https://quickswap.exchange/#/swap
Select the token that you will like to swap from and the token you'd like to receive. In our case, we would like to swap Ethereum (Eth) for Polygon (Matic).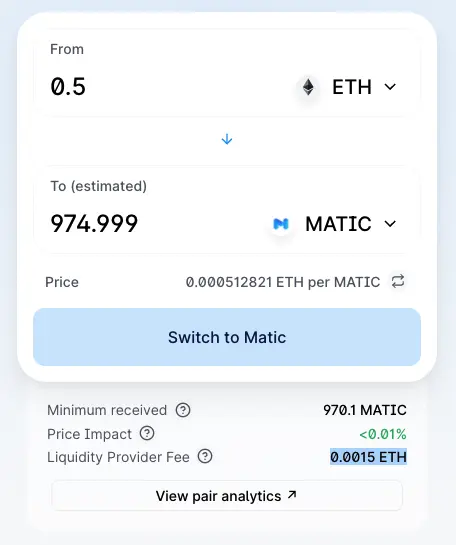 You can see in the image how minimal is the liquidity provider fees will be charged for the transaction.
Click on the "Switch to Matic" button.
Preview the transaction in the pop-up window and confirm the request in your wallet.
---
Bridge ETH to Polygon (MATIC) using Umbria Narni Bridge
The Umbria Narni Bridge is one of the cheapest and most inexpensive bridges that can help you to convert ETH to Polygon at a fraction of gas fees.
How to Use Umbria Narni Bridge to bridge ETH to Matic
The Umbria Narni Bridge is located at https://bridge.umbria.network/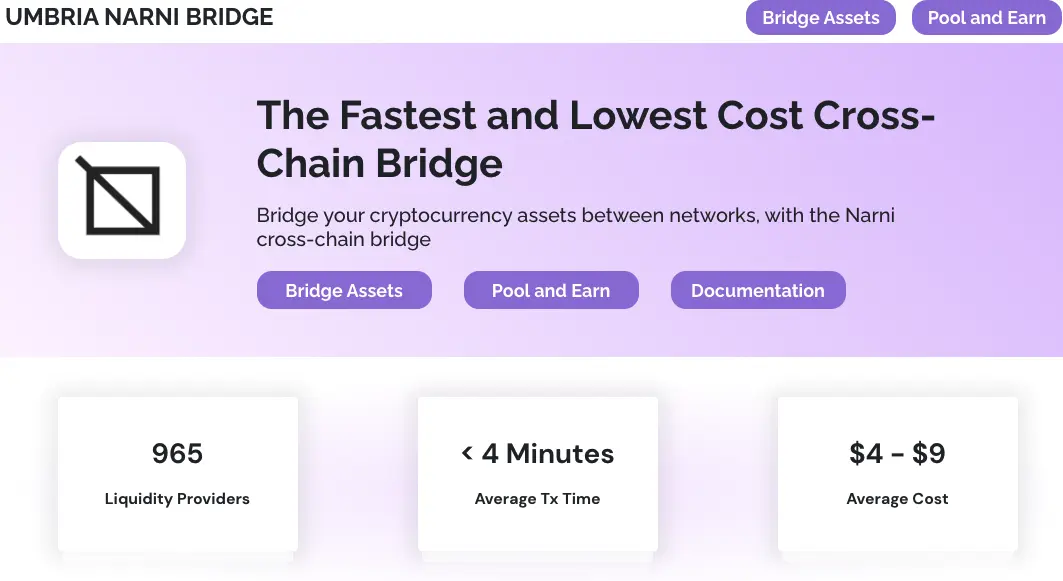 As it says the average cost is around 4 to 9 dollars which is way lesser than the Ethereum gas fees.
Click on the "bridge asset" button.
It will open a new link, which should be this https://bridge.umbria.network/bridge/ethereum-Polygon/eth (opens in a new tab), and be sure to confirm that it is the correct site.
Here we have to convert Ethereum to Polygon, for that you will require to connect your metamask wallet and switch to Ethereum mainnet.
After you are on the correct site, you'll want to make sure you are logged onto the "Ethereum Mainnet".
Then you'll want to make sure you select "Send from" and change that to "Ethereum Mainnet". This should update the "Receive on" option and change it to "Polygon Mainnet".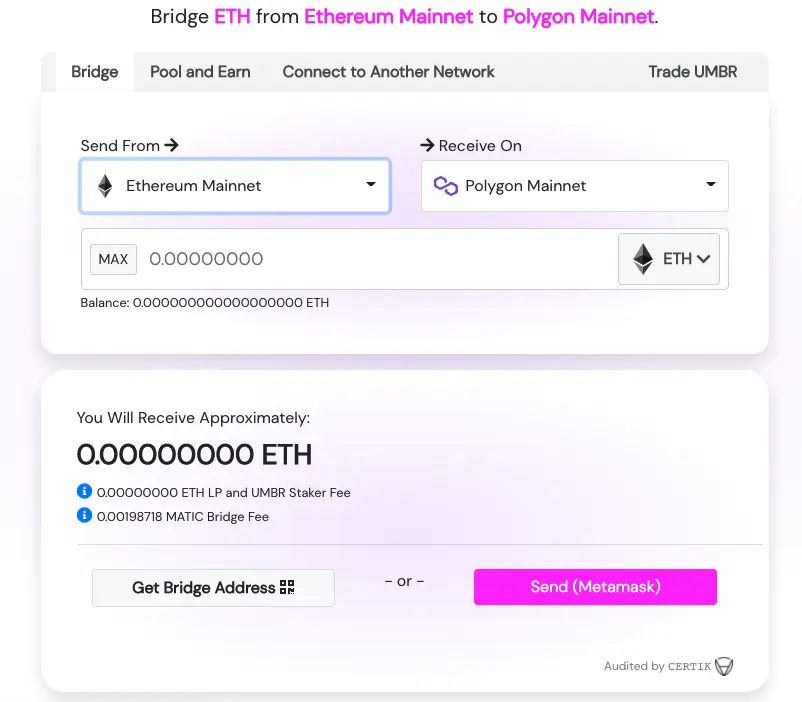 Write the appropriate amount that you want to convert your Ethereum to the Polygon.
Click on "Send(Metamask)".
This will lead to a translation in your metamask wallet where you will be required to pay for the gas fees ( it will be way lesser than the Ethereum gas fees ).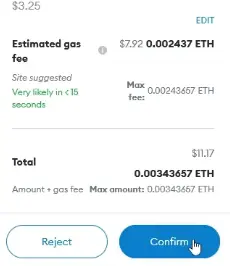 Click on confirm and the bridging will be done from the Ethereum mainnet to the Polygon network.
When you switch to Polygon mainnet in your metamask wallet then you will find the recently converted Matic in it.
How are transaction fees so less on Narni Bridge?
Normally wherever the Ethereum gas fees are required for the transaction they mostly use the on-chain validation protocol, which is computationally expensive and results in higher gas fees.
The Narni Bridge replace the on-chain validation protocol with the liquidity pool concept, A liquidity pool is a crowdsourced pool of cryptocurrencies or tokens locked in a smart contract that is used to facilitate trades between the assets on a decentralized exchange (DEX).
This all leads to fast transactions at extremely low fees.
---
Convert ETH to Polygon with Kucoin Exchange
According to Investopedia "KuCoin is a large cryptocurrency exchange offering the ability to buy, sell, and trade cryptocurrencies. In addition to basic trading options, the platform offers margin, futures, and peer-to-peer (P2P) trading. Users can also choose to stake or lend their crypto to earn rewards. Compared to some competitors, KuCoin offers low trading fees, making it an attractive option."
So, Kucoin is a Crypto exchange platform similar to Binance, the problem with Binance is that the Binance Polygon network is not always available.
How to Use Kucoin Exchange to Convert ETH to Polygon

 
The process to convert Ethereum to Polygon (Matic) is almost similar to any other Crypto exchange. 
Head to Kucoin located at

https://www.kucoin.com/

Deposit the ETH to Kucoin Exchange.

Trade or Swap your ETH for MATIC.

Then Withdraw MATIC to a Polygon wallet.
These processes are common in most Exchanges, if you are doing the same process in some other Exchange that supports the withdrawal in the Polygon network then you can repeat it.
The only fees that will incur after you have deposited the eth in Kucoin are the trading fees that is also a fraction of the gas fees of Ethereum.
---
Bridging Carbon Credits in Web3 and Saving Environment
This is a small note on how the Polygon is used in Toucan Bridge for connecting the voluntary carbon market to Web3 to save carbon impact on the environment.
Because of Web3, it is much easier to pool money together and increase liquidity than it was before. Rewards can be automated on-chain in real-time with smart contracts, making it easier to incentivize participation. Carbon credits tokens that are standardized and tradable increase liquidity, and because of open source software and DeFi's inherent composability, projects can build on other ideas and smart contracts.
The Toucan Protocol, a "carbon bridge" for bringing carbon credits to Polygon, is one project that has just begun standardizing carbon credits as tokens. Anyone can tokenize their Verra registry carbon offsets and make them available to Defi protocols using the Toucan Protocol. In the future, they hope to include other carbon registries, such as the Gold Standard.
Before bringing an offset on-chain, users of the carbon bridge need to retire it in "the real world" to ensure that a token is unique and that burning a token on-chain is equivalent to retiring an offset. Retired CO2 credits back each of their Base Carbon Tonne (BCT) tokens.
The Carbon Pool, BCT, has already received 10.8 million tonnes of CO2 from the Verra registry since its launch on October 18th (Base Carbon Tonne). Astonishingly, this represents about 12 percent of New York City's annual CO2 emissions.
Carbon credits are being phased out at an alarming rate. To start earning rewards in a new Defi protocol called KlimaDAO, members of KlimaDAO are retiring Verra credits and exchanging them for BCT.
The KlimaDAO treasury holds at least one Verified Carbon Unit (VCU) for each $KLIMA token. To purchase KLIMA, users can either use the Polygon network or deposit liquidity tokens (KLIMA/BCT and BCT/USDC) into the treasury. By staking, holders of KLIMA will be able to vote on the Klima DAO's policy and will be able to earn compound interest on their KLIMA. To take advantage of the rising carbon price, staking allows investors to hold KLIMA for an extended period.
---
 Conclusion
Many people don't like paying a lot of money for high gas fees for Dapps, so Polygon may become the place where people conduct most of their Web3 activity. In comparison to Ethererum's current Proof of Work chain (which is soon to be replaced), Polygon's Proof of Stake network is more environmentally friendly and efficient. Once your assets have been bridged, you can trade and stake tokens, play games, purchase NFTs, and foray further into Web3 with ease.
Aayush Kumar Gupta is the founder and creator of ExploringBits, a website dedicated to providing useful content for people passionate about Engineering and Technology. Aayush has completed his Bachelor of Technology (Computer Science & Engineering) from 2018-2022. From July 2022, Aayush has been working as a full-time Devops Engineer.