Hearing your custom-created text in Robot voice sounds too good to be true, but with the help of deep learning AI models, this wonder has become reality. Now there are free online websites and apps which can synthesize the Robot voice from your custom text within a matter of a few minutes.
After coming to know such a thing was even possible, I was excited to try them out. I am amazed by the voices that I heard from these sites, and it was soo real that even my friend wasn't able to differentiate till I told him that voices were generated.
Also, I have attached the experimental voices that I had generated and also mentioned the exact steps that I took that will help you out.
Let's start with our recommendations. 
Free Robot Text to Speech Voice Generator Online Websites
Most of us like to find an online solution that we can use anywhere and anytime, that is why I have collected a list of the three most famous Robot Text to Speech generators websites. Also I have mentioned how to use these websites to generate your custom Robot voices.
On research, we were only able to curate the list for the characters that have Robot Voices such as Robot Jones, Portal Characters, and others. Their voices are similar to robotic speech, I hope you will love our curated list.
The Ranking of our Recommendation depending on quality and performance of these sites are –
Lingojam.com
15.ai
Fakeyou.com
uberduck.ai
LingoJam.com
LingoJam is the only site where you can find many kinds of text to speech voices such as robot, scary, man, woman and many more. You can easily find this site upon simple search for 'robot text to speech' on google.
How to generate Robot Text to Speech voices with LingoJam.com
LingoJam is fairly easy to use. First head towards the LingoJam Robot Text to Speech.
You are required to enter the text in the dialogue box on the left and then you can hear the generated voice in the right field.
If you want then you can also change the speed and pitch of the generated robot voice.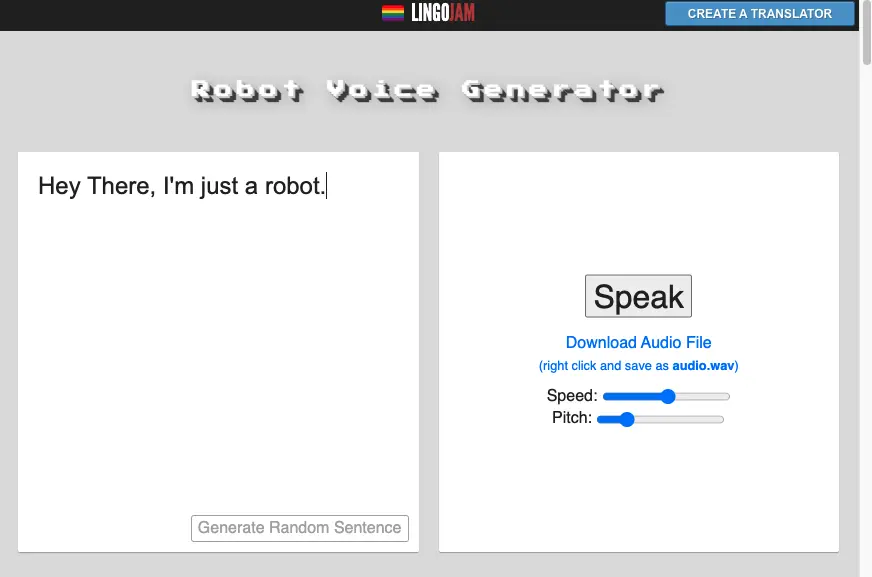 I had created a text to speech in Robot voice "Hey There, I'm just a robot". Listen the sample below.
You can download the audio files of the same text as I have and use it for free.
Now your turn to generate robotic voices using Lingojam's text to speech.
15.ai
Hands down to 15.ai, 15.ai is one of the best Robot text-to-speech voice generator that you will find anywhere.
The voice output quality and the speed of synthesizing the voices are far more superior than the below-listed website i.e. fakeyou and uberduck.
15.ai was the first site to generate voices with complicated sentence structure without failing even once, absolutely amazing.
The quality of the text to speech is just amazing on 15.ai, also they will provide you with three variations for the same text that you can choose from.
Also, you can see the amount of time that the model has been trained, the more the number the better will be the quality of the text to speech.
How to generate Robot Text to Speech Voice at 15.ai
15.ai has a simple and easy-to-use interface, you will not have to login anywhere to use this site.
1. Go to the 15.ai
2. On research, I found that Glados character from the Portal has a robotic sound. That is why I have selected the Glados character for robot voice generation.
3. The best thing is Glados is located on the homepage of the site, as soon you land using the URL, you wil find the Glados character.

I had created a text to speech in Robot voice "Hey There, I'm just a robot".
Listen the sample below.
Now go generate your own cartoon characters text to speech voices at 15.ai
FakeYou.com
FakeYou.com offers one of the best Robot voices text to speech using Machine Learning Models.
Where LingoJam was only able to give correct modulation in single words, Fakeyou can add correct voice modulation in complete sentence.
You cannot directly find Robot text to speech in AI generated voices, instead I found characters that you can use to generate robot text to speech.
Sometimes, it can fail but it might be due to the reason that the sentence that you wrote is complicated, or the processing is not able to handle it.
After generating the text of your choice you can download the file in .wav format, or it will provide you with a URL that you can access to listen to the text to speech that you have generated.
I am just in awe of this site, hands down to its creator.
How to generate Robot Text to Speech voices with fakeyou.com
One of the best things that I found great is that there is no hassle to sign up and you can directly go and generate your text to speech.
After Many Trial and Errors, I found "Dr. Nora Wakeman (My Life as a Teenage Robot, Candi Milo) (by CarlDaKWASON)" to be perfect match for Robot voice.
You can directly write the name of the "Robot" character in the search box, and then you can find Dr. Nora Wakeman voice.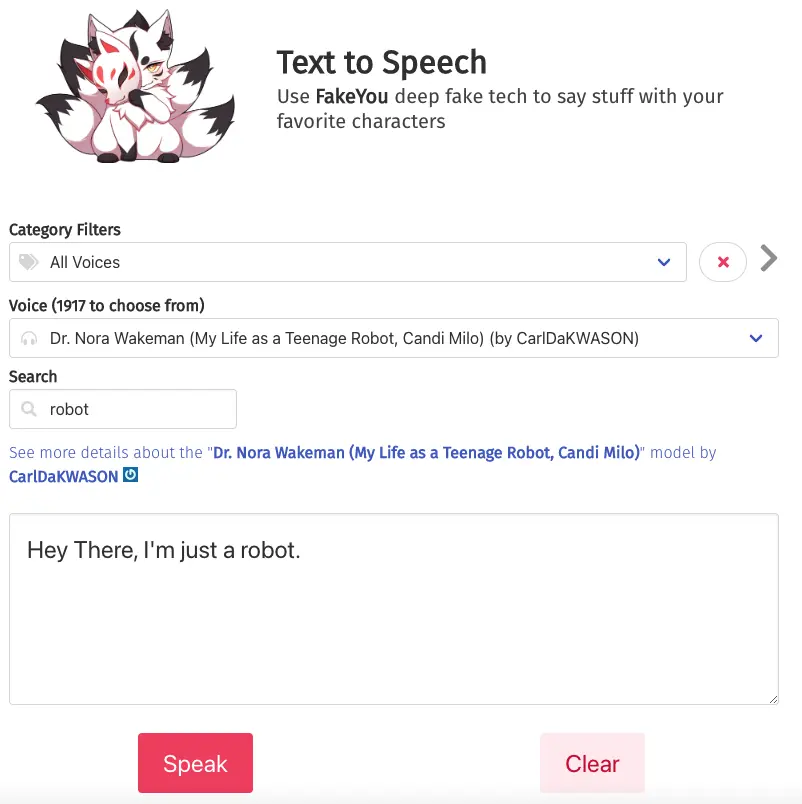 For example, I will be using same Robot's quote "Hey There, I'm just a robot." to generate Robot text to speech.
Listen to the sample below.
Now go and generate your text to speech for the Robot characters that you want.
UberDuck.ai
Uberduck.ai is another free text to speech online website. It has an easy-to-use interface and can synthesize your custom text. 
Also, if you are a developer this website can offer you free text to speech API so you can use it for your project.
One thing with uberduck.ai is that to generate the voices you would have to sign up with your email, discord, or google account. I guarantee you that it is worth it, you should sign up and use it for once if you are wanting to generate text to speech similar to your favorite character voices.
How to generate Robot text to speech voices with uberduck.ai
First of all, make sure that you have signed up for this site, as it will not synthesize the text from its homepage until you have signed up.
Now, when you have signed up then you will be able to enter your custom text in the "Enter text to synthesize" box.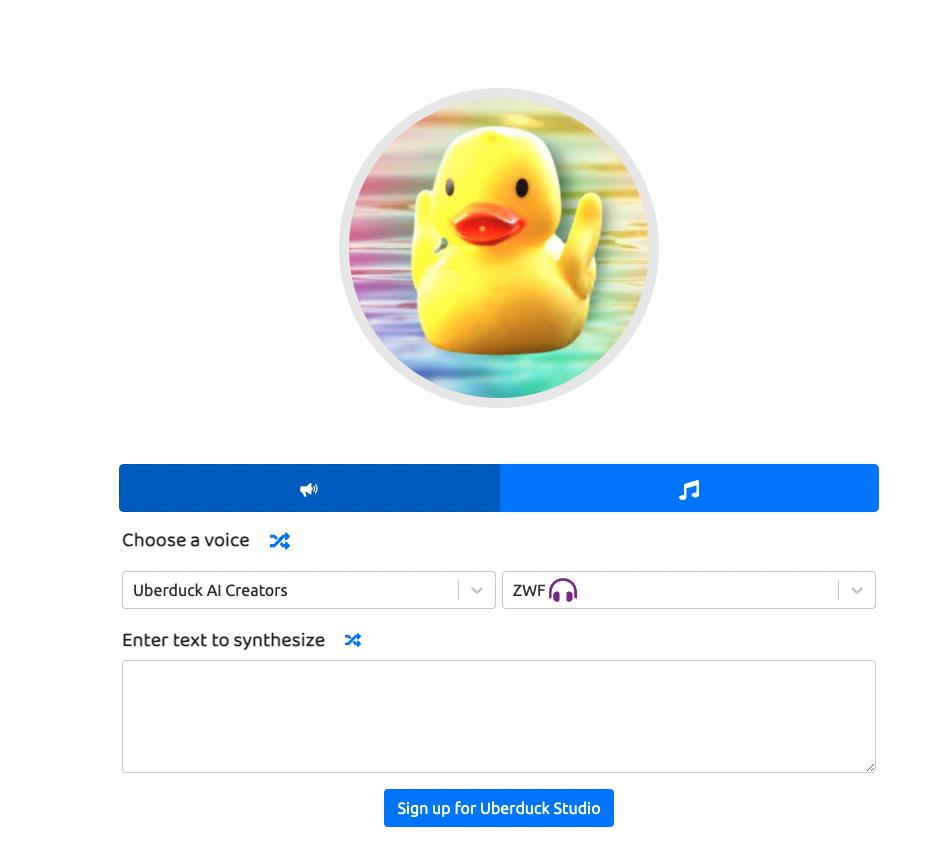 In the search term you can use Robot Jone character for generating Robot text to speech.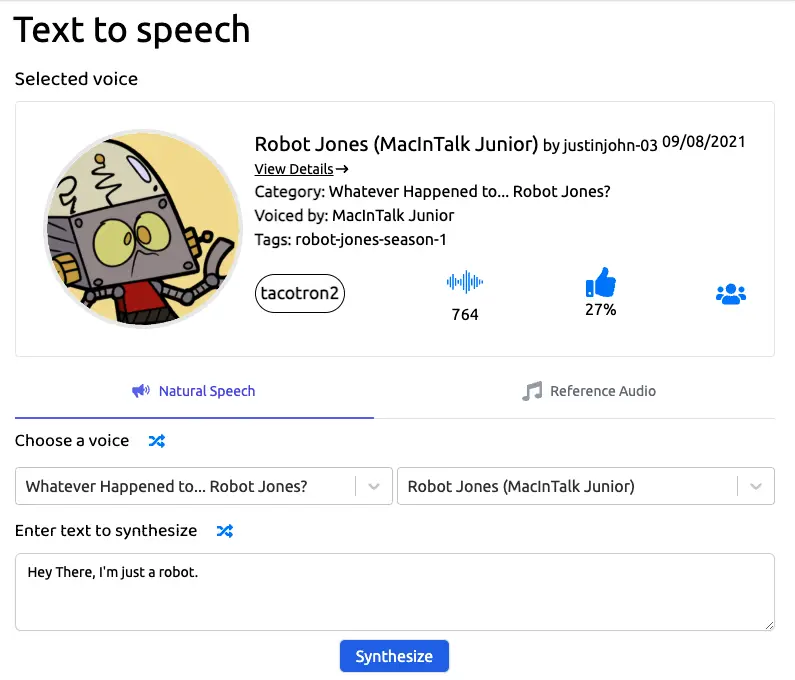 Now, go generate your Robot text to speech using this site. Also, this website has its discord bot which you can use on your servers, you can go ahead and check it out.
Aayush Kumar Gupta is the founder and creator of ExploringBits, a website dedicated to providing useful content for people passionate about Engineering and Technology. Aayush has completed his Bachelor of Technology (Computer Science & Engineering) from 2018-2022. From July 2022, Aayush has been working as a full-time Devops Engineer.