We have suggested the best Anime Maker Online Free. Those characters' faces are so unique and beautiful to make use of for a lot of purposes. Moreover, these websites have a variety of eyes, mouths, glasses, clothes, hairstyles, jawlines, and certain facial expressions too to make your design/characters unique. 
Some of our suggestions will support both the male and female characters, whereas some sites only assist in male characters. Once you are done with creating your Anime online, you can download the same in SVG, PNG, or JPG format. Let's start with our suggestions. 
I have tried various Anime Maker Online websites and upon my research, I have got only 6 websites that are up and running. I have listed these websites as my preference (depending upon easy-to-use and customizability) for using them in the future.
Avatar Maker

– One of the best Anime Character Creators and my first recommendation. Has a very easy-to-use interface. Offers a good amount of custom elements for the character. Good user experience and loading time. Free to use and characters can be downloaded in PNG Format.

Cartoonify

– Also a great website for Generating Anime Characters. Easy to use and offers good customizability. But Avatar Maker remains my first preference. Can generate random characters for fun.

My Blue Robot

– Similar to Cartoonify. Great website for generating Anime Characters. The download of the generated character is available in only one format.

Manga Maker By Scratch

– A community hosted project by MIT. Easy-to-use but lesser customization features available. No download is available therefore you will have to take a screenshot of the generated manga characters.

Mangao

– Mangao has the most customisation features that you can add to your Anime Character. An okish to use website interface. The number of custom features can easily cover the interface. You can download the generated manga characters easily.

Portrait Illustration Maker

– Not an easy-to-use website. Good customizability features are available to generate the character. The download size of the image is small.
So My recommendation is Avatar Maker > Cartoonify > My Blue Robot > Manga Maker By Scratch > Mangao > Portrait Illustration Maker.
Now you can continue with the article for getting into details about generating your own Anime Characters with the above-mentioned website.
---
Make Your Own Anime Character Online Free [ Create your own anime character ]
You can create your manga character with absolutely no charge using these free online tools.
Avatar Maker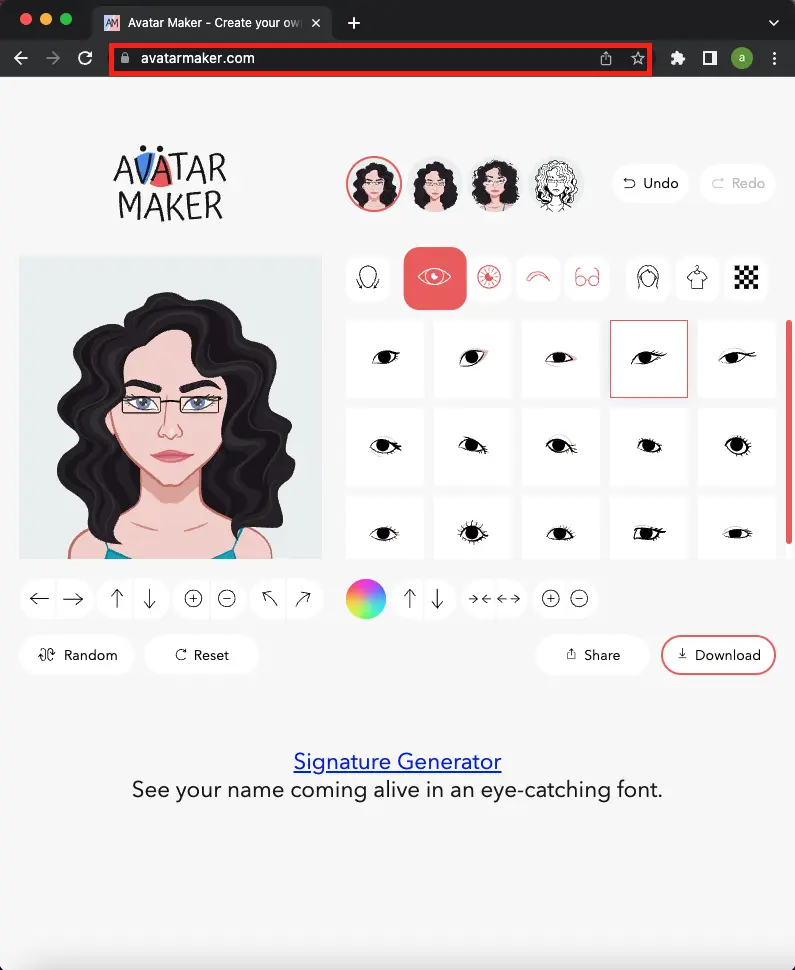 Avatar Maker has to be one of the best Anime character makers on the list because of two reasons – slick interface and in-detail customization. 
Avatar Maker is completely free to use and you can easily download the manga characters that you created on this site.
The super easy to use interface is the reason that I opt for it for the first place on this list. And all the amount of details that you offer to your character is just mind-blowing. And all these features are available to you for absolutely free makes it worth recommending.
There is no hassle to create an account or log in. Just go to the website and select the gender and off you go to customize your character. 
You can easily download manga characters. There are two png size formats and one SVG format. Choose as you need.
Now, go and generate your Anime character online with this amazing tool.
Cartoonify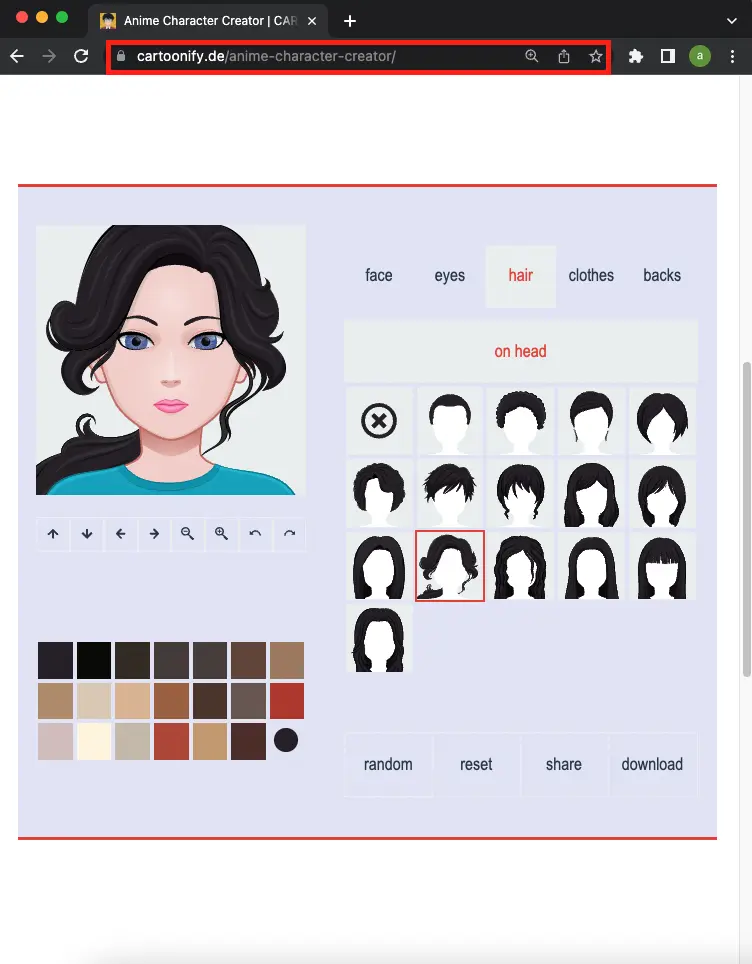 Cartoonify is another best and most unique tool for creating Anime. Unlike other free tools from our list, Cartoonify will allow you to export the created Anime either in SVG or in PNG formats. Without any account creation, you can start your design on this Website. 
The main interface on the Website includes all the customizing options. In the beginning, select your favourite design for eyes, hair, moustache, brows, beard, and so on. Those changes can be viewed in real-time, a great feature of Cartoonify. Once you're done creating, download it as an SVG or PNG. Apart from your creations, you can generate random manga characters for entertainment purposes.
My Blue Robot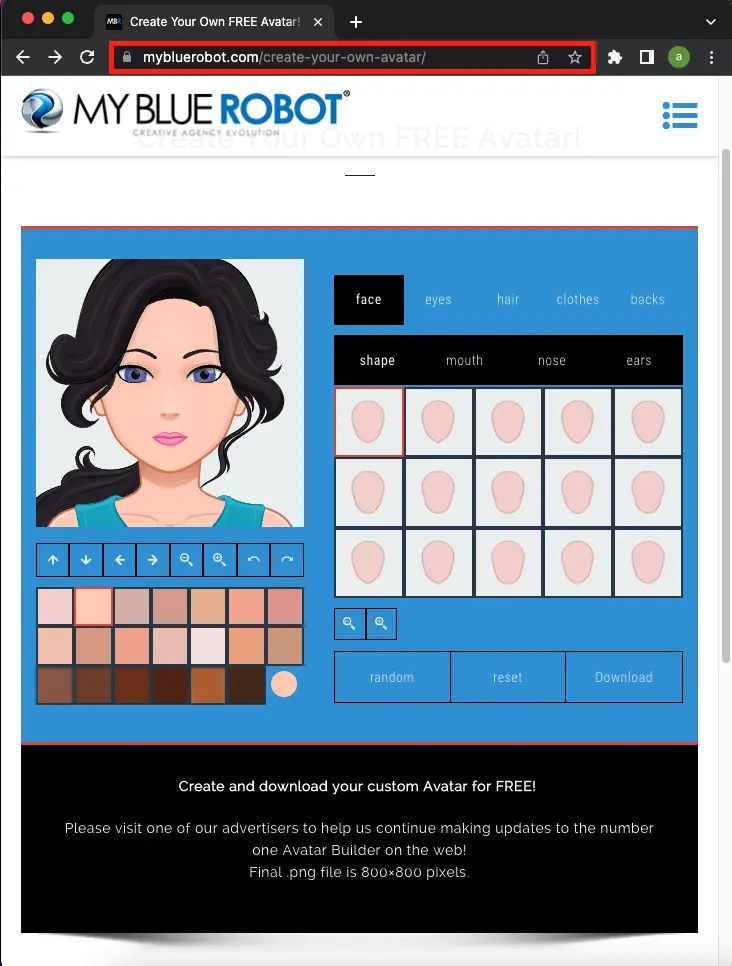 My Blue Robot is very similar to cartoonify which is mentioned above. It is always good to have one backup in case one site stops working after some time. However, My Blue Robot is also a great free Anime Maker Website.
With My Blue Robot, you can add a variety of shapes and colours of mouth, nose, ears, eyes, clothes, background, etc. You can even shift the elements that you place on the character's face. Also, this site can easily randomly generate Anime Characters. You can download the created Anime Character png file available in 800 by 800 pixels. 
Manga Maker By Scratch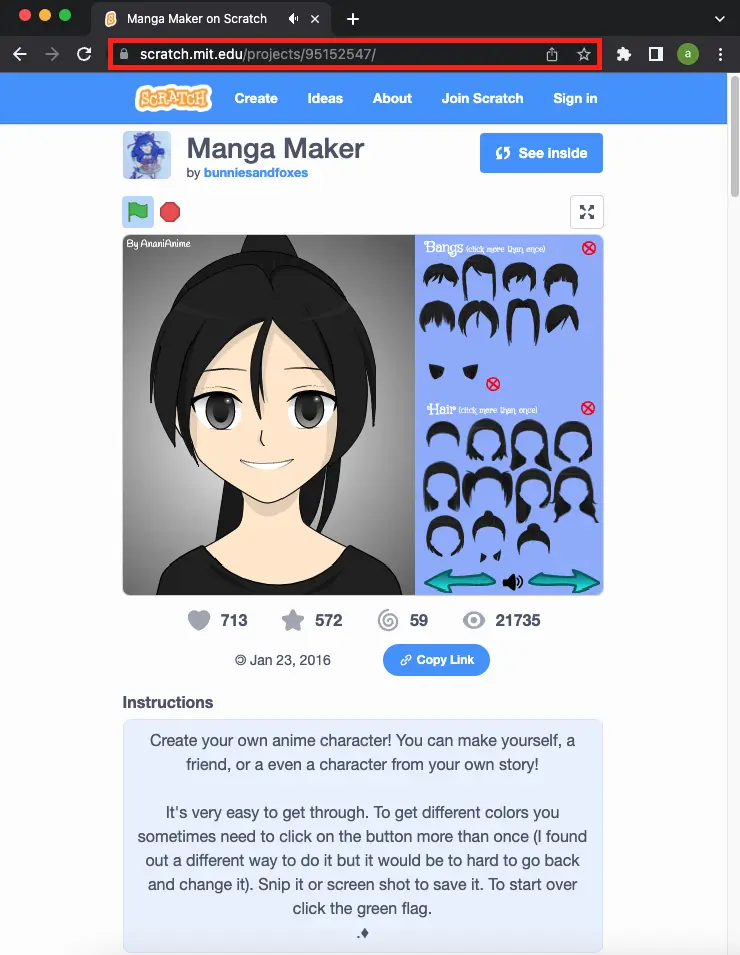 Scratch is a great site for learning to code and host projects and is maintained by MIT. The community creates a variety of projects for users to play along with. One of such projects that is completely free for use is the Manga Maker by Bunniesandfoxes.
The Anime Maker is easy to use and has no ads so no interruptions. Like other tools, you can add eyes, eyebrows, hairstyles, etc. Here it's possible to make fine corrections to your manga character. Moreover, you can add classic spectacles, a cute necklace, and clothes to your designed character. You can also modify the background, and after the creation, you have to take a screenshot to save your creation.
To use the Anime Maker just go to the website and click on the green flag for the project to load.
Mangao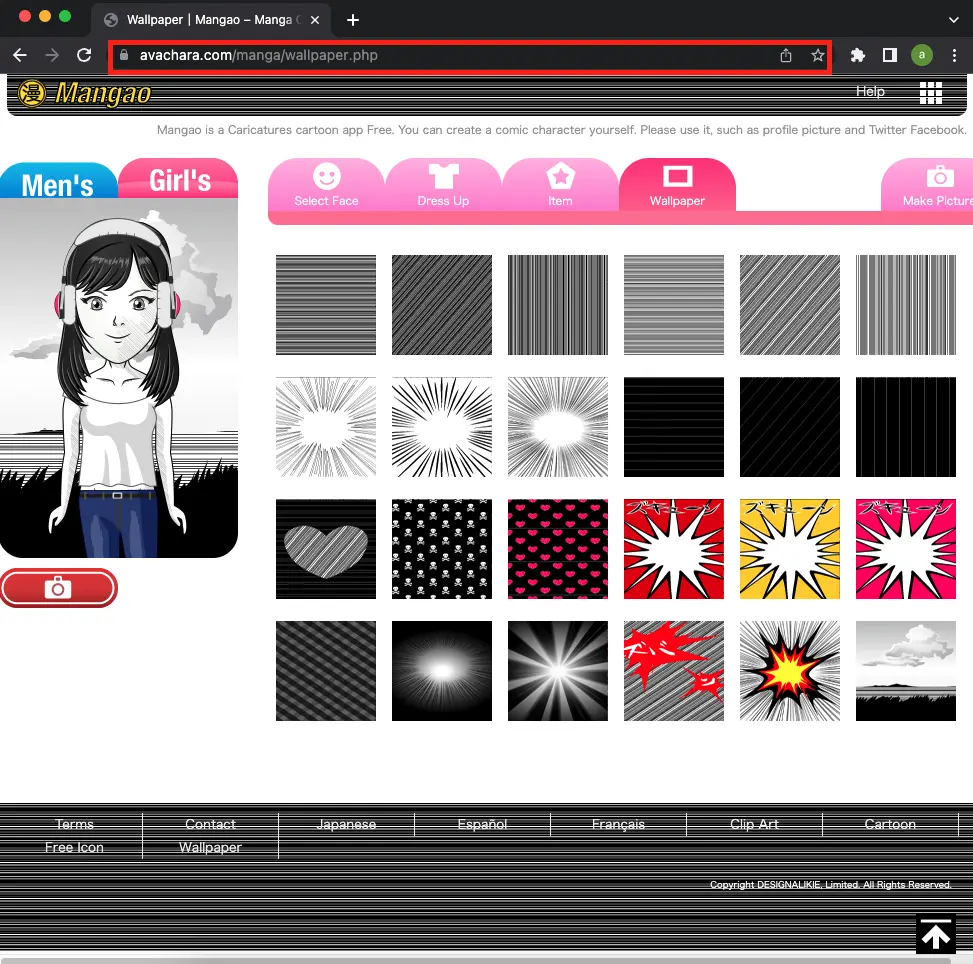 Mangao is one of the best websites to create manga characters. In a few minutes, you can create either male or female characters with your ideas. 
Just enter the Website, start creating your Anime, and customize your eyes, face, hair, and some other visual elements. Compared to other websites for making Anime, you can find more clothes at Mangao.  
The great feature of this Website is that it's possible to add guitars, footballs, and other instruments. In addition to this, you can add pets to your creation. There is also an option to include chat bubbles in the Anime to make it meaningful. Once all your innovations are implemented, click Make Picture Button to save the created image to your storage.
Animeo offers a great number of elements that you can add to your Anime character. But at the same time, the user experience is not at par with the above-mentioned sites. It's a great site for a higher level of customizability, you must try it.
Portrait Illustration Maker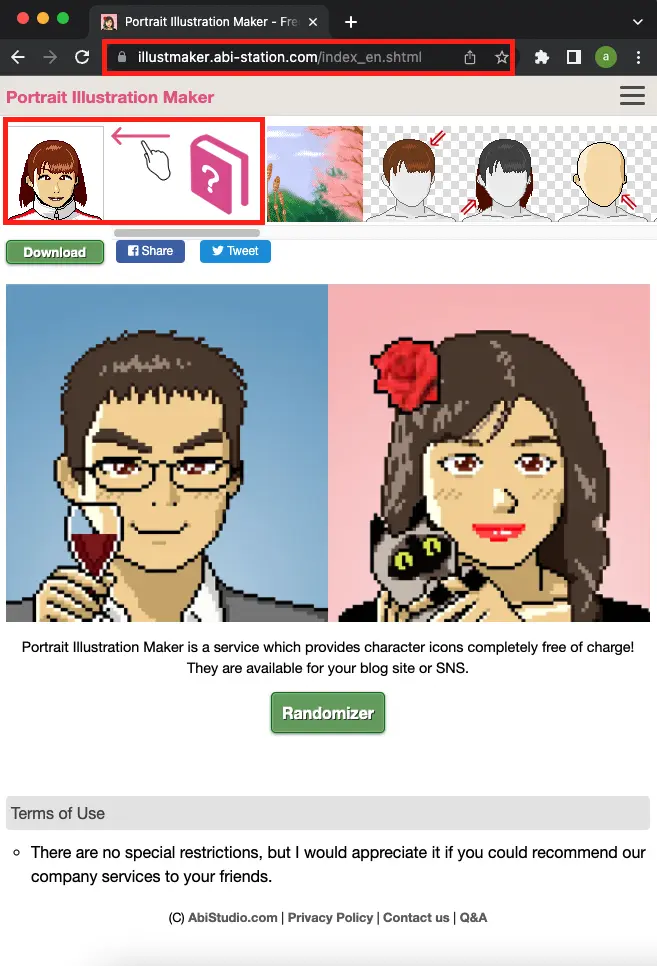 Portrait Illustration Maker can also be used to make Anime Characters for free. There are two other similar websites to this site i.e. Otaku Avatar Maker and Portrait Avatar Maker.
All of these websites are very similar. The interface is not easy to use. Your custom character is generated in real-time so you have to look at the upper left corner. It was hard to notice. I was wondering where it is so I thought of mentioning it to you. 
In the same upper left corner, you have the download button. The image downloaded has a small size and is in png format.
There is a good number of customization to the characters that are available that you can create the manga character. Now, go and try it for yourself.
---
More Anime Creator Online Free
These are some other websites where you can also create Anime Character.
WootraGames
WootraGames is based on Flash, and you can create your manga characters in the Halloween theme. While playing these games, you can customize your characters with various clothes which are glamorous. Once you are done with creation, just take a screenshot to save it. 
GamesGames
On this Website, you can play browser-based mini-games. It has a game for creating Anime. The function of this game is the same as others on our list. You have to enable the Flash in site settings to play the game. Moreover, the site is simple and easy to use. 
If you are in search of creating Anime like kissing couples, then this will be the right Website. It also offers various designs of eyes, hair, and backgrounds. The major flaw back on this site is you can't save your creation. However, it allows you to take a screenshot for saving your Animes.  
Face Your Anime
Face Your Anime is an application where you can create Anime and also be able to fine-tune your manga character's moles, beards, etc. Before using it, you need to enable Flash in-app settings. After that, you can start creating and customizing your Anime with your ideas.
The various elements are listed on the left side of the screen to add to your character. Then from the main interface, you can check your design while customizing it. To download the created design to your storage, you are required to provide your personal information to the Website.
---
Make your own Anime online free 
When you are done with creating Anime characters and want to proceed with creating a complete Anime then you can use some of the free online solutions for making your manga.
Story Board That
StoryBoardThat.com is an online Anime making website. StoryBoardThat has many pre-made scenes for creating your Anime and you can simply drag and drop those scenes and then characters on it.
One of the best online sites for creating your manga. The simple and easy to use drag and drop feature is amazing. You will get a variety of characters, items, shapes, infographics, animals, and many more to use from. You simply have to set a scene and then drag and drop a variety of elements over it.
Now, go and create your Anime.
Make Beliefs Comix
Makebeliefscomix.com  is also an online Anime Maker website. It also has similar features to StoryBoardThat such as drag and drops and custom elements. But the user interface and customization elements of StoryBoardThat are far better than Make Beliefs Comix. 
Canva Anime Template
Canva is a popular online image editing platform where you can create and edit your Anime. Canva has many free Anime templates that you can use to create your Anime.
Canva is known for its ease of use and user-friendliness with simple drag and drop features and a huge number of custom elements available on this platform. Also, you can easily download your manga from Canva in images.
You can reuse these Anime templates from your account whenever you want on Canva. It will save your templates and you can edit them in future to make changes on it.
MS Word Anime Template
You can also use the Free Anime Template that is provided by the Microsoft community. Download and reuse the template to create your Anime.
---
Frequently Asked Questions
Differences between Anime and Manga?
Anime is the general term representing all animations created and published in Japan. Most people consider anime to be a part of manga series. The "Dragon Ball Z" and "Sailor Moon" were famous manga series. Both the series became more popular once it was released in western countries during the 1990s.  
However, both the terms are interchangeable and unavoidable in Japanese entertainment and culture. In simpler words, anime is an animation, whereas Manga is a print. That's the main difference between those two terms. 
 Why is anime called Manga?
As this Manga came from Japan, it refers to all kinds of cartoons, comics, and animations. Also, English speakers consider the word "manga" as a Japanese comic. 
 Is anime a part of Manga?
They both are not the same; however, they have equal importance to Japanese culture and entertainment. Making simple Manga is the term for describing Japanese comic books, whereas anime is the name for describing Japanese animations. 
 Is making manga comics hard?
Drawing manga isn't an easy job for serialized Manga every week. You are required to draw 19 pages of Manga in a week. It includes making a plot. Moreover, readers should accept it and not be closed during serialization. 
 Is only the Japanese able to do Manga?
It's not necessary to be Japanese to draw Manga. Anyone with an idea of a story can draw Manga. The thing is, you have to create original Manga, as every country has a unique style.
---
Conclusion
Creating manga characters is always an interesting and innovative implementing area. We have listed the six websites to make Anime online. These websites are well designed and have several customizing options. In some of those suggestions, you have to take screenshots to save your creations, whereas, on some websites, the save button is available to store in PVG or JPG format in your local storage. We also like to know the suggestions from your side for creating a unique manga in our comment section below. 
Aayush Kumar Gupta is the founder and creator of ExploringBits, a website dedicated to providing useful content for people passionate about Engineering and Technology. Aayush has completed his Bachelor of Technology (Computer Science & Engineering) from 2018-2022. From July 2022, Aayush has been working as a full-time Devops Engineer.