Using art, the human mind can explain the nature of human consciousness. Human feelings and emotions have been depicted through art for generations. The human mind is very dynamic in terms of creative imagination for painting or music. A great person or a nobleman has created each piece of art, and all of the forms have been shaped in their minds. Music and painting are both subject to emotions that make us pen down the art in its native language. People aren't all creative enough to reshape their feelings into art. It is hard for a person to reshape their feelings into art.
It's hard to change feelings into art without understanding the steps involved. Perhaps you see the sky in the morning and a historical monument simultaneously and wish to portray both in your painting. Suppose you would like to give some more details to your imagination, maybe a local market hustle-bustle accompanied by the sunrise and the monument, but you can't paint it. Your vision might lead you to believe that you had a Genie's lamp that could turn your thoughts into masterpieces. In the 21st Century, an AI art generator can reach your expectations, a time of science and technology.
In my attempt to generate AI images using text, I discovered 5 free online solutions that can help you do the same. I have listed them as my preference for using these methods in the future.
Wombo Dream AI

– The best online solution that I have found for generating AI images using Text Inputs. You can generate Unlimited AI Images from text with different styles and regenerate them any number of times. The Quality of the Image Generated is Amazing, it can generate even complicated sentences with great visuals.

Night Cafe Studio

– The quality of Results obtained on this website is also amazing. It can also process long sentences and generate visual sentences with great artwork. You only get 5 credits which limit the number of images you can generate. Also, a must-try preference after Wombo Dream AI.

Hotpot.ai

– The quality of the Images is good but comparably less than the above two online solutions. The images generated have a thumbnail size so you will require an enlarger if you want to use the image anywhere. But you can generate an unlimited number of images using this online tool.

DeepAI

– DeepAI works well with single-word text inputs. It fails to produce good results with two or more words as the text input. DeepAI results tend to be more of a real-world photo image than having styles like the other above-mentioned sites.

Computer Vision Explorer

– Computer Vision Explorer can process sentences to generate visual images. But the Quality of the results with this website is not good, instead of the exact figures, it may output some blur figures of similar colour. 
So My recommendation is Wombo Dream AI > Night Cafe Studio > Hotpot.ai > DeepAI > Computer Vision Explorer.
Now you can continue with the article for getting into details of Step by Step Methods for generating AI Images using text input with the above methods mentioned.
---
5 Free AI Art Generator from Text Online Websites 
Wombo Dream AI
Wombo Dream AI is a great online tool to generate AI Art from your Text. It is also one of the best tools that I have encountered for generating AI Art. The great thing about Wombo AI is that you can generate any number of images that you want without any limitation. You can select from 23 different art styles for your image and you can opt for no style also and within a minute your AI Image will be ready according to your style.
Wombo Dream AI uses the CLIP model created by Open AI in 2021. The CLIP model is quite impressive as it is trained on millions of images with their captions, so the art generated by the model is comparable to real Artwork.
Wombo also had released an AI lip sync application earlier and was quite impressive. Wombo similarly has held to its expectation on its Text Image application Wombo Dream.
Wombo Dream also has a mobile application for both android and iOS which is completely free for generating and downloading AI Arts. The mobile application has many more additional features included such as an AI art media feed generated by creators.
Text-to-Image Result for 'sun swimming in ocean':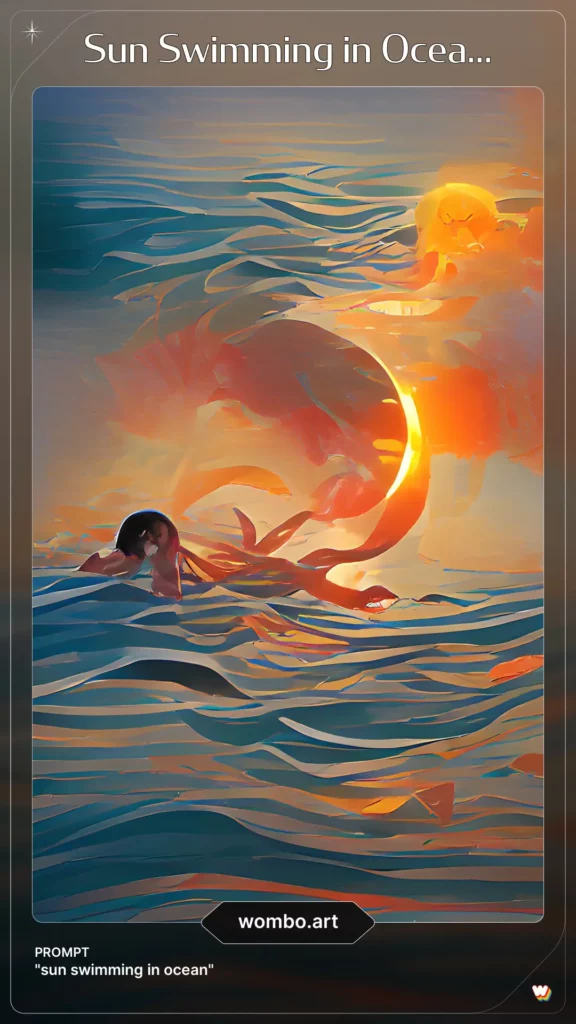 How to Generate Free AI Art From Text Using Wombo
1. Go to the Wombo Dream AI.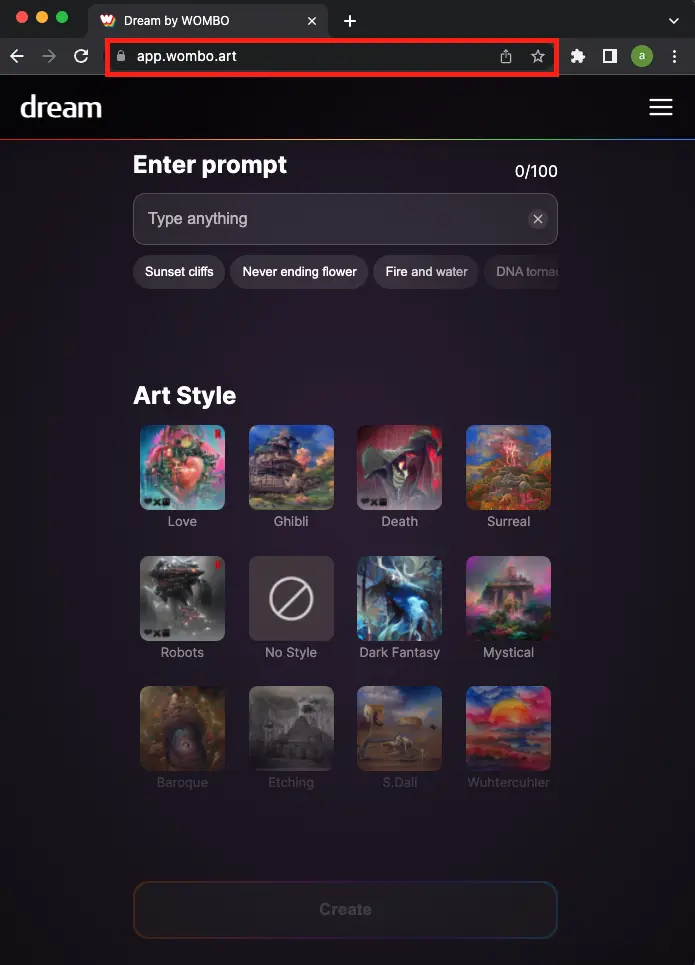 2. Type in the text you want to generate AI Art.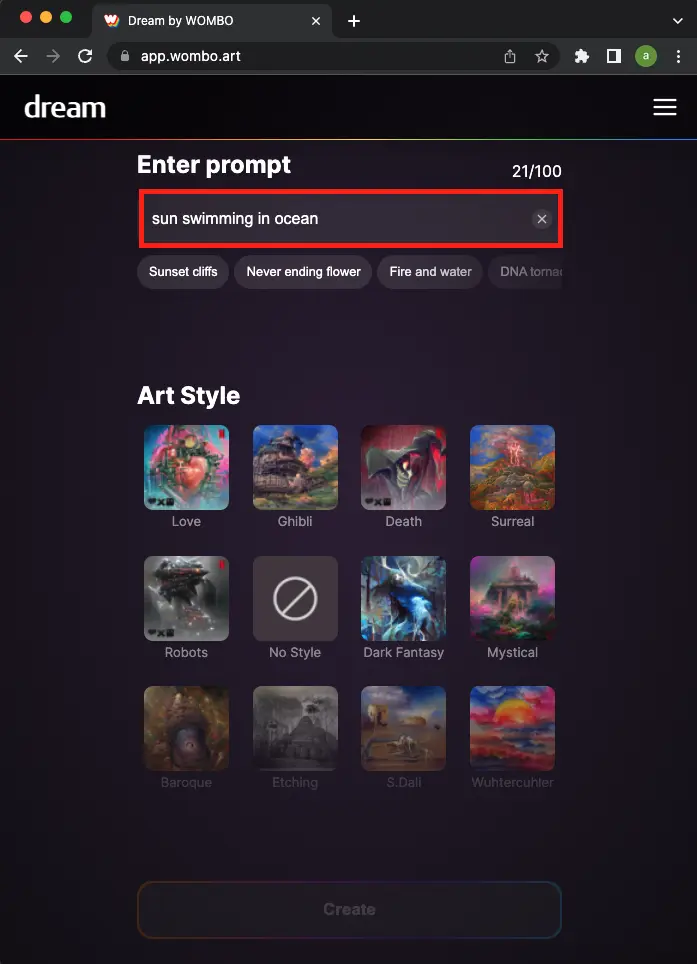 3. Select the style that you want in your Art.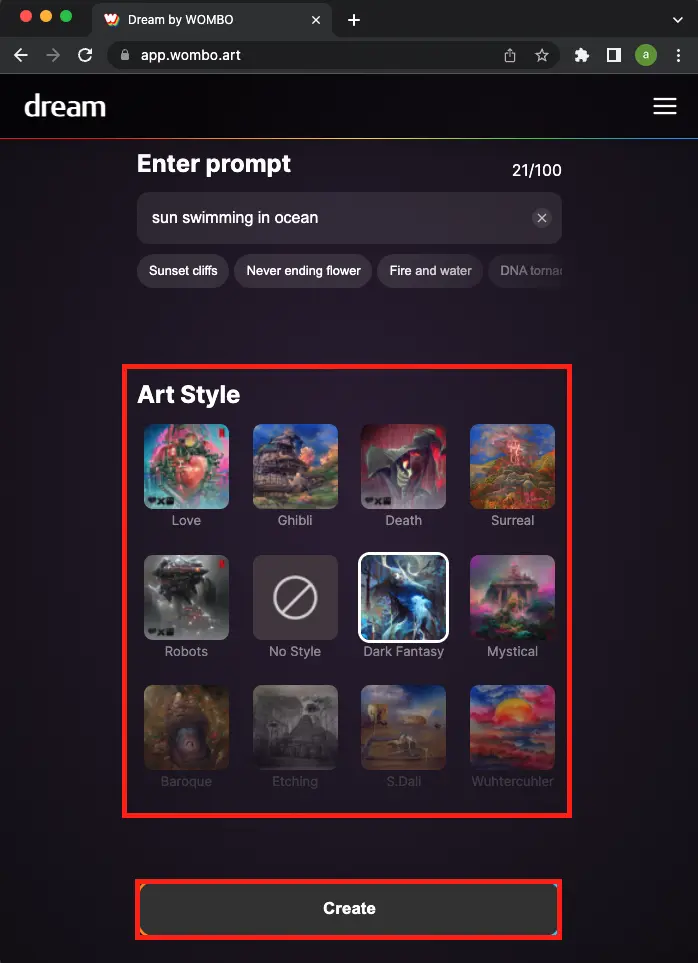 4. Click on the "Create" button.
5. Sit back and wait a min. 
6. Voila! Your AI Art has been generated.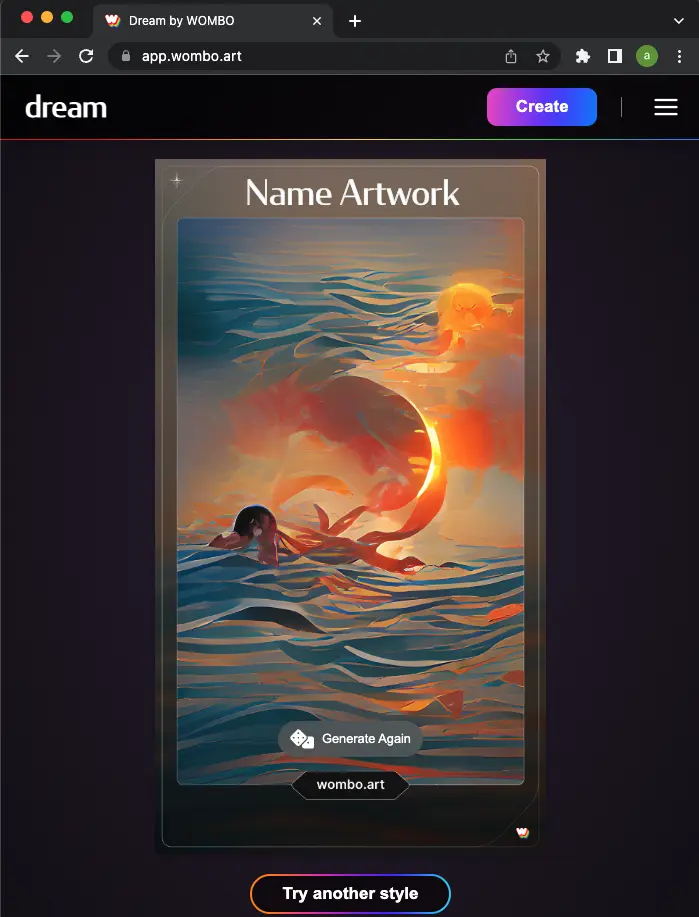 7. You can generate a new result by clicking on "Generate Again".
8. Download your AI Art from the "Save" button.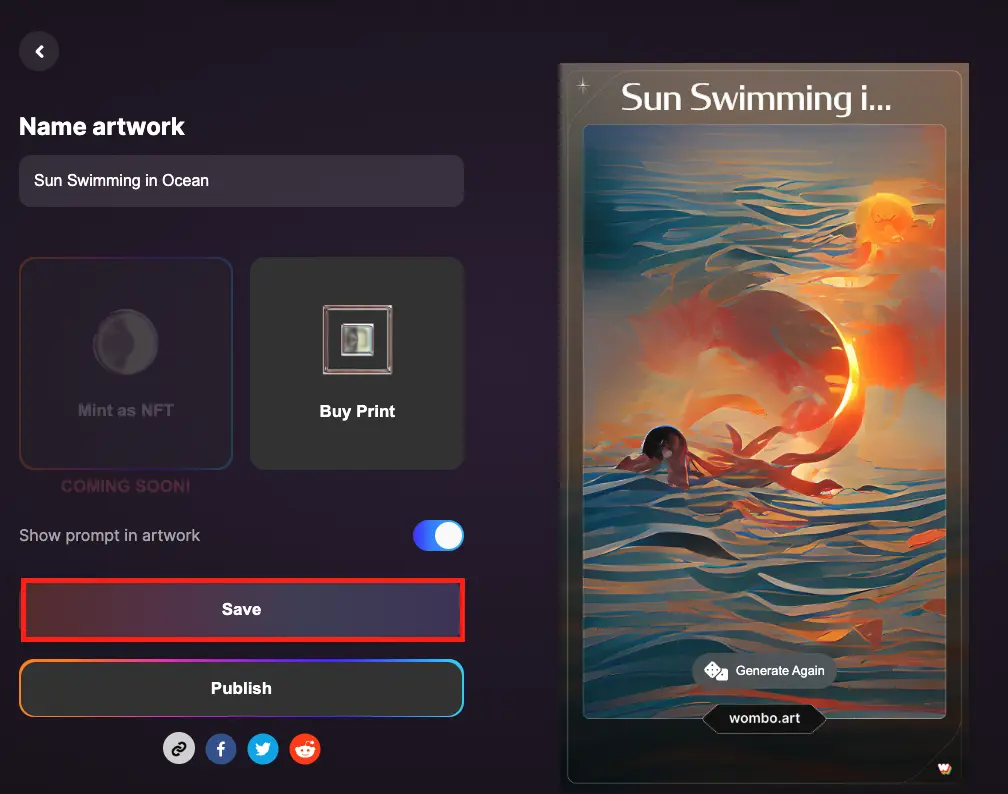 9. You can also publish your AI Art if you want to.
Great, Now it's your turn to generate AI Art from Text. You can generate as much free AI Art as you want from Wombo Dream AI.
---
NightCafe Studio
NightCafe Studio is an online website which can generate free text to image art that is unique with the help of Artificial Intelligence. The results that I got using this website are amazing. You have to simply type in the text that you want to generate and the results are ready within a couple of minutes. 
Night cafe Studio uses VQGAN + CLIP, introduced by Open AI. You do not require a google collab notebook to generate the text for the image. Simply you can type in the text prompt and the results will be ready.
You can go to any extent of your imagination by typing in the text and then get ready to be blown away. I can assure you that the results that you will obtain from this free website by typing in the same text are just incomparable.
You can create AI art and it will be indexed like social media content. You can log in and view AI arts created by other users.
I will have to say that it is one of the best AI art online generators when I am writing this post.
For testing purposes, I just wrote 'Fox in Space' and 'canon destroying ai world created with stone'.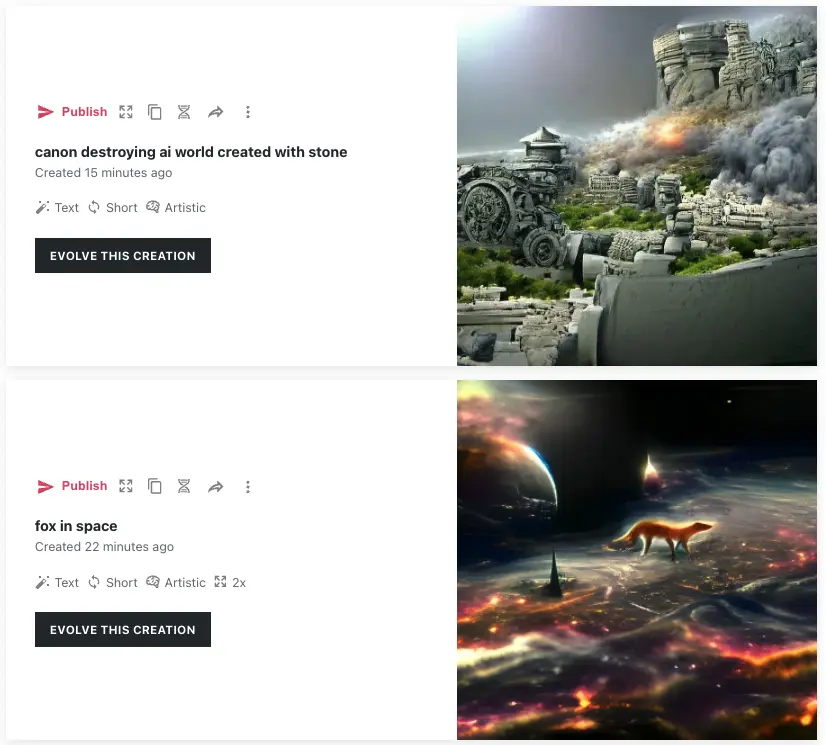 You can see the results that this site generated and for me, it is just amazing. I will highly recommend this website for generating your free AI art from the text. 
Text-to-Image Result for 'sun swimming in ocean':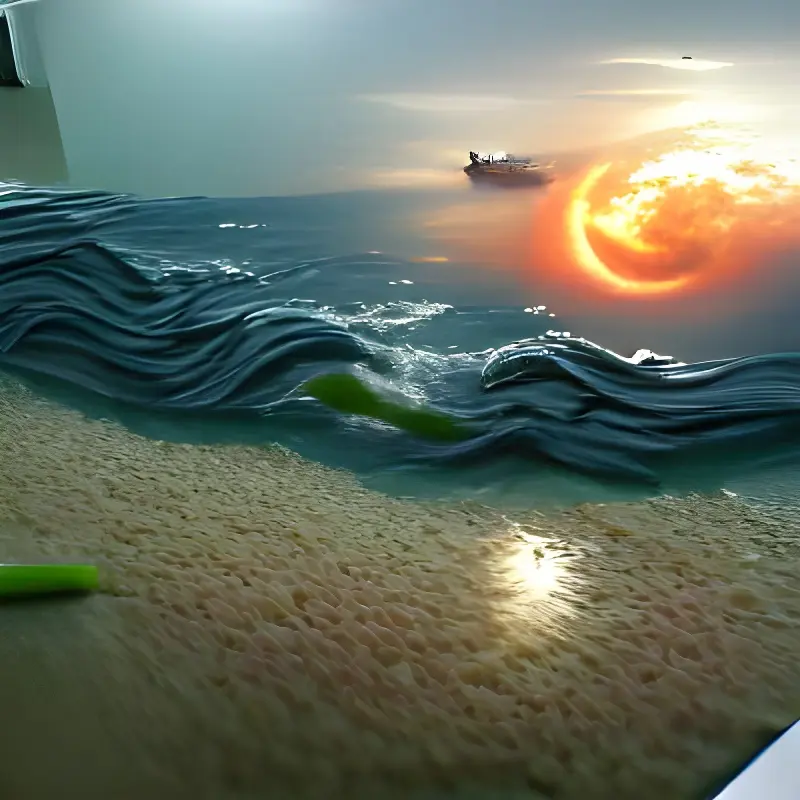 How to Generate Free AI Art from text using NightCafe Studio
1. Go to the NightCafe Studio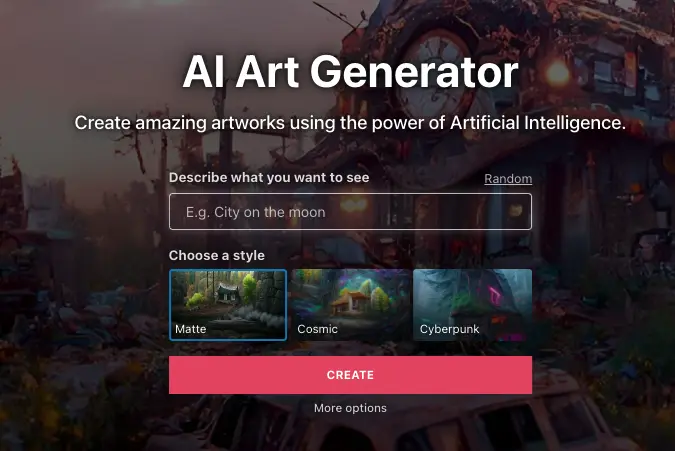 2. Type your desired text. (Remember: You can generate only 5 images)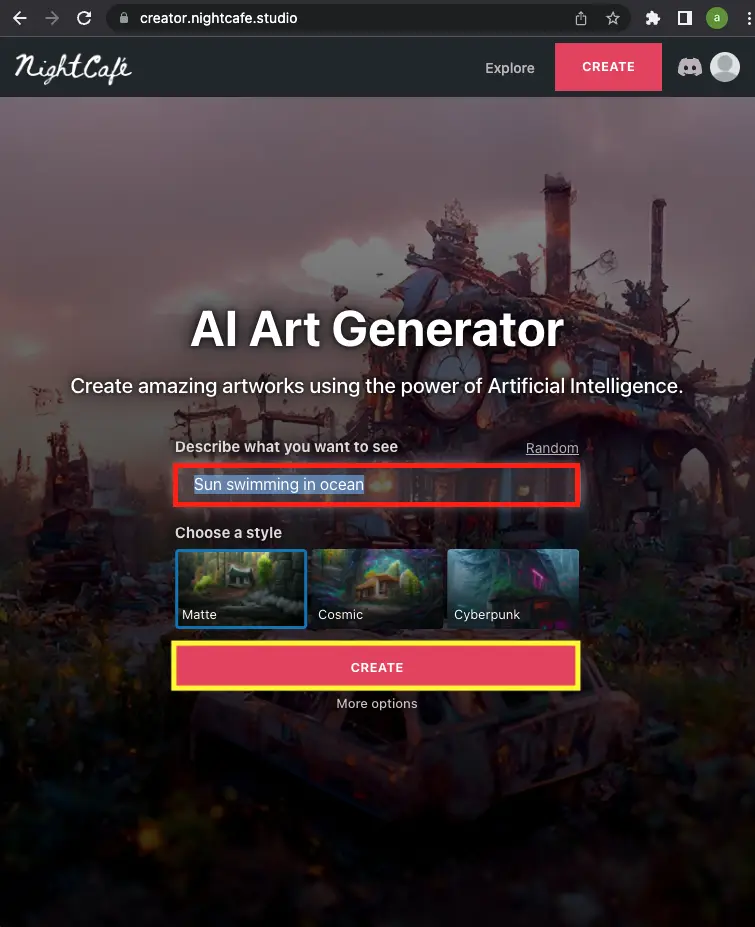 3. Click on "Create".
4. Wait for a couple of minutes to generate the art.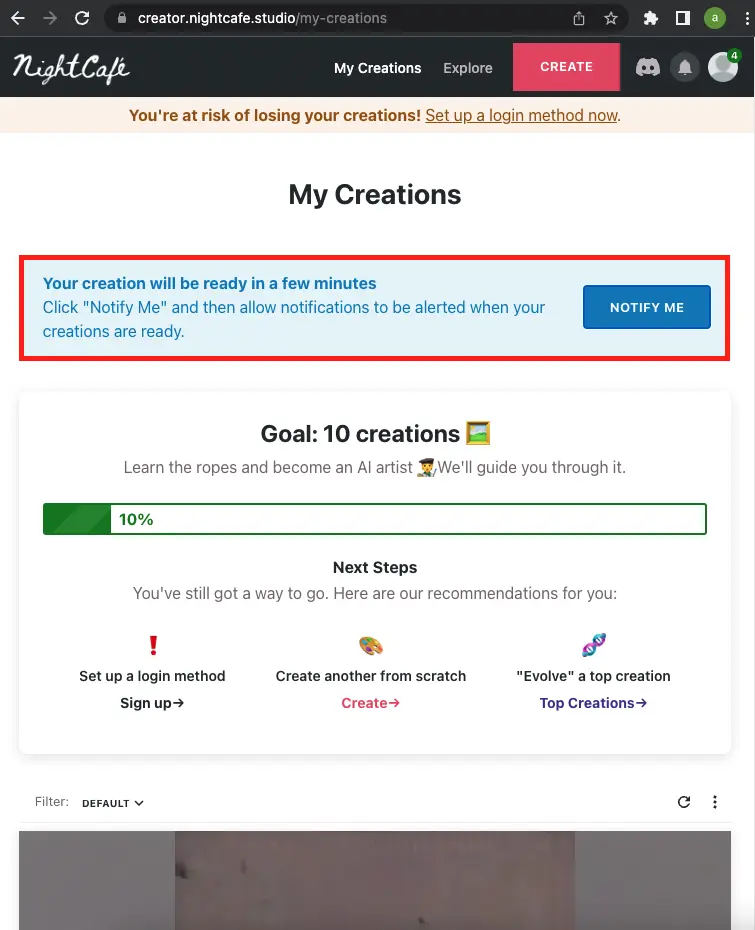 5. Get ready to be Amazed.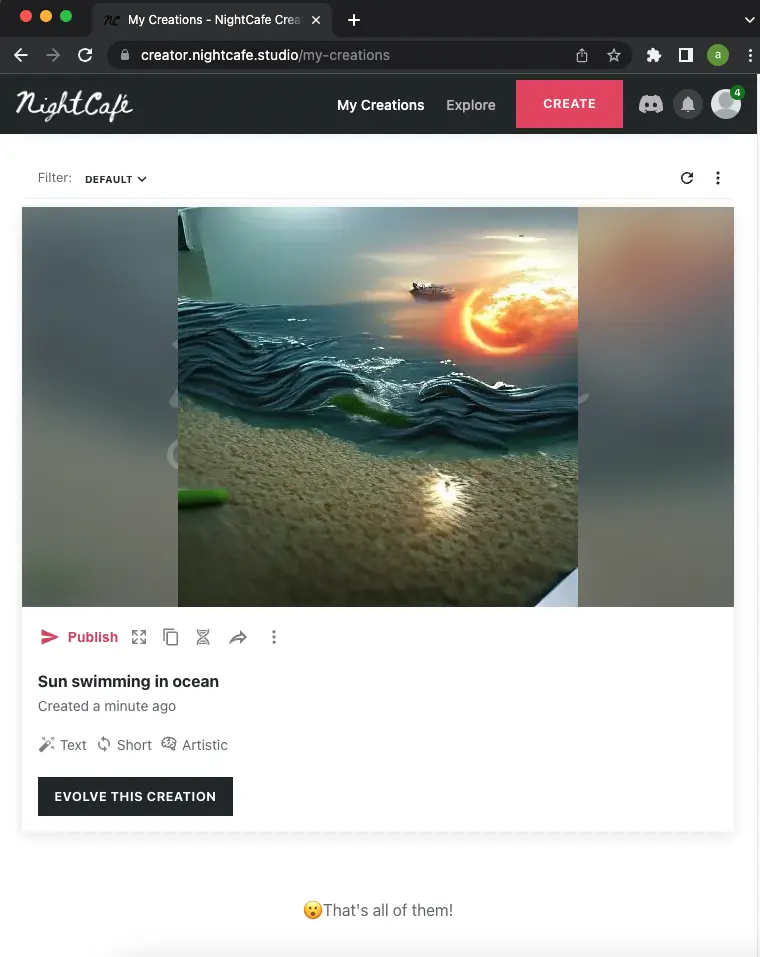 6. If you want to upscale you can use some credits. (Remember: You can only have 5 credits)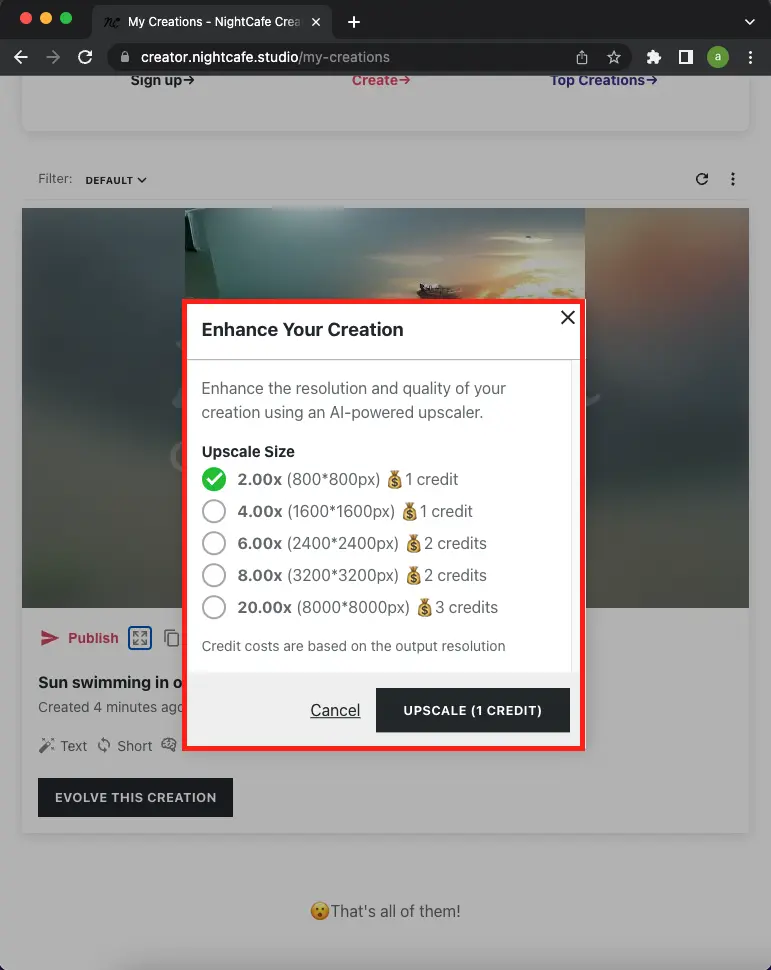 7. You can view my upscaled result.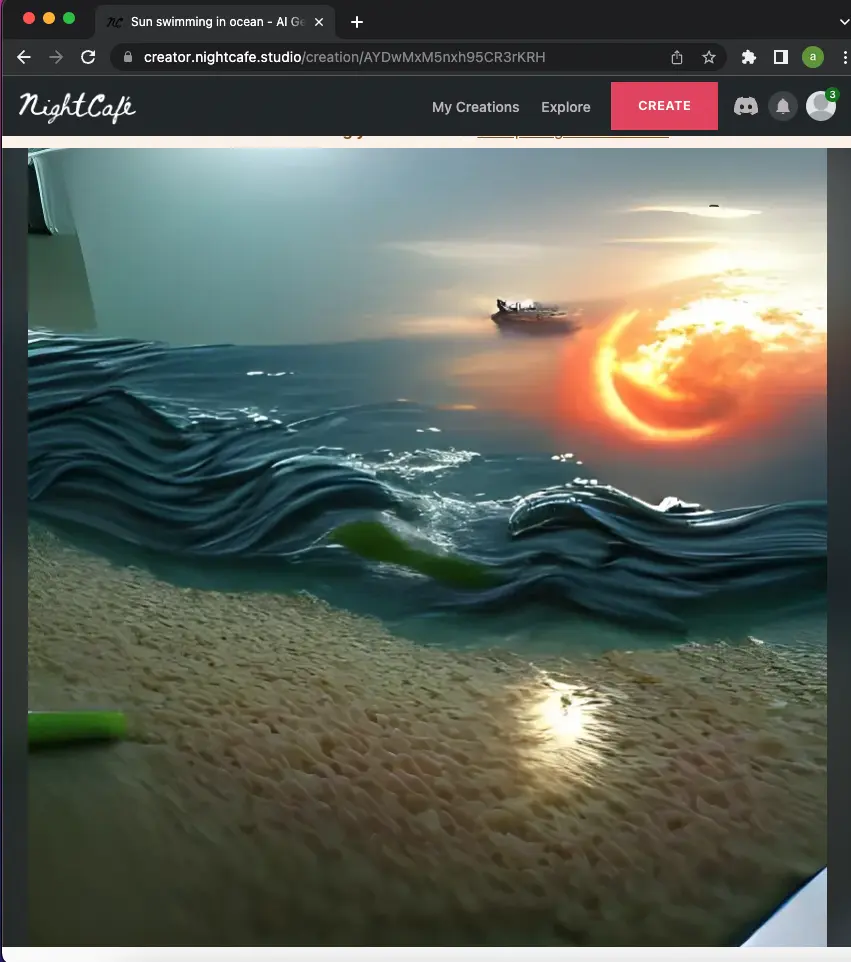 8. You can share on social media to gain some free credits.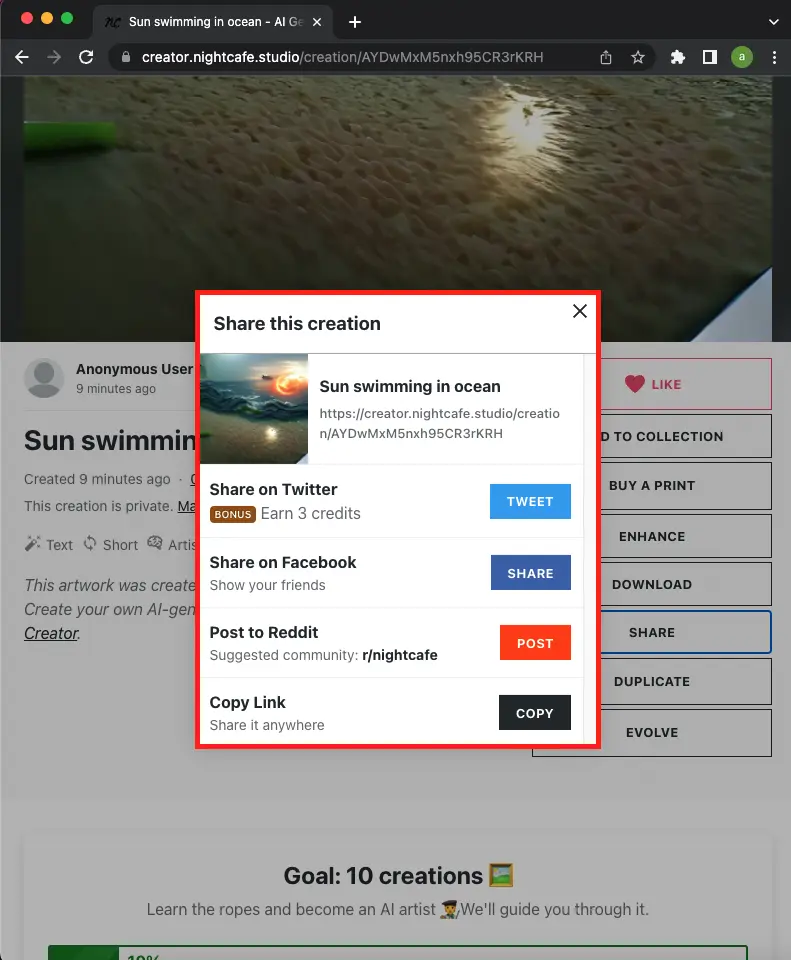 9. Download the Art on your Local Device and Save it Forever.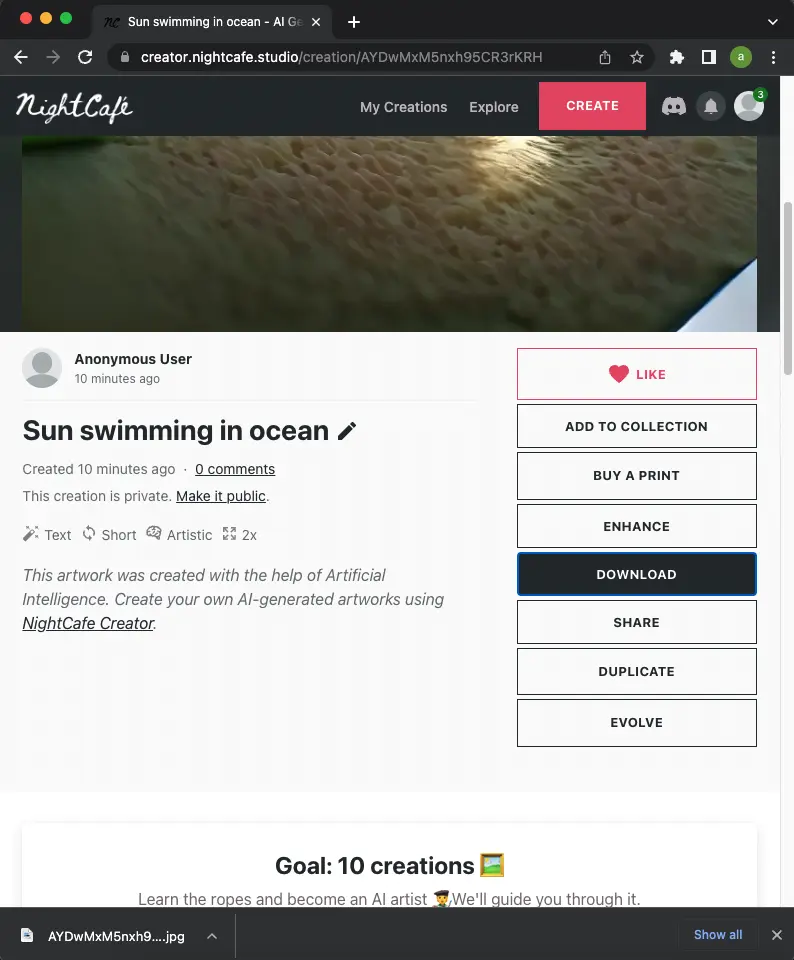 Additional Features
Apart from generating text for AI Art, Nighcafe Studio also allows you to generate video from text and also do style transfers. 
Also, you can explore the Art that is generated by other creators in the Explore Tab.
---
Hotpot.ai
Hotpot.ai is also a free online AI text to image generator. The quality of the image generation is less than Wombo Dream AI and Night Cafe Studio. This online tool can generate AI art using the text you input so we have included this tool in our list also.
The Hotpot.ai can help you to create unlimited AI arts but they will be all of the thumbnail sizes to enlarge to the image you will be required to buy some credits.
Along with text to image generation, Hotpot.ai also deals with other AI products such as picture colourizer, Picture restorer, object remover and image enlargement.
For my experiment, I tried 'sun swimming in ocean'. The results are cool but better results were achieved on Night Cafe and Wombo Dream.
Text-to-Image Result for 'sun swimming in ocean':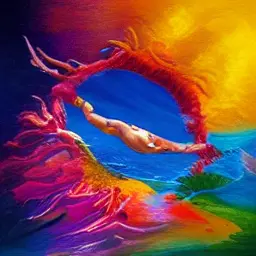 How to Generate AI images using Hotpot.ai 
1. Go to Hotpot.ai text to image generator.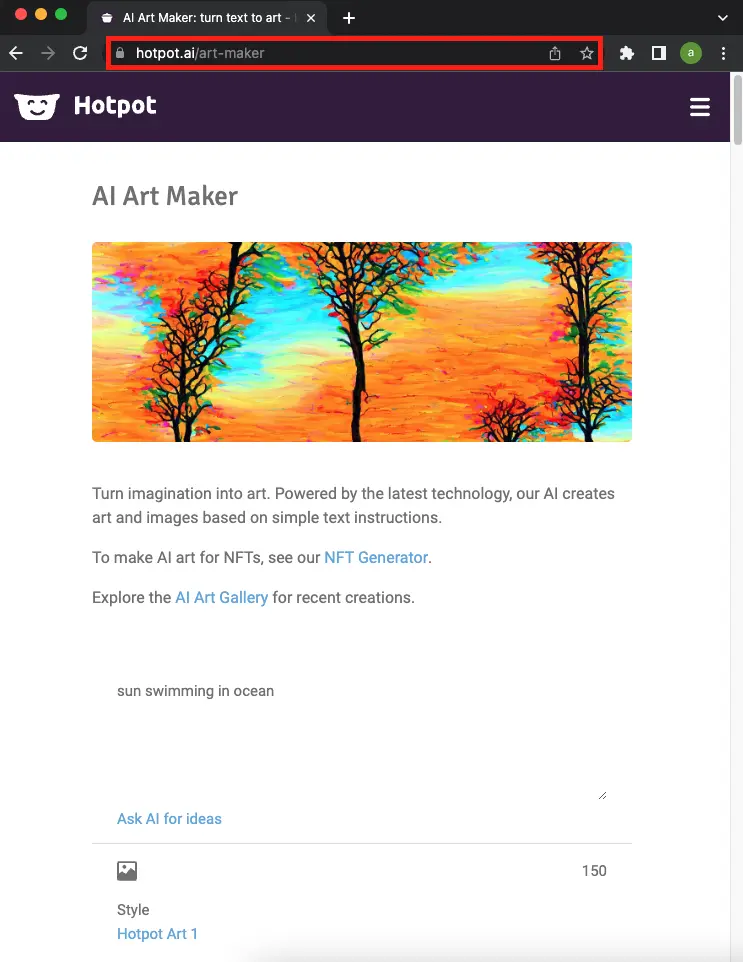 2. Type in your text input.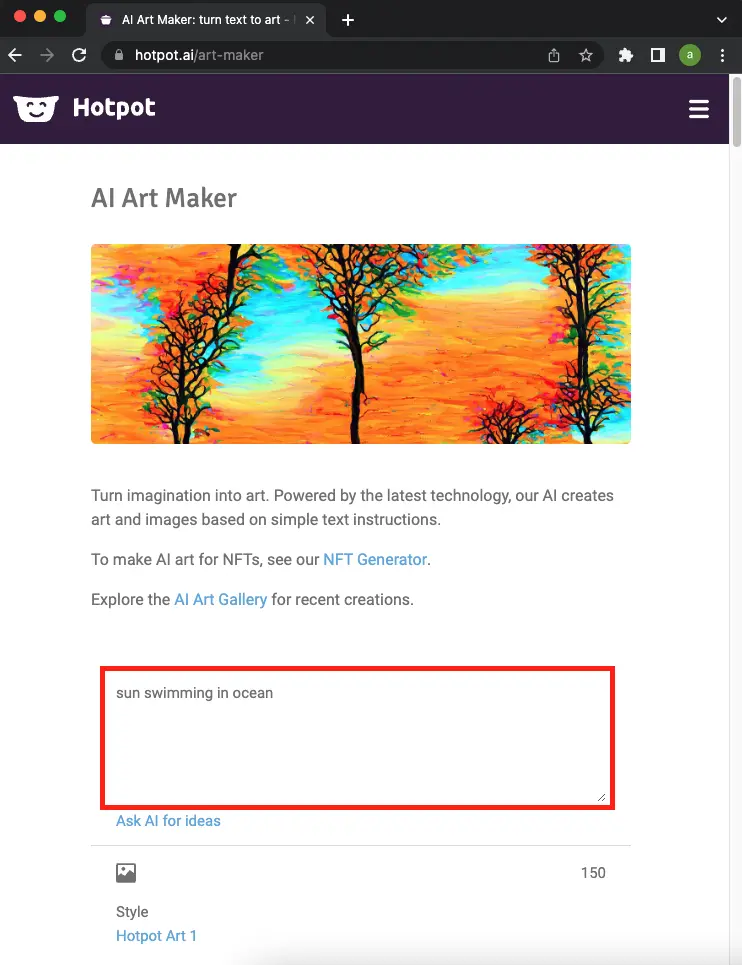 3. The image generation can take 20 sec to 2min.
4. Enjoy your Results.
---
DeepAI Text to Image
As a company, DeepAI was founded to believe that artificial intelligence can provide a sustainable future for humanity that allows all of us to live comfortably. While preparing for this future, DeepAI develops the technologies that will enable AGI to be accessible directly to the individual. Users of DeepAI can type their image illustrations to begin the process. Users can obtain results immediately with the tool. APIs such as DeepAI are developed using languages that support AI, such as Python and Ruby. This page provides all the API coding instructions that you need. Ai works flawlessly in the image generator.
Deep AI Text to Image is different from NightCafe Studio and Wombo Dream AI. Dream AI Text to Image will generate images that look similar to real-world pictures without having some styles added. Generally, other sites by default add some styling to the image such as painted or cartoon but Deep AI can successfully generate pictures similar to a photo image.
The drawback in Deep AI text to image generation is that it will work well if the text contains simple words and has less complicated sentences. Like it would work well if the text has a word that is the name of a noun or something that exists in the real world. The other above sites will do great in the generation of imaginative context whereas Deep AI will work well on real-world text to image generation.
For example, Here I have used two words for an experiment. One is a simple word like 'dog' and the other is 'dog running over the road'. You can see that Deep AI cannot process image generation for sentences quite effectively, whereas single simple words work amazingly with Deep AI.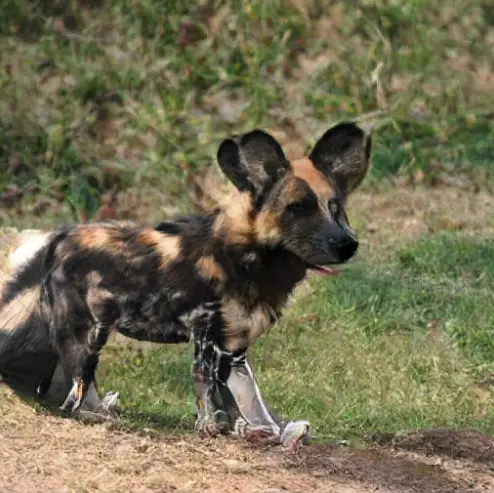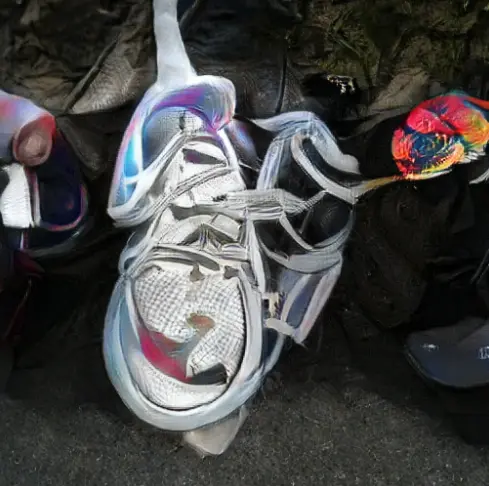 How to generate AI text to Image using DeepAI
1. Go to Deep AI Text to Image.
2. Type in the word that you want to generate an image.
(Much better if you keep it a single word)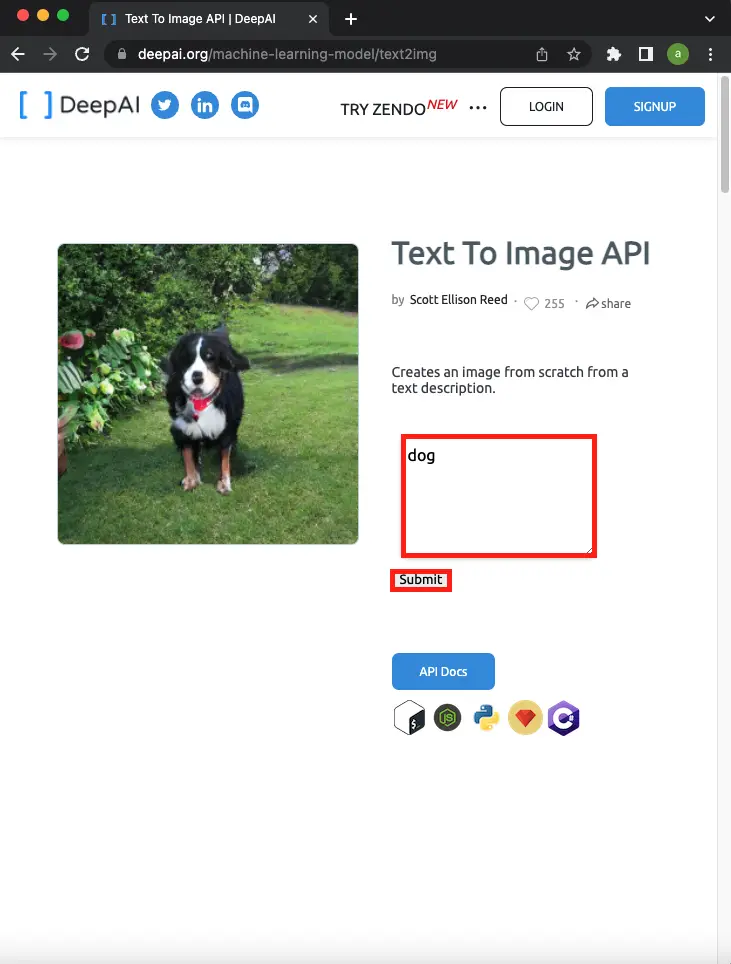 3. Wait for a few seconds.
4. Results are in front of you.
Apart from Image generation, Deep AI has other applications such as text generation using the GPT 2 model and colourization using AI. You can explore all Deep AI APIs for public use here.
---
Computer Vision Explorer
Computer Vision Explorer is built by Allen Institute for AI. Apart from converting text to image, Computer Vision Explorer also has other AI tools such as classification, detection, Image Captioning, and many more. You can find them on the left sidebar of the website. 
Computer Vision Explorer uses a multi-modal transformer model as they have mentioned. They used the LXMERT model to achieve text to image conversion.
For testing purposes, I tried a variety of sentences. I concluded that Computer Vision Explorer can process long sentences but generating exact images is still a problem. Instead of generating the exact figure, it will generate a blur of the colour of the same thing with the situation that you kept in the sentence. 
How to Generate Text to Image Using CV Explorer
1. Go to Computer Vision Explorer
2. Either select from the Dropdown text
Or Input your custom text.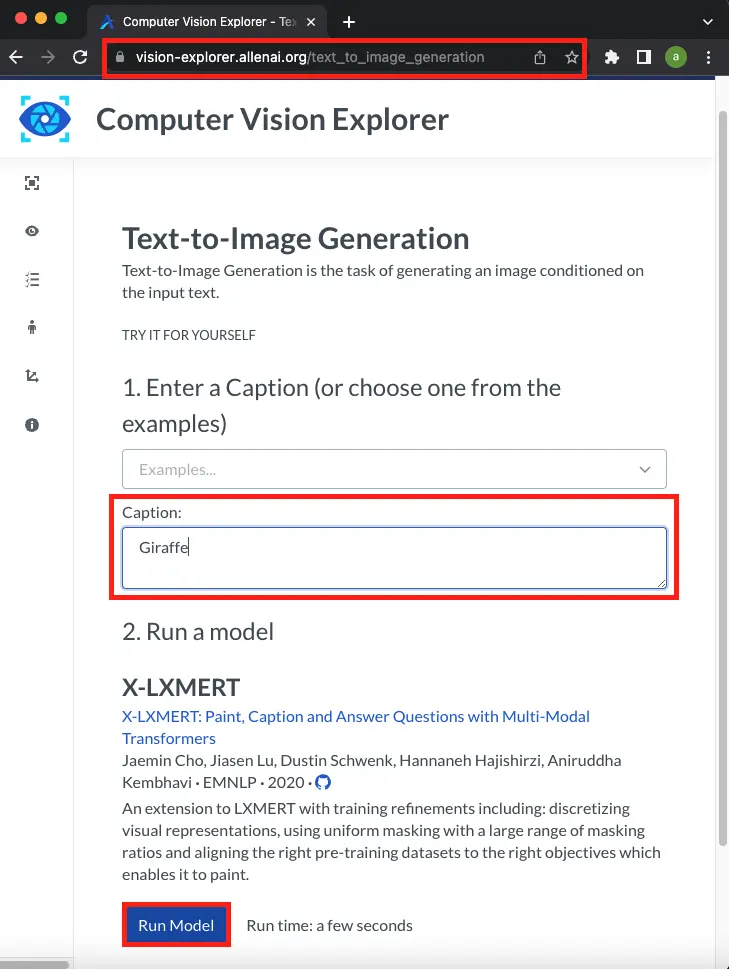 3. Wait for the result.
4. Finally, the results.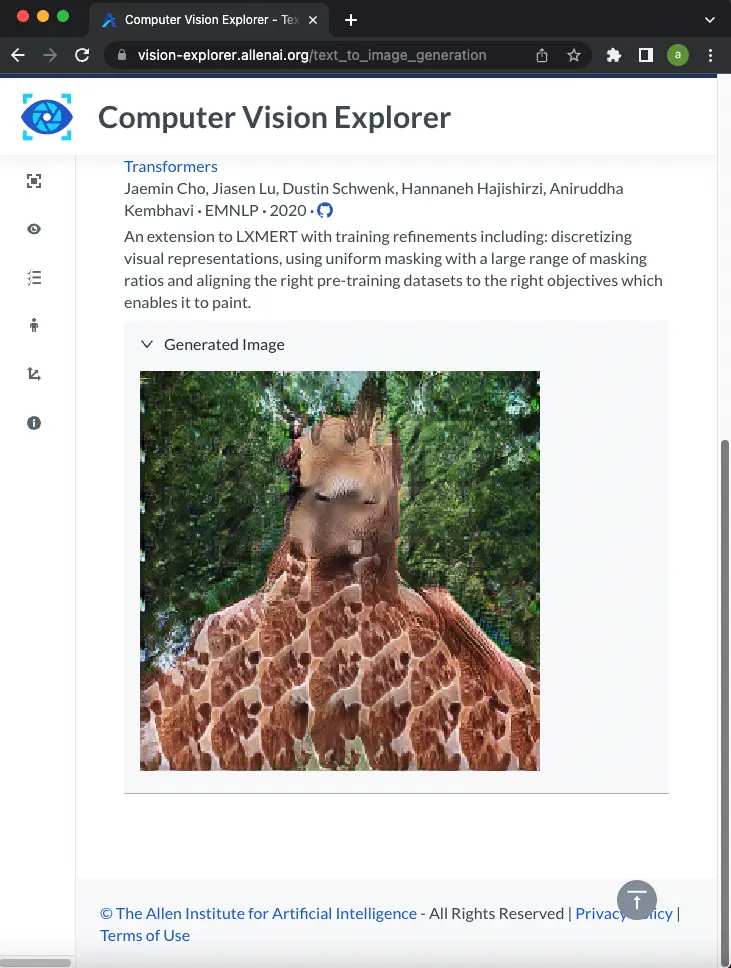 ---
Dall-E
It uses a 12-billion parameter version of GPT-3 to generate images from the text you provide. With DALL·E, animals and objects can be anthropomorphized, concepts can be twisted into plausible connections, text can be rendered, and transformations can be applied to existing images.
In naming its tool, DALL·E took inspiration from famous artists Salvador Dali and Wall-E.
A similar AI-based model called GPT-3, created by the same company that made DALL·E, wowed the world in July by generating human-like texts, including Op-Eds, sonnets, poems, and even code. In DALL·E, text prompts are parsed, and images are returned instead of words.
Features of DALL·E
Real-life objects can be generated with a tool to produce accurate and realistic images.

Prices are reasonable, and the tools are not expensive.

A 3D model creator's best friend for architects, designers, musicians, and others.
DALL·E is a powerful model but it has yet to be released for use. You can However go through the Paper and the Code that the Team of Open AI has made public. I have been waiting eagerly to get my hands on this model, I will surely update you whenever it becomes available. 
---
Application & Benefits of AI Art Generator from Text
You can benefit significantly from an AI art generator. Read on for more information.
In a fraction of the time typical artwork would take, AI Art Generator provides a way to create new artwork quickly. It isn't time-consuming, allowing an individual to develop a work of art without knowing all the skills involved.

AI-generated images can be used to create realistic drawings. They enable the accurate reproduction of real-life artwork. You can create realistic portraits, landscapes, and object-oriented art with artificial intelligence. Using AI picture generators, artists can now create artworks that meet the expectations of their clients. An AI tool for translating text to images has proven to be a valuable resource for artists, enabling them to mine noble ideas and patterns from the art world.

By generating images from the text, you can create visually stimulating artwork. The purpose of constructive drawing is to construct the subject of your piece on the medium you select by combining shapes to form the rough outline of what you will eventually paint or draw. Fine artists often use this skill to create realistic art and understand basic art skills, such as line work and symmetry, which are made possible by AI art generators.

It is crucial to manage one's time, and AI art software can help. Professional artists sometimes have deadlines to meet. AI image generators help artists maintain punctuality and maintain the quality of their work without rushing. Speed makes artists more popular, which boosts their incomes.

Artists compose their artwork as a whole, carefully constructing each detail to create a masterpiece. As an artist, the composition skills he possesses allow him to create artwork on various subjects and backgrounds, requiring him to comprehend how each one interacts with the others to reveal the artwork's potential to the viewer. A computer-generated image generator makes it easy for artists to create artistic works without knowing how to compose them.

Software that understands colour theory develops artwork that looks aesthetically pleasing to the human eye, making colour more pleasing.

For a creator and a viewer, it is imperative to understand the perspective of an artwork. A variety of perspectives can add a unique touch to a piece when AI generates images.
Across the globe, Artificial Intelligence technology is booming like nothing. Programmers have developed cutting-edge tools to mimic human thinking, and a new AI tool, CLIP+VQ-GAN, can create impressive works of art by just telling a few words.
---
FAQ
How does AI Generate Images from Text Inputs?
Many models can be used to generate Text to Image. One of the popular models is VQGAN+CLIP. An innovative CLIP architecture published through OpenAI is the basis for VQGAN+CLIP, a new neural network architecture A text-to-image model using VQGAN+CLIP produces images of variable size based on text input. This model was made public by OpenAI in Jan 2021 and since then it gave rise to text to image generation. 
---
Conclusion
Converting your thought of text into the art or pictures, helps you to remember that context for a long time. If you're interested in creating your ideas with AI, use our suggestions. By adding the text, you can generate a text online. Moreover, there will be no requirement for any coding knowledge here. 
Aayush Kumar Gupta is the founder and creator of ExploringBits, a website dedicated to providing useful content for people passionate about Engineering and Technology. Aayush has completed his Bachelor of Technology (Computer Science & Engineering) from 2018-2022. From July 2022, Aayush has been working as a full-time Devops Engineer.