Welcome to our guide on the best free online Naruto Uzumaki AI Voice Text to Speech Generator! Transform your text into the captivating voice of Naruto with these cutting-edge AI tools. Let's explore how you can unleash the power of Naruto's voice with just a few clicks!
In this article, you'll Discover the best Naruto Voice Generator, capable of seamlessly transforming a written text into remarkably realistic Naruto voices. Learn about the Best Naruto Uzumaki AI voice Generator using Text-to-Speech Free.
List of Best Naruto AI Voice Generator Online Free & Paid
| Tool Name | Key Specifications |
| --- | --- |
| FakeYou | User-friendly interface powered by advanced AI technology. Free-to-use AI Text to Speech Generator. |
| Uberduck | Offers over 5,000 distinct and expressive voices using AI. Free-to-use AI Text to Speech Generator. |
| 101 Sound boards | Provides a wide range of Naruto voice collections for selection. |
| Voice AI | Capable of real-time Naruto voice conversion and modification. |
| ElevenLabs | Exceptional AI voice generation specializing in storytelling. Can easily clone Naruto Voice with exact precision. |
---
Who Is Naruto Uzumaki?
Naruto Uzumaki is an Anime character created by Masashi Kishimoto, a renowned Japanese manga and anime series. The story revolves around Naruto's quest to become the Hokage, the leader of his village. With its compelling narrative, vibrant characters, and epic battles, Naruto has gained a massive following globally.
The franchise has been adapted for different audiences, featuring English and Japanese voice actors who breathe life into the characters. Maile Flanagan and Junko Takeuchi lend their voices to Naruto Uzumaki, portraying his determined spirit and unwavering resolve throughout his journey. Naruto continues to be loved by fans, maintaining its place as a beloved anime and manga series.
---
Free Naruto Uzumaki AI Voice Text to Speech Generator Online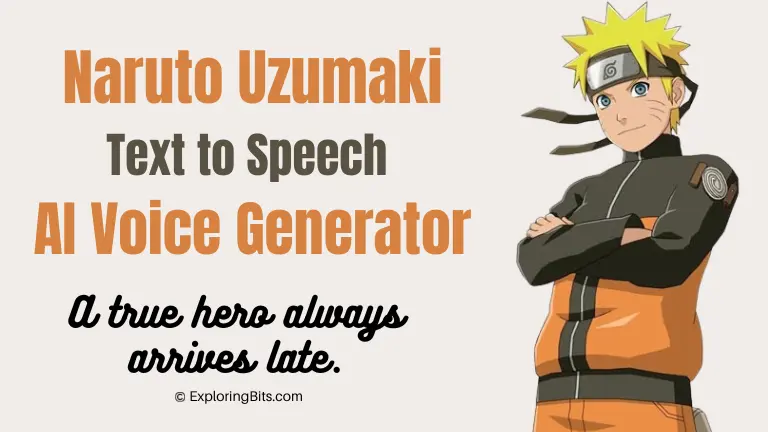 We've found free online Text to Speech Naruto Uzumaki AI voice generator without software downloads. It's a convenient tool for generating Naruto Uzumaki's voice by simply inputting text. We can guide you on using it effectively based on our testing.
FakeYou
FakeYou is an online tool designed to create deep fake text-to-speech voices. With a wide selection of 2,400 voices, including popular celebrities and anime characters like Naruto Uzumaki, users can input text and generate personalized voice outputs.
The tool aims to provide a realistic environment by offering regular people's voices. For those seeking an enhanced experience, the FakeYou website is recommended. Let's also look at its key specifications, pros, and cons.
Here are the Key specifications of Fakeyou:
User-friendly interface powered by advanced AI technology, ensuring ease of use.

Utilizing cutting-edge AI capabilities, Fakeyou generates highly realistic text-to-speech outputs.

Regular updates continuously enhance the voiceover quality, delivering improved results over time.

A vast collection of high-quality voices boasts an extensive library with a selection of up to 2,400 options.

Allows users to conveniently edit and save their work in popular formats, facilitating future use and accessibility.

Allows to generate AI voices in many Naruto and other anime character voices such as Tsunade, Goku, Levi, etc.
Pros:
Compatibility with any internet-connected device that has a web browser.

Convenient accessibility from any location due to its web-based interface.

Extensive customization options are available for all 2,630 voices to enhance the output quality.

Continuous availability of FakeYou text-to-speech at no cost, thanks to ongoing support from fans and users.

Regular expansion of the voice selection, with new options being added daily.
Cons:
Currently, there is no option to record the conversation, and the system only supports text-to-speech (TTS) functionality.

The duration of the Fakeyou deep fake text-to-speech conversion may vary depending on your queue.
Step by Step guide to generating Naruto Uzumaki's AI voice with Fakeyou
Follow these step-by-step instructions to generate Naruto Uzumaki's AI voice using Fakeyou: 
Step 1: First, visit the homepage of the official website of Fakeyou; there, you'll find various options, and for generating AI voices, select the "Text to Speech" option.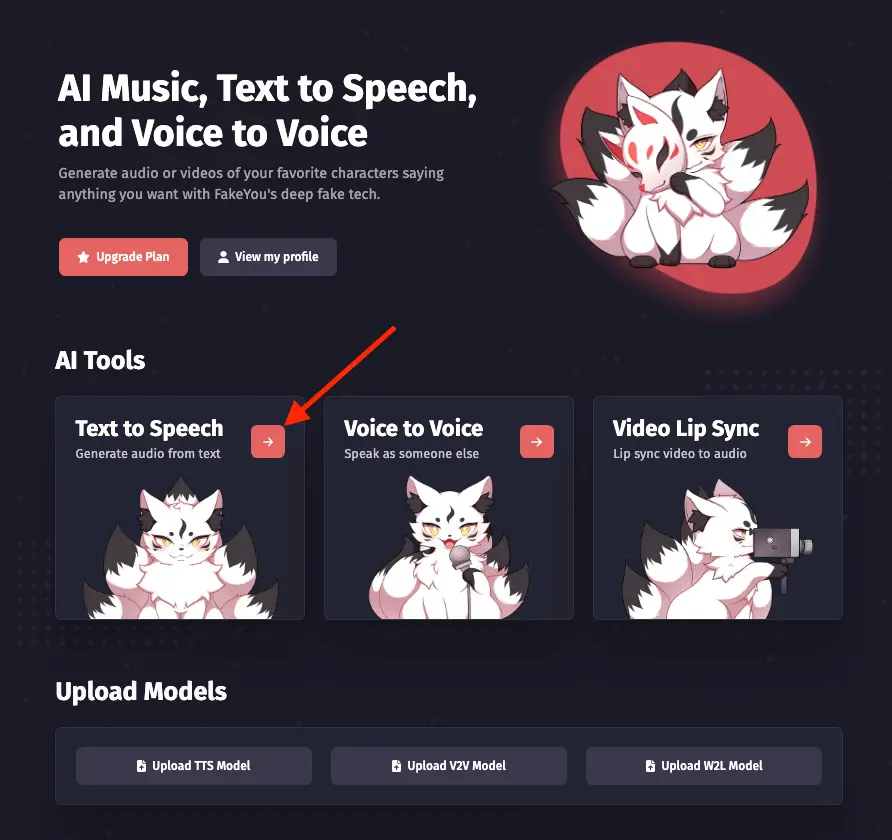 Step 2: Once you're on the Text to Speech page, you'll see a section called "Voice."
Step 3: Next, go to the search bar provided, and type in "Naruto Uzumaki" to find available voice options related to the character. (If there are multiple variants, choose the one with the highest rating or the most suitable choice for your preference).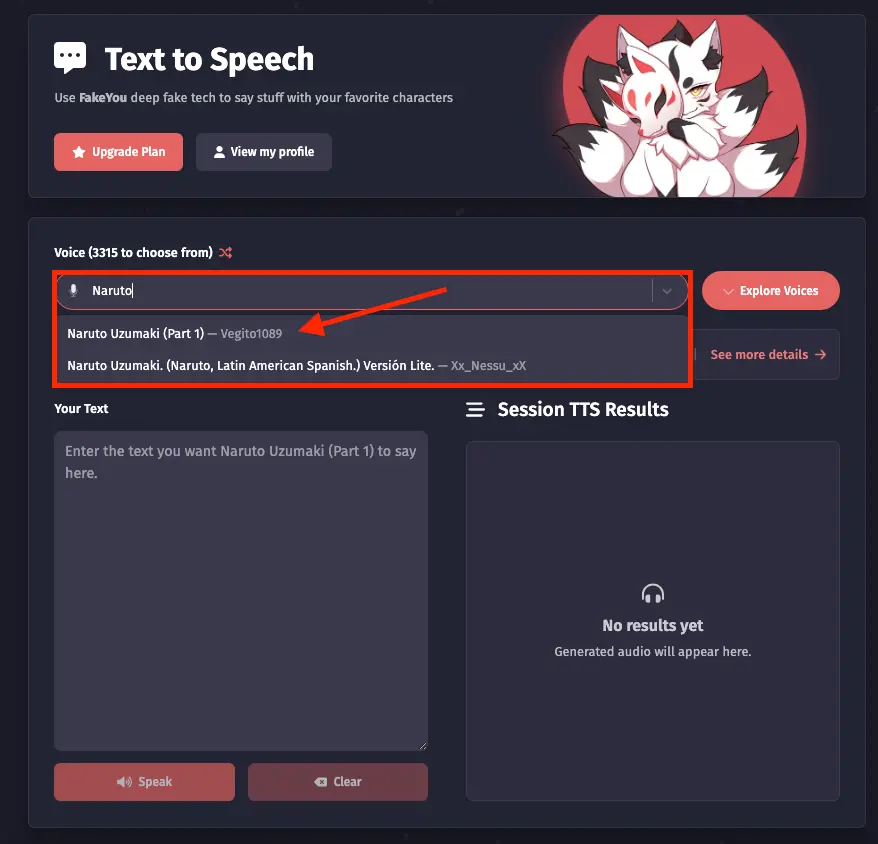 Step 4: After selecting the desired Naruto Uzumaki voice, move on to the next step. 
In the "Your Text" area, enter the text you want to be converted into Naruto Uzumaki's voice. 
Step 5: Locate the "Speak" button below the text input field and click on it to initiate the synthesis process.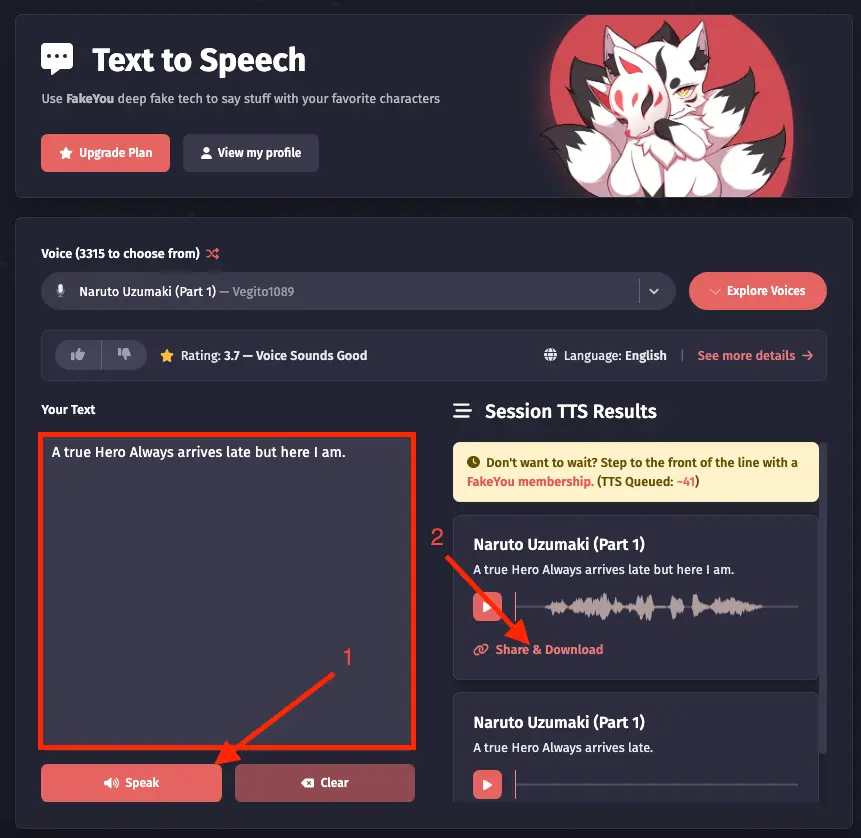 Step 6: Once the synthesis is complete, you'll have the option to download and share the generated voice. 
Following these straightforward steps, you can successfully generate Naruto Uzumaki's AI voice using Fakeyou. Feel free to utilize the generated voice for entertainment, creative projects, or other suitable applications.
---
Uberduck
Uberduck is a noteworthy Naruto AI Voice Generator that deserves recognition. This cutting-edge tool leverages advanced text-to-speech synthesis methods to produce remarkably realistic Naruto AI voices. 
Its easy interface allows users to explore various voices, tones, and emotions effortlessly. Whether engaged in an animation or a professional project, Uberduck can effortlessly deliver the genuine Naruto voice you desire. It is an invaluable resource for those seeking authenticity in the Naruto Uzumaki voice generator. 
Here Are The Key Specifications Of Uberduck:
Uberduck provides various voices; you can generate text-to-speech in over 5,000 distinct and remarkably expressive voices.

Uberduck offers seamless integration with their APIs, enabling you to develop impressive audio applications within minutes.

Join the Uberduck community and contribute to the enhancement of their creation tools, making it a collective effort.

Numerous prominent companies have found satisfaction in utilizing Uberduck's services for their customers' needs.

Gain user access to Uberduck's well-documented API resources, empowering you to create your audio apps effectively.

It has Unlimited voiceover customization; you can enjoy limitless possibilities for fine-tuning voiceovers to meet your specific requirements.

It allows to create of AI voices for many celebrities, such as lionel messi, Eminem, and many more.
Pros:
Expertise in producing genuine Naruto AI voices.

Implementation of sophisticated algorithms to achieve lifelike voice output.

Convenient text-to-speech conversion feature for generating AI voices for particular scripts or dialogues.

User-friendly interface suitable for animators of all skill levels, from novices to professionals.
Cons:
The range of voice options available compared to other voice generators is limited.

There may be potential language limitations, with a primary focus on English or specific languages.
Step by Step guide to generating Naruto Uzumaki's AI voice with Uberduck
To generate Naruto Uzumaki's AI voice with Uberduck, follow the steps given below:
Step 1: Start by visiting the uberduck.ai website. If you're new, sign up for an account to access the platform's features and services.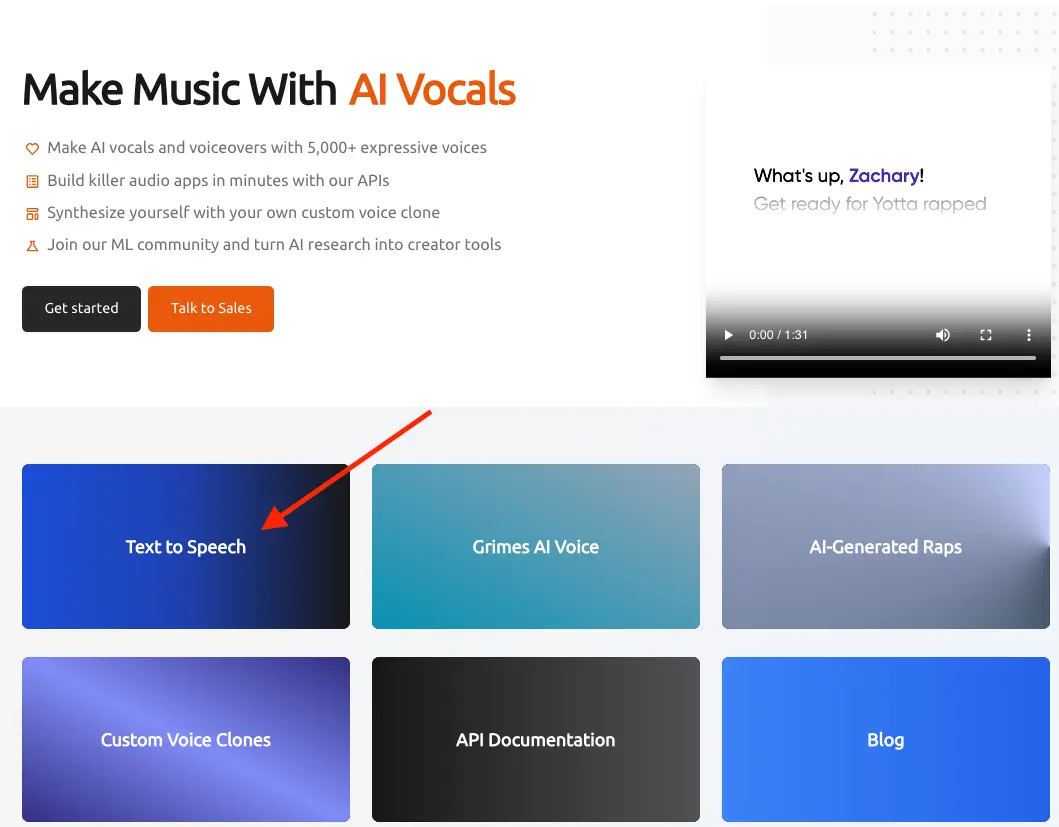 Step 2: Once you're signed in, navigate to the Text to Speech section on the website. Look for the voice category options, or type "Naruto Uzumaki" in the search bar to automatically select his voice.
Step 3: In the input area provided, enter the text you want Naruto Uzumaki's AI voice to say. You can input dialogues, quotes, or any other text you desire. Take a moment to review the text for accuracy and clarity.
Step 5: After you've entered the desired text, click the "synthesize" button to initiate the voice generation process. Uberduck's advanced algorithms and AI models will work magic to create Naruto Uzumaki's distinct voice.
Step 6: Once the voice synthesis process is complete, you will be able to download the generated Naruto Uzumaki voice.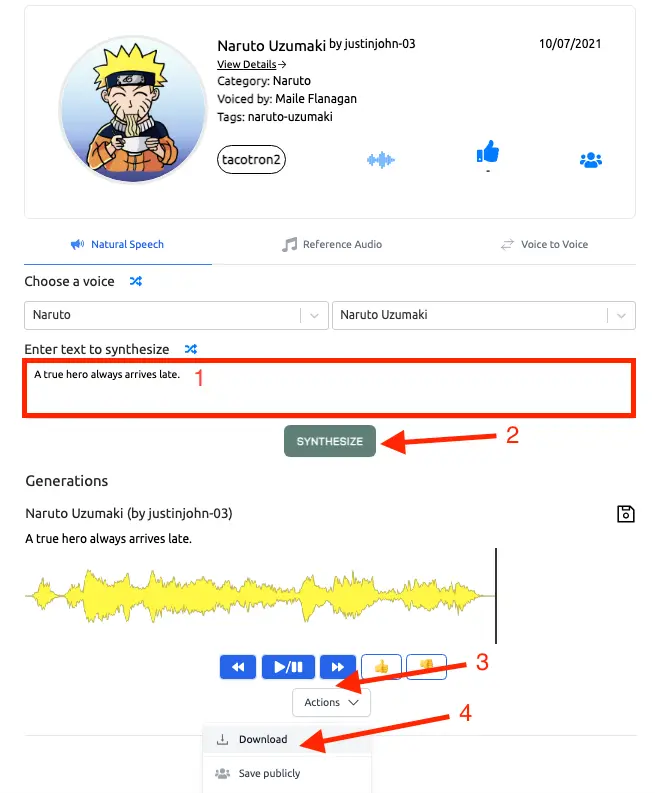 Step 7: Look for the Action Drop-down menu, select the appropriate option, and download the voice file to your device.
With these straightforward steps, you can quickly generate and obtain an AI-generated voice of Uzumaki using Uberduck's excellent technology. Enjoy exploring the possibilities of bringing Naruto's voice to life in various creative projects!
---
Free Naruto Uzumaki TTS Collection
Discover a variety of free Text-to-Speech (TTS) platforms that offer a diverse selection of voices, allowing you to explore different options inspired by Naruto Uzumaki. While generating AI voices that precisely mimic Naruto may not be possible, these platforms provide an extensive range of pre-generated voices for you to enjoy. Dive into the world of TTS and explore the unique collection online.
101 Soundboards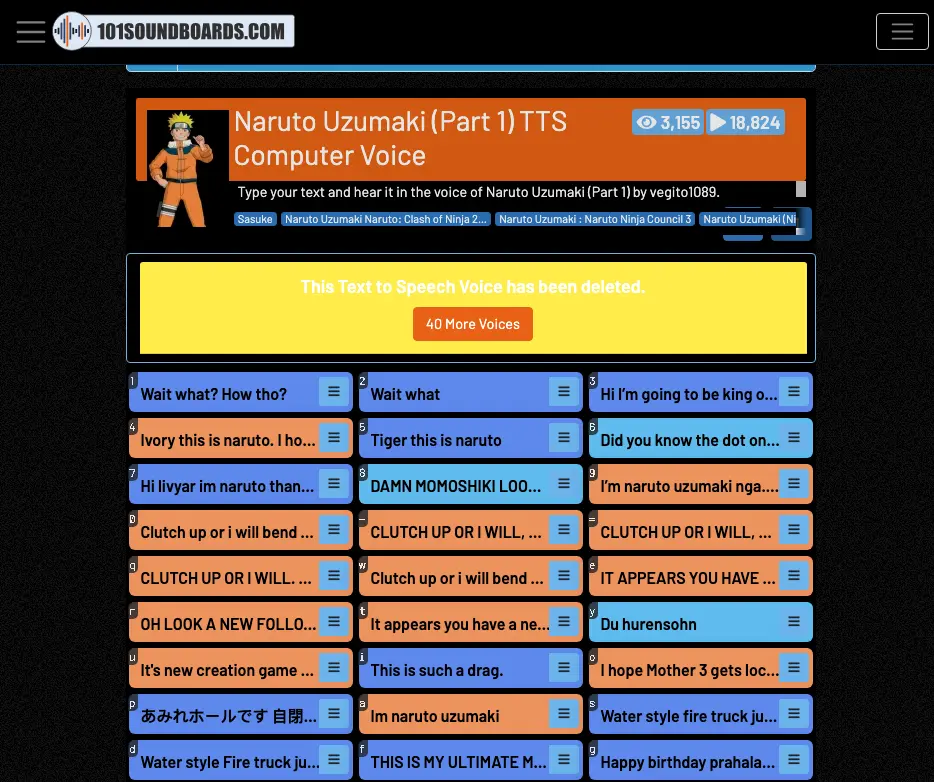 101 Soundboards is a web-based tool that provides a wide range of voice collections for selection, such as Naruto Uzumaki and voices from fictional and real characters. This free online tool allows users to access and utilize diverse voice recordings to suit their needs.
Here are the key Specifications of the Soundboard:
The 101 Soundboards offers the best features to enhance user experience; users can easily personalize their preferences by downloading voices in either MP3 or WAV format. 

The convenience of a user-friendly smartphone application ensures easy access to the 101 Soundboards functionalities. 

With its extensive collection of voices, including those of fictional characters, users can enjoy a diverse selection of unique and distinct voices for each character. 

This abundance of choices guarantees an impressive assortment to cater to individual preferences.
Pros:
The platform provides a specialized assortment of characters inspired by various genres.

A wide variety of voices are available, catering to different types of characters.

Users have the ability to discover popular dialogues delivered in the unique voices of specific characters.
Cons:
The service does not offer text-to-speech generation capabilities, limiting users to downloading only pre-existing voices.
---
Free Naruto Uzumaki AI Voice Changer And Generator
Transform your voice into the iconic tone of Naruto Uzumaki with the free AI voice changer and generator. This tool accurately generates text-to-speech with high quality and numerous features. Experience the amazing ability to mimic Naruto's voice effortlessly.
Voice.AI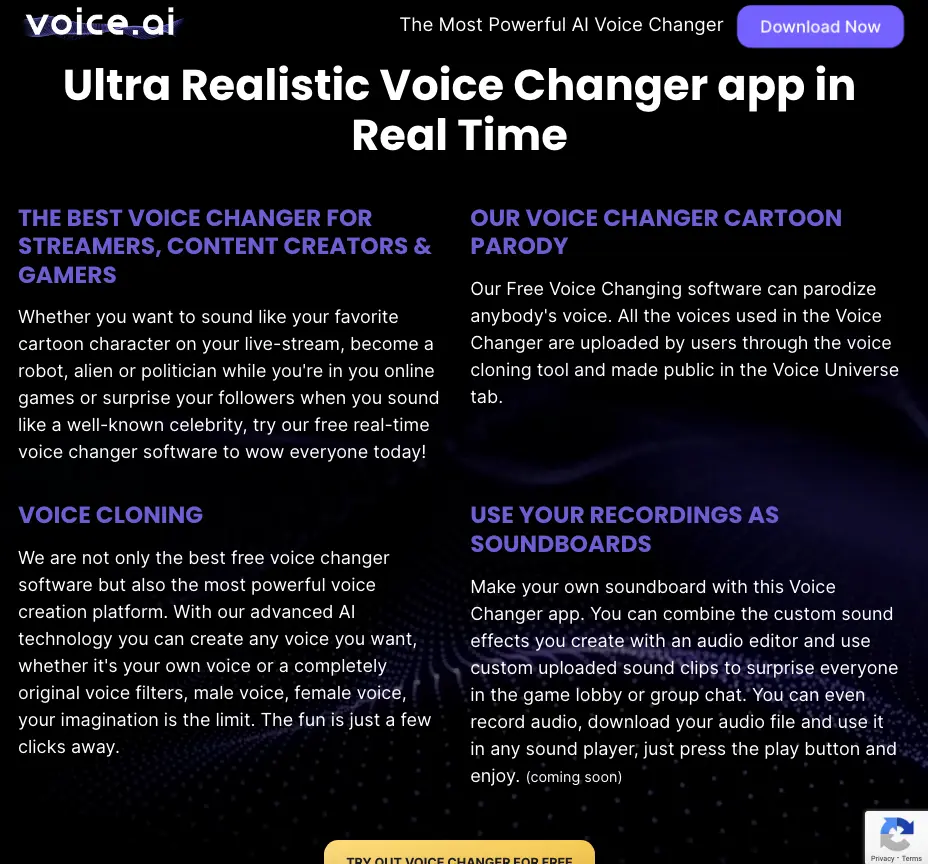 Voice.AI is a remarkable tool that revolutionizes AI voice modification. Its standout feature is its unmatched voice quality, achieved through refined training algorithms and high-quality audio. Even more appealing, it's free with a few conditions. Voice.AI is perfect for altering your voice to sound like Naruto Uzumaki using powerful AI. It works with recordings and live voice conversion, making it ideal for personal use and voice-based projects.
Here are the Key Specifications Of Voice AI: 
Voice AI boasts a remarkable capability that allows users to train brand-new voices, although this process demands time and patience due to its intensive nature.

With its cutting-edge voice-changing technology, Voice AI enables real-time voice conversion during live communication, ensuring a seamless and uninterrupted experience.

Voice AI offers a vast collection of thousands of unique voices, including the iconic tone of Naruto Uzumaki.

Furthermore, this tool supports the modification of recorded audio files, enabling users to transform the voices in audio content from various platforms to match the captivating timbre of Naruto Uzumaki and other available voices.
Pros:
The tool is completely free to use.

It offers voice conversion capabilities for both real-time interactions and pre-recorded audio files.

It seamlessly integrates with multiple platforms for easy accessibility.

Users can enjoy instant results with the ability to convert voice in real time.

The tool provides a diverse selection of high-quality character options for voice conversion.
Cons:
For now, it can only be used on Windows PCs.

There are concerns regarding the hardware requirements for voice AI functionality.
---
Best Naruto Uzumaki AI Voice Generator [Paid]
A paid option is available for those seeking the best AI voice generator to recreate Naruto Uzumaki's iconic voice. While free alternatives exist, many content creators on social media prefer paid software for their gaming videos. This software allows users to engage with virtual characters using Naruto Uzumaki's voice, offering exceptional sound quality and performance that sets it apart.
ElevenLabs.io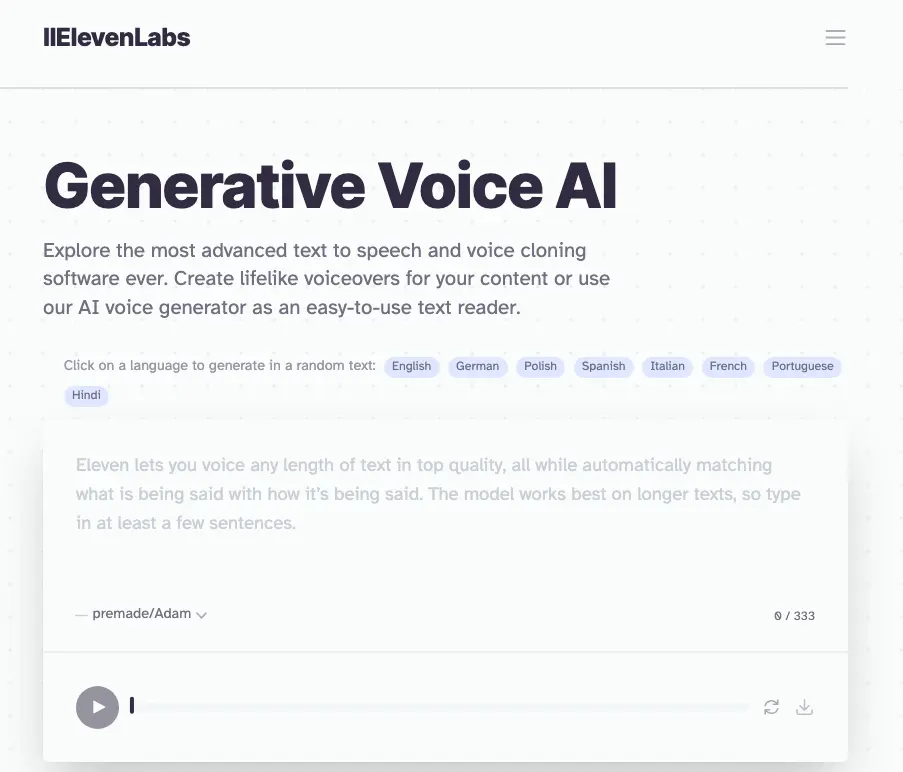 ElevenLabs.io is an innovative platform by Eleven Labs specializing in AI voice generation. Their expertise in research and development has resulted in an exceptional AI voice model, surpassing other text-to-speech generators online.
Users can enjoy the outstanding sound quality of their voices through the platform's free version.
Specifically designed for storytelling, ElevenLabs.io ensures an immersive experience by incorporating natural pauses and emotional inflections. These captivating features enhance audience engagement, allowing users to elevate their content to new levels of excellence with great voice quality.
Here are the key Specifications of ElevenLabs.io:
ElevenLabs.io focuses primarily on meeting the needs of content creators, such as writers and publishers, who rely on spoken formats to engage their audience.

Its software enhances the generated voice by incorporating suitable laughter within the context, making it more realistic and captivating. 

This versatile tool can be applied in various scenarios, including creating audiobooks, delivering news, and sharing stories. 

Users can generate voices that mimic anyone's, including the iconic Naruto Uzumaki, by providing sample recordings of specific individuals.
Pros:
Free access to voice generation with pre-existing characters for experimental use.

Provision of complementary demonstrations to evaluate the service before committing to paid subscriptions.

Ability to replicate the voice of any character using a short audio sample, accomplished within minutes.
Cons:
Eleven Labs is currently in the beta version, actively enhancing its generative AI technology.
---
Conclusion
This article has highlighted two remarkable free text-to-speech voice generators, Fakeyou and Uberduck, that have revolutionized the animation industry and captivated Naruto enthusiasts. These excellent tools provide animators with the incredible opportunity to incorporate authentic Naruto-style voices into their creations, enhancing their animations' overall impact and realism. 
Aayush Kumar Gupta is the founder and creator of ExploringBits, a website dedicated to providing useful content for people passionate about Engineering and Technology. Aayush has completed his Bachelor of Technology (Computer Science & Engineering) from 2018-2022. From July 2022, Aayush has been working as a full-time Devops Engineer.