Poketwo bot is a fun Discord bot which allows its users to experience the joy of playing Pokémon on Discord. It is a bot which allows you to catch pokémons which randomly spawn in your servers. This will allow you to compete with your fellow server members to see who can catch that pokémon first. 
After catching them, you can then level them and evolve them just like in the real Pokémon. You can collect different pokémons this way and add them to your collection. There is another great feature of this bot called trading. Suppose you want a specific pokémon that you catch or get then you can trade with another person who has that same pokémon. This way you can collect pokémons without any hindrance and finally complete the Pokédex. 
Perhaps the greatest feature of the Poketwo bot is the ability to simulate pokémon battles on Discord. Just like in the real Pokémon, you can select three pokémons and pit them against three pokémons of another trainer. These battles are not just plain battles like in other discord games but rather include animated images which change according to the pokémon you are using. These battles are 3v3 pokémon duels with the total and remaining health of your pokémons also displayed and uses moves shown in Pokémon. 
Poketwo bot is a completely free to use and open source bot. It is one of the most popular bots and is ranked within the top 8 on top.gg. Recently Poketwo completed its first year anniversary and the amount of popularity it has gained in just a single year is incredible. Currently, Poketwo bot has 1.5 million+ users and was added to more than 800,000 servers and is still maintaining more than 400,000 servers. More than 350 million pokémons have been caught by its users and over 6 million trades have been made which further attests its popularity. 
On account of its first year anniversary, Poketwo's creators have announced a new update to the bot. According to its Github page, it is undergoing a full rewrite. Its new update will include -: 
The new Generation 8 pokémons which were released in Pokémon Sword and Shield. 

A new feature called 'Catching Quests' which will introduce the ability to take on daily or weekly quests for capturing pokémons in each region. 

New limited-time events will be introduced which will include a special pokémon which can only be collected through this event.

The store will be updated with a larger bundle of 15,000 shards for $100 –

https://poketwo.net/store

. 
HOW TO ADD POKETWO BOT TO YOUR DISCORD SERVER?
Adding the Poketwo bot to your discord server is a simple process. It can be done only with the help of a few clicks.
STEP 1: The first step is to go to the official website of the Poketwo bot. You can either search for "Poketwo bot" on Google or you can go directly to their official website which is – https://poketwo.net/.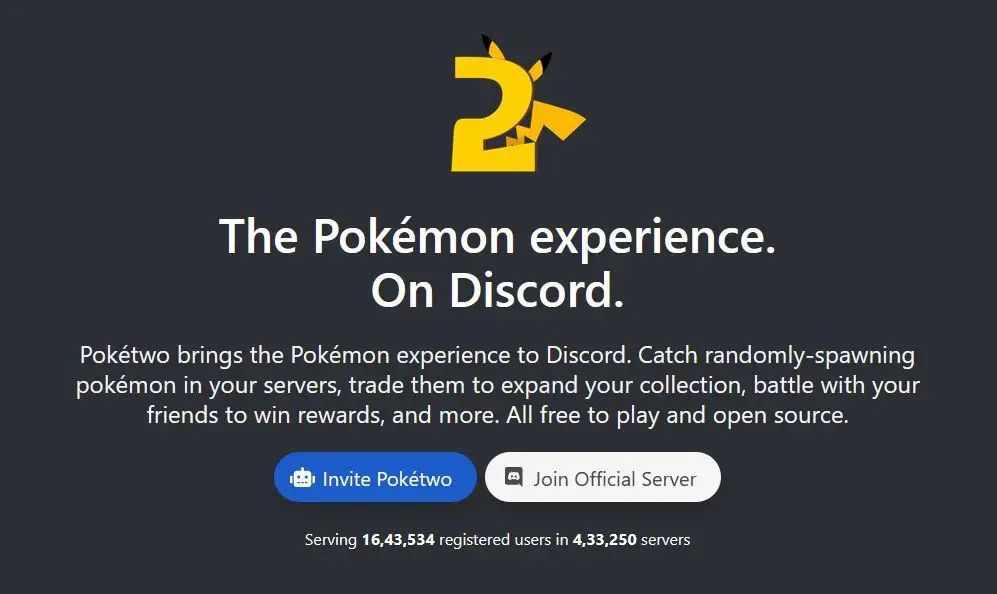 STEP 2: On the above page, click on the blue button which says "Invite Poketwo". This will redirect you to discord and ask you for Login.
STEP 3: After logging in to discord or if you are already logged in, you will be asked for some standard permissions including authorization for access to your discord account. Press 'yes' to continue the process. You should review all the permissions that the bot requires before authorizing it. The list of permissions are-: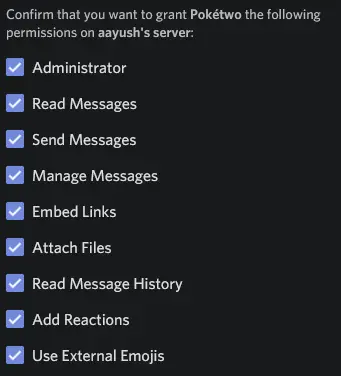 STEP 4: Click on authorize to add the Poketwo bot to your server. After this, you will see the following message in your #general chat-room confirming that the Poketwo bot has been added to your server.

STEP 5: After this, the Poketwo bot will get full access to your account and you can open your server on discord and start using the Poketwo bot. 
You can also join the official server of Poketwo bot through its website – https://discord.com/invite/poketwo. Here you can interact with the community, challenge other users to pokémon battles and view giveaways and much more.
HOW TO REMOVE THE POKETWO BOT FROM YOUR SERVER?
There is only one way through which you can remove the Poketwo from your server–:
You can right-click on the Poketwo icon on the right sidebar and there you will find the option 'Kick Poketwo' to kick the Poketwo out of the server.

If you want to remove the Poketwo such that no one can add the Poketwo again to the server then you can right-click on the Poketwo in the right sidebar and select the 'Ban Poketwo' option from the menu.
HOW TO GET THE POKETWO BOT TO WORK / POKETWO BOT NOT WORKING?
Sometimes the Poketwo bot might have issues, such as it may not respond and it may be offline. This can be due to a complete discord server outage, if you face the issue check on the discord status page.
If the Poketwo bot is not responding to your commands then there might be the following problems -:
This might happen because the Poketwo bot may not have the required permissions. The Poketwo needs

View Channel

,

Send Messages

, and

Embed Links

permissions in that channel in order to read messages and respond appropriately.

Make sure you did not change the Poketwo default prefix which is 'p!'. You can also change this prefix to suit your liking through the dashboard or you can also mention the Poketwo in the chat followed by any command

to

execute them.

Make sure that you use the right syntax for a particular command. You check the syntax of that command by using the 'p!hint' command. 
If the Poketwo does not respond after applying the above steps, then check if Poketwo is present in the server or not. Verify if the bot has been added successfully or not. If it has been added but doesn't show up in the members list then it might not have the required permissions which are View Channel, Send Messages, and Embed Links. So make sure that you have provided sufficient permissions to the Poketwo (This can be done in the Settings tab).
Aayush Kumar Gupta is the founder and creator of ExploringBits, a website dedicated to providing useful content for people passionate about Engineering and Technology. Aayush has completed his Bachelor of Technology (Computer Science & Engineering) from 2018-2022. From July 2022, Aayush has been working as a full-time Devops Engineer.