Unbelievaboat is one of the most popular Discord bots available. It is a bot that comes with features relating to money, economy or currency customisable in a Discord server. There are also a lot of store items available as well as different casino games. Extra features also include moderation commands, fun commands for games and entertainment, reminders, etc. According to its long-time users, the Unbelievaboat is really good when it comes to having a custom economy and is easy and fast to set-up. Users compare it against Groovy bot and Dank Memers bot as one of the best Discord bots available out there. 
Unbelievaboat comes with an API with which you can copy the leaderboards of a server into your own bot after which you can even stop using Unbelievaboat completely. This is not to say that Unbelievaboat is only good for economy management. It is also top quality when it comes to moderation roles and mini games. Unbelievaboat combines an economical system with mini games and moderation thus providing a very unique experience. The Unbelievaboat boasts a server count of 1 million+ servers (1,318,112 servers currently), which further goes to show how good and popular it is.
Unbelievaboat is a completely free to use bot. But it is supported by donations from the Discord community. There are also different perks that become available after you donate a specific amount. These are extra perks that are available on top of the features you get from Unbelievaboat. The first donation plan is called the 'Premium Plan' with a donation of $9.99. This will be a one-time purchase with lifetime access to all its perks. The second donation plan is called the 'Super Donator' plan with a donation of $14.99. This will also be a one-time purchase. A third donation plan is also available allowing you to enter a custom amount to donate between $2.99 and $99.99. 
Premium

$9.99

Super Donator

$14.99

Custom

b/w $2.99 and $99.99

Donator Role

Access to an exclusive support server channel.

Better performance

Access to high quality music and radio

No Ads in the Dashboard.

Donator and Super Donator Role

Access to an exclusive support server channel.

Better performance

Access to high quality music and radio

No Ads in the Dashboard.

———–
You can try donating if you like the bot very much, but even without the donation perks, Unbelievaboat comes with a ton of useful features and fun commands which makes it worthy of at least a one time try, even if you are not sure of it. 
HOW TO ADD UNBELIEVABOAT TO YOUR DISCORD SERVER?
Adding the Unbelievaboat to your discord server is a simple process. It can be done only with the help of a few clicks.
STEP 1: The first step is to go to the official website of the Unbelievaboat. You can either search for "Unbelievaboat" on Google or you can go directly to their official website which is – https://unbelievaboat.com/.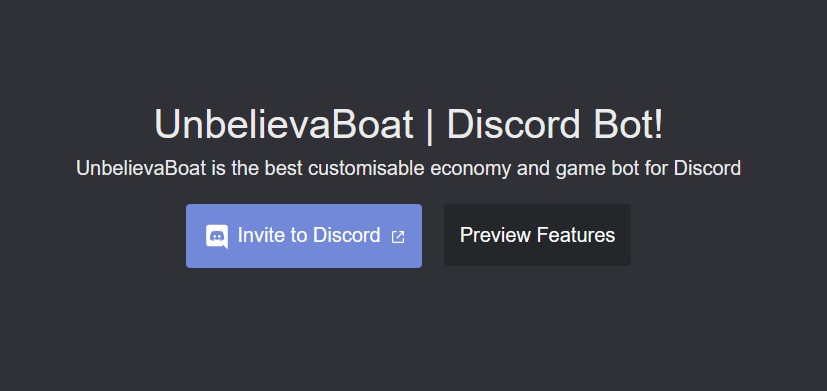 STEP 2: On the above page, click on the blue button which says "Invite to Discord". This will redirect you to discord and ask you for Login.
STEP 3: After logging in to discord or if you are already logged in, you will be asked for some standard permissions including authorization for access to your discord account. Press 'yes' to continue the process. There are a lot of permissions that the Unbelievaboat requires owing to the huge amount of features it provides. You should review all the permissions before authorizing it. The list of permissions are-: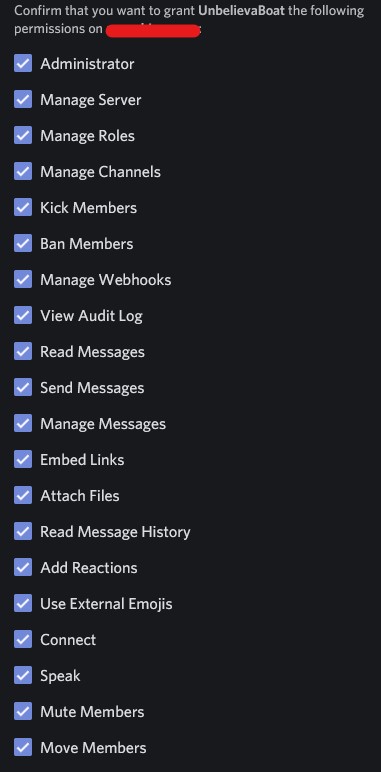 STEP 4: Click on authorize to add the Unbelievaboat to your server. After this, you will see the following message in your #general chat-room confirming that the Unbelievaboat has been added to your server.
STEP 5: After this, the Unbelievaboat will get full access to your account and you will be redirected to its website where you can view your Unbelievaboat dashboard. 

STEP 6: You can click on the 'Visit your Dashboard' button to view your dashboard. The dashboard will show all the economic currencies you have created as well as your income from all of it.
The dashboard for your server will look something like this -: 
In the overview tab, you can access all of the audit logs and view the activity of the bot. In the economy section, you can create a currency and set the starting bank balance of the new members who join your server. In the General section, you can set the prefix for Unbelievboat to your liking. You can also enable / disable as well as set a welcoming message or a goodbye message when a user joins or leaves your server respectively. 
LIST OF BASIC UNBELIEVABOAT COMMANDS IN DISCORD?
You can find a complete list of commands and all of their description and usage on the official website of Unbelievaboat – https://unbelievaboat.com/commands. You can also type '!help' in the chat to view all the commands and '!help modules' to view all the modules that come with Unbelievaboat. 
HOW TO REMOVE THE UNBELIEVABOAT FROM YOUR SERVER?
There is only one way through which you can remove the Unbelievaboat from your server–:
You can right-click on the Unbelievaboat icon on the right sidebar and there you will find the option 'Kick Unbelievaboat' to kick the Unbelievaboat out of the server.

If you want to remove the Unbelievaboat such that no one can add the Unbelievaboat again to the server then you can right-click on the Unbelievaboat in the right sidebar and select the 'Ban Unbelievboat' option from the menu.
HOW TO GET THE UNBELIEVABOAT TO WORK / UNBELIEVABOAT NOT WORKING?
Sometimes the Unbelievaboat might have issues, such as it may not respond and it may be offline. This can be due to a complete discord server outage, if you face the issue check on the discord status page.
If the Unbelievaboat is not responding to your commands then there might be the following problems -:
This might happen because Unbelievaboat may not have the required permissions. The Unbelievaboat needs

View Channel

,

Send Messages

, and

Embed Links

permissions in that channel in order to read messages and respond appropriately.

Make sure you did not change the Unbelievaboat default prefix which is '!'. You can also change this prefix to suit your liking through the dashboard or you can also mention the Unbelievaboat in the chat followed by any command

to

execute them.

Check if the particular command that you are trying to execute is enabled on your server or channel. You can enable a command in your server by using 'enable' and in your channel by using 'channel-override'.

Make sure that you use the right syntax for a particular command. You check the syntax of that command by using the 'help' command. 
If the Unbelievaboat does not respond after applying the above steps, then check if Unbelievaboat is present in the server or not. Verify if the bot has been added successfully or not. If it has been added but doesn't show up in the members list then it might not have the required permissions which are View Channel, Send Messages, and Embed Links. So make sure that you have provided sufficient permissions to the Unbelievaboat (This can be done in the Settings tab).
Aayush Kumar Gupta is the founder and creator of ExploringBits, a website dedicated to providing useful content for people passionate about Engineering and Technology. Aayush has completed his Bachelor of Technology (Computer Science & Engineering) from 2018-2022. From July 2022, Aayush has been working as a full-time Devops Engineer.