If you're paying for a specific internet plan but consistently getting slower speeds than your ISP advertises, it might be time to look into your internet speed by taking a speed test. Speed tests can provide insight into several factors in your internet connection, such as upload and download speed, ping, connection metrics, and latency. There are various ways to look into this, but I found three easy ways to check your internet speed.
How Do I Check My Internet Download Speed? [ 3 Ways ]
Before you run any of these tests, please make sure you follow these guidelines:
Your system must be connected to the Internet via a wired or wireless connection.

Turn off VPN software because it might decrease the connection speed.

Close other running applications for better testing results.

No other devices should be connected to the same network while testing.
Once you've determined that your computer is ready, it's time to begin testing!
Speed Test
There are several ways to check internet speed, but the easiest and most accurate way is by using an online speed test website or app.
These sites and apps allow you to test your internet connection's download and upload speeds as well as ping, latency, and jitter. They also offer a variety of servers worldwide and a detailed analysis of your results.
The most popularly used speed test websites are:
Ookla Speedtest
The Speedtest by Ookla app can determine your internet connection speed by measuring the time it takes for data to transfer between your computer and a remote server through your local ISP.
The test is fast, and the result is often reliable, usually taking less than a minute to complete. To start your speed test, click the "GO" button and watch as it measures your network's download and upload speeds.
Furthermore, with speedtest.net, you also have the option to tweak some settings like date, server, speed, etc., which will allow you to get the results as required quickly. You can also save your data and view test history with their app, which is compatible with all popular platforms.
Apart from this, you can use another alternative fast.com and follow a similar process to check your internet speed.
Download and Upload Test File
Generally, we use speed test tools to check internet speed, but many think these tools often show incorrect results. In that case, another genuine way without using any third-party speed test tools is to download a high-speed test file.
It is a free utility test file that you can use to test the real-time performance of an internet connection. These files are hosted on high-speed servers and let you download them by consuming your internet data. Furthermore, you can find these test files in many different formats, including .bin, PDF, MP4, APK, and Text files.
This is a great way to check for interference between your computer and your ISP (which may be causing slowdowns).
Search Engines
Search engines like Google or Bing can also give you insight into how fast your connection is by their individual "speed test services" on the search results.
Note: They use a speed test service but only provide a few details or adjustments.
The best one I know is Google's test, which is part of M-Lab, and the results are usually the same as those from other speed tests.
On the other hand, Bing also has a speed test checker. It's not the same as Google's, but it still works pretty well, and it's also easy to use because there's no need to register an account with Bing before using its speed test tool.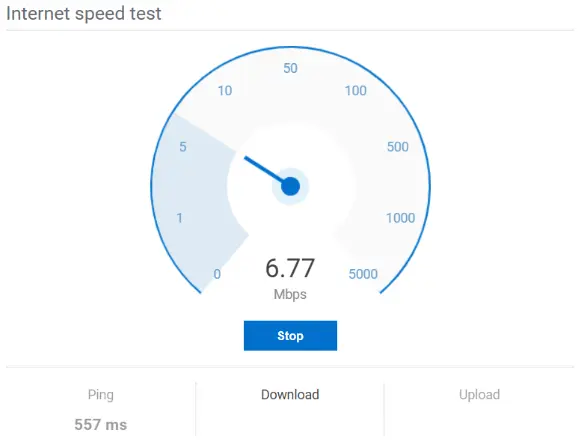 What can I do to improve my speed?
If your connection speed is lower than expected, there are a few things you can do to improve it. Following these steps can bump up your internet speed by 70 percent.
Use Ethernet Connection instead of wifi: Ethernet is always faster than wifi. If you're always on a wireless connection, you can boost your speed by plugging your Ethernet into your PC.
Be Close to wifi Modem: If you're on a wifi connection, make sure that you're close to your router or at least set up your router nearby so it can pick up a strong frequency.
Restart your Router: To speed up your Internet connection, reset your modem and router. Often, these devices accumulate errors over time, slowing down the Internet. This step may speed things up.
Contact Internet service provider: If you are still waiting to get the desired speed, you can contact your ISP. Apart from that, the company can also help you if there is an outage in your area.
If you like our article, then you can look into Internet Speed Required for Remote Work.
Conclusion
When you're trying to get the best possible internet download speed, there are several factors you can tweak, but you need to get started with testing your internet speed first. This article will give you an idea of your current download speed and where it needs improvement.
So I hope this article does help you in solving many of your internet woes. Let me know which tools you prefer for checking your internet download speed.
Aayush Kumar Gupta is the founder and creator of ExploringBits, a website dedicated to providing useful content for people passionate about Engineering and Technology. Aayush has completed his Bachelor of Technology (Computer Science & Engineering) from 2018-2022. From July 2022, Aayush has been working as a full-time Devops Engineer.