In the last couple of years, discord's popularity has increased exponentially. More users are joining the discord server for fun and to meet new people. It is becoming a tough job to manage the discord server alone. That's why the discord bot is a lifesaver in this situation. 
Various discord bots can keep people engaged in the server with games, Music, roles, leveling, etc. We will be discussing discord bots for every server to have fun and enjoy with other members.
---
Best Discord bots for Gaming & Fun
Gaming & Fun discord bots can help engage your discord users with fun activities. That's why fun and gaming discord bots are a must-have for any discord server.
Dank Memer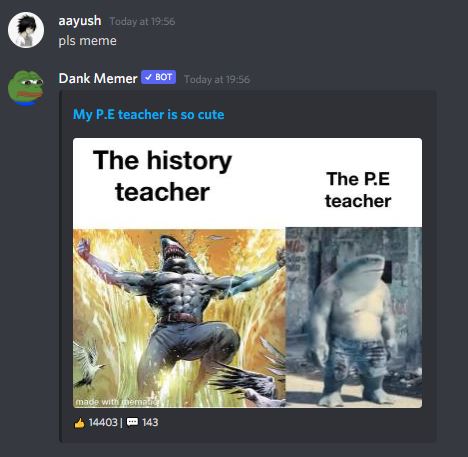 First, you must add a Dank Memer on your discord if you want to have some memey thing on the discord server. You cannot imagine how popular the dank Memer bot is. It is currently installed on over 5 million discord servers, making it the second most-used bot. 
If you have heard of the community of Dank Memer on Reddit that you can relate to this bot, this bot fetches the right meme for you from Reddit without having to scroll over many posts to find what you need. All you have to do is type commands to find the correct meaning that you want in that category. 
Also, Dank Memer has a popular economy feature with its currency. You can go over to other servers to loot the other user's currency but be careful yours can be looted too.
Mudae Bot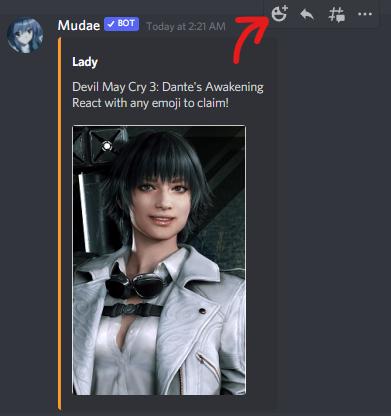 The Mudae bot is the most popular bot on discord. It is installed on over 10 million servers and increasing as I write this article. 
The Mudae bot is the perfect bot for anime and game lovers. It has a game where you have to match waifus/hubandos. People can marry famous female or male characters from any game, anime, or manga. You can marry up to any number of characters and can manage them. Also, if the top 15 characters you marry have the highest points on the server, then you are the top player. 
Mudae bot also has various side games like tea ceremony and pokemon games. It is popular for its collection of characters from various famous video games and anime. 
Owo Bot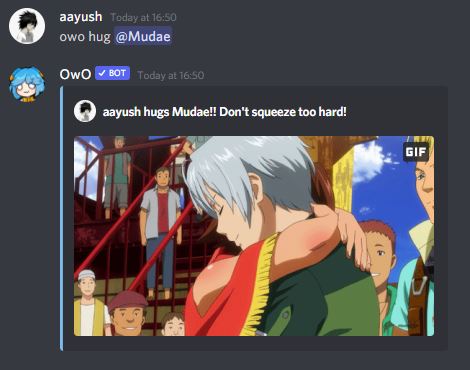 Owo bot is another popular game you can add to your server and play with friends. 
Owo is an economy bot which means it has a currency that you can use to do various tasks. 
There are many sets of games you can play in the Owo bot, but the most popular game that the Owo bot is famous for is its zoo game. In the zoo, you have to build your zoo by hunting animals, battling with other players, and many more. The person with the biggest zoo with animals is the top player in this game. 
Also, you can buy and sell your equipment with the help of its cowoncy currency, which will help you to upgrade your weapon to have an edge in the battle.
Poketwo Bot
Poketwo Bot is also a fun gaming bot. You cannot imagine how popular Pokemon games are. A lot of bots were made for pokemon battles, such as Pokecord, which was very popular until a year ago. For some reason, the Pokecord bot development stopped further, but the popularity of this bot showed potential in pokemon battle games. Since then, several pokemon battle bots have come, such as Poketwo, Pokemeow, Pokemeu, etc. 
But the most popular one is Poketwo today. With the Poketwo bot, you can catch your pokemon, level up your caught pokemon, trade them with other players, and battle with them. It's an entertaining bot that you can add to your server.
Also, if you like playing multiplayer games, you should check the  Fortnite discord server.
---
Best Discord bots for Moderation
When the discord server grows, the management of the server becomes crucial. The moderation bot helps to manage the discord server with automated features.
Carl Bot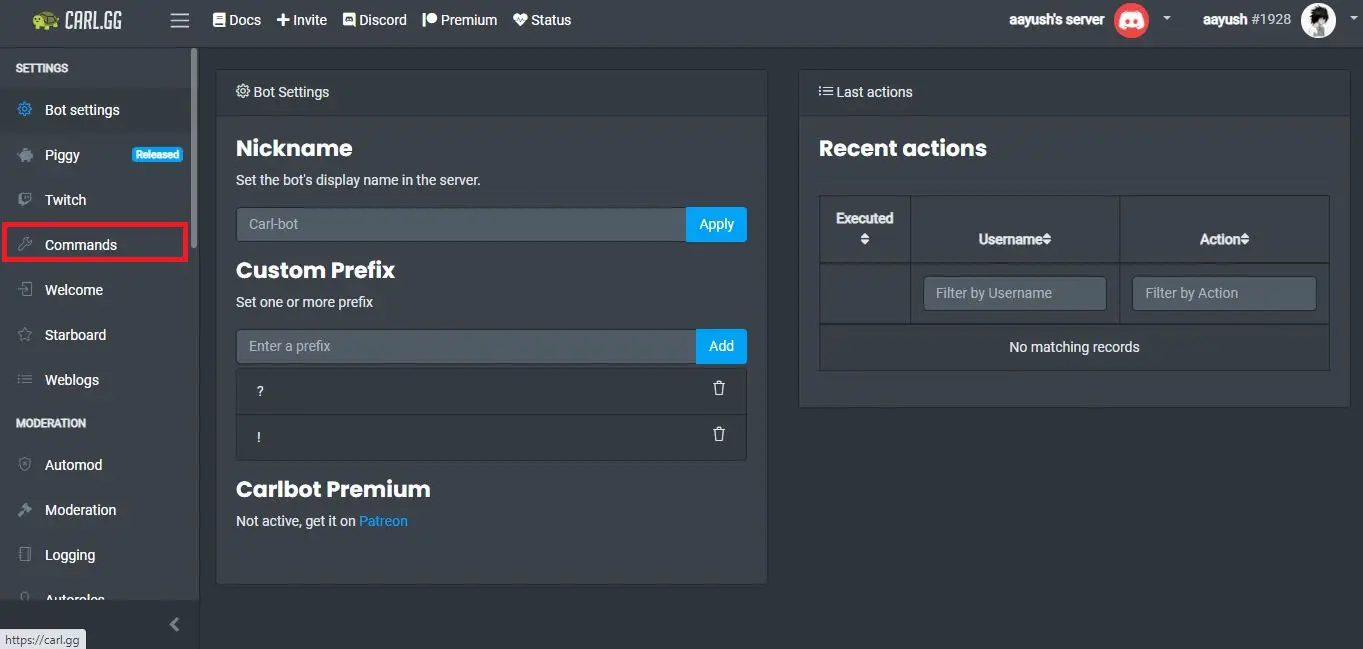 Carl bot is one of the highest trending bots for the Moderation of a server. The carl bot is a multipurpose bot like any other discord bot, providing multiple features to enhance your server's productivity. 
The bot includes a fantastic moderation technique of auto-moderation, which means that it is self-sufficient in taking care of the server. 
Some of this bot's most impressive features included a blizzard game-like warfare. 
It has the "config" feature that allows you to configure commands for the bot as per your choice. The bot also includes a "greetings" feature that displays a different message like a welcome, farewell, or banning message. 
Carl bot can allot the "levels" to the users depending on their activity on the server. So, the more you talk on the server, the higher your level goes. 
The bot also has the "Misc" feature in it that displays the information of the members of the server. Apart from these, the bot also has fantastic fun things to do, such as listening to Music, roles, displaying statistics, subscriptions, tags, and many more to make your server bright every moment.
MEE6 Bot
The MEE6 bot is a pretty popular one among the discord community. The bot is also great for acting as a moderator on your discord server. 
The MEE6 bot consists of many plugins that act as a key feature in maintaining the reputation of this bot. Its major plugins include Music plugins, Music quiz plugins, Record plugins, and others. 
The bot allows you complete control over itself, working as per your choice by enabling or disabling any plugins at any moment. 
The bot also offers the auto-moderation feature as that of the carl bot. One of the negatives of this bot is that it has a premium version, too and most of the features remain locked unless you purchase the premium version of the bot.
Dyno Bot 
The next one on the list is the dyno bot. This one is the most automated bot on the list, providing features such as auto mod, auto message, auto-response, auto roles, fun, tags, welcome message, and many more features. 
The bot also allows you to build your custom commands and modify the bot as per your requirements. Besides these, the dyno bot has a music feature and a warning log. Though it also has a premium version, the free one is sufficient to fulfill all the server requirements.
Tatsumaki Bot
The Tatsumaki bot is another widely known bot in the discord community. The bot is mainly known for its leveling features. Apart from those, it also allows you to customize prefixes and change the NSFW setting of the bot if you are adding it to the server having adult content. 
The bot has impressive features such as auto-roll, welcome, and goodbye messages. One can get to know every detail of the bot from its website, which is also attractive. The website can guide you with every aspect of the bot and how it works. The bot is also known for Moderation though its leveling features are the most popular ones.
---
Best Discord Bots for Small Servers
These bots are best for early discord servers to serve a smaller community with a specific purpose.
Arcane Bot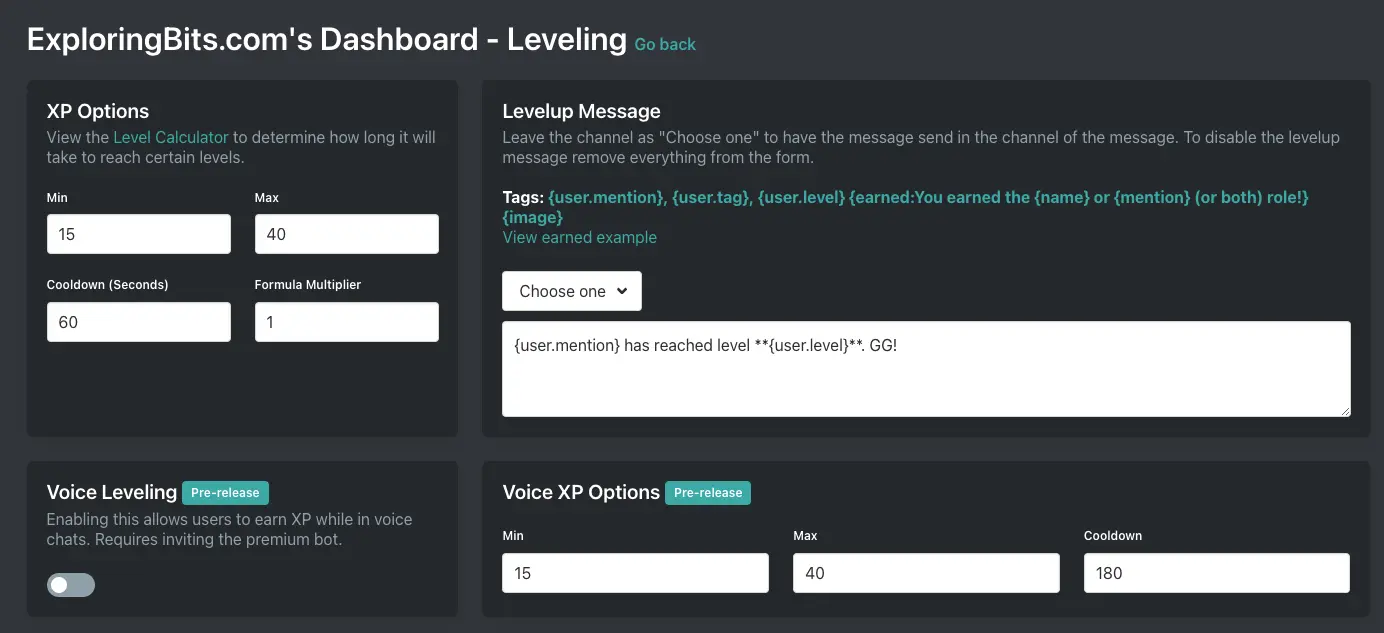 Arcane is an excellent leveling bot. The leveling system works on the activity of the discord users. You can configure the Arcane bot to reward the users on specific activities, and these rewards help them to level up their ranks on the server. When the user levels up, the permission provided to that user within the discord server increases, and the user can access that level text channel and configure some channels depending on the permissions.
The best thing about the arcane bot is that it is well-suited for the needs of content creators. The arcane bot can send a notification to its users whenever any new YouTube video comes out or any other announcement they want to create for their user.
Xenon
Xenon is a must-have bot for small discord servers. Xenon helps you get a backup of your discord server. With the free tier, you can get up to 25 backups of the server for free. 
If the server goes down for some reason, then, in that case, that backup will significantly help you to restore it to the previous backed-up version. Also, Xenon has some great templates for any kind of category that you require, whether it is gaming or studying. There are templates for each of them. Also, Xenon can help to transfer templates and also help you use your own created template on the discord server. Also, you can automate the backup of your discord server so that it can happen after a specific interval of time.
---
Best Discord Bots to play Music
Every server is incomplete without a music bot. We have mentioned all the working discord music bots to add to your discord server.
Hydra Bot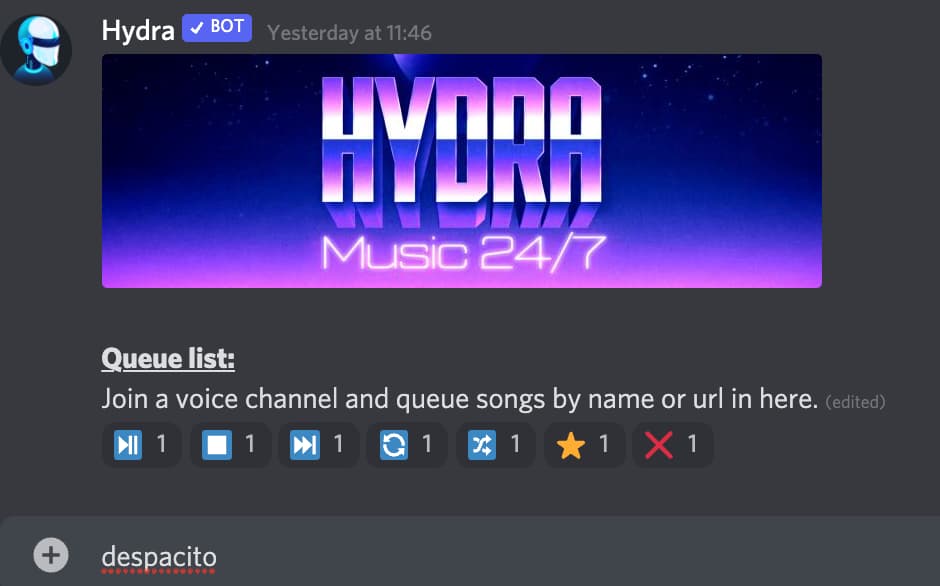 Sitting on top of the list is the most widely known and famous discord bot, the "Hydra". The Hydra bot is an amazing one that plays Spotify music directly on your servers. It has been, to date, the best musical bot over discord. 
The bot's unique features include using multiple languages for different users. Apart from this, Hydra has some fantastic features that make the user experience even more exciting and fun. These features include creating private and public playlists, as per your choice, assigning DJ roles, autoplay, and many unique features. 
The bot also includes a premium feature that unlocks a bunch of exciting commands, thus making the bot even more fun and enjoyable. Thus, the bot is the best for playing Spotify music on your server. Give this one a try, and it will be worth it.
Jockie Music Bot
Jockie Music is a Discord music bot that can play any music available through its name or url. Jockie bot is a free music bot, and the only way it makes money is through its merch or its Patreon for people who want a premium version of the bot. 
Using the Jockie bot, you can invite four different versions of the bot to your server simultaneously for free. If you are a Patreon, you can have five (instead of four) versions of the Jockie bot playing Music on different channels simultaneously. 
Jockie bot is a feature-rich bot with a lot of abilities and commands. It has all the main features you want, like playing music, searching for it, looping it, shuffling it, etc. 
24/7 Bot
The 24/7 Bot allows the discord users to add songs on the music channel of the discord server. The 24/7 Bot offers functionality such as adding songs in a queue, adding playlists from platforms such as Sound cloud or Spotify, etc., with simple commands. 
The 24/7 Bot offers many features similar to music players and even more, such as pause, resume, play, queue, next, back, clear, jump, shuffle, etc.
---
Best Pokemon Discord Bots
There are currently hundreds of pokemon bots on discord that are constantly being liked by people worldwide and added to servers daily. The most special thing about these bots is that they give users nostalgia for when Pokemon was the only anime famous among the youth. We have come up with a list of top pokemon bots available on discord that are fun to have on your servers. All the bots are the best and must-recommended ones. Let's get started with the list.
PokeTwo Bot
The poke two bots is another less-known and pretty good bot. The most attractive part of the bot is its attractive and eye-catching interface. Though the bot is less known till now, it is famous among its users for its best voting system. Along with it, the bot also has many new and fun features for gameplay and many ongoing events like an auto-catching bot and others. Poke two is among the bots that need to be recognized and added to servers since it provides one of the best experiences for gamers and their server.
Myuu Bot 
The myuu bot is another amazing one from the list. The bot has amazing features that allow all the server members to participate, which is also the best part of the bot. It has lovely things to perform, including parties, forming teams, amazing and fierce battles, regions, and many more. The bot is a must-recommend one when looking to engage all the server members. Along with it, the bot is also a bit informative and easy to use. Thus it is another recommended one for your servers to give a great discord experience.
Poke Catcher Bot 
The poke catcher bot is another amazing and solely dedicated to gamers' discord bot. The bot itself claims to be not just a "Chatbot". Poke catcher aims to provide an amazing multiplayer gaming experience for its users, including exciting features like catching, evolving and training Pokemon. Along with it, the bot also offers amazing battles with other players. Not just these, one can even explore new locations with this bot trying to catch Pokemon and having a fun experience. So, try this one out on your discord servers.
---
Conclusion
I hope you like our list. If so, do mention it in the comments below.
Aayush Kumar Gupta is the founder and creator of ExploringBits, a website dedicated to providing useful content for people passionate about Engineering and Technology. Aayush has completed his Bachelor of Technology (Computer Science & Engineering) from 2018-2022. From July 2022, Aayush has been working as a full-time Devops Engineer.