Discord servers are chatting rooms with similar features like skype and slack. It's pitched specifically toward video gamers providing them with ways to connect with other players, synchronize online games, and have conversations with other players during play. It supports video calls, voice chats, and text. Thus, allowing its users to get in touch with each other however they like. 
Discord is designed to connect players with common interests while connecting them to other players. Generally, users like to connect with others while they play on the platform. It is compatible with windows, Mac, Android, iOS, and desktop platforms.
While most servers are linked to gaming, public Discord servers focus on specific interests like anime, cryptocurrency, self-improvement, and meditation by indulging with others and hanging out. One can go to Discord to discuss various issues, which can grab readers' attention. To search for public servers, one can use include Discord.me, Disboard.org, and Discordservers.com. 
---
How to navigate the discord servers for chatting?
There are over hundreds and millions of Discord servers to join on almost every possible topic imaginable, from dating servers to servers dedicated to gaming, etc.
The easiest way to access the Discord servers is to use the built-in server search on the app.
1- Open the Discord app on your computer.
2- Click on the explore public servers, the second icon from the bottom left.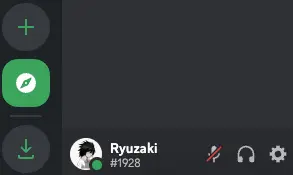 3- Get into the official Discord server directory's front page using a search bar at the top, and several trending popular Discord servers can be found. Click any of these to see what each community is like and how active they are.

4- Once you like a particular community, you can click join at the top of the screen.
5- The available categories range from gaming, music, education, science and technology, entertainment, etc.
---
Popular discord servers for chatting with stranger
Frogs Dream World
With more than 30 global emotes available on Discord without Nitro, Frogs Dream World is a global emote server part of the Dream World network. The only requirement is to be on the server that provides those emotes. FDW is one of the last standing global emote servers that offer over 20 emotes, making it a popular choice for those seeking these emotes.
FDW is interconnected with other communities in the Dream World network, such as Slippys Dream World or Skarz Dream World. With over 150,000 members, it is common to encounter familiar faces on different servers. While FDW experienced a significant influx of members, they had to purge almost a quarter of their member count to accommodate new users.
FDW is not solely centered around global emotes. It is an enjoyable place to spend time and an excellent place to meet others. The server's primary focus is providing global emotes, which does not limit its functions or appeal. If you collect global emotes or enjoy interacting with a diverse community, FDW is a must-join server.
Link to join: https://discord.gg/NqfVS7M
ChillZone
On Discord, one of the most popular topicless servers is called ChillZone. Compared to Fortnite, the largest server on Discord, which only has 4.4 million messages, it has seen 14 million messages sent in its general channel. With over 40,000 members, it is the perfect place to meet new people and chat. The chat is always active and appeals to many different age groups. 
If you're looking for a place to relax, ChillZone is worth checking out. It's trendy for a reason, and there are always people to converse with. However, if this differs from your kind of chat, you can always look at their partner's category. It is a catalog of hundreds, if not thousands, of established servers you can join immediately. 
You're bound to find something that you'll love. ChillZone is ideal for meeting new people, chatting, and relaxing. With its active chat and wide range of partners, there's something for everyone. So why not give it a try? You may find yourself pleasantly surprised.
Link to join: https://discord.gg/chill
Quantum Labs
Quantum Labs is the perfect emote server for those who appreciate the organization and a finely detailed eye. With over 100,000 members and 20+ global emotes, it is a highly sought-after server active 24/7. The conversations are never-ending, and the server is one of the few that still offers a unique currency system.
Members can purchase Spotify Premium or a $20 Steam Card with enough currency. At Quantum Labs, you can easily find people to talk to and be part of a pleasant and professional server. The organization of the server has been carefully planned, so you can easily find what you're looking for. 
It is a great way to connect with friends and make new ones. You will also benefit from the global emotes and currency system that can be used to purchase amazing rewards. So if you want to join a server with lots of activities, conversations, and rewards, Quantum Labs is the place to be.
Link to join: https://discord.gg/HQywCqF
Daddy
The Daddy server is one of the most popular Discord servers, with a huge active user base. It mainly focuses on voice conversations, offering over 20 always total channels. More than 60 people can be found in these voice channels at any time, making it the perfect place to socialize.
There are also active text channels, where over 9 million messages have been sent. The Daddy server is like a voice-based chatroom, offering a unique experience. They also have a 'Partners' channel serving as a catalog for various other servers.
If unsatisfied with the Daddy server, you can always look through the Partners section to find a server that best suits you. In short, the Daddy server is ideal for people who want to communicate through voice. Its active voice and text channels make it an excellent choice for socializing.
Link to join: https://discord.gg/Qrzu6PZ
AnimeBase (WLA)
If you are an anime fan, WLA is the place to be! This rapidly growing Discord community is home to over 100,000 members and offers an incredible streaming feature allowing streamers to showcase their streams. Making WLA one of the largest and most active anime communities on the web, the ambitious and visionary owners are dedicated to uniting anime fans from all over the web. 
WLA provides an incredible platform for anime lovers to connect and a vibrant and creative environment for members to share their thoughts and ideas. With an incredible selection of anime and manga, members can enjoy discussing their favorite series and the latest episodes. 
The owners of WLA are striving to create the best possible experience for anime fans, and it is clear that their efforts are paying off. If you are an anime fan, WLA is the perfect place to meet new people, discuss your favorite series, and showcase your streaming skills. Take advantage of this fantastic opportunity to be a part of one of the largest and most active anime communities on the internet!
If you are an anime fan, you can also find your interest-related people on discord anime servers.
Link to join: https://discord.gg/otaku
Slippys Dream World
Slippy Dream World is a global emote server that offers 20+ themed emotes, making it a famous and beloved server. It has recently hit 200,000 members, reaching the upper limit of members a Discord server can handle. This clearly shows how highly demanded these emotes are.
If you are an active user of Discord, then you have most likely seen someone use one of their emotes. Slippy Dream World offers a lively and interactive community for users to interact with. The emotes are also creative and themed, making them more enjoyable.
So if you're looking for an active server, check out this. With its high demand and variety of people, Slippys Dream World will surely be an enjoyable experience. And with its 200,000 members, it has reached the upper limit of members a server can handle, so you know it has to be good.
Link to join: https://discord.gg/sa5kSUy
Weeb Empire
Weeb Empire is the place to be for all anime fans. This server has a more lenient atmosphere than WLA but contains two NSFW categories. It has an active community with 50,000 members and a lively and buzzing general chat.
The total number of messages in their general chat is over 3.6 million! If you want to connect with other anime fans and discuss your favorite shows, movies, and characters, then Weeb Empire is your server.
It's a great way to make new friends, explore the world of anime, and even find new shows to watch. If you're a weeb, join the Weeb Empire and experience the ultimate anime community.
Link to join: https://discord.gg/R5Zxa23
Ping & Salar's Emote
If you're interested in discovering more global emotes, Ping & Salar's Emote List is the perfect server. This server is dedicated to helping people find global emotes, making collecting them much more accessible. It's a great way to find unique emotes and expands the range of your collection. 
The server is incredibly easy to use and navigate, and it's constantly growing, with new and exciting emotes being added all the time. You'll be able to find all sorts of different emotes, from funny faces to cool characters and much more. All these emotes are verified as global, so you can be sure they'll work on any server. 
The moderators of the server are incredibly helpful and will be able to answer any questions you may have about the emotes or the server itself. Plus, it's a great place to meet like-minded people interested in collecting global emotes. 
Link to join: https://discord.gg/caC77Xr
Dank Trades Server
Trade Server is the perfect place for you. This active server is filled with meme lovers always looking for a good time. The conversations on this server are always fun and engaging. You can discuss almost anything, including your favorite memes or the latest trends. 
There's always something to discuss, and you can find interesting people to connect with. Plus, the conversations always get exciting and exciting. The server also has a dedicated section for trading memes. Whether you need help finding a rare meme or want to trade a meme with someone else, this is the place to go. 
The Dank Trade Server is a great place to spend quality time with friends. You can relax, have fun, and make some great memories. So, if you're looking for a chill place to hang out, join us on the Dank Trade Server today.
Link to join: https://discord.com/invite/trades
The Choco Bar Server
The Choco Bar server is small and intimate for people looking for an exciting community. Here, like-minded individuals come together to discuss topics as varied as art, literature, science, politics, and other topics of interest. This server is an excellent spot for anyone looking to relax and chat with others. 
You don't have to have any particular niche interests to join, and you don't even need to share the same interests as other members. Instead, it's an excellent opportunity to meet new people, exchange ideas, and form new connections. 
Whether you're an avid reader, a tech enthusiast, or a political analyst, this server is the place for you. With its laid-back atmosphere, you can be sure to make friends in no time. Plus, you will feel safe with its small and intimate pool of members. 
Link to join: https://discord.com/invite/dgbgP2sfJz
Play room
The first best discord server for chatting in our list is the Play room. The play room is the largest dating Discord server, with over 6,000 daily users. One can do endless scrolling with male profiles, female profiles, selfies, and more. Unlike other dating services, you don't have to verify yourself to chat or create a profile. 
Link to join: https://discord.gg/dating
Study together
Studying together is a virtual study space to cope with the worldwide pressure and stress of studies. It helps students who struggle with concentration and motivation and don't want to study alone. It also boosts motivation and productivity and allows you to make meaningful connections. So if you want to use Discord for your studies, you should try this server. 
Link to join: https://discord.gg/study
Sinful 18+
Sinful 18+ is the largest server, with over 200,000 members. It has multiple sorts of, including chatrooms, profiles, and selfies. However, one must verify yourself to have full access to this server. You can use the "pic" or the "vid" method. If one uses the "pic" method, one must submit a couple of photos, including a selfie of yourself holding an ID and a close-up photo of your ID. 
You can still chat in the Safe for Work channels if you don't want to verify. Since it's 18+, kids can avoid joining up here for the chat. Moreover, we have mentioned some more interesting discord servers for all kinds age of people to join and enjoy. 
Link to join: https://discord.gg/sinful
Anime Soul Discord
The channel list has a list of different social groups with interest in specific anime shows. You can "talk" to other Discord users or have written chat conversations with "All Anime" servers for more discussions. If this is your area of interest, you enjoy this channel.
Link to join: https://discord.gg/otaku
Fantasy football chat
The fantasy football chat helps find your area of the tournament by helping chat generally and more. This platform helps you talk about the NFL and more. People here on this server talk more about football games and certain games. They are friendly and will be active to chat around the time. 
Link to join: https://discord.gg/3Xs2YEyY
 Apple
Apple is another Reddit-based discord service and has apple fans around 60,000. If you want apple products before their launch, you can pre-order and purchase them. This service enables apple users to connect and have constant updates on new apple products. Here you can ask your doubts, particularly about Apple's products. Many experts are available there to help and guide you. 
Link to join: https://discord.gg/apple
 Marvel studios
Marvel Studios is based on marvel discord fans who do discuss scenes and spoilers from Marvel films. One can find future film spoilers and be intrigued by the die-hard fans of marvel. This will be one of the best discord servers for marvel fans ever. You can get people with the same mind as you and make your free time happier. 
Link to join: https://discord.gg/marvelstudios
 Xbox
Next, the Discord server is for gamers. The xbox discord discusses the latest games. The upcoming PS4 and PS5 would create interest and feature the latest PlayStation features for its audience. To rectify hardware and software issues with Xbox, one can discuss it in the latest news. 
Link to join: https://discord.gg/xbox
 Cryptocurrency
The cryptocurrency discord servers offer different crypto prices and chat features with traders. It offers virtual online gambling of stocks and free online conversations with traders and others. Thus, creating bonds and trusts. This group helps to get more ideas on cryptocurrency, and you can invest with the guide of experts available there. They will share their own experience, and it helps you a lot. 
Link to join: https://discord.com/invite/cryptocurrencyofficial
---
Conclusion
With the advent of discord servers, one can find super interesting and fun communities in which audiences can participate. Discords give a welcoming atmosphere to the new members wherein one can join their community and interact daily. Hope this article helps you discover more interesting discord servers available in Discord to chat with people worldwide. Please let us know in the comment section below if we have missed any of your favorite servers on Discord.
Aayush Kumar Gupta is the founder and creator of ExploringBits, a website dedicated to providing useful content for people passionate about Engineering and Technology. Aayush has completed his Bachelor of Technology (Computer Science & Engineering) from 2018-2022. From July 2022, Aayush has been working as a full-time Devops Engineer.