The Top 5 Text to Speech that Youtubers Use to convert the written script into voice-generated. So take note of the 5 Text to Speech Websites and Software mentioned that anyone can use for free.
What is Text-to-Speech Software
Text-to-speech software is a technology that converts written text into spoken words. Individuals with visual impairments or reading difficulties often use it to consume digital content. The software generates an audio file of the text, which can be listened to on a computer or mobile device.
Text-to-speech technology has also become popular among YouTubers who use it to create voiceovers for their videos. Advancements in AI technology have enabled text-to-speech software to produce human-like recordings of multiple text strings.
Text-to-speech software is valuable for those needing assistance reading or consuming digital content. Its applications have expanded beyond its purpose of aiding individuals with visual impairments to include a wide range of users seeking an alternative way to engage with written content.
---
5 Text to Speech Websites / Software Used by Youtubers
Numerous text-to-speech options exist, both free and paid, but specific platforms are known for their superior quality. Individuals and professionals alike can find a suitable TTS service to fulfill their needs:
Natural Reader

The Naturalreaders.com is an online text-to-speech reader offering free and premium voices. It is highly regarded as one of the best free services available. The free voices can be used without any time limit, while the premium ones require payment. The user interface is user-friendly and has a sleek design. 
To use this service, paste the text into the text box, select a voice, play the audio, and download the file. This service is lauded for its ease of use and straightforward approach, making it an excellent choice for those who need a reliable text-to-speech reader.
Pros
Free platform access allows users to access and use its features easily.

The platform is cross-platform compatible, meaning users can access it on various devices.

The platform supports 17 languages, making it accessible to a global audience.
Cons
The Pricing of the plans can be high, limiting use.

There is no option to skip text, which can be inconvenient for those who want to skip over irrelevant or unimportant sections.

Cannot convert images to text, which may not be ideal for users with image-heavy content.
TTS Tool

TTS Tool is an easy-to-use service for creating recordings using text-to-speech technology. After choosing your voice and typing your text, download the recording. This service may be helpful if you require recordings in a language other than English because you can record voices in various languages.
This tool's ability to modify the voices' volume, rate, and pitch is a further advantage. These choices make it possible to create recordings that sound distinctive, which can make your videos stand out from other TTS videos.
Pros
One of the best available fusions of support for learning and performance.

The strong flexibility makes it simple to produce visually appealing content.

The best learning management system available.
Cons
The government and big business policies can make this challenging.

When we wanted to go live, there was a CPU overload.
Amazon Polly

Amazon Polly is a text-to-speech service that is available for a fee and is provided by Amazon. The cost of this service is determined by the number of characters transformed into speech. Polly offers diverse, high-quality voices with distinct accents, tones, and other characteristics. 
This makes it an excellent choice for YouTubers who want to create high-quality TTS recordings for their slideshow or commentary videos. Polly is more than capable of producing usable voice recordings that meet the needs of content creators.
Pros
Because it helps to hear the words over it when you can't process information generally, Amazon Polly is helpful.

Attempting to read cases can be very taxing at times.

They have neural voices, and they sound incredibly authentic.
Cons
Owner of a nonprofit company with 1 to 10 workers, the cost could be reduced.

It's cool, but it would be cheaper if it weren't so expensive.

Some people are completely blind or deaf but also have cognitive impairment.
Watson Text to Speech

Watson Text to Speech is a paid TTS service provided by IBM that offers a free demo online. Its voice recordings are very natural-sounding, making it possible to create long-form videos with a voiceover that sounds like a human reading from a script. 
Comparable to Amazon Polly, the service produces high-quality, lifelike recordings, making it an excellent option for those seeking to improve their audio recordings.
Pros
People with disabilities or visual impairments can access it.

Aloud reading lengthy documents or web pages can save time and effort.

For those who speak different languages or travel frequently, provide multiple languages.
Cons
Listening can become tiresome because the voices can be grating and robotic.

Another possibility is mispronunciation, especially when using obscure or technical words.

Advanced systems can be pricey, making them unaffordable for some people or small businesses.
Balabolka
Balabolka is a long-standing text-to-speech (TTS) service that is a reliable choice for generating voice recordings. Unlike most TTS services available online, Balabolka is a downloadable application. While it may require additional effort, it can benefit those who prefer offline options.
When it comes to the quality of the voices produced, it can vary based on individual preferences and specific needs. Some may find the recordings to be exceptional, while others may find them to be subpar. Testing different voices and settings may be necessary to ensure the desired outcome.
Pros
Users can customize the selected voice's speed, pitch, and volume.

This allows users to convert a wide range of documents into audio files.

Balabolka is a free and lightweight program that is easy to install and use. 
Cons
Output is limited to a single audio file, so you can't create multiple files from a single document.

No support for complex formatting options like images, tablets, or footnotes.

Editing capabilities are limited, So you can not change the original document significantly.
Acapela Box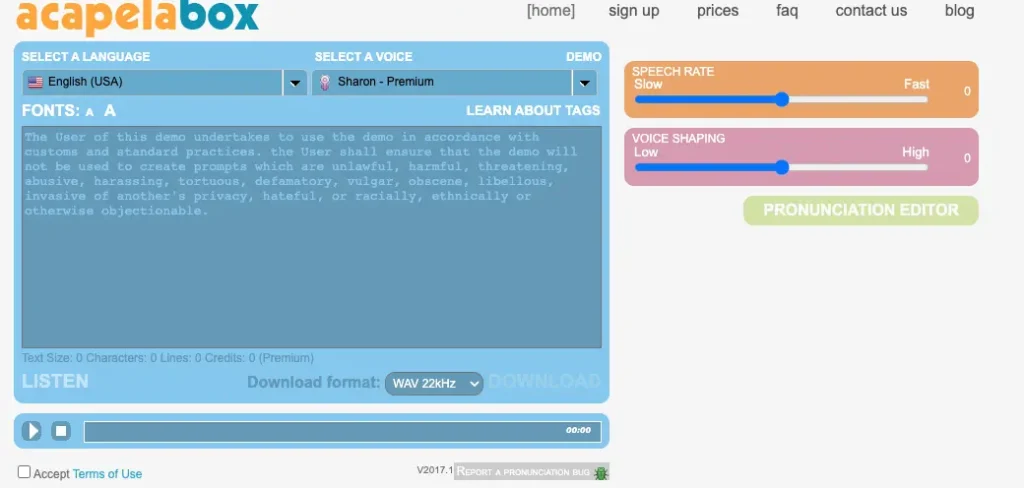 Acapela Box is a user-friendly online Text-to-Speech (TTS) platform that offers a range of male and female voices, including some premium options. Its standout feature is the ability to adjust the pace and cadence of the voices. 
The service is straightforward, effective, and free. Whether you're looking for a TTS solution for personal or professional use, Acapela Box will likely meet your needs. Acapela Box is a dependable tool that can fulfill your TTS requirements.
Pros
Acapela Box has diverse voices in multiple languages and accents.

Users can customize voice speed, pitch, and volume for a personalized experience.

It can be integrated into various applications like websites, mobile apps, and chatbots.
Cons
Limited free conversions per day may not be enough for users with high-volume needs.

Expensive paid plans for high-volume needs and multiple voices.

Requires internet connection to function, is difficult to use for the limited and no internet access users.
Zabaware Text-to-Speech Reader
A popular Text-to-Speech (TTS) provider, Zabaware provides a usable application that you can download. The paid version offers more voice options, including synthetic voices that sound more realistic, while the free version still produces passable recordings. Consider purchasing the paid version if you want to improve your TTS experience. 
Balabolka and Zabaware are download-only services, but Zabaware provides more voice options for a more immersive experience. Spend money on the paid version to access a broader range of more realistic voices.
Pros    
Can easily convert text from the clipboard to speech output.

Supports a wide range of file formats, providing greater flexibility in usage.

High-quality voices can be expensive but offer more natural and expressive speech output.
Cons
It supports windows only and cannot be used on other operating systems.

It can convert text files into WAV format but not to other audio formats.

The selection of available voices is limited, which may only meet the needs or preferences of some users.
---
Some Honourable TTS Mentions
TTSMP3.com
TTSPM3.com is free text-to-speech software allowing YouTubers to generate audio from the written script. You have to paste the audio into the clip box and hit the generate button, and within a fraction of a second, the audio will be ready.
Pros
You can download the audio as an MP3 file and use it in the YouTube Video.

There are a variety of accent voiceovers to choose from, absolutely free.

All the features are completely free to use.
Cons
There are 3000 character limits that you can generate per day.

The quality of the voice generated is low but still usable for a YouTube video.
FromTextToSpeech.com
FromTextToSpeech.com generates much clearer audio as compared to TTMP3.com (mentioned above). Like any other text to Speech Software, it converts your written script text into audio voice without limitations. 
Pros
It's free to use.

Also, there is no character limit or limit to how many times you can download the audio daily.
Cons
It lacks quality but is suitable for any video you want narration for your youtube video.
Google text to speech
Google text-to-speech allows you to listen to the audio from the text you paste into the clipboard. It's one of my favorite text-to-speech tools and one of the best software. It's an excellent tool meaning you can listen to the audio, but to download the audio, you will require a subscription.  
Pros
The Voice Quality of Google Text to Speech is fantastic. 

A variety of accents are present, and many of them are near human accents. 
Cons
Google text-to-speech is a premium tool.

You can't download the audio with a free account.
IBM text to speech
Many of you reading this article might have heard of the IBM text-to-speech website, but for me, it's the only website that sounds more realistic to a human voice. 
Pros 
You have tons of voices to choose from

The voices sound amazing. 
Cons 
You can't download the audio.

It's a premium software.
AI Powered Text to Speech
Now you can use AI to generate Text to Speech of your favorite personality. You can use these two tools for generating TTS – Fake you and Uberduck.
---
Why Use Text-to-Speech Software
Text-to-speech software is valuable for content creators, especially those creating YouTube videos. There are two primary advantages to using this software:
Cost-efficient: Hiring a voiceover artist to record audio for video scripts can be expensive. Text-to-speech software is an economical alternative, eliminating the need to pay for voiceover services. Additionally, it saves time because audio files can be created quickly and easily without spending time searching for and communicating with a voiceover artist.
Speed: Text-to-speech software allows content creators to create audio files of their video scripts in mere minutes, if not seconds. This starkly contrasts the lengthy turnaround time of hiring a freelancer, which could take several days. In short, text-to-speech software is an efficient and affordable solution that saves content creators time and money.
---
Frequently Asked Questions
What voice does memenade text to speech use?
Mememade creates daily meme videos using ttstool.com with Brian (British English) text-to-speech.
What is the robot voice that youtubers use?
The robot voice that Youtubers use mostly are Ttstool, Natural Readers, and Acapela Box.
---
Conclusion
This article provides information on the text-to-speech tools and software commonly used by YouTubers to convert written scripts into voice-generated ones, including text-to-speech software. Some options stand out for their realistic and high-quality voices. We hope this article has been helpful to you in answering the question, "what text-to-speech do YouTubers use?"
Aayush Kumar Gupta is the founder and creator of ExploringBits, a website dedicated to providing useful content for people passionate about Engineering and Technology. Aayush has completed his Bachelor of Technology (Computer Science & Engineering) from 2018-2022. From July 2022, Aayush has been working as a full-time Devops Engineer.