Unlock the iconic voice of Walter White, the infamous kingpin from the beloved series Breaking Bad, using cutting-edge Walter White text-to-speech AI voice Generators.
From free to paid tools, we've curated a list of top Walter White voice generators that bring the essence of Breaking Bad to life.
| Tool | Description |
| --- | --- |
| Fakeyou.com (Free) | – Online text-to-speech tool |
| | – Generates Walter White's voice |
| | – Features over 3,100 voices, customizable parameters like pitch and tone |
| Uberduck.ai (Free) | – Online AI voice generator |
| | – Produces highly realistic Walter White voice |
| | – Offers voice-to-voice conversion, AI rap music generation |
| Soundboards (Free) | – Collection of character voices, including Walter White |
| | – Voices can be downloaded in MP3 or WAV format |
| Voice.AI (Free) | – Transforms voice into Walter White's tone |
| | – Real-time voice conversion, supports popular platforms like Discord |
| | – Large collection of voices, ability to train new voices |
| ElevenLabs.io (Paid) | – Innovative AI voice generation platform |
| | – Exceptional sound quality, natural pauses, emotional inflections |
| | – Suitable for content creation, can imitate voices of specific individuals |
These tools provide various options for generating Walter White's voice, ranging from free online text-to-speech AI tools like Fakeyou and Uberduck to a paid platform like ElevenLabs.io.
Moreover, 101 Sounboards has a collection of Walter White voices that can be downloaded. And Voice.AI allows real-time voice conversion in Walter White's voice.
Please read the complete guide for more details about the tools mentioned earlier and how to use them to generate Walter White Voice.
---
Who Is Walter White?
Walter White is a popular character from the TV series Breaking Bad, portrayed by Bryan Cranston. In the show, Walter White starts as an ordinary chemistry teacher leading a mundane life but undergoes a significant transformation when he is diagnosed with cancer. 
To secure financial stability for his family's future, he delves into the production of methamphetamine, teaming up with Jesse Pinkman. Together, they gradually ascend in the drug trade, evolving from small-scale dealers to operating a multi-billion dollar empire. 
Throughout the series, Walter White's character changes remarkably, transitioning from a seemingly unremarkable and cautious individual to a formidable kingpin, earning the moniker "The One Who Knocks." His involvement in the meth business exposes him to dangerous criminal elements and unravels unforeseen consequences.
---
Free Walter White Text to Speech AI Voice Generator Online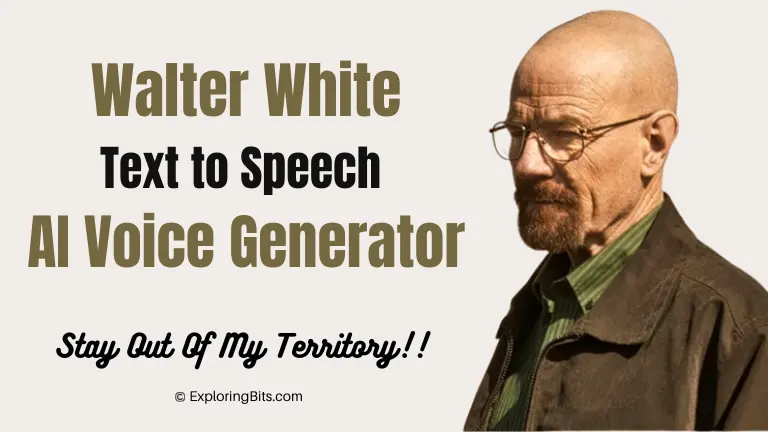 We have discovered a free online Walter White AI voice generator that uses Text to Speech technology, eliminating the need to download any software. After testing it ourselves, we can provide you with instructions on how to use this generator effectively.
Fakeyou
Fakeyou is an incredibly accurate online text-to-speech tool that generates Walter White's voice. With a vast sound library featuring over 3,100 voices, including Donald Trump, Duke Nukem, and Stephen Hawking, you can easily create pranks, podcasts, and videos with authentic-sounding voiceovers. 
The tool allows you to fine-tune parameters like pitch, speed, and tone for a more realistic and expressive Walter White AI voice.
Here are the key specifications of Fakeyou:
Fakeyou prides itself on its vibrant community, which actively contributes a wide range of voice models for AI voice training. This ensures that users have access to a diverse selection of voices to choose from.

Signing up is not required on Fakeyou, providing a seamless user experience without any registration process.

The voice-to-voice generation feature allows directly converting audio files into the desired voice, such as Walter White's voice, without manual typing.

Fakeyou consistently keeps up with the latest voice trends, ensuring that popular and trending voices are readily available to users, including those generating buzz on social media.

It offers lip-syncing deep-face functionality, enabling users to synchronize generated voices with corresponding facial movements, resulting in a more immersive experience.

Once the audio is generated, Fakeyou makes downloading the output in WAV format easy, ensuring convenient access to the final result.

Fakeyou can also generate the voices of other famous people like Morgan Freeman, Ben Shapiro and many more.

Fakeyou fosters an exceptional Discord community where users can seek assistance and support for voice generation-related queries or issues.
Pros:
The platform is entirely free and user-friendly.

Users can access the platform without the need for any login credentials.

It offers a vast library of over 3,100 authentic sound options.

Audio files can be easily downloaded for personal use.

The platform is regularly updated and enhanced to ensure high-quality voiceovers.
Cons:
Performance could be improved when dealing with lengthy texts or intricate sentence structures.

The presence of numerous ads on the platform may be distracting.

Free account users do not have access to bulk generation capabilities.
Step by Step guide to generating Walter White's AI voice with Fakeyou
To generate Walter White's AI voice using Fakeyou, follow the instructions: 
Step 1: Start by visiting the Fakeyou.com website, and on the homepage, select the Text to Speech option to access their AI voice models.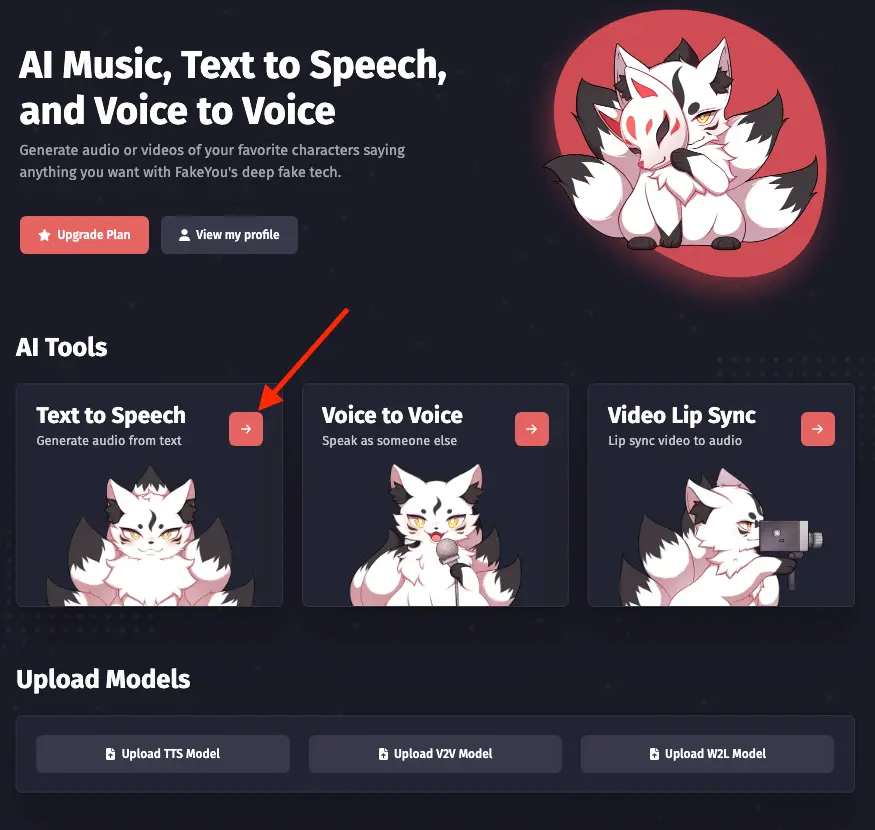 Step 2: In the "Voice" section, enter "Walter white" to see the available options and choose the highest-rated variant if there are multiple options.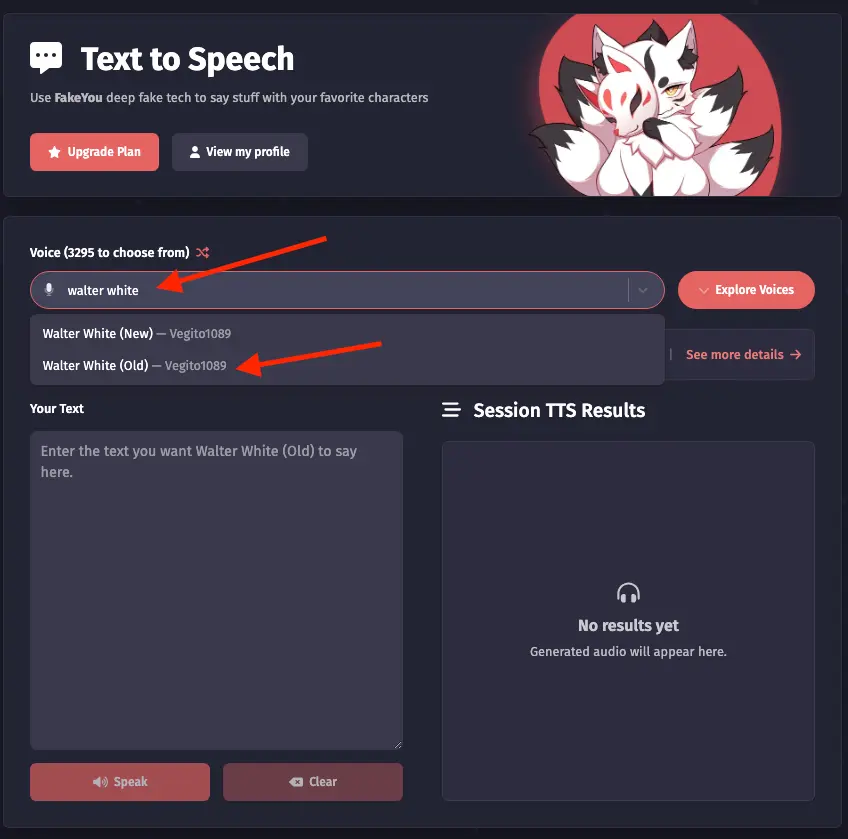 Step 3: Next, input the text you want to be converted into Walter White's voice in the "Your Text" area.
Step 4: Click the speak button below the input field to initiate the synthesis process; The AI will start generating Walter White's voice for your text.
Step 5: Once the synthesis is complete, you can download and share the voice by clicking the "Share & Download" option.
These simple steps help you to generate Walter White's AI voice using Fakeyou. You can enjoy the generated Walter White AI voice and utilize it for various purposes.
---
Uberduck
Uberduck is one of the best online AI voice generator software that effortlessly produces a Walter White voice. This free web tool stands out for its exceptional ability to create highly realistic AI voices, similar to the fake voice generator. The Walter White AI voice generator has excellent specifications and additional useful features.
Here are the key specifications of Uberduck:
Uberduck is a platform that offers an efficient signup process compared to others, granting users access to a vast collection of thousands of character voices. 

Uberduck incorporates an impressive Voice-to-Voice conversion capability, allowing users to effortlessly convert speech or audio files without requiring text input. 

The platform keeps expanding its range of character options due to the active contributions from its vibrant community.

Uberduck mainly works in AI Rap Music generation, allowing users to customize character voices specifically for this feature. 

The presence of its Discord community allows users to have a platform where they can gather information and contribute to AI voice generation and the creation of new models.
Pros:
Advanced AI capabilities for generating rap music and converting voices.

Exceptional AI-generated voices for simulating speeches.

Available to download AI-generated voices for personal utilization.
Cons:
The voice-to-voice conversion feature needs additional improvement.

Some specific voices may not be accessible.
Step by Step guide to generating Walter White's AI voice with Uberduck
Follow these simple steps to generate Walter White's AI voice with Uberduck:
Step 1: Firstly, visit the uberduck.ai website and sign up if you're a new user.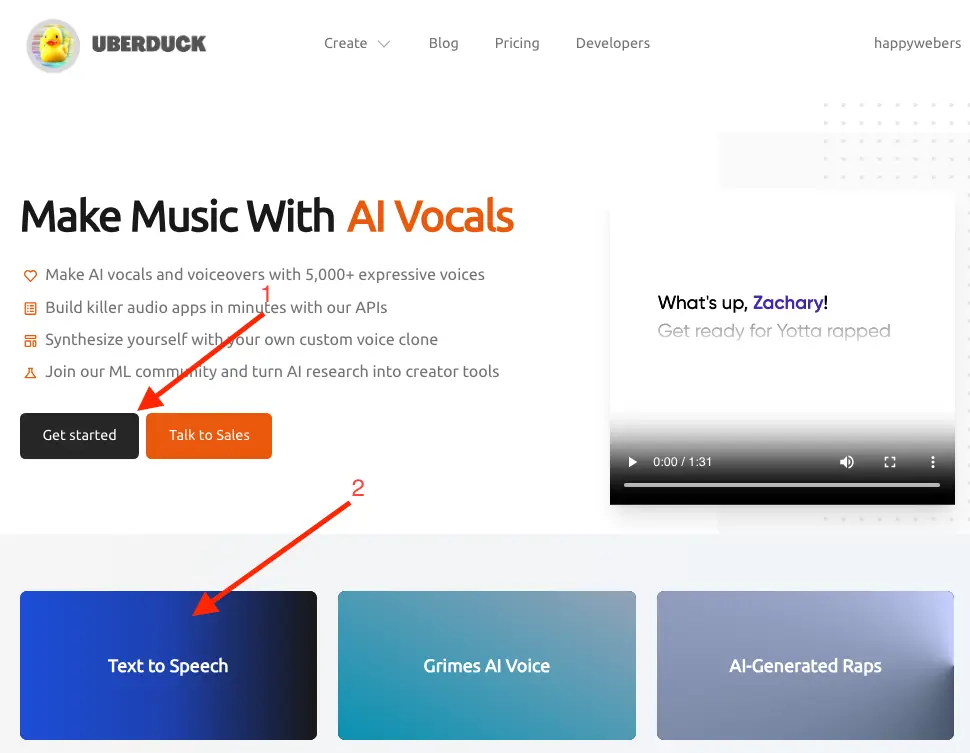 Step 2: Next, go to the Text to Speech section, select the voice category, or type "Walter White" to choose his voice automatically.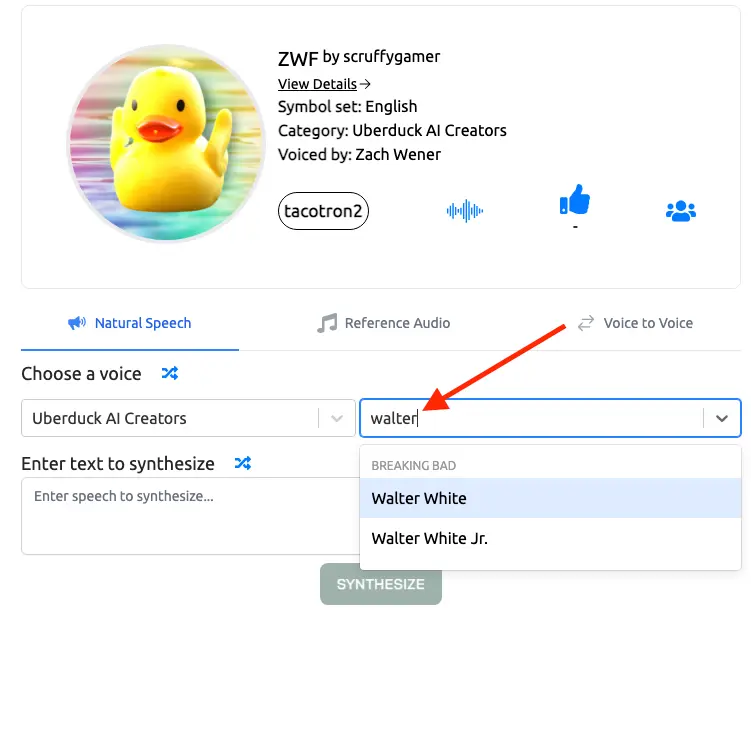 Step 3: Enter the text you want Walter White to say in the input area. Click the "synthesize" button to start the generation process.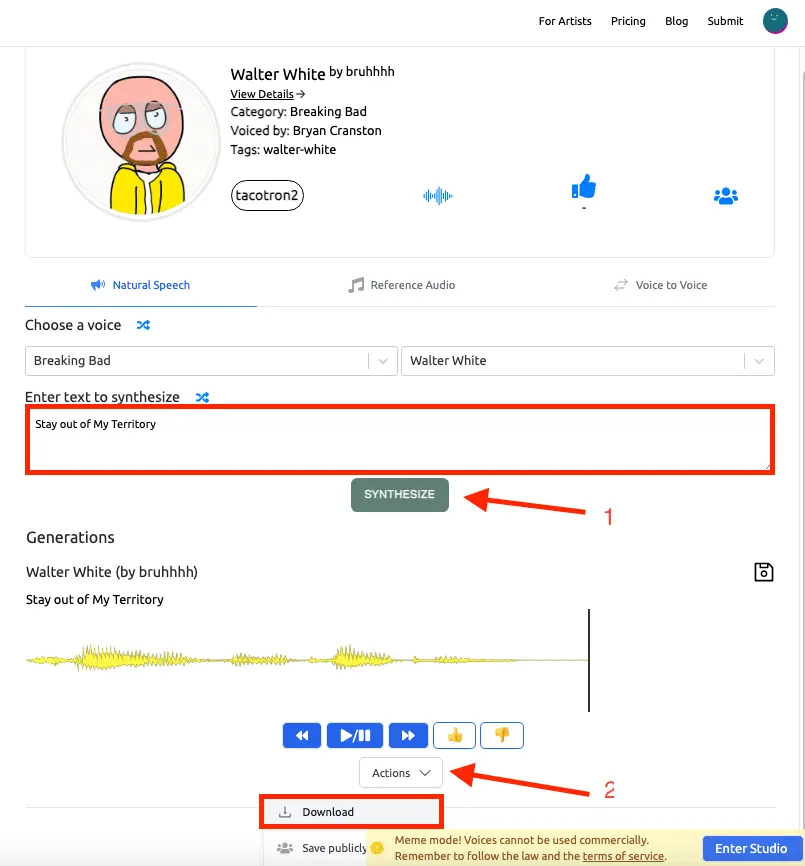 Step 4: Download the Walter White voice from the Action Drop-down menu once it is generated. 
With these steps, you can easily create and obtain an AI-generated Walter White voice using Uberduck's powerful technology.
---
Free Walter White TTS Collection
For the individuals, here is a collection of free Text-to-Speech (TTS) platforms featuring a wide range of voices inspired by Walter White. Although generating AI voices specifically mimicking Walter White may not be feasible, these platforms offer an extensive selection of pre-generated voices for you to explore. Enjoy the unique and diverse TTS collection available online.
101 Soundboard
101 Soundboard is a website that offers a wide range of voice collections, including Walter White and fictional and real character voices. It's a free online tool where users can access and utilize diverse voice recordings to meet their requirements.
Here are the key Specifications of the Soundboard:
Users can download the voices in MP3 or WAV format, enabling personalized utilization to suit individual preferences.

Furthermore, Soundboard provides a user-friendly smartphone application, ensuring effortless accessibility. 

The Soundboard boasts an impressive assortment of voices, encompassing fictional characters. 

Each character is portrayed by numerous unique voices, providing a diverse selection with many choices. 
Pros:
It offers a dedicated selection of characters inspired by different genres.

A diverse range of voices is accessible, catering to various character types.

Users can find popular dialogues in the distinctive voices of specific characters.
Cons:
Only pre-existing voices are available for download because the service does not provide text-to-speech generation capabilities.
---
Free Walter White AI Voice Changer And Generator
Experience the amazing Walter White AI voice changer and generator, which effortlessly transforms your voice into the iconic tone of Walter White. This tool allows users to generate text-to-speech with great precision and results. Also, it offers the best quality and has a lot of great features in it. 
Voice.AI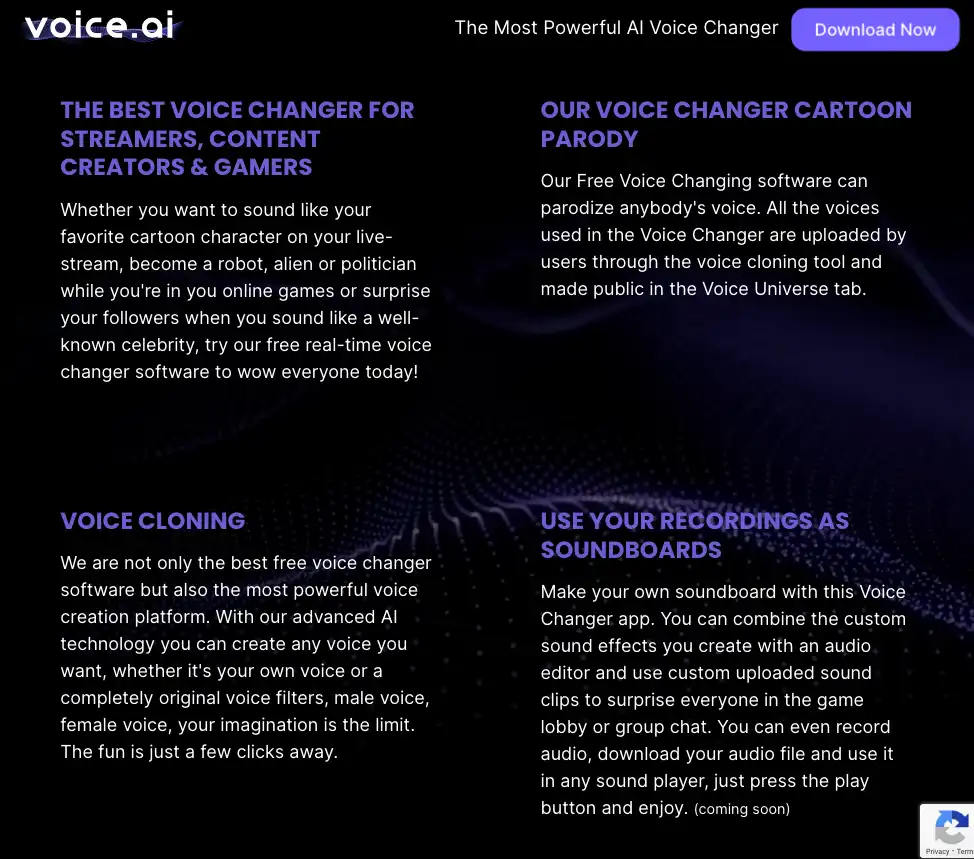 Voice.AI is an excellent tool that transforms the realm of AI voice modification. Its distinguishing feature lies in its unmatched voice quality, achieved through a meticulously refined training algorithm utilizing high-quality audio. The results are truly remarkable. It's free, with a few stipulations, which makes it even more appealing.
Here are the Key Specifications Of Voice AI: 
Voice AI offers an exceptional feature where users can train entirely new voices, although this process requires patience due to its time-intensive nature.

This advanced voice changer enables real-time voice conversion during live communication, ensuring a smooth and uninterrupted experience.

Voice AI has a collection of thousands of distinct voices, including the iconic tone of Walter White. 

It seamlessly integrates into popular platforms like Discord, WhatsApp, and Twitch, making it incredibly easy to use.

The tool also supports the transformation of recorded audio files, allowing users to alter the voice of audio generated from various platforms to match the captivating timbre of Walter White and other available voices.
Pros:
Users can utilize this tool free of cost (need for hardware allocation).

Supports voice conversion for both live and pre-recorded audio files.

Smooth integration with various platforms.

Real-time conversion of voice, enabling instant results.

Provides a wide range of high-quality character options.
Cons:
At present, it is only compatible with Windows PCs.

Various issues about the hardware capabilities needed for voice AI.
---
Best Walter White AI Voice Generator [Paid]
You can also use a paid AI voice generator to generate Walter White's iconic voice. Even though many free alternatives are accessible on the internet, numerous social media users exclusively opt for paid software when creating their gaming videos. With this online tool, they interact with virtual characters, assuming the voice of Walter White. The outstanding sound quality and overall performance of this tool make it unique.
ElevenLabs.io
ElevenLabs.io, created by Eleven Labs, is an innovative platform focused on AI voice generation. Renowned for their expertise in research and development, Eleven Labs has crafted a remarkable AI voice model that outshines other text-to-speech generators available online. 
Users can experience the exceptional sound quality of their voices by utilizing the platform's free version. Designed with storytelling in mind, ElevenLabs.io offers the best experience, incorporating natural pauses and emotional inflections. 
These features get audience engagement and create a truly immersive experience. With ElevenLabs.io, users can access great voice quality, elevating their content to new levels of excellence.
Here are the key Specifications of ElevenLabs.io:
ElevenLabs' primary focus is on satisfying the requirements of individuals involved in creating content, such as writers and publishers, who depend on spoken formats to engage their listeners.

This software also generates laughter when suitable within the given context, making your generated voice even more realistic and attractive. 

This tool's functionality allows it to be used in different scenarios, such as creating audiobooks, delivering news, and sharing stories.

Users can generate voices on ElevenLabs.io by offering sample recordings of particular individuals. This implies that you can imitate the voice of anyone, including Walter White.
Pros:
Free voice generation comes with already available characters that can be used for experimental purposes.

Offering complimentary demonstrations to assess the service before selecting any paid subscriptions.

The capacity to imitate the voice of any character by using only a brief audio sample, which can be achieved in just a matter of minutes.
Cons:
Eleven Labs is in the beta stage at the beginning and actively improving its generative AI technology.
---
Conclusion
You want customizable Walter White text-to-speech tools such as Fakeyou and Uberduck, audio clips from 101 Soundboards, or advanced algorithms from Fakeyou. Each option has its benefits for generating Walter White's voice. We have provided an overview of these software options, allowing you to experience the captivating world of Walter White's voice through the power of these voice generators.
Aayush Kumar Gupta is the founder and creator of ExploringBits, a website dedicated to providing useful content for people passionate about Engineering and Technology. Aayush has completed his Bachelor of Technology (Computer Science & Engineering) from 2018-2022. From July 2022, Aayush has been working as a full-time Devops Engineer.