For individuals who are searching for the best free Snoop Dogg AI voice generator using Text-to-Speech, this guide is for them. Let's see the most amazing online tools capable of converting your written text into the captivating voice of Snoop Dogg. 
Our comprehensive guide gives you detailed information about the Snoop Dogg AI voice generator we stumbled upon, complete with step-by-step instructions. 
---
Free Snoop Dogg Text to Speech AI voice Generator Online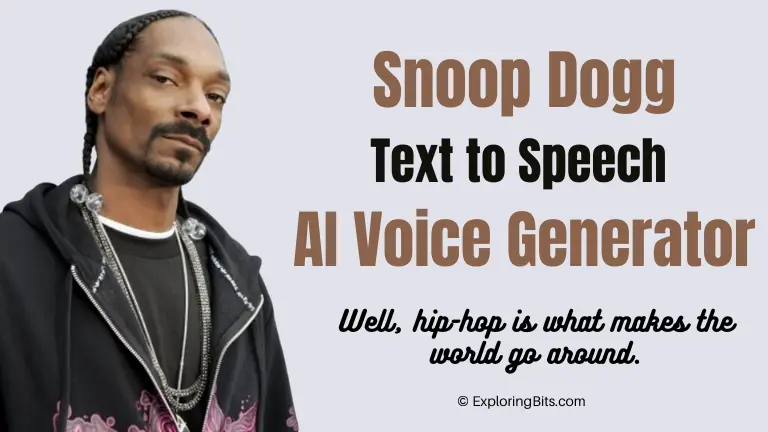 Discovering a free online Snoop Dogg AI voice generator that utilizes Text to Speech technology makes downloading software seem unnecessary. 
Here you will get the free Snoop Dogg AI voice generator we have tested online and provide you with instructions on its usage.
Fakeyou
Fakeyou is an exceptional online text-to-speech AI voice generator that offers a multitude of Snoop Dogg voices, along with an extensive selection of other famous personalities and characters. 
With its impressive features and user-friendly interface, Fakeyou stands out as one of the top choices in the field.
Here are the key specifications of Fakeyou:
Fakeyou boasts a thriving community that continuously contributes numerous voice models for AI voice training. This ensures that you can find a wide range of Snoop Dogg voices.

The community uploads multiple models for each character, enabling you to choose the most appealing and authentic-sounding version. 

Fakeyou does not require users to sign up. You can seamlessly access the TTS AI voice generator without any registration process, allowing for a hassle-free experience.

Fakeyou continuously offers the latest and trending voices. If certain AI voices are making waves on social media or gaining popularity, you can trust that they will be available on Fakeyou.

Fakeyou goes beyond text-to-speech generation. It offers lip-syncing deep-face functionality, allowing you to synchronize generated voices with corresponding facial movements. 

The voice-to-voice generation feature enables the direct conversion of audio files into Snoop Dogg's voice or any other desired voice without typing.

Once you have generated your audio, Fakeyou lets you easily download the output in WAV format.

Fakeyou can also generate the AI voices of many rappers, such as Kanye West and Eminem.

Fakeyou fosters an excellent Discord community where you can seek assistance for voice generation-related queries or issues. 
Pros:
It is free and easy to use.

Users can access the platform without login.

A variety of voice options are available.

The platform is updated with trending voices.

Downloadable audio files.
Cons:
Complex sentences may not render accurately.

Voice quality depends on training samples.

Bulk generation is not available for free account users.
Step by Step guide to generating Snoop Dogg's AI voice with Fakeyou
If you want to generate Snoop Dogg's AI voice using Fakeyou, follow the steps given below:
Step 1: Firstly, you have to visit Fakeyou.com.
Step 2: Choose the Text to Speech option on the homepage to access their AI voice models.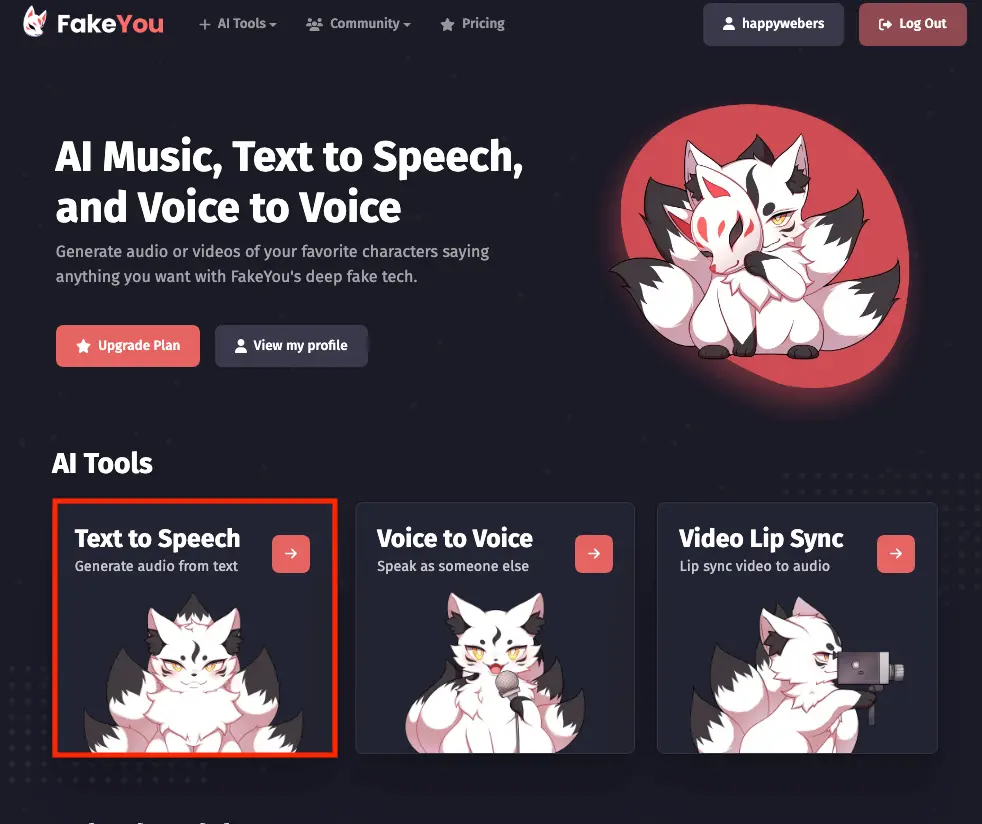 Step 3: In the "Voice" section, enter "Snoop Dogg" to see available Snoop Dogg voices. Opt for the highest-rated variant if there are multiple options.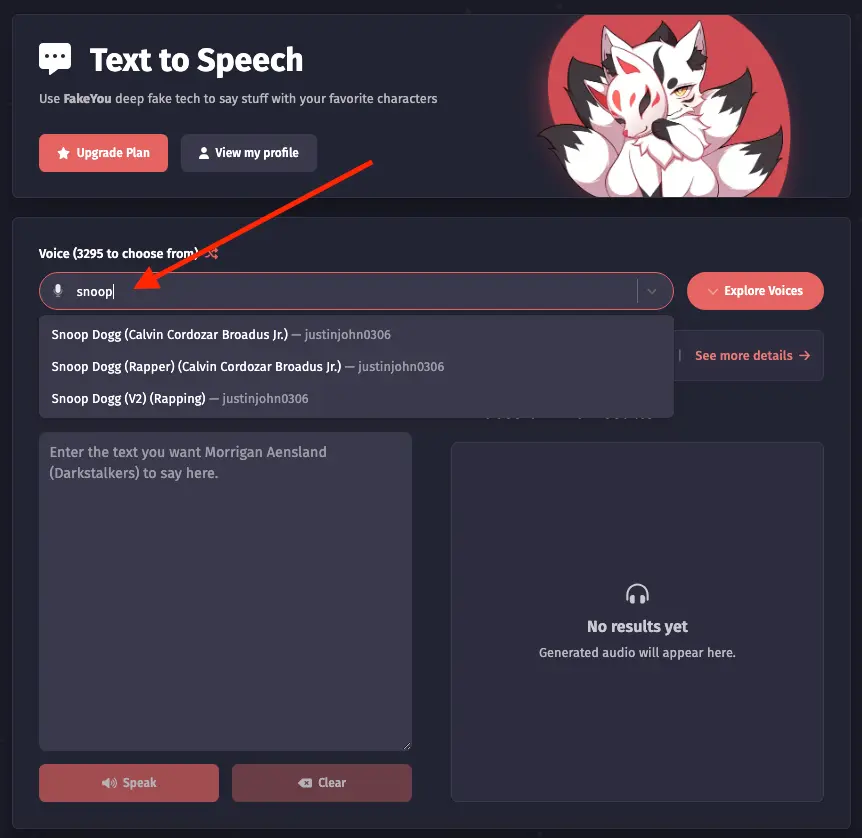 Step 4: In the "Your Text" area, input the text you want to be converted into Snoop Dogg's voice.
Step 5: Click the speak button below the input field to start the synthesis process. The AI will begin generating Snoop Dogg's voice for your text.
Step 6: Once the synthesis is complete, you can download and share the Snoop Dogg voice by clicking the "Share & Download" option.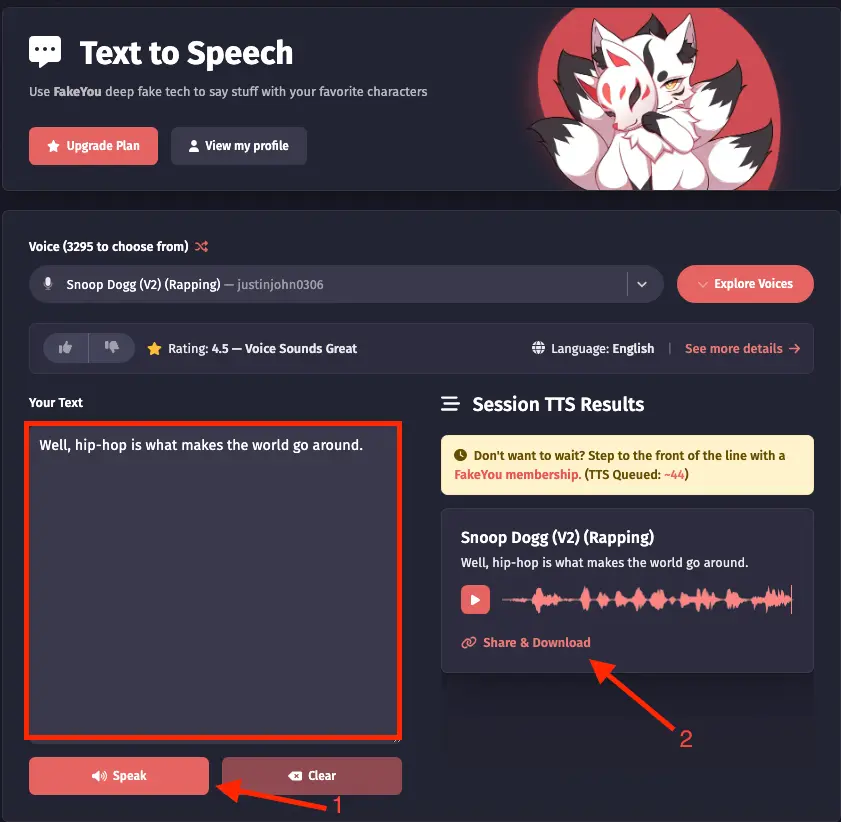 That's all! You can now enjoy the generated Snoop Dogg AI voice and use it for various purposes.
---
Uberduck
Uberduck is an excellent online AI voice generator that allows you to create a Snoop Dogg voice effortlessly. Uberduck is also a free web-based tool, making it incredibly convenient. Uberduck stands out for its exceptional ability to generate highly realistic AI voices, like the fakeyou voice generator tool. Did you know what makes this Snoop Dogg AI voice generator so distinctive and effective? Let's move to its specifications and other features.
Here are the key specifications of Uberduck:
Uberduck offers a seamless and swift signup process, granting access to an extensive collection of thousands of character voices. 

With regular contributions from its vibrant community, the platform continuously expands its repertoire of character options. 

Uberduck excels in AI Rap Music generation, allowing users to customize the character voices specifically for this feature. 

Additionally, it incorporates a Voice-to-Voice conversion capability, enabling users to effortlessly convert speech or audio files without requiring text input. 

Uberduck maintains a thriving Discord community, providing a space for inquiries and contributions related to AI voice generation and the development of new models.
Pros:
High-quality AI-generated voices for presidential speech simulation.

AI-powered rap generation and voice conversion capabilities.

Downloadable AI-generated voices for personal use.
Cons:
Voice to Voice conversion feature requires further refinement.

Certain presidential voices may not be available.
Step by Step guide to generating Snoop Dogg AI voice with Uberduck
If you want to generate Snoop Dogg's AI voice using Uberduck's Text-to-Speech feature, follow the steps given below:
Step 1: Firstly, visit the uberduck.ai website. If you're a new user, sign up by clicking the small button in the top right corner. Existing users will be logged in automatically. 
Step 2: Select the Text to Speech menu box to access the AI voice generation page. In the "Choose the voice" section, select the appropriate category or type "Snoop Dogg" to choose his voice automatically.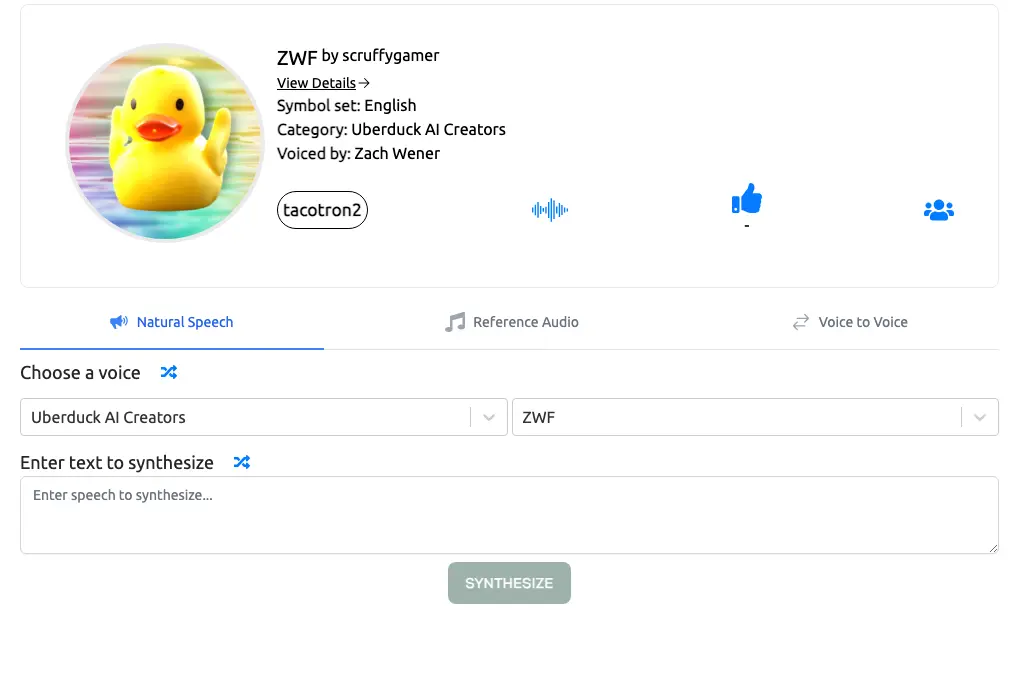 Step 3: Enter the desired text in the input area containing the words you want Snoop Dogg to say. 
Step 4: Click the "synthesize" button to start the AI model's generation process. 
Step 5: Once the Snoop Dogg voice has been generated, download it from the Action Drop-down menu below. 
That's all! This enables you to create and obtain an AI-generated Snoop Dogg voice using Uberduck's powerful technology.
---
Free Snoop Dogg TTS Collection
If you are seeking the free Text to Speech Collection, here we have mentioned it. These online platforms feature extensive Snoop Dogg voices generated by users utilizing text-to-speech (TTS) tools.
While generating Snoop Dogg AI voices may not be possible, and these platforms offer a vast collection of pre-generated voices worth exploring.
Soundboard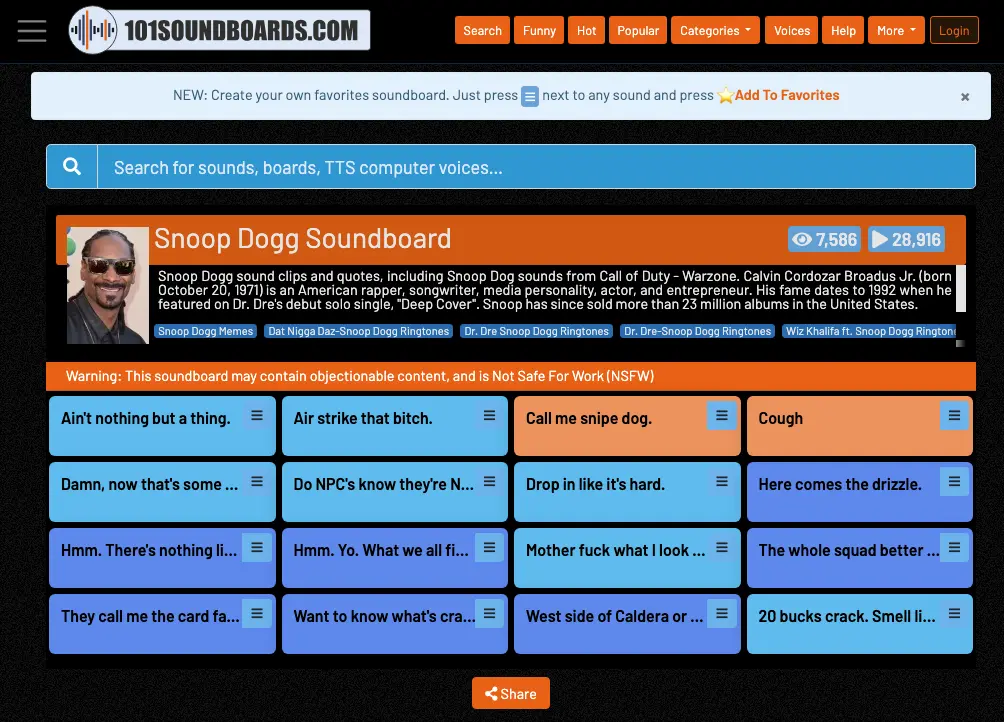 Soundboard is a free online voice collection website featuring a diverse range of Snoop Dogg voices and an extensive selection of fictional and real character voices. This unique tool allows users to access and utilize various voice recordings for their needs.
Here are the key Specifications of the Soundboard:
The Soundboard has an extensive collection of voices from both fictional characters and real-life personalities. 

A wide range of options is available in it; each character is represented by tens or even hundreds of distinct voices. 

Additionally, the platform offers a convenient smartphone app for easy access.

Users can download the voices in MP3 or WAV format, enabling personalized usage according to their preferences.
Pros:
A wide variety of voices for different characters is available. 

Famous dialogues can be found in the voices of specific characters.

There is a dedicated collection of characters based on different genres.
Cons:
Text-to-speech generation is not supported; only pre-existing voices can be accessed and downloaded.
---
Free Snoop Dogg AI voice changer and generator
Discover an incredible voice changer and generator that transforms your voice into Snoop Dogg's iconic tone. This tool is impressive, offering outstanding quality and a range of features. Also, it enables you to generate text-to-speech with remarkable results.
Voice.AI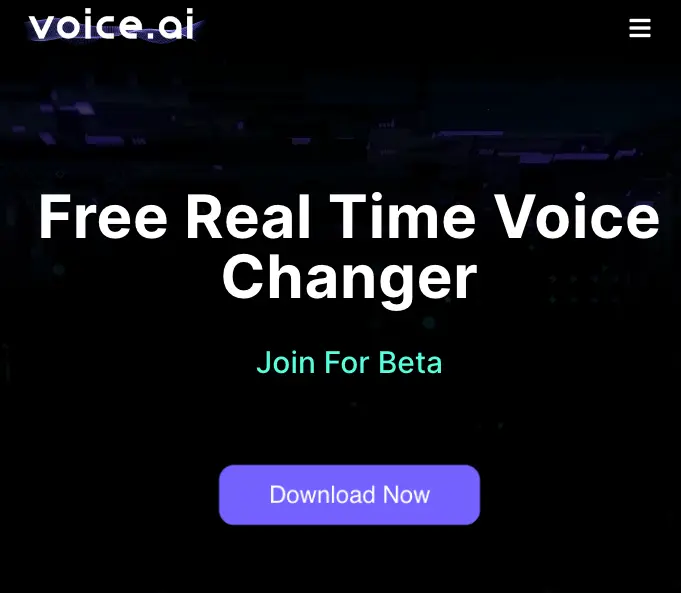 Voice.AI is an incredible tool that revolutionizes the world of AI voice-changing. What sets Voice.AI apart is its unparalleled voice quality, resulting from its advanced training algorithm, which has been meticulously fine-tuned using top-notch audio. The outcomes are truly exceptional. The best part? It's free to use, with a few conditions.
Here are the Key Specifications Of Voice AI:
With its rapidly expanding library, it boasts an impressive collection of over 10,000 unique voices, including the distinctive tone of Snoop Dogg. 

Integrating this cutting-edge voice changer into popular platforms like Discord, WhatsApp, and Twitch is a breeze. 

It enables real-time voice conversion during live communication, ensuring a seamless experience.

Voice.AI offers the remarkable capability to train entirely new voices. Although this process requires patience due to the time involved, the results are well worth the wait.

The tool supports the transformation of recorded audio files, allowing users to change the voice of audio generated from other platforms into the captivating timbre of Snoop Dogg, among others.
Pros:
No cost for usage, although hardware allocation is necessary.

Enables instant conversion of voice in real-time.

Facilitates voice conversion for pre-recorded audio files.

Seamlessly integrates with multiple platforms.

Offers an extensive collection of high quality characters.
Cons:
Raises concerns regarding the hardware resources required for voice AI.

Currently limited to Windows PC compatibility.
How to use voice AI for converting your voice to the Snoop Dogg voices
Here are the steps for using voice AI to convert your voice to the Snoop Dogg voice:
Step 1: Download and install the voice AI software from the Voice.ai website.
Step 2: Once the Installation process is done, Create a new account by opening the software.
Step 3: Grant permission for the software to use your computer's spare resources to train voices.
Step 4: Choose the free version of the software when prompted.
Step 5: Select the "Record Mode" option for voice conversion.
Step 6: Click on the central face icon to choose the Snoop Dogg voice character.
Step 7: Initiate the training process by selecting the Snoop Dogg voice and clicking the "Train" button. Note that this may consume some of your available credits.
Step 8: Record your voice using a microphone. Listen to the playback of your recorded voice, now transformed into the Snoop Dogg voice.
---
How To Use Voice AI To Generate Snoop Dogg Text To Speech Voice & Video
Individuals who want to create a Snoop Dogg-style speech video using Voice AI must have to follow these steps:
Step 1: Generate Snoop Dogg Speech with ChatGPT
Use ChatGPT to create Snoop Dogg-style speeches by providing prompts like "Create a speech for Joe Biden announcing the discovery of aliens." ChatGPT will generate text in the style of Snoop Dogg's speech.
Step 2: Generate Text to Speech
Utilize Elevenlabs' free version, a reliable text-to-speech voice generator, to create authentic speech voices. The generated text from Step 1 will be converted into audio using Elevenlabs' natural-sounding voices.
Step 3: Convert Audio to Snoop Dogg's Voice
Use Voice AI technology to convert the audio file obtained in Step 2 into the voice of Snoop Dogg. This process involves applying voice conversion techniques to transform the generic voice from Elevenlabs into Snoop Dogg's distinctive voice.
Step 4: Generate Snoop Dogg Image with Leonardo
For creating a video of Snoop Dogg speaking, generate an image of Snoop Dogg using an AI image generator like Leonardo AI. Input a prompt that describes the desired image, and Leonardo AI will generate a high-quality image resembling Snoop Dogg.
Step 5: Generate Snoop Dogg Speaking Video with D-ID
To complete the process, use D-ID to generate a video of Snoop Dogg speaking. Provide the Snoop Dogg image generated in Step 4 and the audio file from Step 3 to D-ID. Combining the image and audio will create a real talking Snoop Dogg video.
Although this process requires multiple tools and patience, the final result of generating your own talking Snoop Dogg videos using free AI tools will be well worth the effort.
---
Best Snoop Dogg AI voice Generator [Paid]
Most people recommend a paid AI voice generator for capturing the iconic voice of Snoop Dogg. While several free options are available online, many TikTokers and social media users have been using only paid software for their gaming videos, where they engage in conversations with virtual characters in the voice of Snoop Dogg. This tool stands out due to its exceptional sound quality and overall performance.
ElevenLabs.io
ElevenLabs.io is developed by Eleven Labs, a company specializing in AI voice generation research and development. The voice quality produced by their AI voice model surpasses that of any other free or paid text-to-speech generators found online. 
You can start by trying its free version to verify its outstanding sound quality. This platform offers an immersive narrative experience tailored explicitly for storytelling purposes. The generated voices include natural pauses and emotional inflections, enhancing the overall engagement of the audience.
Here are the key Specifications of ElevenLabs.io:
Eleven Labs can generate laughter when appropriate in the context. This adds an extra layer of expressiveness and makes the voices more engaging. 

The versatility of this tool makes it suitable for various use cases, including audiobook production, news casting, and storytelling. 

It mainly caters to the needs of content creators, authors, and publishers who rely on voice-based mediums to captivate their audiences.

ElevenLabs.io allows users to clone voices by providing sample recordings of specific characters. This means you can recreate the voice of any Individual in Snoop Dogg.
Pros:
There are ready-made characters available for free voice generation for experimentation.

Ability to replicate the voice of any character with only a short sample of audio, requiring just a few minutes.

Provision of free demos to evaluate the service before opting for any paid plans.
Cons:
Eleven Labs is currently in the beta phase and actively enhancing its generative AI technology.
How To Use ElevenLabs To Generate Snoop Dogg AI Voice
Here are the steps to use Eleven Labs to generate a Snoop Dogg AI voice:
Step 1: Visit beta.elevenlabs.io, the official website of Eleven Labs.
Step 2: Click on the "Get Started for Free" button.
Step 3: Agree to the terms of service and sign up using your Google account email.
Step 4: Explore the speech synthesis feature to experiment with the free character quota.
Step 5: You'll need to create an instant voice clone using Eleven Labs to generate a Snoop Dogg AI voice. Access the voice lab option in the menu bar. (Note: Instant cloning requires a subscription to the starter plan, priced at 1 dollars.)
Step 6: Obtain approximately 2 minutes of Snoop Dogg's voice from sources like YouTube or a soundboard. Upload this audio to the instant voice feature, quickly generating a voice clone specific to Snoop Dogg's voice.
Step 7: Enter the desired text you want Snoop Dogg to speak, and be amazed by the high-quality sound produced. You can download the audio and use it for your projects.
---
Snoop Dogg AI Voice Generator – Honorable Mentions
Here are a few Honorable mentions of Snoop Dogg's AI voice generator that deserve recognition. These online platforms offer efficient and free text-to-speech capabilities with Snoop Dogg's distinctive voice.
ExploringBits Text To Speech Generator
ExploringBits Text To Speech Generator is the best choice, offering a wide range of realistic and high-quality AI voices. This excellent tool allows users to generate Snoop Dogg's voice in text-to-speech format, free of charge. 
It provides advanced customization options, allowing pitch, sound, and speed adjustments. Moreover, you can conveniently download the generated audio in various formats, such as MP3 and WAV. 
ExploringBits also features a voice cloning feature that enables easy cloning of any human voice, including creating your own AI voice. With its diverse range of tones for Snoop Dogg TTS, ExploringBits stands out as the best option among its competitors.
Voxbox
Voxbox, developed by "iMyFone," is another commendable TTS generator. Its notable feature is its user-friendly interface, which conveniently consolidates all tools on a single page, eliminating the need for extensive searching. 
Voxbox also offers a voice cloning feature similar to ExploringBits, allowing users to clone and save audio for future use. Voxbox provides many AI voices, including fictional characters and famous personalities. All these services are available free of charge, making Voxbox an excellent choice for a Snoop Dogg voice generator.
Top Medi AI Text-to-Speech Generator
The Top Medi AI Text-to-Speech Generator is an exceptional tool for generating Snoop Dogg's AI voice. It boasts features that produce AI sounds closely resembling the authentic voice of Snoop Dogg himself, making it difficult to differentiate between the AI voice and the original. 
The website even allows direct generation of TTS from audio files, saving users the effort of typing lengthy texts. Although the tool has received positive feedback from existing users, it still needs to be discovered by many. For bulk tts generations and high-quality audio files, the Top Medi tts generator is worth considering.
Aayush Kumar Gupta is the founder and creator of ExploringBits, a website dedicated to providing useful content for people passionate about Engineering and Technology. Aayush has completed his Bachelor of Technology (Computer Science & Engineering) from 2018-2022. From July 2022, Aayush has been working as a full-time Devops Engineer.