Looking for the best Barack Obama Text to Speech AI voice generator online? Look no further! In this article, we have curated a list of the top 5 free online voice generators that accurately recreate the charismatic voice of President Barack Obama.
---
Insights about Obama & Obama's Voice
Barack Obama, a member of the Democratic Party, who is the former US President, held his office from 2009 to 2017. Barack Obama was born in Hawaii and obtained his education from Harward Law School. Before the presidency, he served as a senator representing Illinois.
Obama is hugely recognized for his unique speaking style having eloquence and charisma in his way of speaking. His speeches are renowned for their inspirational and powerful message. This has also inspired people to seek methods to mimic his voice.
---
Free Barack Obama Text to Speech AI Voice Generator Online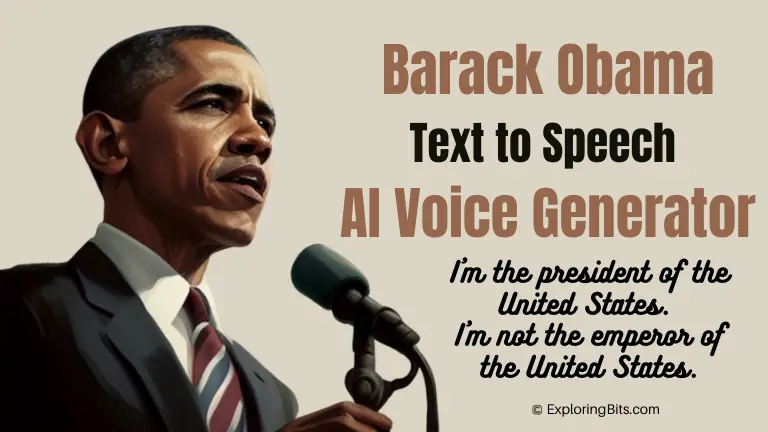 We love to provide our users with free online solutions to avoid downloading and installing hassle. So, we bring you the best Barack Obama AI voice generator online, which is free to use.
Let's start with our top recommendation.
Fakeyou
Fakeyou is the top Barack Obama text-to-speech voice generator that we have used. It has all our checkmarks – free to use, online, no signup, and downloadable audio output.
Fakeyou has a huge community providing voice models for any fictional and real-life character. Therefore you will find the voices of many presidents, such as Donald Trump, Joe Biden, JFK and many more.
Key Specification
It does not require login or account creation to generate text-to-speech voices.

Fakeyou has a huge community that provides new voice models. Therefore you can find almost any celebrity, president, fictional, or real-life character.

They keep up with the newest AI voice generation technology. Therefore, the voice quality of AI models is top-notch.

Since the community can rate the voice generated by the models, you can get insight into what to expect from a certain AI model audio output.

As the voice-to-voice feature is getting popular, Fakeyou has integrated this feature where you can directly convert your audio to any character voice you want.

It can clone voices on demand, but it is a paid service.

It also has a great discord community where you can ask your query related to any voice models that you find difficult to use or can also demand any specific character voice models.
Pros
Easy to use interface.

No login is required to generate Obama text-to-speech.

Multiple Obama AI voice models variants to choose from.

Regular updates for AI voice models.

Download Barack Obama's voice in MP3 and wav audio format.
Cons
Long and complicated sentences can fail to render.

It cannot be used for bulk audio generation.
Step-by-step guide to generating Barack Obama text to speech AI voice using Fakeyou
Within a few steps, you can easily generate Obama text-to-speech using Fakeyou's advanced artificial intelligence. Follow below.
Step 1: Go to Fakeyou.com
Step 2: Select the "Text to Speech" menu on the home page. You will now be redirected to the AI models selection area.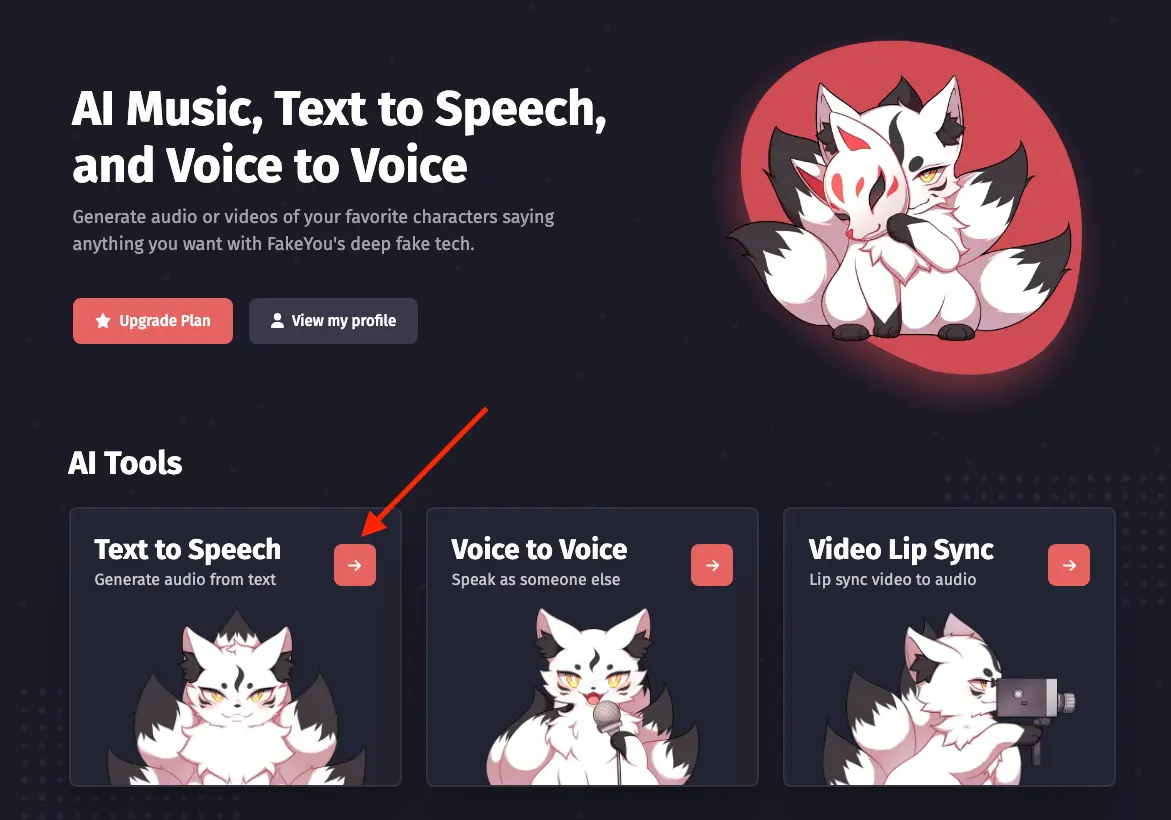 Step 3: Under the "voice" menu, type in "Barack Obama" and all the AI voice models related to Barack Obama will appear. Now, you can choose the model with the highest rating for multiple variants.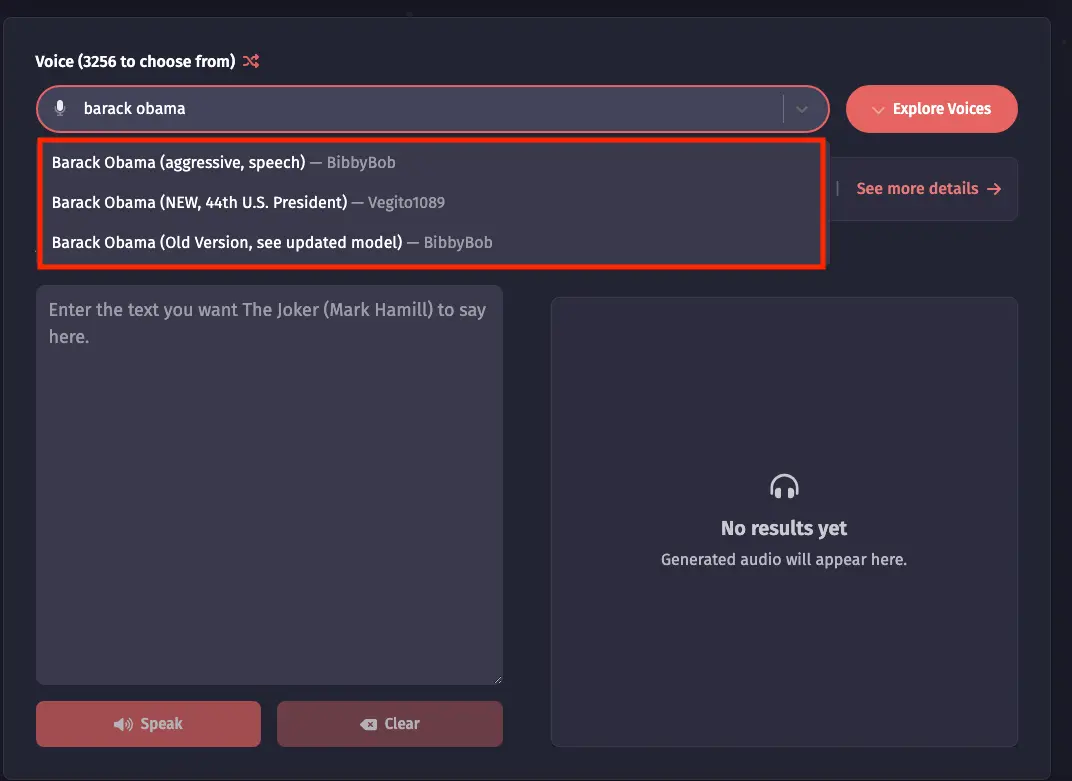 Step 4: Under the "Your Text" area, enter the text that you want the AI voice to be generated.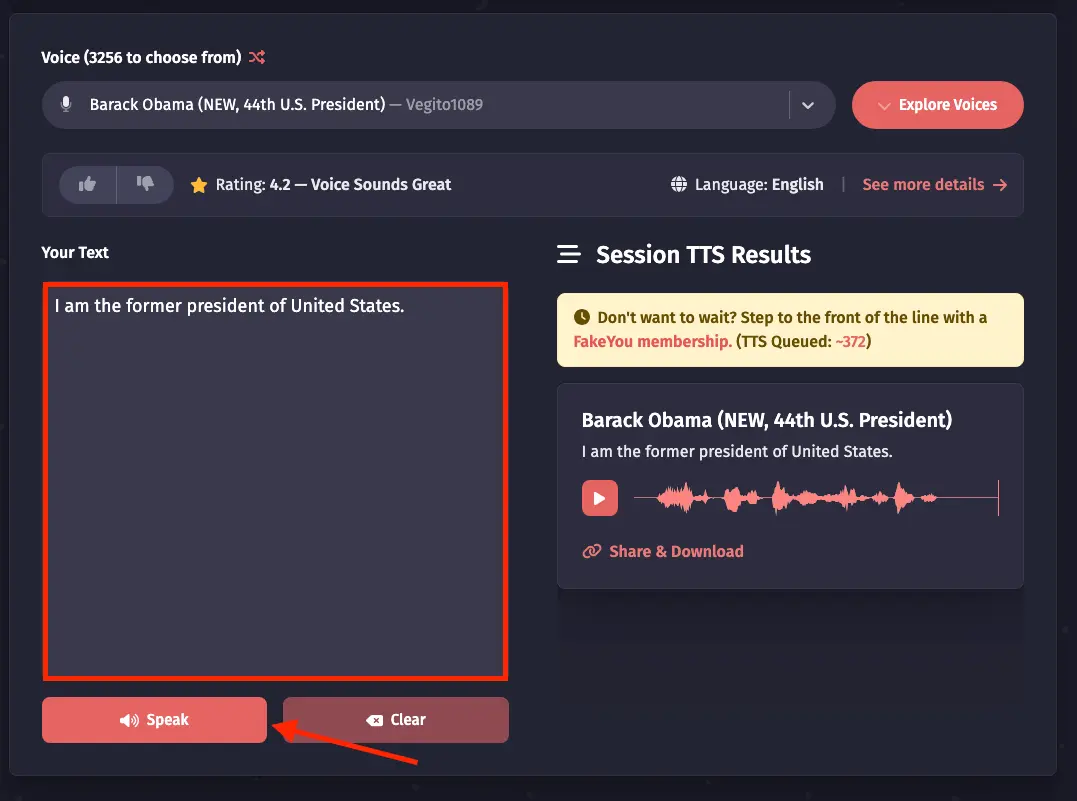 Step 5: Click on the Speak Option present below, and the AI model will start generating the text to Barack Obama's voice.
I have generated Barack Obama Voice with this Text "I am the former president of United States." The sample below is attached below.
---
Uberduck AI
Uberduck is our second choice for generating Barack Obama's AI voice. Uberduck and Fakeyou produce realistic Barack Obama Voice with their AI models. But Uberduck requires you to create an account before usage. Being an amazing AI voice generator, the signup is worth it.
Like Fakeyou, Uberduck has a huge community providing them with various character voices to train. Therefore, many celebrities, fictional characters, presidents and famous people's voices are available.
Key Specification
Uberduck only requires a quick signup, after which you can generate unlimited voice from thousands of characters.

Many characters are available due to being backed by a huge community that keeps providing them with trending character voices.

Famous for its AI Rap generation, where you can change the pitch and speed of the voice of the characters.

Contains the Voice to Voice generation method, which means you can directly convert your voice to a Barack Obama voice without typing any words.

A great discord community where you can find help related to any problem you face while AI voice generation.
Pros
Generate great quality Barack Obama Voice with minimal signup.

AI Rap Generation and Voice-to-Voice Feature.

Download generated voices in MP3 and Wav format.
Cons
Voice-to Voice methods may require more improvement.

Voice quality heavily depends on the sample-trained voice.
Step by Step guide to generating Barack Obama Text to Speech AI voice with Uberduck
You can easily generate Barack Obama AI voice with Uberduck's advanced AI within a few steps. Follow Below.
Step 1: Go to Uberduck.ai
Step 2: If it's your first time on this site, you must register using the small signup button on the top right corner. You will be directly logged in if you already have an account.
Step 3: Select the Text to Speech Menu on the Homepage, redirecting you to the Voice Generation page.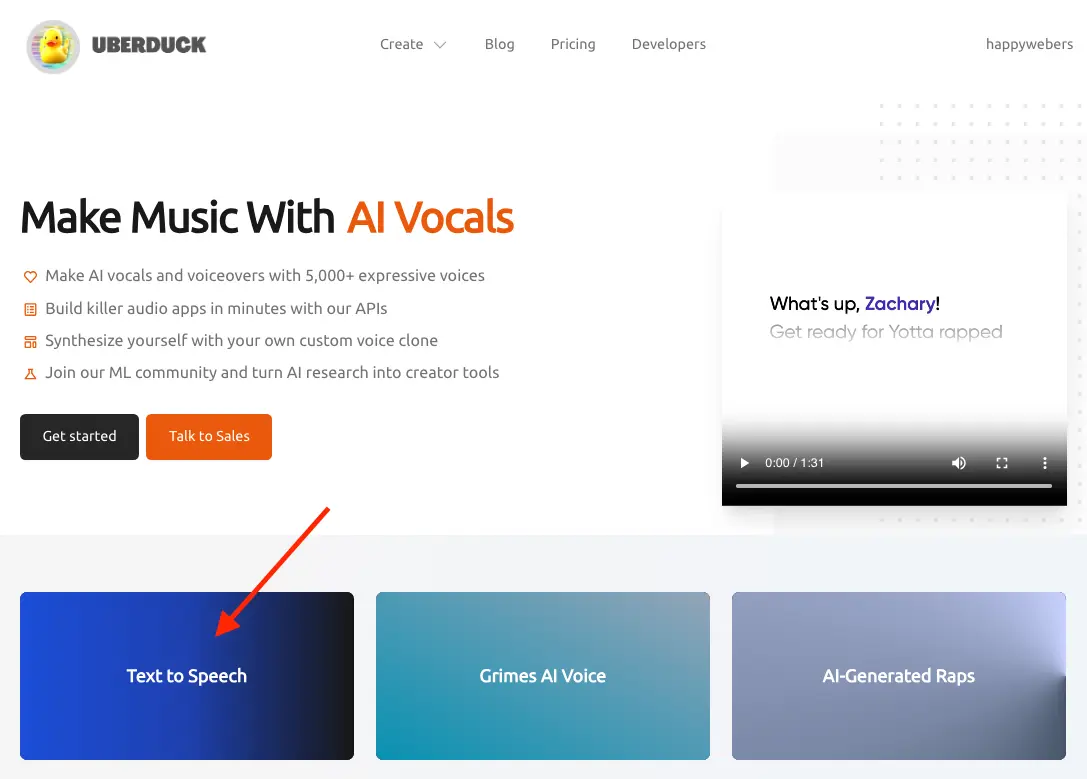 Step 4: Under the Choose the Voice section. You can use the drop-down first to select the "politicians" category and then select "Barack Obama" Voice. You can directly type in the "Barack Obama" in the right input box.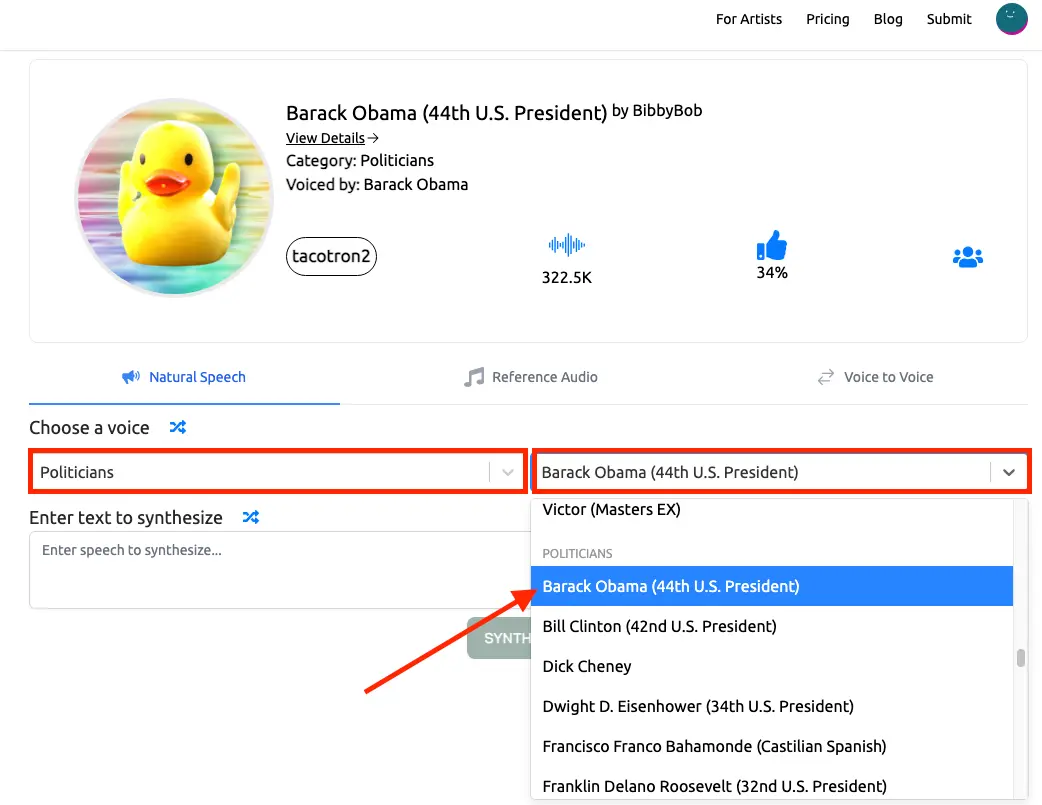 Step 5: Now, in the below section, you can write the text that you want to make Barack Obama say.
Step 6: Click on the "synthesize" button below, and it will start generating Barack Obama Voice using its AI model.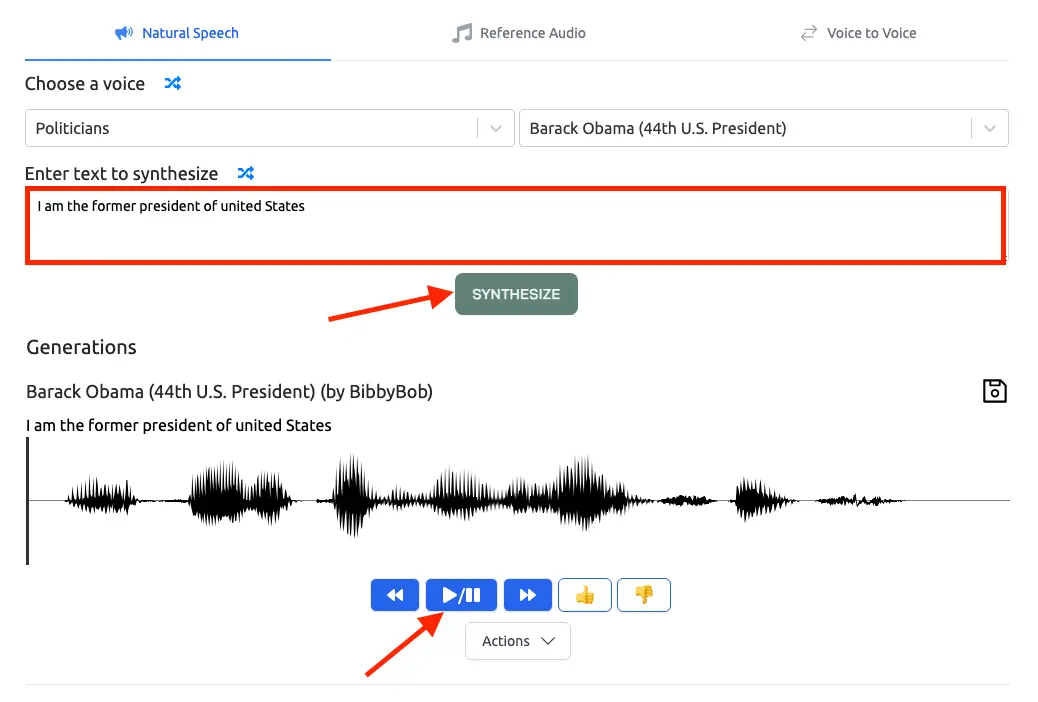 Step 7: Now, you can download the Barack Obama AI voice and use it personally.
I have generated Barack Obama Voice with this Text "I am the former president of United States." The sample below is attached below.
---
Talk Obama to Me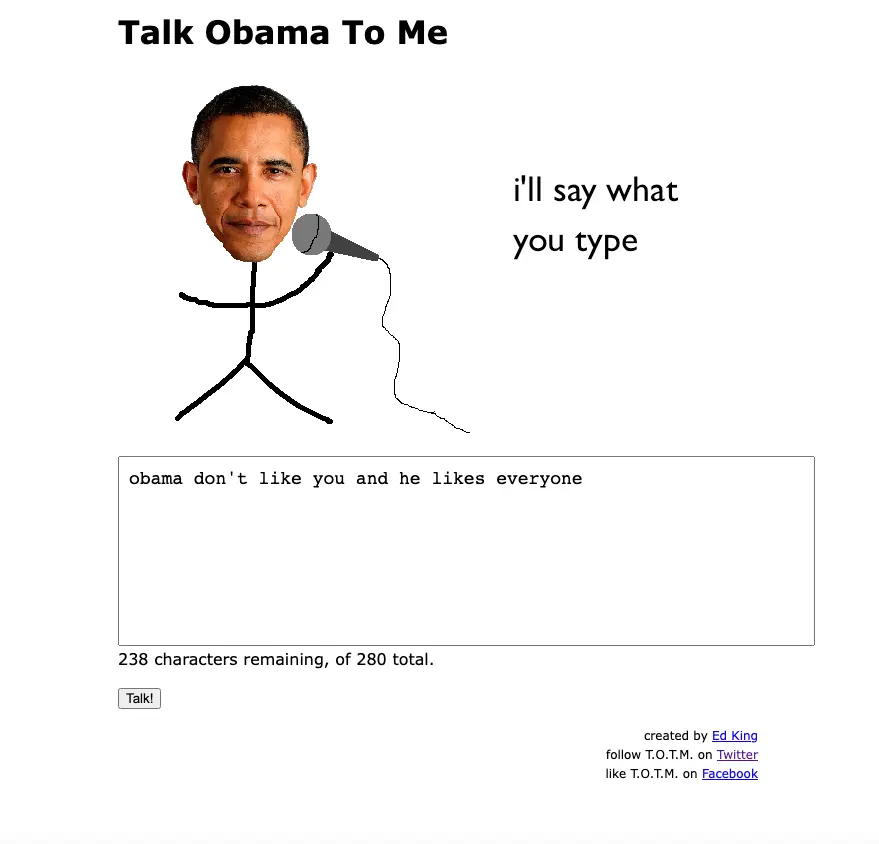 Talk Obama to Me is an online tool that allows you to convert any custom text into Obama's various clipped-together speeches.
This tool searches for every word you enter and finds a clip in which Barack Obama has said that word and reiterates this process for the complete sentence, generating a video speech.
Key Specification
You can generate your sentence into clipped together Obama speech and video.

It's a perfect tool for short messages and videos, allowing only up to 280 characters.

The results are generated quickly, and you can later download them.
Pros
Fun and easy-to-use online tool.

Fast results with videos.

Free to use.
Cons
Text-to-speech character generation is limited to 280 characters only.

It isn't an AI voice generator. It pieces together all the Obama clips to create the video.

No customization is available related to changing the tone or sound of the generated voice.
---
Free Barack Obama Voice Changer and Generator
We recently found an amazing AI tool that can change your voice to any president's voice in real-time and with recorded video. Also, we use this tool to generate text-to-speech in a clever method. You should try this tool.
Voice AI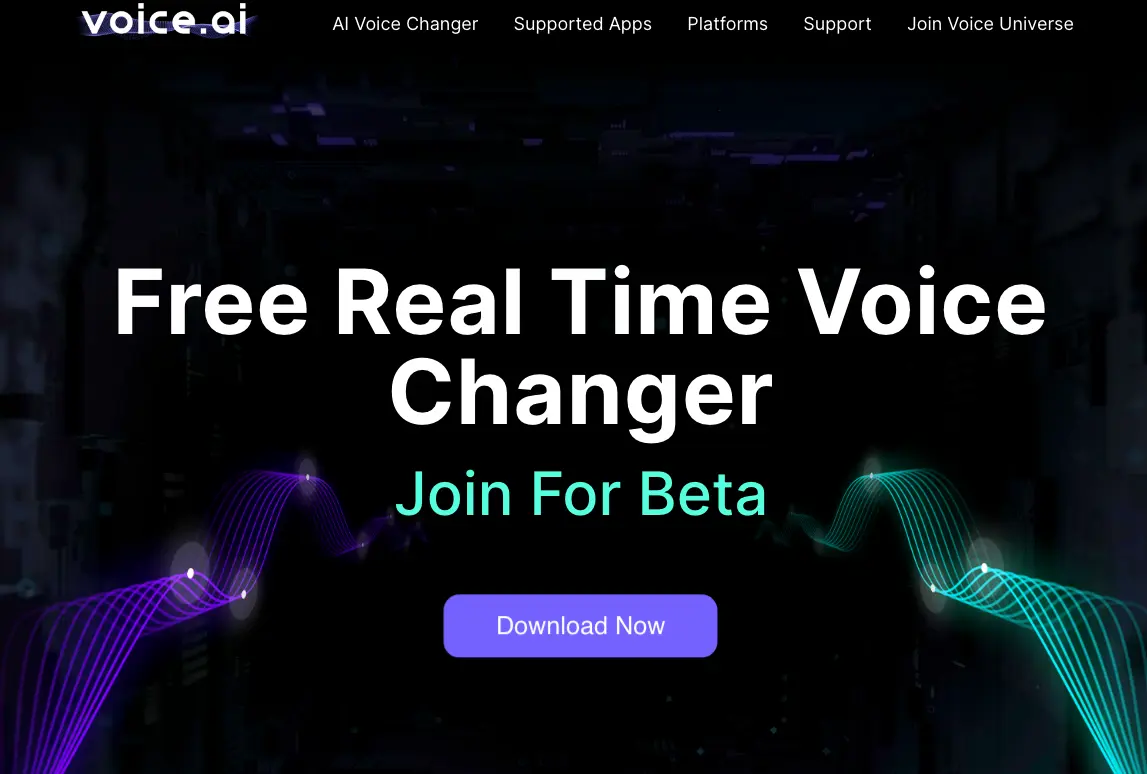 Voice.ai is a revolutionary AI voice changer that allows you to mimic the voice of any real or fictional character. The amazing thing about voice AI is that it offers voice conversion for recordings and even real-time voices. This makes this tool ideal for roleplaying, pranks or meme creation.
Key Specification
Allows you to mimic any president's voice in real-time using advanced AI technology.

It can also be used to perform voice conversions for any recorded audio.

You can use voice AI for direct communication and live streaming.

Voice AI has the feature to be integrated into Discord and other platforms. You have to select Voice AI for your input methods.

It can also train new voices upon request, but you will require a paid plan for this feature.

You can earn some voice AI points for allowing your hardware to be used for AI voice training.
Pros
Real-time voice conversion.

Huge collection of characters.

Can train new voices.

Provides integration with Discord and other platforms.

High-quality voice conversion.

Support multiple language conversion.
Cons
You can only perform limited conversions.

It has system requirements for usage.

Training new voices requires a good amount of time.

It can only work on Windows PCs.
Step-by-step guide to convert your voice into Barack Obama Voice with Voice AI
Step 1: Download the installer from voice.ai and then complete the installation. 
Step 2: You will be required to create a new account.
Step 3: Select Allow to voice training to earn 5000 credits. We will need these credits later for voice conversion. Allowing voice training will let Voice AI use your computer hardware to train its algorithm.
Step 4: Now, you can choose either the "record mode" or "live mode" from the above toggle bar.
Step 5: Select the input method for the voice and then click on the record mode.
Step 6: When the voices are recorded, you can see them in the below area and select the voice to be converted into the Barack Obama voice.
Step 7: Now, from the character, search for Barack Obama, and you will find his voice. Now, start the conversion.
How to Generate High-Quality Barack Obama Text to Speech Videos with Voice AI
Using this tool you can also use this technique for generating Barack Obama's Voice. 
You must use two tools, one for text-to-speech and the Voice AI for Voice conversion. This way, it will generate a much better voice than any other tools mentioned. 
Follow the below steps.
Step 1: To generate Barack Obama text for your speech, you can use ChatGPT for great results.
Step 2: Once the text is ready, you must go to Elevenlabs.io and use their amazing AI Voice models to generate Text to Speech in some generic voice. The voice quality generated by elevenlabs.io is one of the best I have heard.
Step 3: Now, we will use this generic voice generated by ElevenLabs to convert it into Barack Obama's voice with Voice AI. We have already mentioned how to use Voice AI for voice conversion above.
Step 4: It's an optional step, but if you want to generate Barack Obama's speaking video, then you first have to get some of Barack Obama's pictures, or even you can generate them using Leonardo AI. Then use these pictures in D-ID to generate a video of Barack Obama Talking in your voice.
---
Barack Obama TTS Collection
These online tools contain a large number of pre-generated Barack Obama Voice that the community people have uploaded. These tools have a huge collection of Barack Obama Audio clips. You can check these tools to get the popular TTS of Barack Obama.
101 Soundboard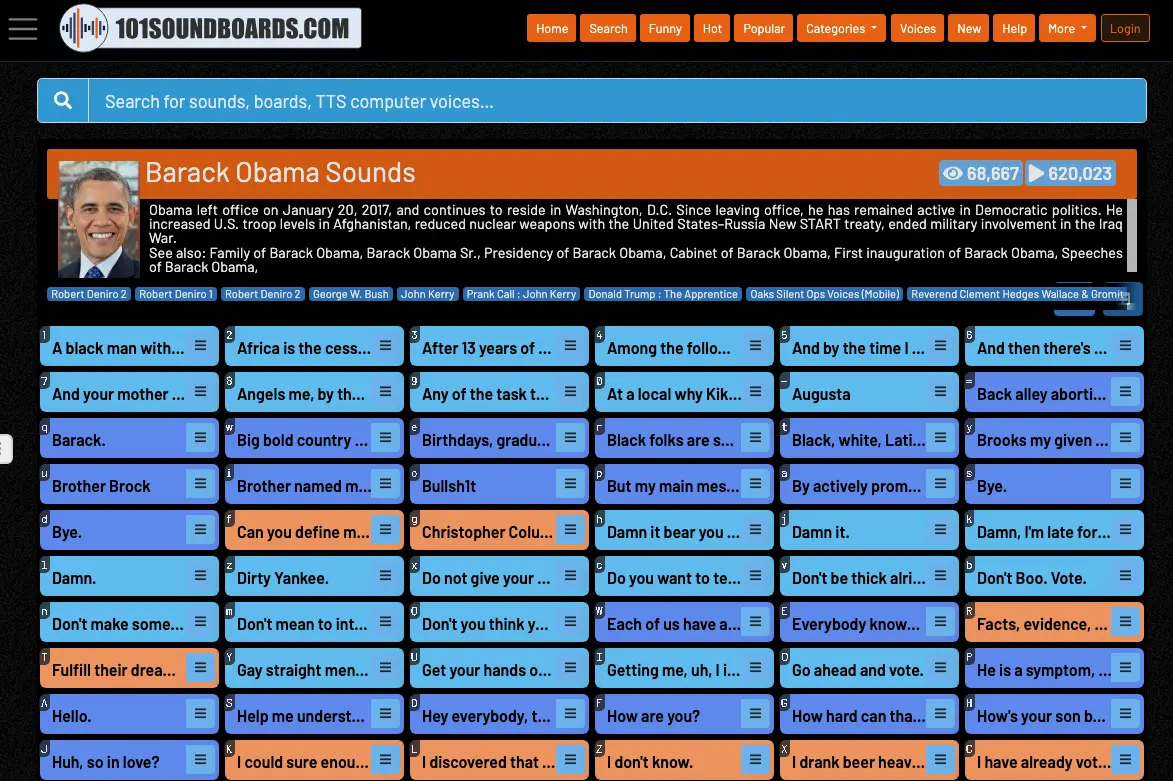 101 Soundboard contains a huge collection of Text to Speech generated by their voice models. The best thing about 101 Soundboard is that they have a dedicated board related to Barack Obama's voice containing several audio files.
You may not be able to generate Barack Obama text-to-speech from this site. But this site has such a huge collection of them with great quality that we felt it was worth mentioning. 
Key Specifications
101 Soundboard has a huge collection of pre-generated Barack Obama TTS. Also, you can find almost any character voice on Sounboard.

Thousands of characters are available for Text to Speech Generation. You have to search for any character you want.

It also provides you with a mobile phone app. Then you can enjoy its service on the phone.

These audio files are very easily downloadable in MP3 audio format.
Pros
Many character availability.

Easily accessible from the app and website.

Easy to use interface.
Cons
AI models get deleted frequently, so you might be unable to generate the TTS from the deleted model.
---
Barack Obama Text to Speech – Honorable Mentions
Some other excellent websites can be considered when looking for a Barak Obama TTS generator. Know why these websites can be a good choice and what features they bring.
ExploringBits Text to Speech Generator
On the first spot is the ExploringBits text to speech generator. This TTS generator has many exciting features for an excellent TTS generation.
The ExploringBits TTS generator offers different voice tones for Barak Obama AI voice. Therefore, you can choose your preferred tone according to your custom text. 
Along with this, the tool also offers unlimited TTS generations. This means no restriction of limited characters to generate a Barak Obama TTS. You can make bulk generations without paying any amount.
ExploringBits has one of the most advanced AI that can perfectly clone the voice of any character or even your custom audio. Therefore, you can easily create an AI voice of yourself and use it later.
You can also download your generated TTS into MP3 and WAV formats. 
Thus, all these features make the ExploringBits TTS a good consideration when looking for a Barak Obama voice generator online.
Voxbox
Next on the list is an excellent software developed by iMyFone. Voxbox is another efficient tool for generating high-quality TTS for any character or real-life personality.
The software has a huge collection of lot AI voices. Moreover, all these voices are available in multiple tones to offer its users a diverse TTS generation facility.
You can even clone voices through Voxbox with ease. Thus, even if an AI voice is unavailable on the software, you can easily clone it and use it later.
Voxbox offers a limited number of character generations in its free version. After that, you need to pay to use its services.
The software is worth a try despite its limited TTS generation restrictions.
TopMedia AI 
TopMedia AI can be another excellent consideration for a Barak Obama TTS generator.
TopMedia AI is an online tool that offers free TTS services up to a limited number of characters. Although, the tool has a good collection of AI voices for a wide range of characters.
This tool also lets you freely download your TTS in any format. Although the TTS generated might not be of the highest quality. Moreover, the TTS generator might not properly understand some complex sentences.
These limitations push this TTS generator behind other efficient TTS generators like Fakeyou and Uberduck. Although, you can consider giving it a try at least once.
Aayush Kumar Gupta is the founder and creator of ExploringBits, a website dedicated to providing useful content for people passionate about Engineering and Technology. Aayush has completed his Bachelor of Technology (Computer Science & Engineering) from 2018-2022. From July 2022, Aayush has been working as a full-time Devops Engineer.