Looking for the best President AI voice generator using Text to Speech? Discover these powerful and free online tools that transform your written content into the President's captivating voice.
We have covered in-depth about the President AI voice generator we found online with how-to guides.
Let's get started.
---
Free President AI voice generator online using Text to Speech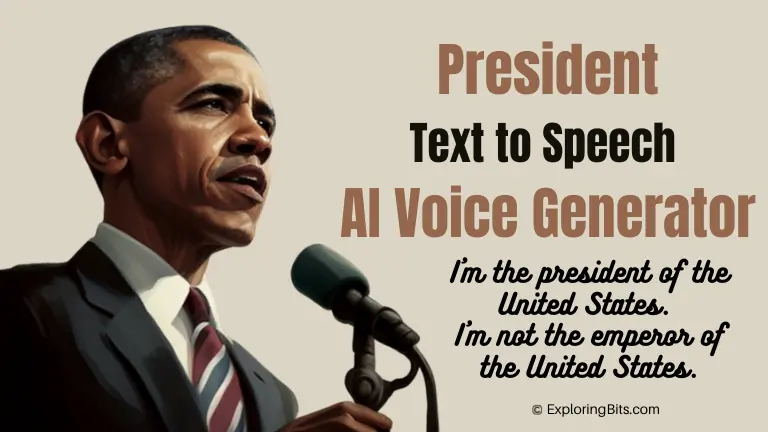 When you can get President AI voice generator online for free, why download some software !!
In this section, we will mention the best President AI voice generator we experimented with online and will guide you on how to use them.
Let's get started.
Fakeyou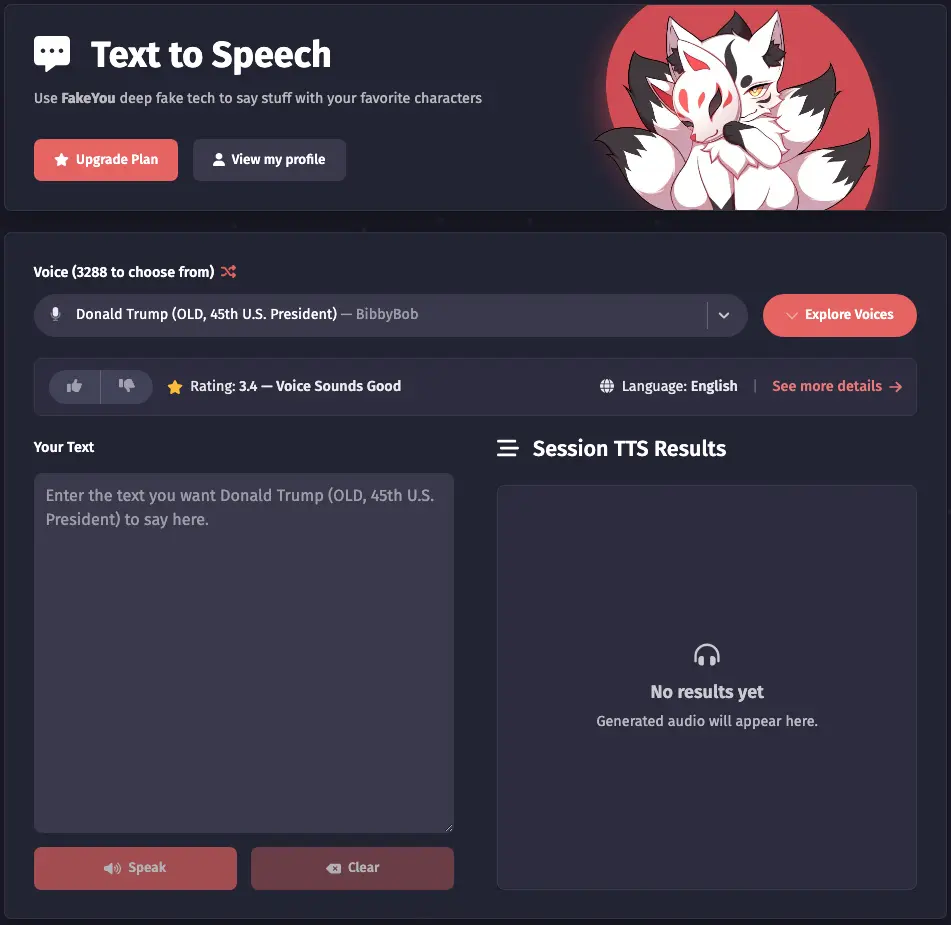 Fakeyou can generate various President's voices, such as Obama, Joe Biden, Donald Trump, JFK and many more.
It is one of the best Text to speech AI voice generators we have found online and meets all our checkmarks – free to use, online, no signup, and download audio output.
Key Specification
Fakeyou has a great community providing many voices for AI voice training. Therefore you can find any president, cartoon character, celebrity, or famous person.

The community uploads multiple models for the same character, so you can choose the best-sounding version, which you can determine by the Voice rating.

It doesn't require you to sign up for its Text to speech AI voice generator.

Fakeyou's active community member keeps on providing the latest and trending voices of the characters. Therefore if some AI voices in trending on social media, they must be on Fakeyou.

Fakeyou's other features include lip-syncing deepfake and Voice to voice generation.

With the Voice to voice generation, you can also directly change the audio file voice to President's Voice without typing words.

Once the audio has been generated, you can download the President AI voice in Wav format and use it in your personal project.

It also has a great discord community where you can ask any query related to the issue you might face with voice generation, and you can contribute to the voice models in the community.
Pros
Free and easy to use.

No login is required.

Multiple voice variants.

Updated with trending voices.

Output audio files are downloadable.
Cons
Complicated sentences might fail to render.

Voice quality heavily depends on the sample used for training.

Bulk generation is not possible with a free account.
Step by Step guide to generating President AI voice with Fakeyou
You can easily generate the President AI voice for free with Fakeyou. Follow the below steps.
Step 1: Go to Fakeyou.com
Step 2: Select the Text to Speech option on the Homepage, redirecting you to their AI voice models.
Step 3: Under the "Voice" section, type in "president", and it will suggest all the voices of the President that it has. You can also specifically type in the name of the President, such as "Barack Obama" or "Donald Trump". If there are multiple variants of the same Voice, I suggest you with the highest voice score.
Step 4: Under the "Your Text" Area, type in the Text you want to be converted into the President's Voice.
Step 5: Now, click the speak button below the input field, and the AI will start synthesizing your Text into the President's Voice.
Step 6: Now, you can download and share the President's Voice. Click on the "Share & Download"
---
Uberduck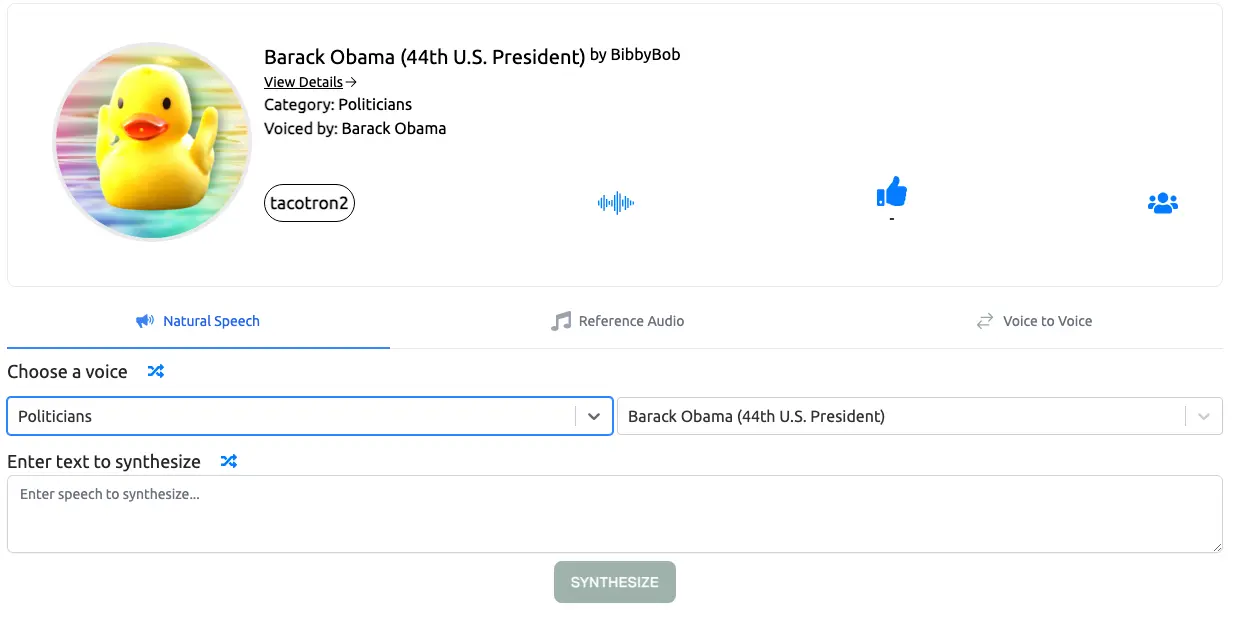 Uberduck is another free AI voice generator you can use to generate any president's Voice online. Both Uberduck and Fakeyou produce amazing AI voices and are free and online. You require quick signup to use Uberduck. Besides that, it is as amazing as Fakeyou in AI voice generation.
Let's see why this President's AI voice generator is so unique and efficient.
Key Specification
Uberduck requires quick signup. After that, you can select almost thousands of characters. I have tested Uberduck for various character voices, and the signup is worth it.

Uberduck has a huge community that frequently provides them with new character voices. Therefore you will find the number of characters on Uberduck increasing every day.

Uberduck is also famous for its AI Rap Music generation. You can even adjust the feature of the Rap character voices on Uberduck.

It also contains the Voice to voice conversion feature, so if you don't wish to type in Text, you can directly speak or upload an audio file for conversion.

Uberduck has a great discord community where you can ask any query related to AI voice generation and contribute to new models.
Pros
Generate great quality President AI voice.

AI Rap generation and Voice to Voice conversion feature.

AI-generated voices are downloadable for personal use.
Cons
Voice to Voice conversion needs more improvement.

You will not find some president Voice.
Step by Step guide to generating President AI voice using Text to Speech On Uberduck
You can easily generate any president's Voice using Uberduck's advanced AI algorithm. Follow the steps below.
Step 1: Go to uberduck.ai
Step 2: if this is your first time on Uberduck, you will have to create a new account from the small signup button in the top right corner. If you already created the account, it will directly log you in.
Step 3: Select the Text to Speech menu box, and it will redirect you to its AI voice generation page.
Step 4: Under the "Choose the voice" section. Since all the President's voices are in the "Politician" category, select the same category in the right box. Also, you can type in the particular name of the President in the right box, for it will automatically select the same.
Step 5: Now, in the text input area, you can type in the words you want President to say.
Step 6: Click on the "synthesize" button, and it will start generating the President Voice using its AI model.
Step 7: Once the AI voice has been generated, download it from the Action Drop-down menu below.
---
Specific President Text to Speech Website
We have found a website you can use to generate text-to-speech voices, but they are made specifically for one President.
These sites are free and online but do not use any AI for text-to-speech, but they clip different words spoken by President together to make it one big speech.
Talk Obama to Me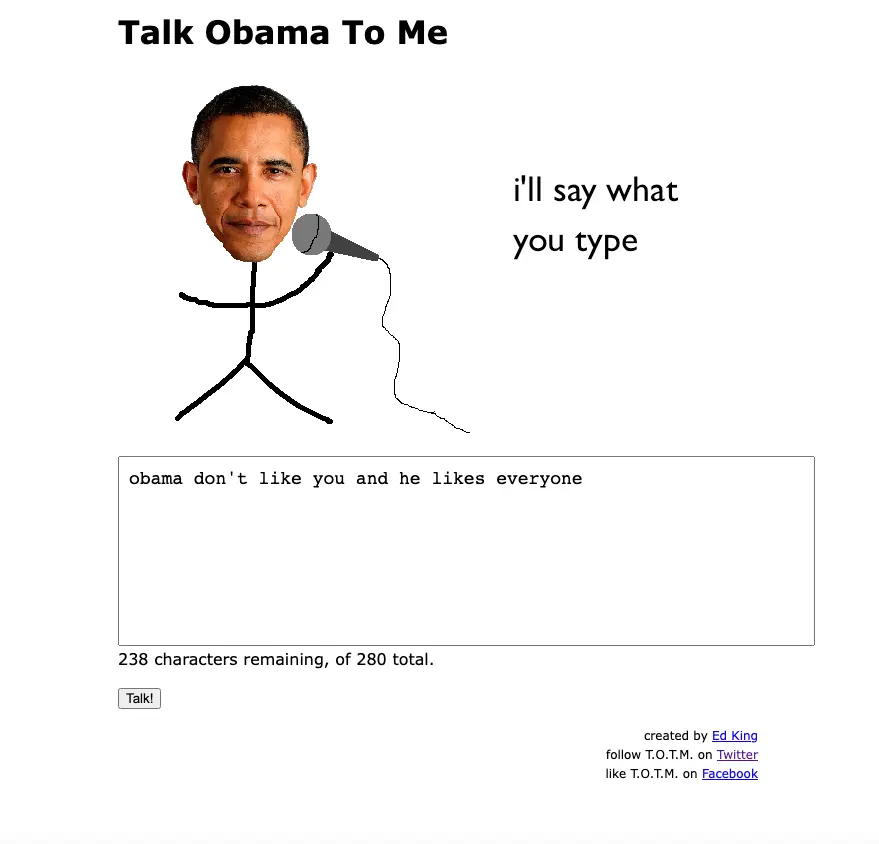 Talk Obama to Me is a free online website that you can use to generate your custom text for Obama's clipped-together video speech.
This tool has recorded clips of individual words said by Barack Obama. So when you enter the text, it searches for clips for individual words and clips them together.
Key Specification
You can generate your custom text to Obama clipped together video.

Great tool for short messages and videos as it allows only up to 280 characters for speech generation. 

It's quick to generate results that can later be downloaded.
Pros
Free and online.

Simple and easy to use.

Fast results with video. 
Cons
Limited to 280 characters for speech generation.

No customization related to generated speech.

Not an AI voice generator.
Clash.me/Trump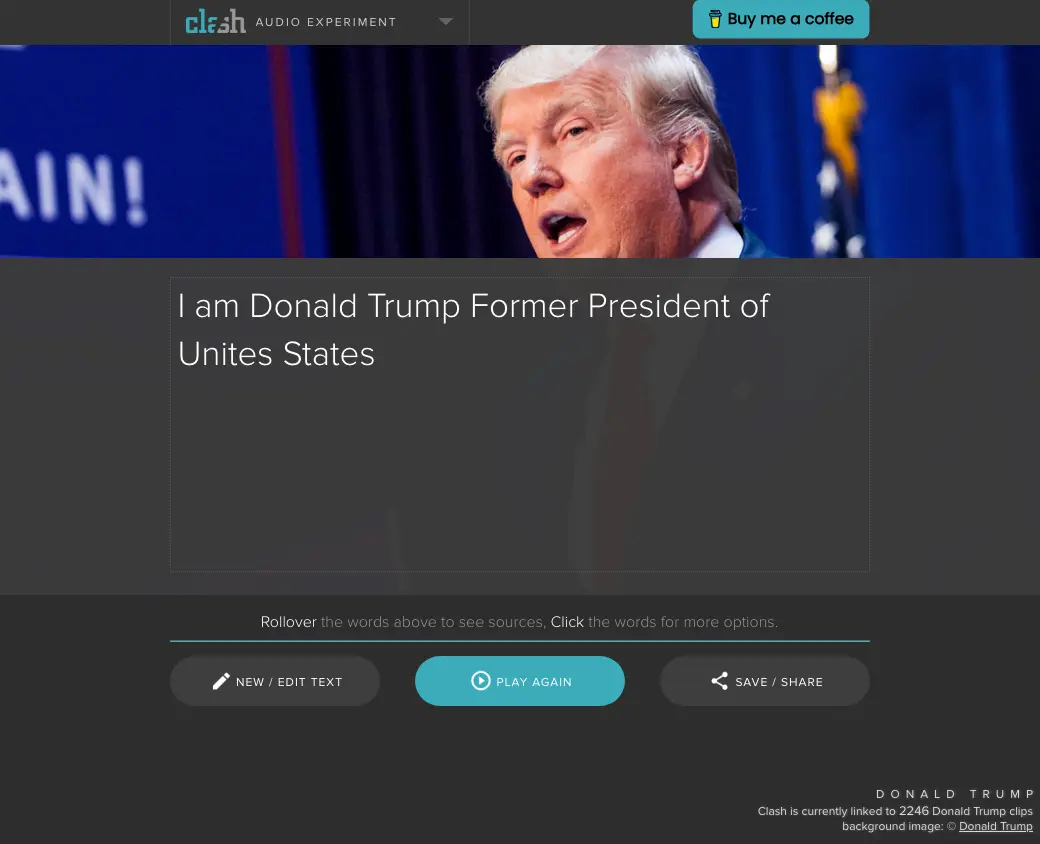 Clash.me/Trump offers similar features to Talk Obama to Me. This tool generates your custom text to Donald Trump's voice by clipping together pre-recorded videos for each word.
It uses the same technique as in Talk Obama to Me but does not generate any videos. This tool already has many speech maps to individual words, so whenever you enter a text, it will map those individual words to the voice note that it already has for those words.
Key Specification
The tool is known for its simplicity. You can easily convert any text you wish to donald trump's voice.

It is quick to generate results, and you can even playback to check the voice quality for the generated results.

You can also save and share the audio created from you create on clash.me, which is convenient.
Pros
Free and online.

Simple and easy to use.

Specifically for Donald Trump.

Can generate fast results.
Cons
Does not offer customization for the voice.
---
Free President AI voice changer and generator
We recently discovered a great tool you can use to change your voice to the voice of any American president. After using this tool, we were left amazed by the quality and features.
Also, we found a great way to generate text-to-speech with this amazing tool.
Voice AI
Voice.ai is a game-changer AI voice-changer tool. This tool almost has more than ten thousand voice and are increasing rapidly. It's free to use with certain conditions.
Key Specification
More than 10,000+ voices are available for voice conversion. You can easily find any president's voice on voice AI.

You can use all these voices for free, but it will require some spare parts of your computer for its voice training algorithm.

One of the best voice quality that you will ever hear. The algorithm is trained on great audio producing amazing results.

You can easily integrate this AI voice changer into Discord, WhatsApp, twitch and many other platforms. And this voice changer can provide real-time voice conversion during direct communication.

You can even train new voices on this platform. Voice training takes some time. Therefore, you will have to be patient.

This tool even works on recorded audio files. Therefore you can change audio files generated from other platforms in the President's voice on voice AI.
Pros
Free to use (but requires hardware allocation)

Real-time voice conversion.

Voice conversion for recorded audio files.

Integration with various platforms.

Huge character collection with amazing quality.
Cons
Concerns related to hardware allocation demanded by voice AI.

For now, it's only available for Windows PC.
How to use voice AI for converting your voice to the President's voices
Voice AI is an amazing software for AI voice conversion. Follow the steps below.
Step 1: Download the installer from Voice.ai and complete the installation.
Step 2: You will be required to create a new account.
Step 3: The next screen will ask you to allow voice AI to train voices using your computer's spare resources. Checkmark the box and click on "Next". These credits will help you to use Voice AI characters for free.
Step 4: Now there are Pro and Plus paid versions. But we will go for the free version. You will find "Continue for free version" below the continue button.
Step 5: There will be two modes record mode and live mode. Record modes are used for using your microphone and then recording for conversion. And the live mode is for real-time conversion by selecting the integrated platform. For now, go with record mode.
Step 6: Click the Face icon in the center to choose the character's voice you want to change. We will go with the President's voice, for example, Trump's.
Step 7: Now select the character and hit on the train button. Now it will use the credits that we got in step 3. With 5000 credits, you can only train for one character, sadly, but you can still earn more credits for free by allowing it to train for newer voices.
Step 8: As everything is almost done, record your voice and listen to it in the converted voice of Donald Trump.
How to use Voice AI to generate President Text to Speech Voice & Video
We have found this method on reddit, where they generated short clips of the President's speech with some free tools. This process will require four free-to-use tools with voice AI.
Let's generate a presidential speech video. Follow the steps below.
Step 1: Generate President Speech with ChatGPT – To create memorable President-style speeches, you can use ChatGPT with prompts like "Create Joe Biden Speech for announcing the discovery of aliens".
Step 2: Generate Text to Speech – We will now use Elevenlabs' free version to create authentic speech voices. Elevenlabs is one of the best text-to-speech voice generators with natural pauses and tone. That's why this TTS will give us the best result. 
We will use the speech in step 1 to generate a speaking voice. This will be a generic voice that is available for free on Elevenlabs.
Step 3: Converting the Audio File to President Voice – The text-to-speech audio file obtained in the previous step will be used for voice conversion. We will use Voice AI to convert the audio file to the President's voice. We mentioned how to set up voice AI in the previous heading.
Step 4:  Using Leonardo for generating the President's image – Now, if you want to go further for generating a video of the President talking, you will have to generate the President's image from an AI image generator. Leonardo AI is one of the best image generators for free that we recommend. You will have to type in the prompt that you want. It will generate a great image similar to midjourney.
Step 5: Generating President speaking video – Now, we will use D-ID for generating President talking video. You must provide the image and audio file we generated in previous steps to create a talking president video.
The steps require many tools and patience, but the result is worth it. Now, you can generate your own talking president videos for free using free AI tools.
---
Free President TTS collection
These online tools have a huge collection of president voices uploaded by users created using tools TTS.
You may not be able to generate President AI voices, but these tools have soo many pre-generated voices that we felt that it required to be mentioned.
101 Soundboard
101 Soundboard is an online free-to-use voice collection site. This website has a collection of many presidential voices. You can even find any fictional to real character voices on this tool. Let's see what makes this tool unique.
Key Specification
101 Soundboard contains many fictional characters and real-life personalities, with tens and hundreds of voices available for each character.

The website also has a smartphone app that you can easily use.

You can download the voices from Soundboard in MP3 or wav format for your personal use.
Pros
A huge number of voices are available for specific characters.

You can find famous dialogue in the character's voices.

It even contains a specific genre-wise collection of characters.
Cons
You cannot generate text-to-speech. You can only listen to or download the already available voices here.
---
Best President AI voice Generator [Paid]
We have already mentioned all the free president ai voice generators we found online, and are free to use.
But if you have watched some tiktok videos where tiktokers were recording video games in the president's voice, having a conversation and want to know which tool they used, then it's a paid one.
ElevenLabs.io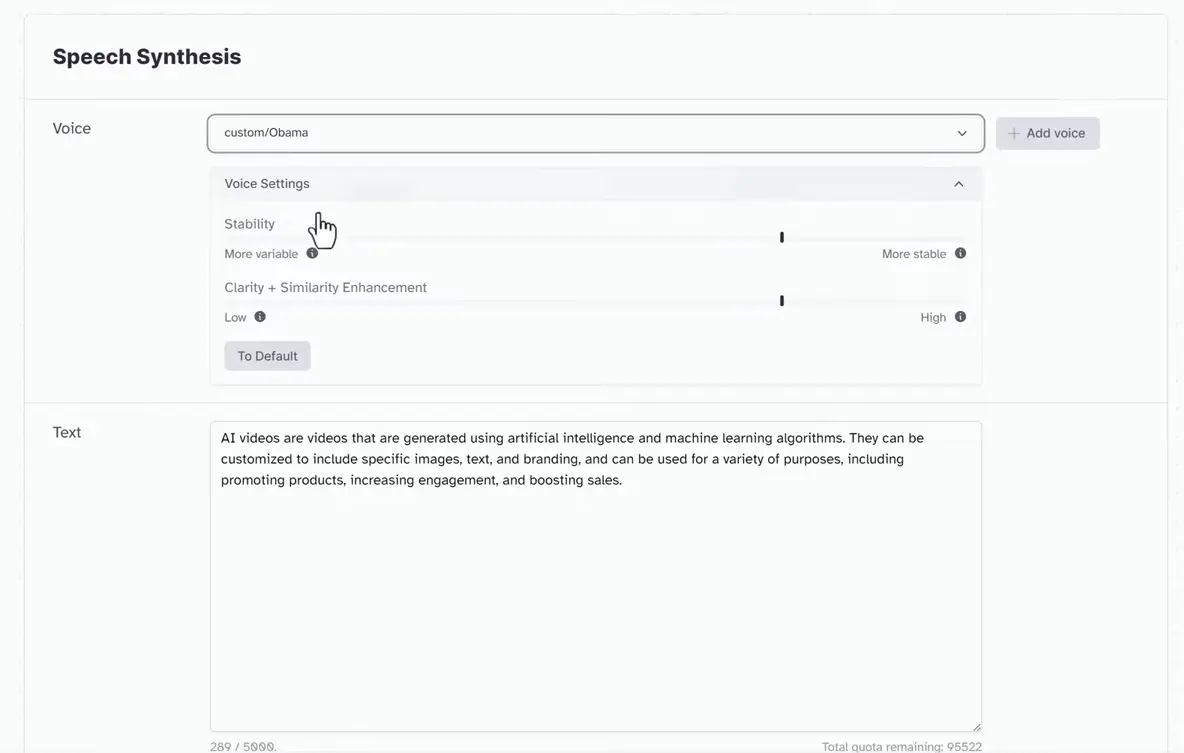 Most of the gaming president conversation videos on tiktok were using ElevenLabs.io, and honestly, it's one of my favorite text-to-speech voice generators. Although paid, the sound quality is unmatched by any other text-to-speech voice generator we found online.
You can even first try its free version to verify the sound quality. Then if you wish, you can create a cloned voice model for the president's voice and use it to generate text-to-speech.
Let's see what makes this tool unique and how to use it to create president voices.
Key Specification
ElevenLabs is a company dedicated to AI voice generation research and development. The voice quality produced by their AI voice model is completely unmatched by any other text-to-speech voice generators you will find online for free or paid. For now, eleven labs is the leader in generative AI voices.

The platform provides a great narrative experience catered for specifically storytelling purposes. The pauses and emotional inflection in the voices of the generated voices provide an immersive experience for the audience. 

One notable feature that Eleven Labs provide is that of laugh generation. Eleven Labs is the only AI voice generator that can add laughter when needed to the context. This makes the generated voices more engaging and expressive. Truly remarkable and versatile features.

The tool can be used for multiple use cases, such as creating audiobooks, news casting, and even storytelling. It surely caters to the needs of content creators, authors and publishers who rely on voice-based mediums.

The tool can even clone any characters' voices by simply providing them as sample voices on the platform. You can use this to create any president voice that you want.
Pros
There are many pre-made characters for free voice generation for experimenting.

Can clone any character's voice with just a few minutes of sample audio.

It allows for free demos before committing to any paid plans.
Cons
Eleven Labs are still in the beta phase and are continuously improving their generative AI.
How to use eleven Labs to generate President AI voice
Step 1: Go to beta.elevenlabs.io
Step 2: Click on "Get Started for Free".
Step 3: Click "I agree to terms and service" and then signup with an email for a Google account.
Step 4: Go to speech synthesis from its menu bar to experiment with the free character quota.
Step 5: To generate President AI's voice, we must first create an instant voice clone, the ElevenLabs. To instant clone the voice, Go to the voice lab from the menu bar. ( For instant cloning, subscribe to a starter plan for five dollars ).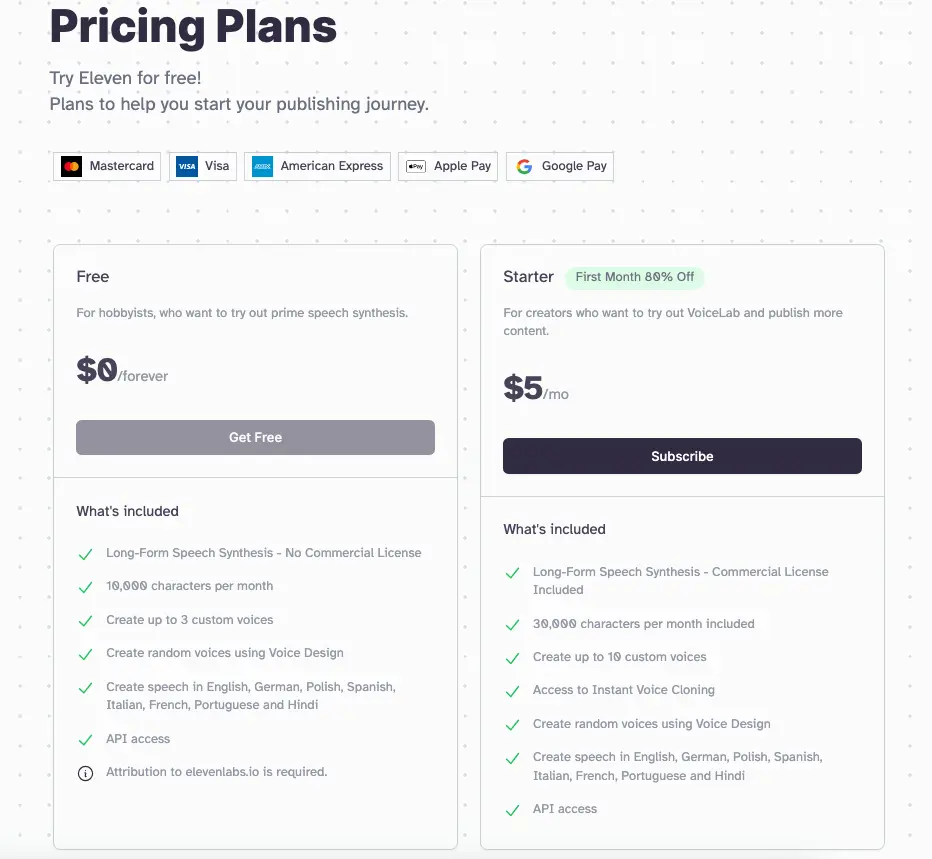 Step 6: To voice clone, you will require almost 2 minutes of the voice of that president, which you can find on youtube or soundboard. You will have to upload it to the instant voice, and it will, within seconds, generate a voice clone for that specific voice.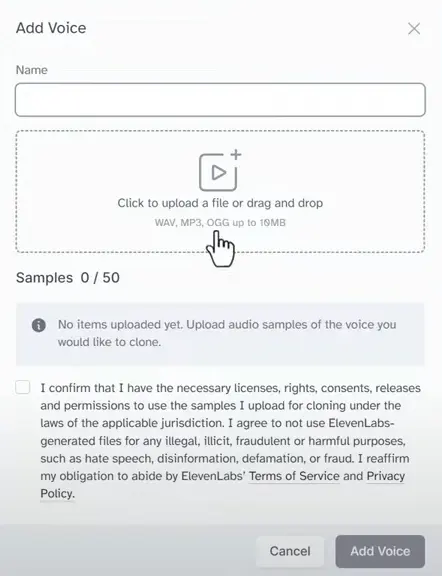 Step 7: Now, enter the text you want to make the president speak, and the sound quality you will get will be unbelievable. You can download the audio and use it for personal projects.
Aayush Kumar Gupta is the founder and creator of ExploringBits, a website dedicated to providing useful content for people passionate about Engineering and Technology. Aayush has completed his Bachelor of Technology (Computer Science & Engineering) from 2018-2022. From July 2022, Aayush has been working as a full-time Devops Engineer.