Looking for the best Joe Biden Text to speech AI voice Generator online? Look no further! We have curated a list of top voice generators that can transform your written content into the unique voice of Joe Biden.
Whether you want to generate comedic skits, memes or personal projects, our handpicked selections offer the highest quality for Joe Biden text-to-speech voice generation. 
Let's start with the recommendation.
---
Who is Joe Biden?
Joe Biden is the 46th president of the United States. Biden took office on January 20, 2021. Before becoming president, he served as a U.S. senator from Delaware for 36 years and later vice president under Barack Obama. Joe Biden's unique voice and speaking style have earned his place in American citizens' hearts and inspired people to seek a method to mimic his voice.
---
Free Joe Biden Text to Speech AI Voice Generator Online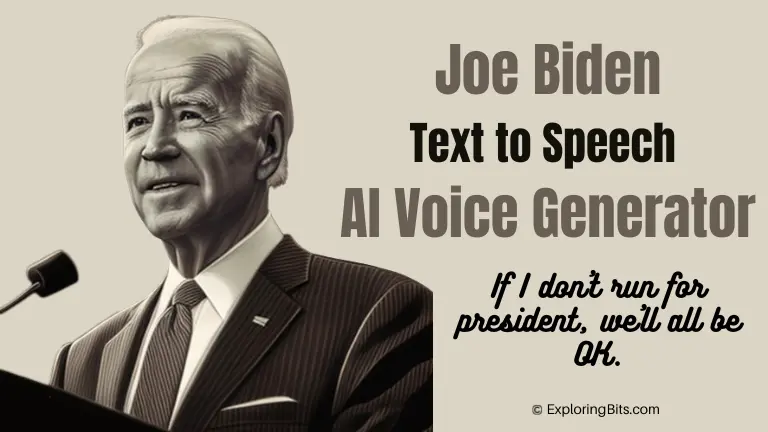 Everyone loves to find an online solution. Therefore we bring before you the best Joe Biden text-to-speech AI voice generator that we found online.
These are some of the best AI voice generators to generate anyone's voice within a few clicks. So without further ado, let's start with our top contenders.
Fakeyou
Fakeyou is one of the best Joe Biden AI Voice generators I have heard. Fakeyou is completely free to use with a massive collection of community-supported voices.
Apart from Joe Biden's Voice, fake you can generate voices of other American presidents such as Donald Trump, Barack Obama, JFK and many more.
Key Specification
Free to use, and no sign-up is required.

Contains massive community-generated voice models. You can find almost any character, celebrity or famous person's voice here.

Huge discord community for support, helping in the improvement of voice models.

Provide you voice to voice generation. Therefore you can directly generate AI voice from your input audio itself.

It also offers voice cloning services. Now you can clone anyone's voice you want.
Pros
Easily generate Joe Biden's voice without the requirement of signing up or paying fees 🙂

Can select from multiple Joe Biden AI voice models created by the community.

Download the Joe Biden AI voice in mp4 and wav formats and use it in your projects.
Cons
Complicated sentences with punctuation may not produce desired results.

It cannot use for generating in bulk, and the free version has limited use.
Step by Step guide to generating Joe Biden text to speech Ai voice with Fake you
Generating Joe Biden Text to Speech from Fakeyou is just a matter of a few clicks.
Step 1: Go to Fakeyou.com
Step 2: On the Homepage, you will find the Text to Speech menu, click on it, and it will redirect you to a new window.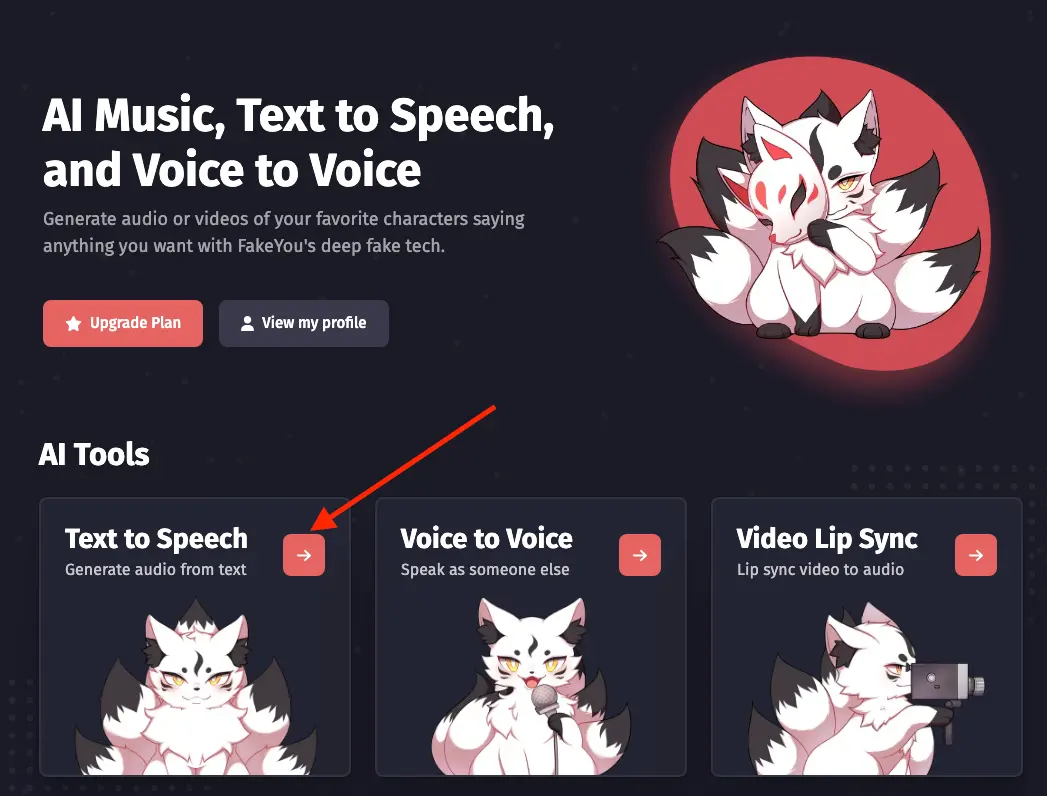 Step 3: There will be many input components. From the first box, "voices" search for "Joe Biden". Select the one with the best ratings if there are multiple voice models.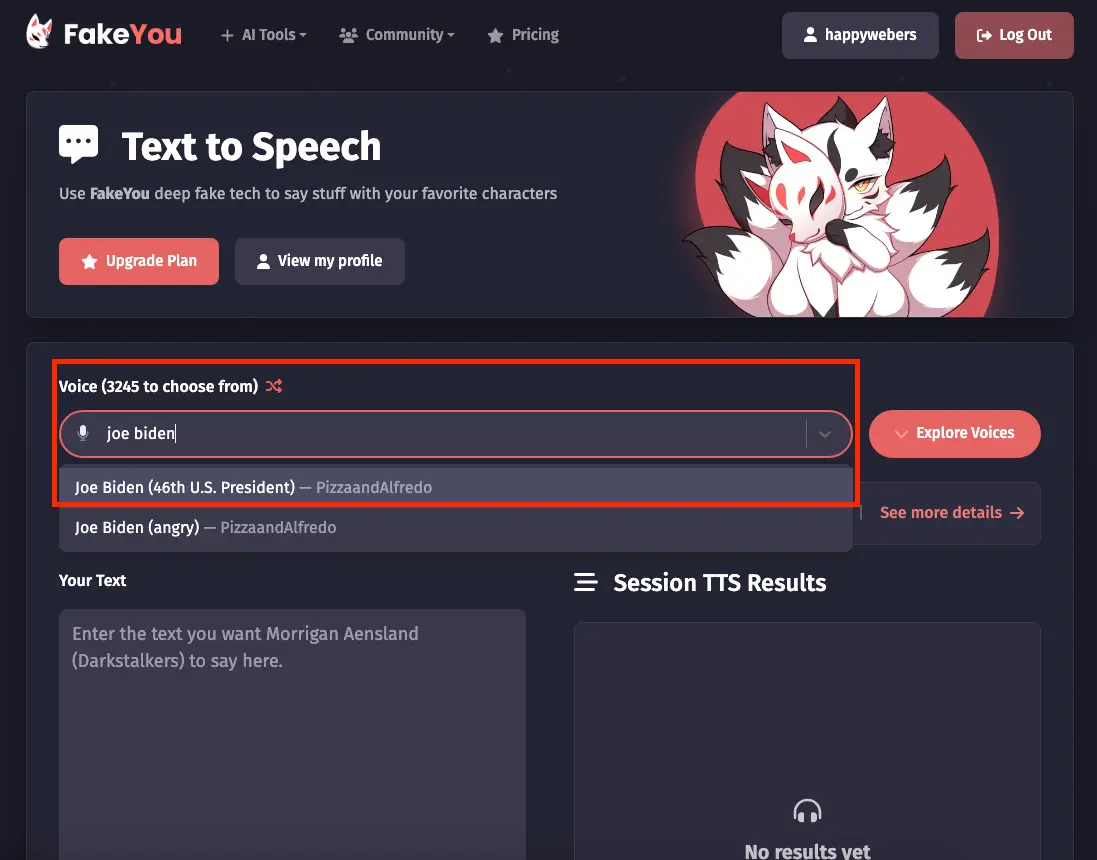 Step 4: Enter the Text you want to be generated by Joe Biden's AI voice model.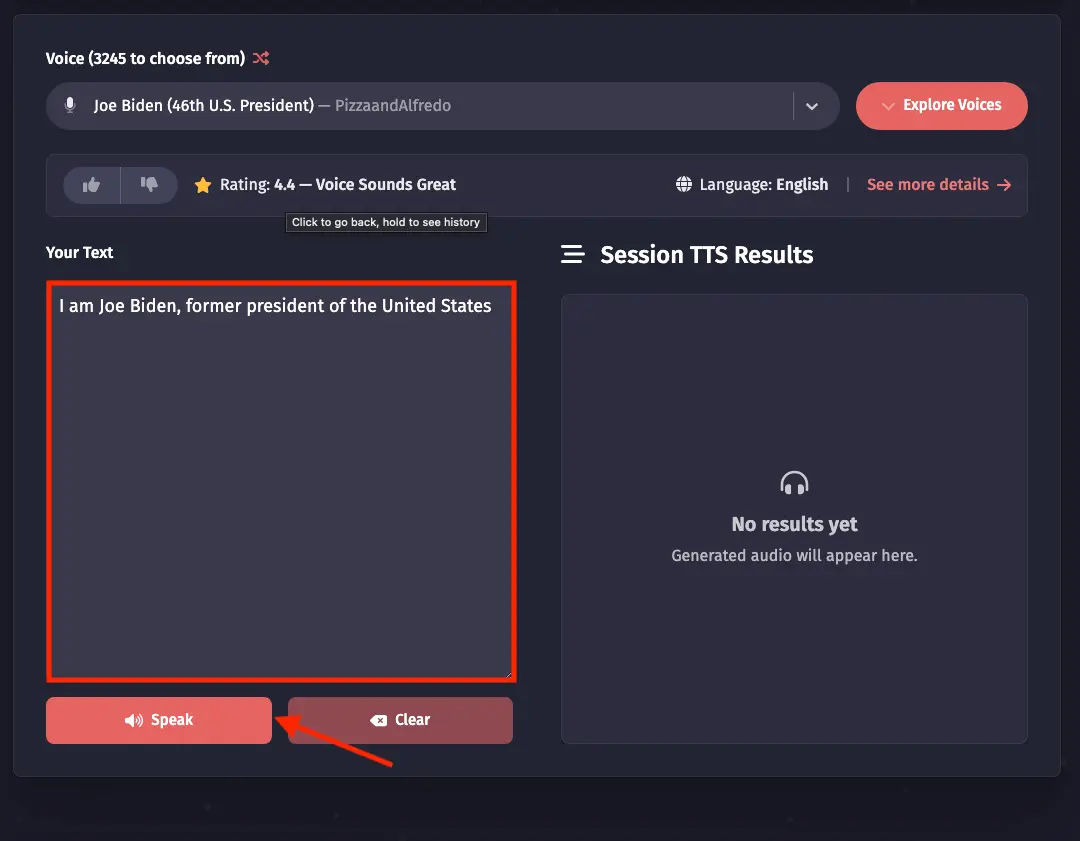 Step 5: Click the speak option and wait for the AI model to process the output. Within a few seconds, the Joe Biden TTS will be prepared.
I have generated a Joe Biden Voice with this Text "I am Joe Biden, former president of the United States". Attached the sample below.
---
Uberduck
Uberduck is a Text-to-Speech AI Voice Generator that can produce real-like natural voices of characters, celebrities and famous people. You can generate Joe Biden Voice using the Uberuduck AI Voice model and even the voices of other presidents.
Key specification
Uberduck requires a quick sign-up; after that, you can generate unlimited president voices.

Uberduck also has a great support community. The community uploads many AI voice models. Therefore, it also has an extensive collection of AI voice models.

There can be multiple uploads for the same character voices by the community. Select the best Joe Biden voice with the highest quality score or the number of uses.

It also contains voice to voice model. Therefore you can also directly generate Joe Biden's Voice by audio input.

If you ever face difficulty with the Uberduck AI Voice Models, you can contact them on the Discord server. They have a great discord community with many active members.
Pros
You can easily generate Joe Biden AI Voice with a minimal sign-up procedure.

Provides you with the facility for voice cloning.

You can download output audio in multiple formats, such as MP3 and Wav.
Cons
Voice-to-voice generation may only sometimes generate correct output.
Step-by-step guide to generating Joe Biden Text to Speech AI Voice with Uberduck
You can easily generate Joe Biden Text to Speech with Uberduck in just a few seconds. Follow the below steps to generate Joe Biden's AI voice.
Step 1: Go to Uberduck.ai
Step 2: If You are on the website for the first time, you will have to register using the small sign-up button in the top right corner. If you already have an account, you will be automatically logged in.
Step 3: Select the Text to Speech menu on the home page. Then you will be redirected to a new window that contains AI voice models.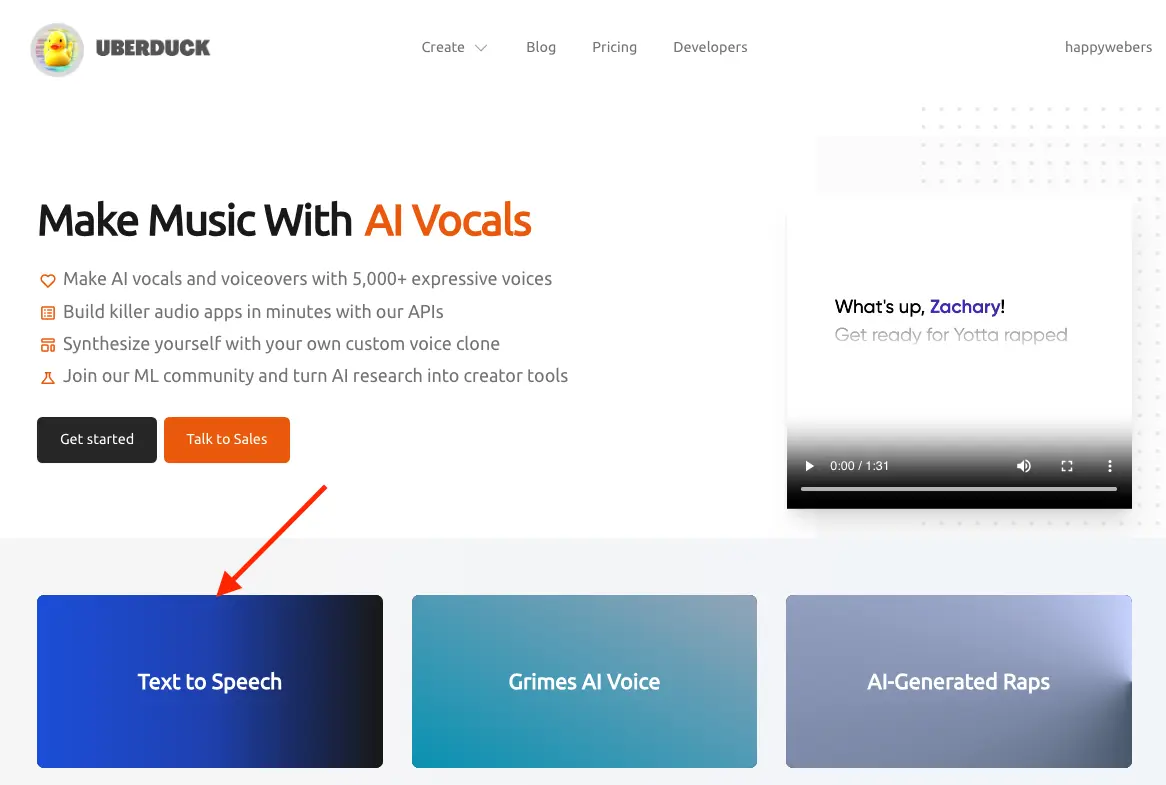 Step 4: Under the Choose a Voice section. You can use the drop-down to select first the category "president" and then voice "joe biden". You can also directly type "Joe Biden" in the right input box. (Currently Uberduck does not contain Joe Biden Voice Model)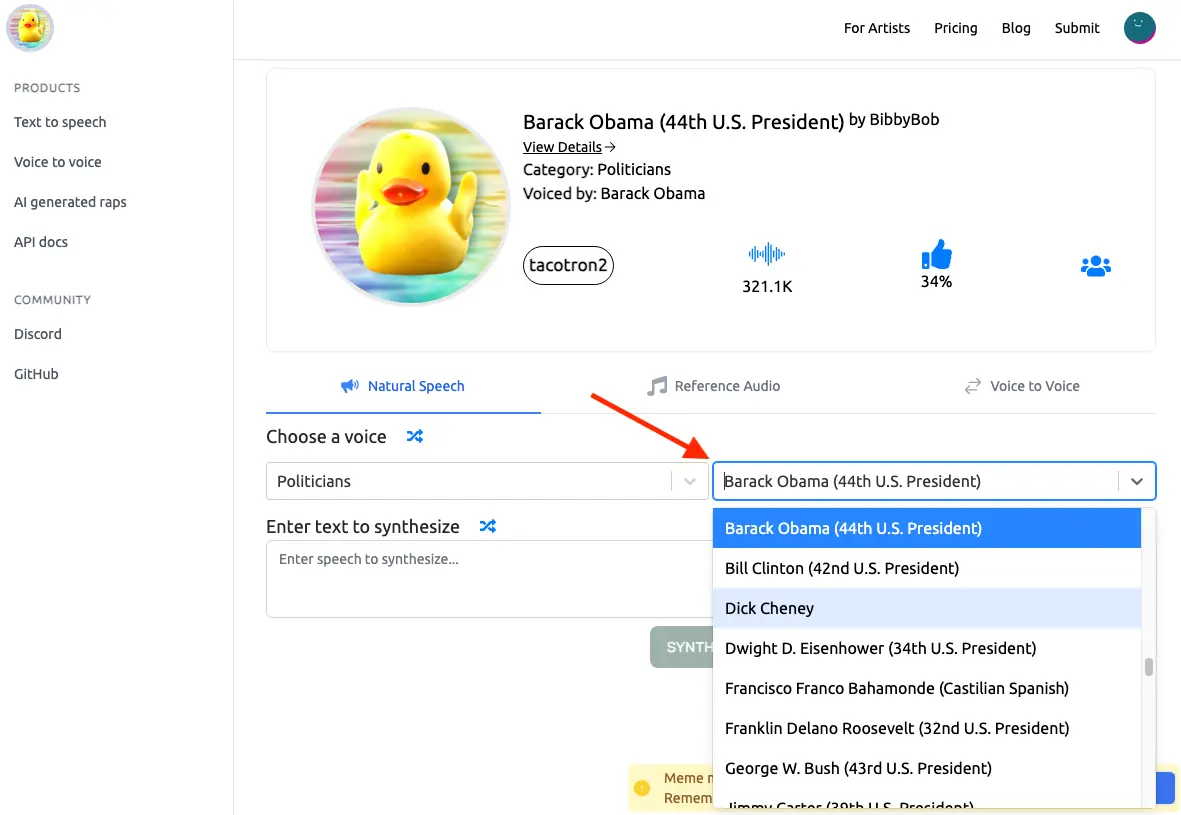 Step 5: In the input box, enter the text to generate Joe Biden AI voice.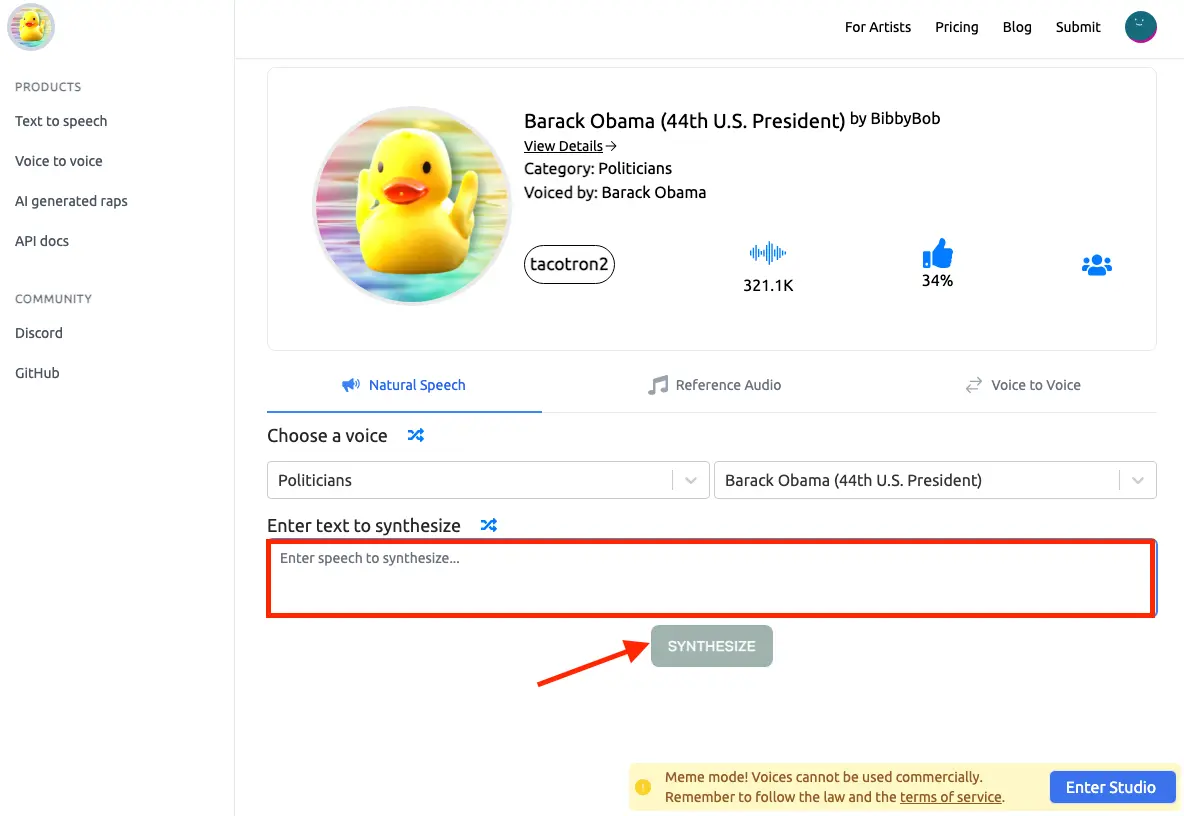 Step 6: Once completed, click on the "synthesize" option and wait for some time. The Joe Biden TTS will be generated within a few seconds.
Step 7: Now, you can download and use the generated voices in your personal project.
---
101 Soundboard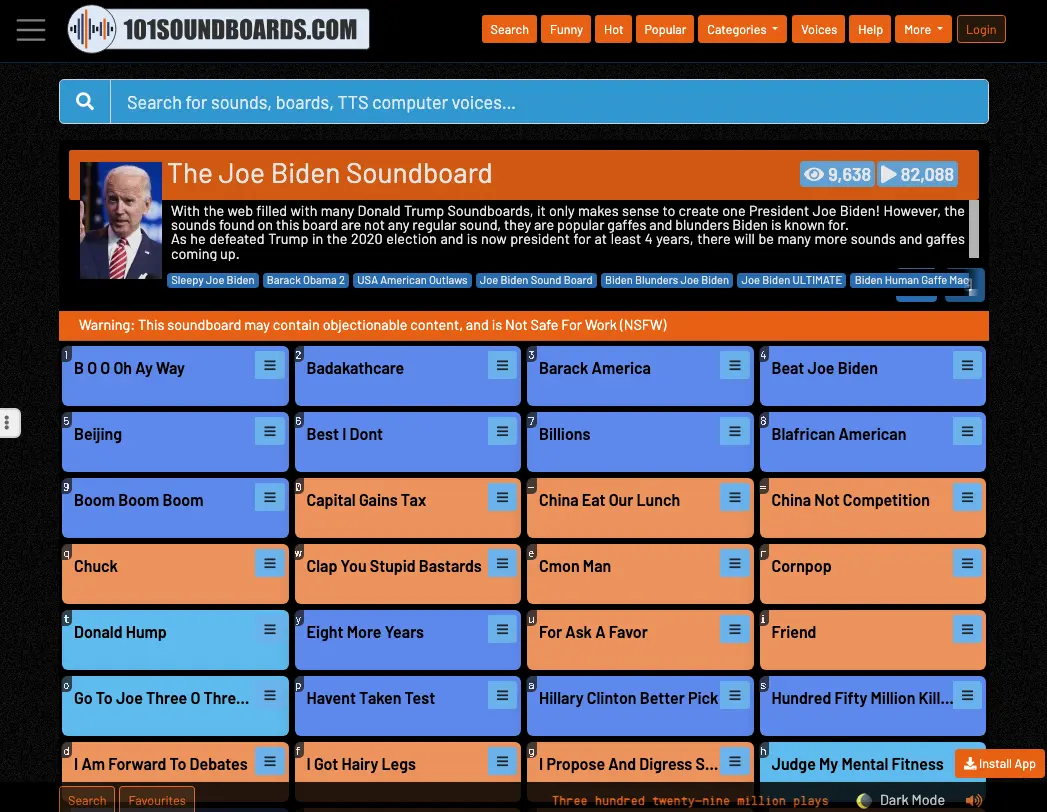 101 Soundboard contains a vast collection of Text to Speech generated by their AI voice models. They have a complete board dedicated to Joe Biden that contains pre-generated TTS by other users.
You may not be able to generate Joe Biden TTS from this site. But it has such a huge collection of Joe Biden Voices that we felt it was worth mentioning.
Key Specifications
101 soundboard has a vast collection of pre-generated TTS of many characters. You can find almost any fictional or real-life character voice.

It has a very easy-to-use interface, you have to search for the character, and there you will have a huge TTS generated by other users.

It also has a dedicated application for users to enjoy its services on the phone.

You can very easily download any TTS from the soundboard in MP3 format.
Pros
Multiple pre-generated TTS are available for a particular character.

Easily accessible from the application and website.

Easy to use interface.
Cons
The AI models get deleted very frequently. You may not be able to generate TTS from the deleted models.
---
Joe Biden Real-Time AI Voice Changer
If you want to convert your voice to Joe Biden's, then use this AI voice changer. It's one of the best voice-changer tools I have ever used.
Voice AI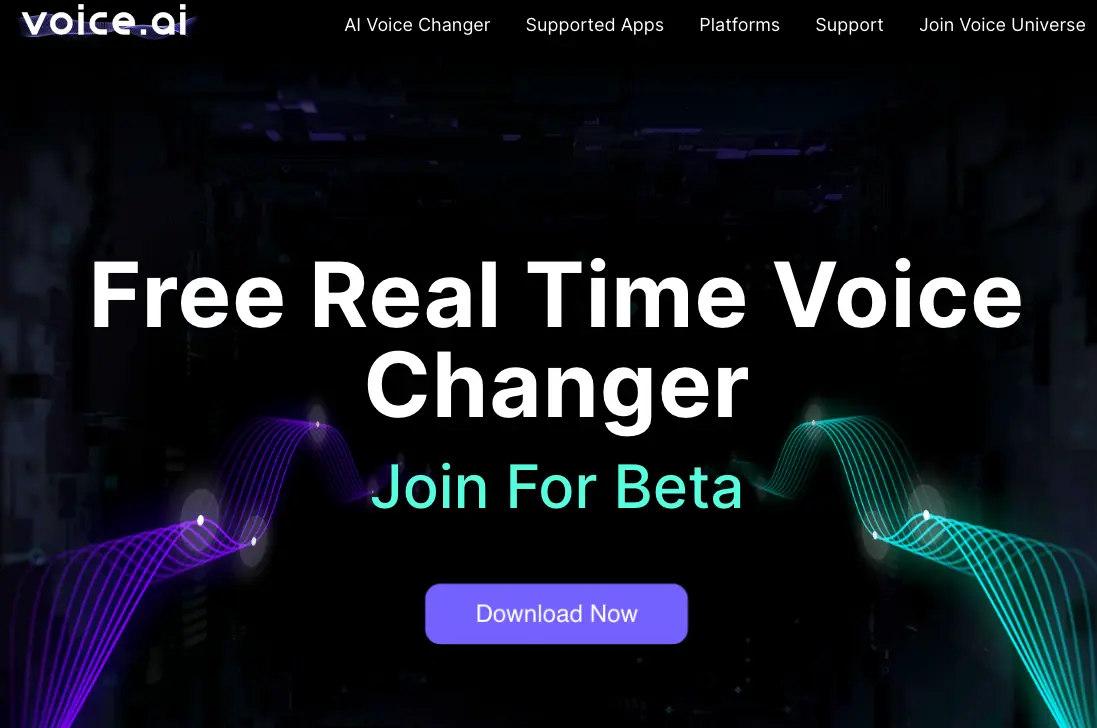 Voice.ai is an AI voice changer that allows users to mimic the sounds of any real or fictional character. The best thing about voice AI is that it offers voice conversion for recordings and live voice conversions, making it ideal for roleplaying, pranks, meme creation, and entertainment. 
Key Specification
Allows you to mimic anyone's voice in real-time using advanced ai technology.

You can record voice and then apply conversions.

It can use for real-time voice conversion during direct communication or live streaming.

Users can choose from a variety of voices available.

Can train new voices by using your device resources.
Pros
Real-time voice conversion

Wide range of voices

Train new voices

Integration with discord
Cons
Quality limitation

Limited conversion

System requirements such as graphics card

Training new voices can be time-consuming
How to use voice AI to generate Joe Biden's voice
Step 1: Download the installer from voice.ai and complete the installation.
Step 2: Create a new account.
Step 3: Select Allow to voice training to earn 5000 credits. It will use your computer resources to train the voice AI algorithm.
Step 4: You can choose "record mode" or "live mode" from the above toggle.
Step 5: Select the desired input microphone and click on record mode.
Step 6: Recorded messages are displayed in a lower pane which you can use to convert the voices.
Step 7: Also, certain features like watermarking or changing audio quality require an active subscription.
Use Voice Ai for Generating Joe Biden Text to speech
You can use this way to generate Joe Biden Voice using text-to-speech in voice AI. I got this idea after reading this awesome reddit thread.
The steps are as follows –
Step 1: The thread mentioned that GPT was used to generate a Joe Biden speech.
Step 2: After that, he used natural reader to convert the speech text to audio with a generic voice. I suggest you use Eleven Labs for converting text to speech. The audio quality has an emotional expression as compared to other TTS generators.
Step 3: Then the user used voice.ai to convert the audio to Biden's voice.
Step 4: He also got one step further and used mid-journey and D-ID to generate a video of Joe Biden speaking.
---
Joe Biden AI Voice Text to Speech – Honourable Mentions
We have provided you with the best text-to-speech AI voice generator that we found online in the above list.
We wanted to give some honorable mentions to the sites we thought were worth mentioning.
ExploringBits Text to Speech
The ExploringBits text-to-speech generator is an excellent tool for generating Joe Biden AI Voice.
It provides you with a simple, easy-to-use Google Collab notebook that you can use to generate Joe Biden voice.
It's an easy and free solution to generate unlimited voices from Google Collab. When you access the notebook, use the run all button in the top bar, and it will start using the pre-trained model to generate Joe Biden Voice.
Below the fifth box, you can input the text you want to generate the Text to speech for.
After that, it will use the AI model to generate an MP3 output.
Voxbox
Voxbox is another great tool for generating text-to-speech for Joe Biden Voice.
This tool is available for both Windows and Mac users. First, you need to download the tool from their website.
Once you have downloaded the tool, you have to search for Joe Biden's character.
Voxbox has a vast character collection that you can use to generate text-to-speech.
Sometimes the models may not be able to generate the text-to-speech correctly or may generate generic voices.
Also, there is a limit to how many characters you can generate a voice for and after that, you will require a subscription.
Therefore you have the option for the best two text-to-speech Joe Biden voices: Fakeyou and Uberduck. 
Top Media AI
Top Media AI is exactly like Voxbox. It has a vast collection of Voice models that you can use to generate text-to-speech.
One best thing I liked about voxbox is that they have an online tool. Unlike voxbox, you will not have to download the software. You can directly access the text-to-speech from your browser.
They have exact features like voxbox. They have a 5000-character generation that is free to use, and then you will have to pay for the services.
The quality of the Joe Biden voice model wasn't up to the mark therefore, I recommend you to use Fakeyou or Uberduck.
Aayush Kumar Gupta is the founder and creator of ExploringBits, a website dedicated to providing useful content for people passionate about Engineering and Technology. Aayush has completed his Bachelor of Technology (Computer Science & Engineering) from 2018-2022. From July 2022, Aayush has been working as a full-time Devops Engineer.