Oh, it's someone's birthday over the server! Set up the Birthday Bot on your discord server to know if a particular day is someone's special day. Well, birthdays are dates worth remembering. Wishing people their birthdays and making them feel special has been an old practice of human beings.
Discord Bot Developers thus introduced the Birthday Bot. This Bot has taken its cover over the primary discord servers, counting to approximately forty-four thousand servers, and has an excellent fan base among people. 
The Birthday Bot serves its users mainly by automatically recognizing birthdays among the user's community. The Bot has an excellent user-friendly and primary interface and is a simple Bot that helps for a single purpose, and we all know what. 
The Birthday Bot being a single-purpose Bot, only offers a few features, the only one being assigning roles for users for their birthdays. Some of the other features of the Bot also include announcing messages for birthdays all over the server. However, such features can be customized and dealt with according to the user's choice. 
Another additional and exciting feature that is also a must-needed one for such Birthday Bots is that the server admins can easily set a particular time zone for the server based on their choice.

---
Birthday Bot Discord Features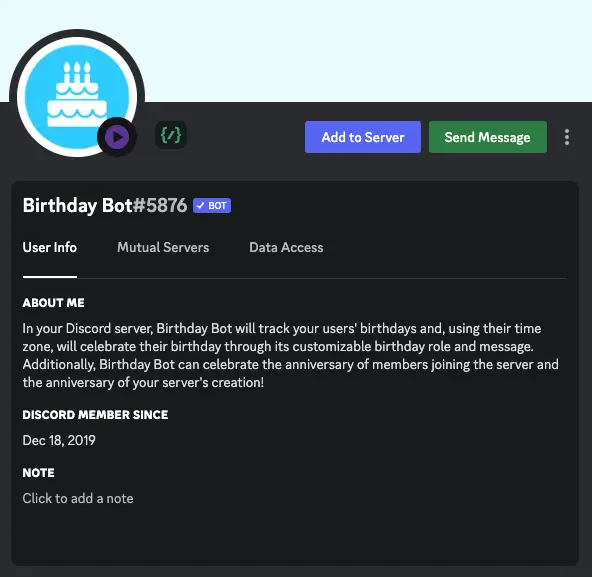 The central aspect of this feature is that the server will now show all the birth dates of the server member based on the particular time zone chosen by the server admin. 
The Bot's developers visualized that a server might contain people from a different time zone. Therefore, the Bot allows members to set their specified time zone according to their choice. However, the changes made by individual members will reflect only on their side over Discord rather than the complete server, as in the case of the changes made by the server admin.
Thus, the Bot is a tremendous single-purpose Bot for carrying out celebrations and wishes over a discord server. So do try it out and celebrate birthdays to the fullest.
Also, If you are looking for reaction roles with the birthday bot, you must check Reaction Role Bot. It is an easy-to-use and well-documented bot that you must try.
---
How to Add or Invite Birthday Bot on your server?
It is essential to add the Birthday Bot to your Discord server before you start using it. To add it, use the official invite link. Follow these steps to ensure proper adding: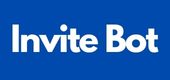 Step 1: Click on the Invite Button Above. Or Invite the Bot from the Birthday Bots site – birthdaybot.scottbucher.dev
Step 2: Select the server to which you want to add the Birthday Bot.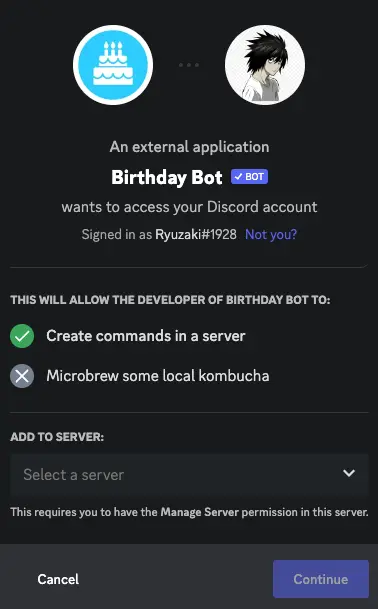 Step 3: Authorize the permissions that the Birthday Bot requires to work correctly.
Step 4: Fill up the Captcha.
Step 5: Return to the discord server where you have added the Birthday Bot.
Step 6: You have successfully added the Birthday Bot on your discord server !!
Also, I will mention joining the support community group of Birthday Bot, so if you ever face difficulty with the Bot, you can ask for help in the community – Birthday Bot Support Server.
---
How to set up Birthday bot on Discord? [Simple Steps]
The Birthday Bot in Discord mainly makes birth announcements, including your name, surname, age, and avatar. It is a great way to automate the celebration of birthdays within a Discord server. By adding your birthday to the Bot, you can let your friends know when your special day is coming up, and they can send you birthday wishes!
Also, read this official documentation for setting up a birthday bot for more detail.
To use Birthday Bot on your discord server, you need to follow the steps given below: 
Step 1: Invite the Birthday Bot to your Discord server by visiting its official website.
Step 2: Type the "/set" command in the Birthday Bot chat room to enter your birthday.
Step 3: Specify your Time Zone by selecting it manually or heading to the TimeZone Picker website.
Step 4: Input your Age in [MM/DD] format and save it.
Step 5: Confirm the entered data by tapping on the Check Mark.
Step 6: You will receive a message from the Birthday Bots confirming that you have successfully added your birthday.
The Birthday Bot is an excellent addition to Discord servers, as it keeps track of the birthdays of all members. This Bot allows users to customize their birthday role and send personalized messages to those celebrating their birthdays.
As the Birthday bot helps set birthday reminders, the Mimu bot also helps you set welcome & goodbye messages for your discord members. Check out the Mimu bot for a more personalized discord experience for your members.
---
How To Use Birthday Bot Discord? [Detailed]
Setting your Birthday with Birthday Bot
I'm trying to set my birthday (October 18) using the command "/set". It will prompt me to select my time zone. Don't worry if you don't know your TimeZone – Birthday Bot will help you out!
To find out what your time zone is, Birthday Bot will guide you through the process. 
Step 1: First, click on the "map time zone picker", which will direct you to a page where you can quickly determine your time zone.
Step 2: Once you have selected your time zone, it will ask you to enter your birthday in the format MM/DD. Type whatever your birthday date, like your birthdate is October 18, then type 10/18 there.
Step 3: After typing in your response, click the "enter response" button, and the system will ask you to confirm if the information you entered is correct. 
Step 4: If you are satisfied with the data, click "Yes" to save it. Otherwise, click "No" if you wish to start over or cancel the operation. 
Step 5: Once you have confirmed the information, Birthday Bot will store your birthday in the database. 
That's it! Congratulations, your time zone and birthday have been successfully registered.
Note: It will store your birthday across all servers that use the Birthday Bot! Your birthday has been set globally. Birthday Bot will remember your special day no matter which server you're in.
Viewing the List of Birthdays
The /list command allows users to view the birthdays of everyone on the server. When you enter the command, the server will display a list of all birthdays enrolled in the server, with each person's name and date of their birthday. 
This command is handy for server administrators and members, allowing them to keep track of birthdays and other important dates. The /list command is easy to use and requires no additional steps, making it an excellent command for quickly viewing birthdays on the server.
Additionally, You can use the Bot to commemorate server creation anniversaries and member anniversaries. The Birthday Bot also has a custom trusted role system that can assign roles to members on larger servers. The Birthday Bot is a great way to commemorate special days and make members feel extra special.
---
Birthday Bot Discord Commands List
Birthday Bot has wholly shifted to slash commands. So you won't be able to use its prefix now.
Earlier, the default prefix for the birthday bot was bday.
Now you will need to use / before using the birthday bot command keywords.
Also, you can view all the commands in your discord server by typing /help and selecting the birthday bot icon.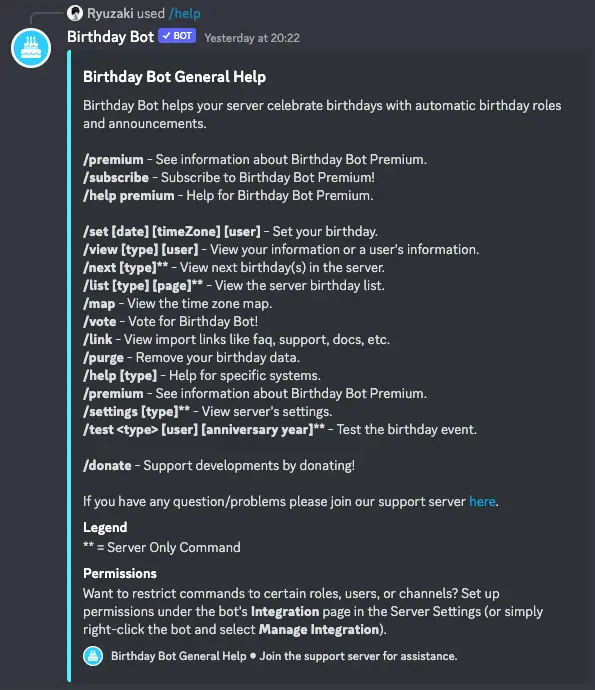 For detailed Birthday Bot Command usage, read the official Birthday Bot documentation.
For ease, we have listed Birthday Bot commands below.
Note: ** legend is for server commands only.
| | |
| --- | --- |
| Commands | Description |
| /set [date] [timeZone] [user] | Set your birthday. |
| /view [type] [user] | View your information or a user's information. |
| /next [type]** | View next birthday(s) in the server. |
| /list [type] [page]** | View the server birthday list. |
| /map | View the time zone map. |
| /vote | Vote for Birthday Bot! |
| /link | View import links like faq, support, docs, etc. |
| /purge | Remove your birthday data. |
| /help [type] | Help for specific systems. |
| /premium | See information about Birthday Bot Premium. |
| /settings [type]** | View server's settings. |
| /test <type> [user] [anniversary year]** | Test the birthday event. |
| /donate | Support developments by donating! |
| /premium | See information about Birthday Bot Premium. |
| /subscribe | Subscribe to Birthday Bot Premium! |
| /help premium | Help for Birthday Bot Premium. |
---
Is the Birthday Bot Not Working?
Sometimes, the Birthday Bot might have issues, such as not responding or being offline. This issue can be due to a Bot server being down for any reason. If you face the problem, check in the Birthday Support Community Server. If some technical issues are from the developer's end, they will update the support server.
Ensure that you have provided sufficient permissions to the Birthday Bot in the settings tab.
Make sure that you are using the correct commands. Now most bots are shifting to new slash commands after depreciating the prefix commands.
If nothing works, try to remove the Bot and re-invite it to the server.
If you are still looking for a solution to your problem. In that case, you should ask the Birthday Bot Support community channel, which is dedicated to helping to find a solution regarding Birthday Bot.
Also, drop us your error in the comment section, and we will try to come up with a solution. 
---
FAQ on Birthday Bot Discord
How to Remove Birthday from Birthday Bot?
You can remove Birthday Bot from your discord server with a few clicks. First, find the birthday bot icon from the right sidebar in your discord server. Then, Right-Click on the bot icon and select the "Kick Bot" option. This option will remove Birthday Bot from your discord server.
How can I find my birthday on Discord?
When signing up for Discord, it will ask for your age. However, they don't verify it and only check when you change it or enter your birthday. So, if you want to find your birthday on Discord, you must alter your age or enter your birthday when prompted.
What Emoji represents a Birthday?
Emojis can be a great way to express a birthday's joy and celebration. Some particularly appropriate Emojis for a birthday include the birthday cake, party popper, wrapped gifts, and other related emojis. These Emojis can make the celebrant feel extra special and add cheer to the special day. You can also use them creatively to show appreciation and excitement, such as in cards, banners, or decorations. So, spread the joy with some festive Emojis this birthday season!
How can I set my time zone?
To set your Time Zone, click "Enter Response" and type your time zone. For example, mine is Asia/Taipei. Click "Submit" once you have completed it. This will ensure that your time is accurately displayed.
---
Conclusion
The Birthday Bot is a fantastic feature of the Discord platform that helps wish every server member a particular day. It is easy to set up the Bot and use its beautiful features like adding, operating guides, commands, and more. If you have any questions or queries, do not hesitate to reach out to us. So, what are you waiting for? Set up the Birthday Bot today and make your server members feel special.
Aayush Kumar Gupta is the founder and creator of ExploringBits, a website dedicated to providing useful content for people passionate about Engineering and Technology. Aayush has completed his Bachelor of Technology (Computer Science & Engineering) from 2018-2022. From July 2022, Aayush has been working as a full-time Devops Engineer.