Mid journey AI art generator is a new AI-powered tool that converts creative ideas into text-based art. The mid-journey is an independent research facility developed to promote human creativity through investigative thought in the form of novels. Like Open AI's DALL-E, Midjourney's AI bot generated graphics from textual descriptions. 
The team of Mid Journey is led by David Holz (founder of Leap Motion, a researcher at NASA, and Max Planck). The mid-journey has eleven full-time employees and advisers from companies like Apple and Github.
---
How to Use Midjourney AI Art Generator For Free
Join the

Midjourney

Discord Server
To join the Midjourney Discord server, first, create a Discord account. Then, visit Midjourney.com and click "Join the Beta" or access the Discord server directly.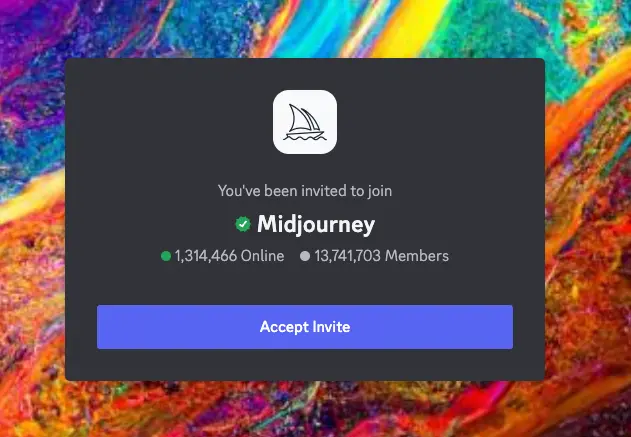 Join the Newbies Channel
To find a channel for newbies on the Midjourney Official Server, go to the left sidebar and select any newbies-# channel. If you're on another server, search for instructions on how to use the midjourney Bot to generate images. This is possible if the Bot has been invited to the server.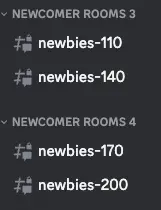 Use the /imagine Command
Users of Discord have access to a wide range of commands, such as the /imagine Command, which creates original images in response to a brief text prompt. 
Enter the command "/imagine prompt:" and fill out the "prompt" field with a description of the image you want to create. After you submit your message, the Bot will produce an image that matches your description.
Although It is essential to note that when using commands like /imagine, users should always respect the community guidelines in all channels where the Bot is used. 
Additionally, you may not see the pop-up for the /imagine Command. In this case, try logging out, updating the Discord app, and logging back in to see if that resolves the issue.
Finally, remember that commands only work in bot channels, not regular channels like #trial-support. Overall, the /imagine Command is a helpful tool for creating unique images based on your descriptions, and it's essential to use it responsibly and follow Discord's community guidelines.
Wait for the Job Processes
Midjourney Bot takes around a minute to create four options, which prompts a free trial activation. Trial users can execute up to 25 Jobs using the Bot, which involves generating image grids, upscaling images, and creating image variations using the /imagine Command. 
To track the remaining trial time, use the /info command to check your Fast Time Remaining. Once the trial period is over, subscribing to Midjourney is necessary to continue using the Bot's features.
Upscale (U) or Create Variations (V)
After generating an initial image grid, the interface offers two rows of buttons. The U buttons upscale the selected image, creating a larger version with more details. The V buttons create variations of the selected image, producing new grids with similar styles and compositions. Additionally, a (re-roll) button returns the original prompt, generating a new grid of images.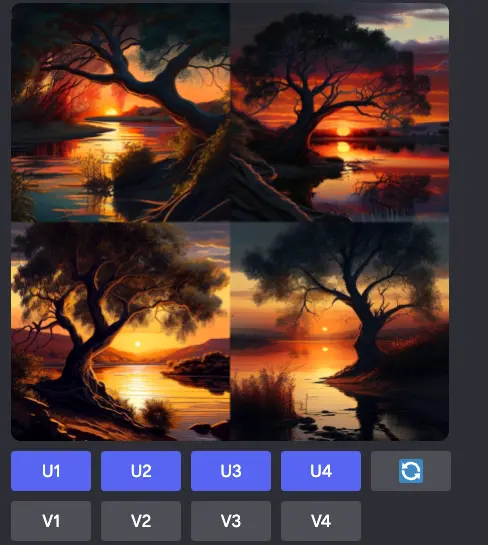 Rate Midjourney's Images
After using the upscaling feature on Midjourney, users can access a new set of options. They can create variations of the upscaled image by clicking on the "Make Variations" button. This generates a new grid of four options for the user.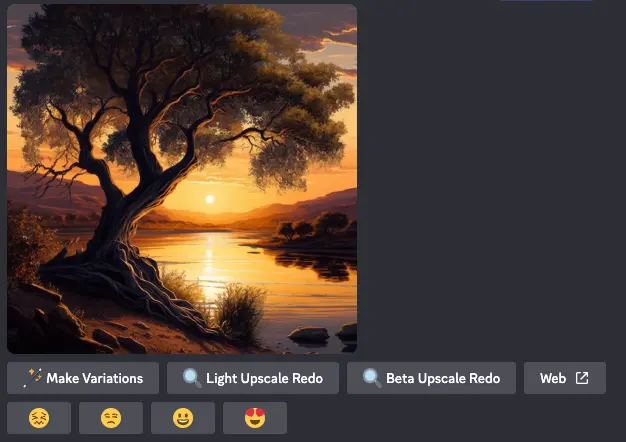 If users are unsatisfied with the upscale results, they can use the "Beta/Light Upscale Redo" button to redo the process using a different upscale model.
In addition, users can rate any upscaled image on the Midjourney website or in Discord by clicking on one of four smiley buttons corresponding to their opinion of the picture. The options range from 😖 to 😍. The top 1000 image raters are rewarded daily with an hour of free Fast Mode time.
Users are encouraged to rate images based on their style and opinion. When rating, they can consider aspects such as the look, effort, colors, concept, or theme. This allows users to rank their work or the work of others and share their opinions with the community.
 Save Your Image
To save the image, click to open it to full size and then right-click and select "Save image". On mobile, long-press the image and tap the download icon in the top right corner. The images are available on midjourney.com/app, and signing in with Discord is required to access them.
Subscribe to a Plan
As a trial user, you can use up to 25 free Jobs without expiration or renewal. To create more images:
Use the /subscribe Command in any Bot Channel to get your link to the midjourney account page.

Keep this link private, and do not share it with others.

Check out Subscription Plans for pricing and further details.
Next Steps
For those who find public channels too fast, Midjourney Bot offers the option of direct messaging, where you can use the /imagine Command to create and share images. However, it's important to note that the images are subject to content and moderation rules and can be viewed on the Midjourney website.
To further enhance your experience, you can learn how to write prompts or experiment with descriptions of different artistic mediums, locations, and periods to see how they affect your images. Additionally, the /blend Command allows you to upload and combine your ideas.
If you have any questions or require assistance, you can use the /help command to access basic information and tips or use /ask to get answers to specific questions. 
Midjourney Bot offers a range of tools and resources to help you improve your image-making skills. Direct messaging provides a more personalized experience for those who prefer a slower pace.
If you are interested in AI Tools like Midjourney, then you will like our AI Tools compilation for AI Lyrics Generators and AI Music Generators.
---
How to Create a Mid-Journey account on the official Site?
The first step is to install and create an account. This is free of cost. After making the account to access the mid-journey, users should have an invitation code.
How can you access the invitation code?
Go to www.midjourney.com website, and select "Apply for Beta". Then fill in the appropriate data on the given field. After that, the user will receive an invitation code through email. An email will be accepted only if the user's application is approved.
Users are requested to complete the form, although it may take some time.
Every subscriber who paid $10 or $30 will get five invitation codes. These codes will always be able to generate server links for every user. One can also request an invitation from someone with MidJourney access.
As of the June 17th, 2022 upgrade, members of the Facebook group Mid journey AI may request invitations by adhering to the group guidelines.
Every free account generates five invitation links and a 20-25 image quota to test the free trial of MidJourney Bot. Users can sign up for Basic Membership or Standard Membership once their free quota has ended. 
MidJourney Licence Details
The license details of the mid-journey will be available on the Mid-Journeys Discord channel #rule. Users can find and read the license there. Paid members can use all the assets generated without any limitations. Their work can be copied, used, modified, combined, published, distributed, and sold. 
If the users want to use the assets involving blockchain technologies, they have to pay 20% of the profit from the help exceeding $20,000 per month. If they don't want to in this way, they can choose other alternatives by considering the Mid journey.
Even if the users are not paid, they can use the Assets under the Creative Commons Noncommercial 4.0 Attribution International License. 
Mid journey and its subscription plan
The free trial is only up to a few images. After that, it needs a subscription. Here we are going to see the subscription plan in detail.
There are three membership plans.
Basic Membership: Basic Membership costs $10 / month. It allows users to download up to 200 images. 
Standard Membership: Standard Membership will cost $30/month, which allows users to download unlimited images.
Premium Corporate Membership – it costs $600 / annum. It allows the unlimited download of images. The main objective of Premium corporate membership is privacy. It protects all data of the users and keeps it secret. If the user wants to switch from premium corporate Membership to free Membership or any other membership, all data will be made public.
---
Conclusion
Artificial Intelligence technology is comprehensive and improving day by day in all fields. One can't say what will happen to AI in the future. People will use copyright-free content images produced by AI will be used for all types of business and personal purposes.
Aayush Kumar Gupta is the founder and creator of ExploringBits, a website dedicated to providing useful content for people passionate about Engineering and Technology. Aayush has completed his Bachelor of Technology (Computer Science & Engineering) from 2018-2022. From July 2022, Aayush has been working as a full-time Devops Engineer.