Naruto Botto Bot is made for Naruto anime lovers. With Naruto Botto Bot, you can pull Ninja Cards, Complete your Ninja Mission and Reports, Challenge users for a duel, Train and upgrade your Ninja team, and the list continues.
Use this fantastic Bot to engage your community with Ninja Duels and give them a chance to show off their Ninja Cards. That's why we have curated these all-in-one Naruto Botto Bot guide to help you accomplish this goal.
Let's continue with the guide.
---
Naruto Botto Bot Discord Features
The Naruto Botto bot has acquired a lot of audience since its release but has yet to travel a long way. The bot has an overall rating of about 4.74 stars with a worldwide audience of around 77.28K users.
Kammi is the creator of the Naruto Botto bot, and since its release, it has been upvoted by around 30.63K users worldwide. The bot thus has pretty good statistics and keeps maintaining them.
The bot hooks its audience with the attractive feature of having over 200 characters. The players have to collect as many characters as possible. There are exciting battles to defeat enemies in the Tower.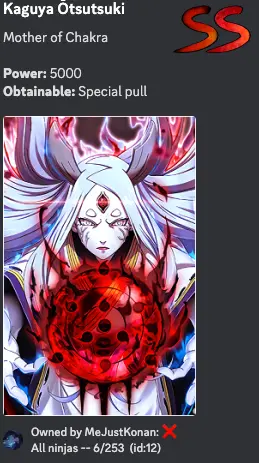 Players can also form duels to enjoy the gameplay with friends or a random person. One can also challenge their friends to compete with them and have fun.
Players are marked up and down in their ranks based on their performance in the battles. Rank up in the global top 10 to dominate the leaderboard and showcase your skills to the world.
Moreover, players can unite to form clans and team up against other clans. The bot together provides the best gaming experience.
Also, if you like the Naruto Botto Bot, you must try AniGame Bot. This bot is very similar card gaming bot with gacha features.
The bot is a must to try on your discord servers. Once added to the servers, there is no chance that you can part away from the bot.
Moreover, it is a must-try one for all anime lovers and those having a special love for Naruto.
---
How to Invite Naruto Botto Bot to Discord?
To add Naruto Botto Bot to discord, you will have to invite it to your server. Follow the simple steps below to invite the bot: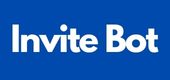 1. Click on the Above Naruto Botto Bot Invite Button.
2. Select the Server to Add the Bot.
3. Grant all the Required Permissions.
4. Fill up the Captcha.
5. Start your Ninja Journey with n start command.
Now, Let's see How to Use Naruto Botto Bot in your discord.
---
How to Use Naruto Botto Bot – Basic Beginner's Guide
This is a basic beginner guide that you can obtain on your server using n guide. This guide is curated by the Naruto Botto Bot team.
Also, the best place to play with the bot is Naruto Botto Official Discord Server, with more than ten channels dedicated to playing with members and five channels for pulling cards.
Let's continue with the guide.
1. Start your ninja road by writing n start, which creates your account.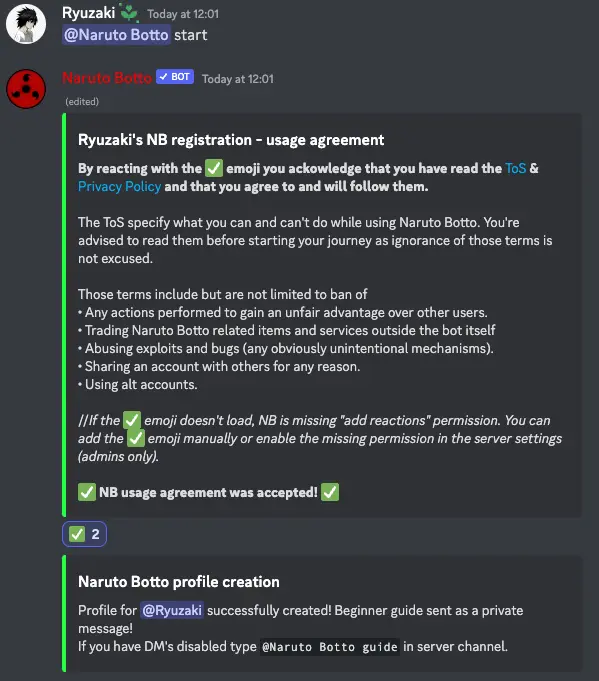 2. Earn ryō by completing missions and reports with commands n mission and n report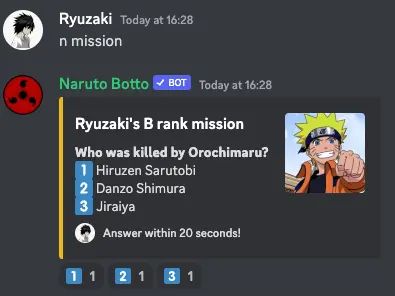 3. When you save up enough money, perform a recruit with n pull to obtain a ninja
4. Check the ninjas you own with the n list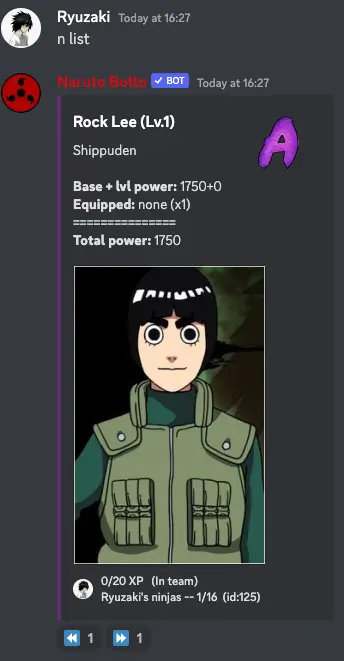 5. Utilize your team by adding a ninja into your team with n team add <id> (you can find the ninja's id at the bottom of its card), use n team remove <id> to remove unwanted ninja or n team to see your current team
6. Complete more missions (n mission) to level up and strengthen your ninjas!
7. Compare your strength to other players with n challenge @User
8. Climb as high as possible in n tower!
9. Buy gear in n shop, equip with n equip <ninja ID> <item name> or remove with n unequip <ninja ID>!
TIPS
Remember to redeem n daily and n weekly!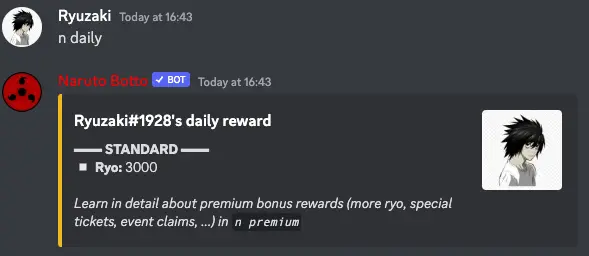 Duplicate ninjas convert to special tickets, which can be used for n pull specials to get a top-tier ninja!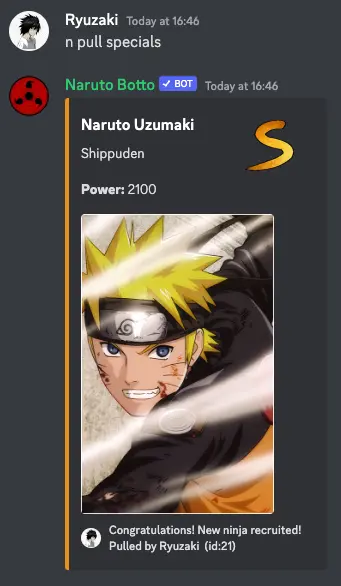 You always have a chance to win the duel. Use the n challenge as much as you can to earn extra ryō!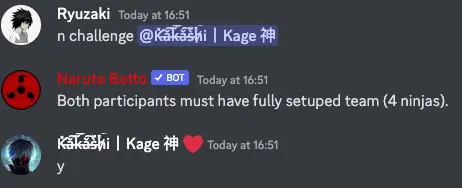 ---
How to Use Naruto Botto – Complete Playing Guide
This Reddit thread inspires this complete guide. Make sure to upvote the guide on Reddit to support the guide's author, bigoofsz.
Also, the best place to play with the bot is Naruto Botto Official Discord Server, with more than ten channels dedicated to playing with members and five channels for pulling cards.
If you are a beginner, I suggest you go through the first guide just above this heading which is beginner friendly. This guide is dedicated to users who want to get better at playing this game.
Also, If you are a Pokemon fan, you should check out Myuu Bot. One of the best pokemon gaming bot to try on discord.
Let's continue with the guide.
Getting Ryo
Ryo, the currency of the Naruto Botto Official Server, is essential for gaining respect and power in the ninja world. To maximize your Ryo revenue, you need to know the most effective ways to obtain it. Missions are the most profitable way to get Ryo, but there are still more methods to explore. You can also use reports, challenges, and daily/weekly events to gain more Ryo. Additionally, buying premiums will always increase your Ryo revenue. 
Keep missions as your top priority to optimize your Ryo. Through missions, you can gain the most Ryo for your time. Reports, challenges, and daily/weekly events should be used as supplementary sources, as they will yield less Ryo than missions. You can also try to exploit quests, but this may take work. Finally, buying premiums is a great way to increase your Ryo revenue. 
With these tips in mind, you should quickly build your Ryo and reach 100k power in the ninja world. Get out there and start making your way to the top!
Reports: Reports are a great way to gain rewards if you need help to do missions continuously. Make sure to copy and paste the details of each report to maximize your chances of success. Take your time and double-check to avoid any mistakes.
Challenges: When selecting challengers, it is essential to choose wisely. You were challenging someone with roughly half of your power resulting in a payout of 225 Ryo. Challenging someone at or above your level gives a slightly higher reward but a lower chance of winning. 
The best way to maximize these challenges is to challenge someone slightly above half your power. This allows for a payout of 225 to 1700 Ryo and a higher chance of success. This is a great way to earn money if you need to grind missions constantly.
Special Tickets
Voting, quests, and towers are the main ways to acquire special tickets. Voting rewards double at midnight UTC on Fridays, so it's best to wait until then to maximize rewards. Quests and towers are self-explanatory. Remember to convert your timezone to UTC when voting to ensure you get double rewards. These methods can help you get the special tickets you need.
Weapon tickets
You can obtain weapon tickets through duplicate SS and quests. Five hundred special tickets usually equal 100 weapon tickets. Look out for daily quests that require earning a certain amount of Ryo or special pulls. It's advisable to save special tickets for those quests, especially if you have Kaguya. Along with this, make sure to check your quests before doing n daily so that the free Ryo counts towards the quest. Remember that weapon tickets are the only way to get these rewards. 
Once you have gained currency in this game, what should you do with it? 
Create your team
When creating the best team of ninjas, it is crucial to use the Ninjas with the highest base power. Each time a ninja levels up, they gain a 4% increase in power relative to their base power. Thus, the higher the base power of the ninja, the more potential they have for power. The best way to access high-base power ninjas is to do special pulls. 
Although the chance is unpredictable, and it may take a while to get the rare, high-tier ninjas such as Kaguya and Hagoromo, it is advisable to do so as soon as possible. Doing so ensures that high-powered ninjas gain experience quickly. It is advisable to only save up to 2,000 special tickets at a time unless at least Kaguya has been obtained. 
This is because saving tickets to do numerous pulls in hopes of getting high-tier ninjas may not guarantee success. Therefore, it is better to use the tickets to do special pulls as soon as possible. Doing so increases the chances of getting the high-tier ninjas, thus creating a powerful team.
Maximize your XP
When maximizing XP, always prioritize ninjas with the highest base power. No matter how much more powerful your Level 10 Tobi maybe than the Indra, if the Indra has a higher base power, make sure to put him on the main team. Do this as soon as possible to ensure that the ninja gets the most XP. 
Once you have a strong team, focus on leveling up your best ninjas. This will help ensure that your team is as strong as possible. While it may be a difficult decision in the short term, it will pay dividends in the long run. So make sure to prioritize ninjas with higher base power to ensure your team is as strong as possible.
Weapons
If you have weapon tickets, then you can use them to buy powerful weapons like Kusanagi swords. These will boost your team, and the weapons you can buy with tickets will improve.
Tip for you: Never use your Ryo to buy weapons. Instead, save it for pulls.
---
All Naruto Botto Bot Commands List
We have compiled all the Naruto Botto Bot Commands List Below. Check them out.
The default prefix for Naruto Botto Bot is n
Also, you can get these commands using n help in your discord server.
n help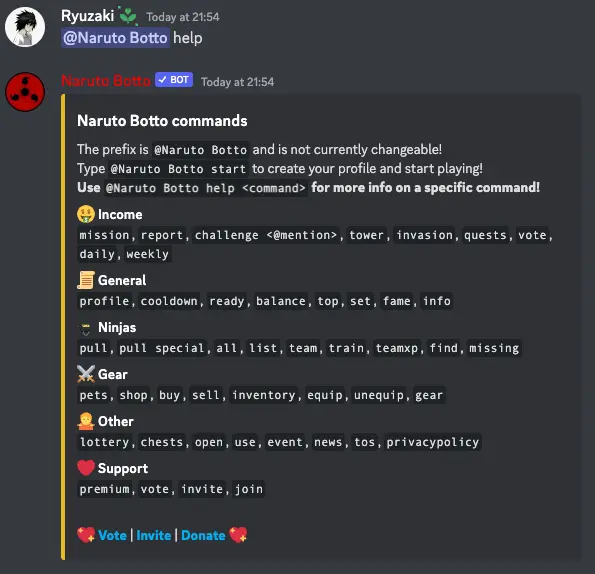 We have compiled this list with a description created by our team.
Make Sure to Add the n prefix before using the commands keywords.
Income Commands
| | |
| --- | --- |
| Command | Description |
| mission | Send your team on a mission. You get ryō for missions. |
| report | Performs a report. Extra ryō. |
| challenge <@mention> | Challenge a user on your server. |
| tower | Test your team power and gain some ryo |
| invasion | Invasion command. |
| quests | Shows all quests and your progress. |
| vote | Vote for the bot on Top.gg |
| daily | Complete your dailes to gain ryo |
| weekly | Complete your weekly to gain ryo |
| Compiled By | ExploringBits.com |
General Commands
| | |
| --- | --- |
| Command | Description |
| profile | Shows your statistics and info. |
| cooldown | Shows cooldowns for all activities. |
| ready | Show all the remaining activities, rewards and others |
| balance | Look the remaining ryo in your account |
| top | Look up the best players in various leaderboards! |
| set | Set your Pfps, titles for profile, and missions. |
| fame | Gain some fame for your ninja team |
| info | Info commands for your team |
| Compiled By | ExploringBits.com |
Ninjas Commands
| | |
| --- | --- |
| Command | Description |
| pull | Draw a random ninja for ryō. |
| pull special | Draw a special pull for some ryo. |
| all | Shows all obtainable ninjas. |
| list | Shows a gallery of your ninjas. |
| team | Team management. |
| train | Train your ninja team. |
| teamxp | Similar to team command |
| find <ninja name/ID> | Find a specific Ninja with name or Id. |
| missing | Gives a list of all Ninjas that you do not have in the team. |
| Compiled By | ExploringBits.com |
Gear Commands
| | |
| --- | --- |
| Command | Description |
| pets | shows your current pets layout, your mastery level and experience progress |
| shop | Opens shop. |
| buy | buy from a shop. |
| sell | sell items you own. |
| inventory | Show all your items. |
| equip | Equips the item. |
| unequip | unequip the item. |
| gear | Sends a list of your gear and respective ninjas that are using it into your DMs |
| Compiled By | ExploringBits.com |
Other Commands
| | |
| --- | --- |
| Command | Description |
| lottery bet <amount> | to bet a specific amount of ryo |
| chests | List the chest inventory. |
| open | Opens items from the inventory. |
| use <item name> | Use the specific item from the inventory. |
| event | Event details. |
| news | View all the recent bot changes. |
| tos | Get a Terms of Services Google Docs Link. |
| privacypolicy | Get a Privacy Policy Google Docs Link. |
| Compiled By | ExploringBits.com |
Support Commands
| | |
| --- | --- |
| Command | Description |
| premium | Get Information about premium. |
| help | List all the commands in the server. |
| start | Creates your account to begin the ninja road! |
| invite | Get the invite link. |
| join | Join the official discord server. |
| Compiled By | ExploringBits.com |
---
Is Naruto Botto Bot Not Working?
If the Naruto Botto Bot is not responding to your commands in the discord server, check for any recent news in the official community server. They would have information about the Bot being down.
If that is not the case, try reinviting the Bot into your server again.
If nothing works, it may be that the Bot's shard provided to your server is down. Wait for a day and check again.
Until then, you can use the Naruto Botto Bot on the official server. You can also ping the developer if the problem persists.
---
Conclusion
Naruto has undoubtedly been one of the best Anime lovers of Anime have ever witnessed. The Anime keeps you entertained, along with teaching you many life lessons. Well, the love of this Anime has been ruling hearts for a long time. Anime lovers would watch the story repeatedly without getting bored of it. Getting attached to Naruto and other unique characters in the show hook you up until the end.
After Naruto, the Japanese anime world kept its fans from getting disappointed. Instead, a sequel of Naruto with the story of his son Boruto was launched, which continues to date. Relating these two Anime shows, Naruto and Boruto, developers from some corner of the world had an idea to create a discord named after them. Thus, the introduction of the Naruto Botto bot is here.
The bot also follows the show's principles, keeping its audience hooked for the entire time, not allowing them to get bored. Thus, the bot is a gaming bot that proves addictive once you get your hands on it. 
Aayush Kumar Gupta is the founder and creator of ExploringBits, a website dedicated to providing useful content for people passionate about Engineering and Technology. Aayush has completed his Bachelor of Technology (Computer Science & Engineering) from 2018-2022. From July 2022, Aayush has been working as a full-time Devops Engineer.