Do you want to add some spice to your videos? How about using text-to-speech recordings from Uberduck ai? This website is one of the most popular sites for this type of thing, and it's easy to use. You can choose from a variety of celebrity voices, or even have Uberduck read your text in the voice of a transformer or fictional character. Let's take a closer look at how it works.
What is UberDuck [ Review ]
Uberduck.ai is one of the best character text to speech present in the market. It is the most popular text-to-speech voice generator out there and has always been my first preference.
In the case of fakeyou (uberduck alternative), sometimes the AI Voice Models fail to generate voices during inference. But I have rarely experienced Uberduck failing while generating voice output.
Uberduck Pros
1. Uberduck has a cool pitch and amplitude modification adjustment feature that it provides only with Rapper voices such as Kanye and Eminem. So, you can adjust these features and generate a good-sounding rap song with Uberduck.
2. Uberduck is also known to keep up with the trending text-to-speech that is popular on other social media platforms. 
Uberduck team is doing a great job in keeping up with popular models that are searched by people, that is why there is more probability that you can find the character voices whom you are looking for on Uberduck as compared to other sites.
3. Uberduck has a model leaderboard where you can search for your required character voices and also check which models are being most used by the users, I like this feature because it helps me to search faster and know which model quality is the best as sometimes one character can have more than one voice model, therefore, you can select depending on the most used and quality of those model. 
4. Uberduck just has a much more number of pre-trained AI Text-to-speech models and the best thing is that Uberduck has a quality score that is assigned to the AI models therefore you will know what you can expect from each character voice that will be generated at the end.
5. Also, if you are a developer this website can offer you free text-to-speech API so you can use it for your project.
Uberduck Cons
One thing with uberduck.ai is that to generate the voices you would have to sign up with your email, discord, or google account. I guarantee you that it is worth it, you should sign up and use it for once if you are wanting to generate text-to-speech similar to your favourite character voices.
How to use uberduck to generate text to speech voices
First of all, make sure that you have signed up for this site, as it will not synthesize the text from its homepage until you have signed up.
Now, when you have signed up then you will be able to enter your custom text in the "Enter text to synthesize" box.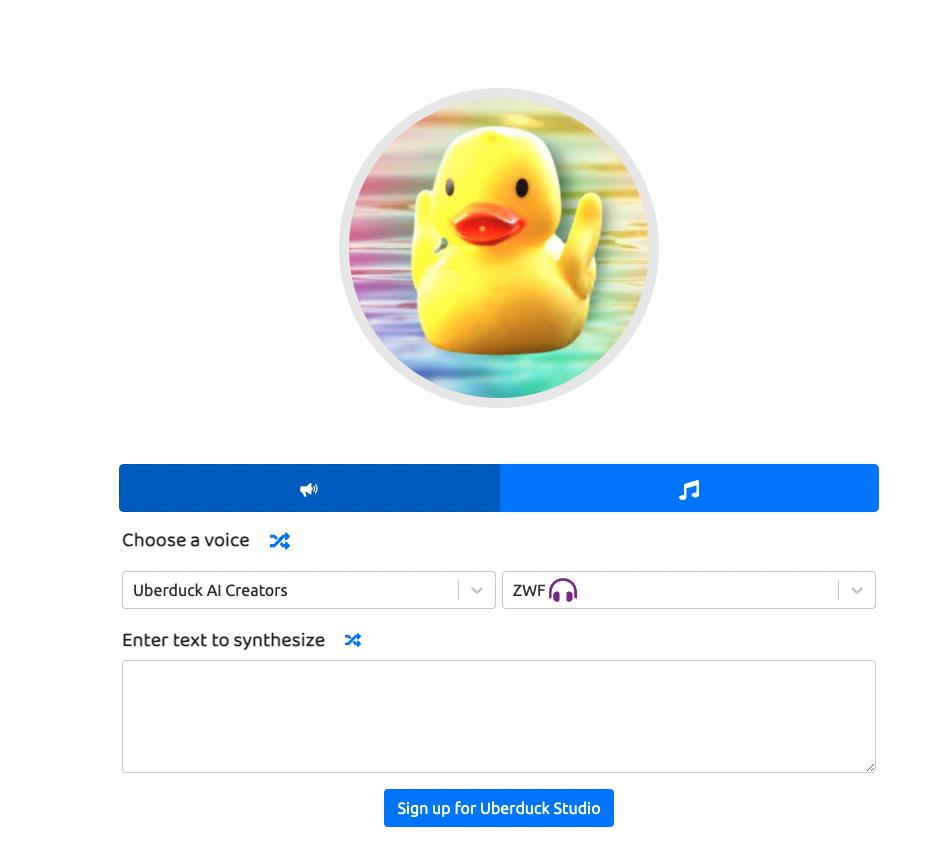 The website's text-to-speech categories are based on movies, anime, games, and many more titles. When you select the title then it will show you the characters to select from.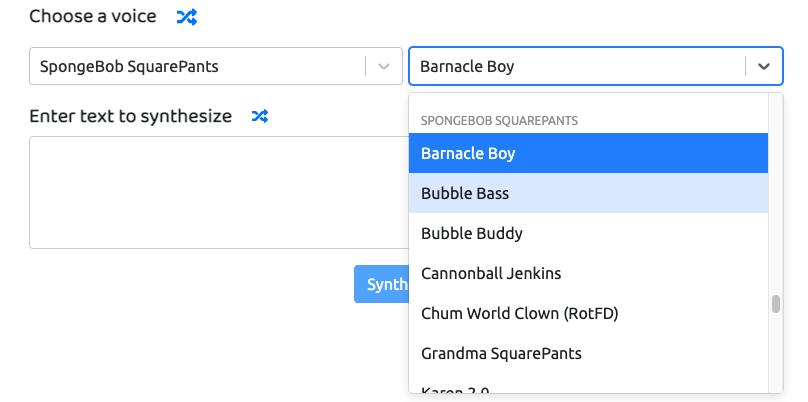 For example, I had selected the SpongeBob SquarePants category and then all the characters name in the SpongeBob Squarepants will be shown.
Also, if you don't want to select from the given category then you can directly enter the name of the exact SpongeBob Squarepants character you want in the box, make sure to enter it into the right box, I have attached the screenshot for the same.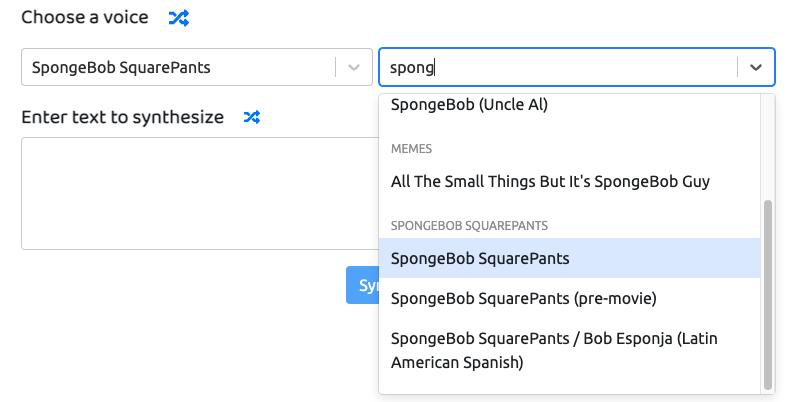 For testing this site, I used SpongeBob's quote "The Krusty Krab Pizzaa is the Pizzaa for you and me." and generated his voice. 
Listen to the sample of this text, close to real.
Now, go generate your SpongeBob Squarepants character text to speech using this site. Also, this website has its discord bot which you can use on your servers, you can go ahead and check it out.
Uberduck Vs Fakeyou (Uberduck Alernative)
For me, all of them have done a marvellous job in creating AI-powered Voice Generators which is not anywhere easy and requires a great deal of effort. 
After using all of them for a long time I will share with you the insight that I experience in generating various character voices.
Uberduck.ai – Uberduck is the most popular AI text-to-speech character voice generator and overall has more features than fakeyou. Uberduck requires one-time signup and it is worth it.
Uberduck has this quality score on their voice model which can help you determine how good the results will be when the voice is finally generated by the AI Model.
In my experience, If I want to find the character for generating voice then first I will head to Uberduck and it has more probability to contain my required character. I can easily check on the model leaderboard if it includes the voice model that I need.
Uberduck just keeps with the trending text-to-speech that may be viral on other social media platforms and consistently makes more models.
The insane thing I noticed on Uberduck is that Rappers such as Kanye West and Eminem text to speech even contained pitch and amplitude modification so you can produce a complete song in the rapper's voice by adjusting the pitch and amplitude for the voice.
As per my observation, I rarely have seen Uberduck fail to generate voice during inference as compared to Fakeyou.
Overall, great experience with Uberduck in terms of voice quality results and usage. I will highly recommend this as your first reference.
Fakeyou.com – The best thing about Fakeyou is that it does not require any signup for use and therefore making it easier for users who do not want to sign up. 
The other thing I noticed is that while synthesizing voice on fakeyou it may fail during inference, and this happens frequently. 
Also, there are many great voice models but some models are just of very low quality such that you cannot understand the said text. This is also the case with other ai voice generators.
Overall, Great site for AI voice generation with many great voice models and is open to everyone.
Frequently asked Questions
Does Uberduck cost money?
Uberduck does not cost money for converting text to speech. However, they do have pricing for more text-to-speech features and voice cloning.
Is Uberduck safe to use?
Uberduck is safe to use. I have signed up on Uberduck using a google account and have been actively using Uberduck for a year now.
How do you make an Uberduck voice?
To make an Uberduck voice you will require to sign up on their site and then simply search for the character you want to make your text to speech.
How do you add Uberduck to Tiktok?
You will be required to import the text to speech part from uberduck to your tiktok video. Once you have generated text to speech on uberduck then use any video editor to add the audio in the background.
What to do if Uberduck in not working?
Replace discord or Gmail ID with uberduck.ai for a quicker sign up experience. Check to see whether your speakers are functioning effectively, and try with headphones or earphones for further verification. Take a look at the site again after it has refreshed.
Aayush Kumar Gupta is the founder and creator of ExploringBits, a website dedicated to providing useful content for people passionate about Engineering and Technology. Aayush has completed his Bachelor of Technology (Computer Science & Engineering) from 2018-2022. From July 2022, Aayush has been working as a full-time Devops Engineer.