Virtual Fisher bot is one of the best discord fishing game bot that lets you enjoy mild and fun fish catching while you relax and freshen up your mind. 
The virtual fisher bot is a familiar one on the platform. The bot was released over discord in September 2019, and it has successfully maintained an approx. 4.66 star rating among its users. The virtual fisher has over 102.40K users from all corners of the world. Since its launch, the bot has calculated around 650000 active users over approximately 100000 servers.
---
Virtual Fisher Bot Discord Features
The virtual fisher bot not only displays an example of unique development and extraordinary features but also keeps its users hooked with its addictive game throughout. 
The bot has an economy feature bot that is based on fishing. Being fun and simple to play, it is fun for users of almost any age. They must grab a rod, sit back on their chairs, and start catching fish.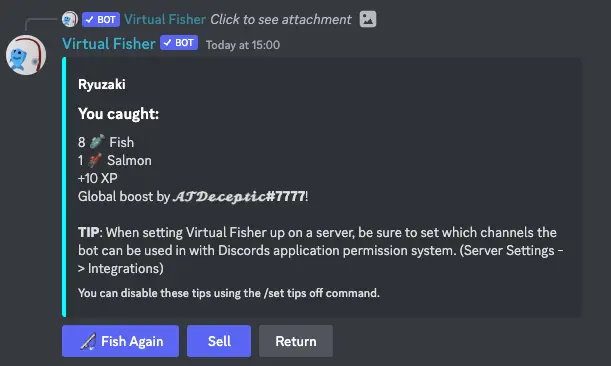 One can see as many fish, depending upon the time spent over the bot. Sell those hard-earned fish to gain some money. You can use the money from selling the fish to buy exciting and fun items and reward updates in the shop section. Buy high-quality rods to catch more fish quickly and grab some valuable perks.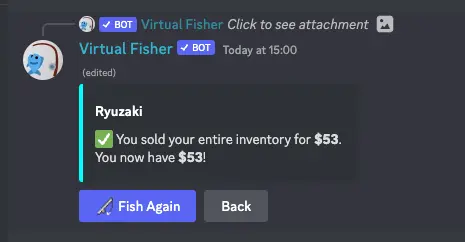 The game needs skills and sound decisions, including selecting the right bait to catch fish. Players must manage their inventory and can also complete quests to win daily rewards. Well, it is fun once it's a competition. Thus, remember to keep track of the global and server leaderboard to check where you stand. Try out this unique fishing game and relax back on your chairs.
You can check the Counting Bot if you want more fun games to play with your discord friends. With the Counting Bot, you can organize counting events and challenge your friends to count in the longest streak.
The virtual fisher bot developers are highly active in maintaining the bot's reputation over the platform, which can be why the bot receives frequent updates. The updates ensure that users have a good gaming experience and a smooth bot working. The bot offers a lag-free environment to its user's majority of the time.
---
How to Add Virtual Fisher to Discord
You can add Virtual Fisher Bot following some simple steps. Let's get started.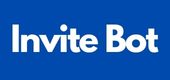 Step 1: First, invite the bot to your server. You can invite the bot using the above invite button. Also, you can invite the bot from its official site – https://virtualfisher.com/
Step 2:  Select the discord server where you want the bot to be added.
Step 3: Provide the required permissions to the bot.
Step 4: Fill in the captcha and click on authorize.
These steps will add the Virtual Fisher Bot to your discord server. You can also check the bot in the right sidebar.
---
How Does Virtual Fisher Bot Work?
You must have learned what a virtual fisher discord bot is by now. Most people will not know how to play a virtual bot on discord. In this section, We'll guide you stepwise on how to play a virtual bot on discord and how you became the best player at Virtual Fisher:
1- Start the game and Catch Fish: Fishing Bot Discord offers a great way to enjoy fishing with your friends across multiple servers. You get several rods, biomes, upgrades, bait, and fish to help you discover and have a great experience. 
As you progress and level up, the progress is stored and transferred to other servers, allowing you to show off your skills to your friends. With this bot, you can go fishing anywhere and anytime and have lots of fun with your friends.
2- Buy Upgrades to improve your Fishing abilities: To keep improving your fishing skills, consider purchasing some upgrades. Several upgrades are available, including new baits, rods, and more. 
There is a prestige system in place that provides the opportunity to reset your progress in exchange for some permanent boosts for the more skilled players.
3- Level Up and Finish or Unlock the latest content: As you keep playing this game, its level will keep increasing, which will unlock excellent and new content, including biomes for you, and then you can catch different types of fish.
Compete with friends or other players worldwide with the Bot feature, which offers leaderboards.
So with this, you must have learned what a fishing bot is and how it is played. Moreover, we have explained everything clearly, such as how to level up in it and how new content is unlocked. That's all now, start catching fish and be a pro in this game.
Check the Soccer Guru Bot if you want to play more games in discord. Soccer Guru is the one-stop destination for you over discord to easily enjoy soccer.
---
How to use Virtual Fisher Bot Discord?
Using Virtual Fisher Bot is very easy. Here are the steps to use a virtual bot.
You can also refer to this official Virtual Fisher bot guide.
Let's get started.
Step 1: Invite the Virtual Fisher Bot to your Discord server. 
Step 2: Type "/fish" in the designated channel to start fishing. 
Step 3: You will get a random catch with information about it, such as its name, size, and rarity. 
Step 4: Collect as many catches as possible to build your virtual aquarium. 
Step 5: Type "/catches" for a list of all your catches. 
Step 6: Type "/sell" to cash in your catch for coins. 
Step 7: Use the coins to purchase items from the virtual shop. 
Step 8: Keep fishing, collecting, and buying to become a pro at Virtual Fisher Bot.
With the help of just these few steps, you can easily enjoy a virtual fisher bot on your discord.
---
Virtual Fisher Bot Discord Commands List
Virtual Fisher bot has stopped the support for prefixes. 
Earlier, the default prefix for Virtual Fished Bot was %
Now, You will need slash commands to use the bots.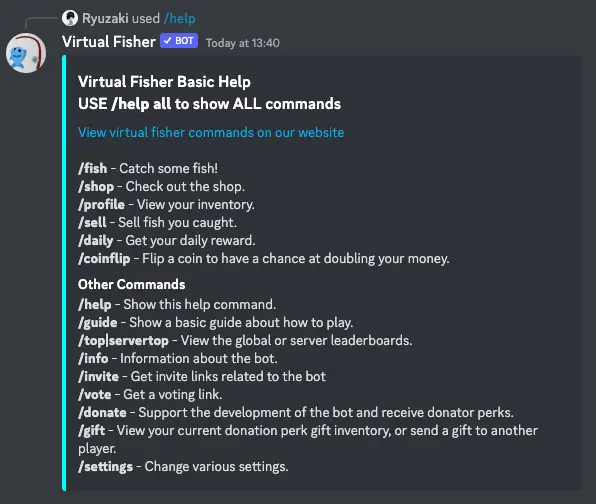 You can find these commands on the Virtual Fisher Bot site – https://virtualfisher.com/commands
We have also compiled all the commands below.
Basic Commands
| | |
| --- | --- |
| Command | Description |
| /help | Get this list of commands using the bot. |
| /fish | Catch some fish! This is the main command of the bot. |
| /shop | Shop for upgrades to buy using the %buy command. |
| /inventory | Open your inventory. |
| /sell | Sell fish you've caught for virtual money. |
| /daily | Get your daily reward. |
| /coinflip | Flip a coin to have a chance at doubling your money. |
Progression Commands
| | |
| --- | --- |
| Command | Description |
| /color | Sets the color of the embeds the bot responds to you with. This is used to show off your progress in the bot. |
| /stats | Check your stats. |
| /mypos | See your position on leaderboards. |
| /top | Check out the leaderboards. |
| /servertop | Shows a leaderboard for the current server you're in. |
| /prestige | Reset your progress for permanent powerful buffs. |
| /pets | View current pets you own or select a pet to use. |
Information Commands
| | |
| --- | --- |
| Command | Description |
| /clan | If you are clanless, it displays a help command for clans. If you are in a clan you will see your clan menu. |
| /info | Information about the bot. This shows things such as total servers and who made the bot. |
| /invite | Get a link to the official server, and a link to invite the bot to your servers. |
| /vote | Get a voting link. |
| /donate | Support the development of the bot and receive donator perks. |
Extra Commands
| | |
| --- | --- |
| Command | Description |
| /biome | Switch biomes, or view a list of biomes you have unlocked. |
| /bait | Select your bait. You can buy different types of bait with %shop bait. |
| /rod | Select a different rod to use. You can buy different rods with %shop rods. |
| /quests | List of quests. Quests reset daily at midnight GMT. |
| /multipliers | See your current multipliers. This is affected by things such as bait and upgrades. |
| /balance | Check your balance. |
| /boosts | Check your currently active boosts. This also shows the duration left on global boosts, if there is any. |
| /boosters | Check how many personal and global boosters you have. |
| /charms | Charms increase many different stats and are found in chests when you are above level 20. |
| /settings | Allows you to customize various aspects of the bot to your liking. |
| /badges | View your currently owned badges, or switch to a different badge. |
Administration Commands
| | |
| --- | --- |
| Command | Description |
| /channel | Allows you to control where the bot is used in your server. |
---
How To Fix Virtual Fisher Bot Not Working?
Sometimes, Virtual Fisher Bot may be down and not responding to your commands. It can be due to the bot server's shard provided to you being down or some buggy update. If this is the case, you must check the bot's status in the Virtual Bot Community Server.
Additionally, providing the required permissions to the bot through the Settings tab is vital. It helps to ensure that the bot has all the required permission to function correctly.
Lastly, if nothing mentioned above works, try re-inviting the bot on the server. Drop a comment below so we can assist you in solving the problem.
If the problem persists, it is best to contact the bot's support team to troubleshoot the issue further. These steps can help ensure that Virtual Fisher Bot is functioning correctly.
---
Frequently Asked Questions
Which commands do we have to use to customize the bot?
/settings are the commands to customize the bot to match your preferences. It allows you to configure language, timezone, prefixes, and more options. You can also set up reminders, moderation rules, and other features to help you make the most out of your bot.
What is the theme of Virtual Fisher Bot Discord?
The Virtual Fisher Bot on Discord is a game based on the concept of fishing. Players catch fish and then sell them for money used to purchase upgrades. The idea behind this game is to entertain its users and keep them engaged. Players can compete with each other to try and catch the most valuable fish and purchase the most powerful upgrades. The Virtual Fisher Bot on Discord is a great way to pass the time and have fun.
---
Conclusion
Virtual Fisher Bot is based on fishing, a fun and exciting game launched in September 2019. Players can use baits, rods, and boats to catch fish and sell them for money. More than 20,000 servers and 100,000 active users are currently playing the game. 
The game is designed to be accessible to both casual and dedicated players. The developers are continuously updating the game to keep players entertained and engaged. All you have to do is type /fish and start catching fish and earning money. Get upgrades from that money and become the best fisher of the season!
In this article, We have guided you through everything from top-to-end commands to playing and using Virtual fisher bot discord. Now you must have understood how to use a Virtual fisher bot.
Aayush Kumar Gupta is the founder and creator of ExploringBits, a website dedicated to providing useful content for people passionate about Engineering and Technology. Aayush has completed his Bachelor of Technology (Computer Science & Engineering) from 2018-2022. From July 2022, Aayush has been working as a full-time Devops Engineer.