Yggdrasil bot is a discord bot with a ton of fun commands. It is a unique bot which allows discord members to engage in a lot of fun activities like Fun! Sounds! Racing! Games! Phones! Pranks! according to its webpage. There are many great features and commands that this bot allows like having a role-playing deathmatch between two members, or pranking a member or even matchmaking and shipping two members. One of the best features of this bot is allowing a member of one server to communicate on a call with a member of a totally different server outside of Discord while still remaining inside of it.
How do I invite a bot to Yggdrasil?
Adding Yggdrasil bot to your discord server is a very simple task. It can be accomplished only through some clicks.
STEP 1: Go to the official website of Yggdrasil Bot. You can either search for "Yggdrasil bot" on Google or you can go directly to their official website which is – https://ygg.fun.
STEP 2: When you are on the official website of Yggdrasil Bot, then you can click on the green button that says "Add to Discord". This will invite the Yggdrasil bot on your server.
STEP 3: So when you click on the "Add to Discord", then it will ask you to sign in to your discord account. When you have signed in or you are already signed in to the discord then you will have to select the discord server to which you want to add the Yggdrasil bot.
STEP 4: After you have selected the server to which you want to add the Yggdrasil bot then it will ask you for permission access. It will automatically have administrator access; you can untick the administrator access if you don't want the bot to have complete access to your server. Then select the Authorize button.
After this, you will see the following screen confirming that the Yggdrasil bot has been added to your server.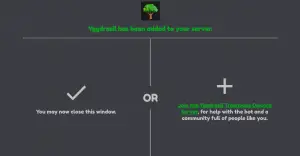 The Yggdrasil bot is added successfully to your discord server!! You will be able to see the Yggdrasil bot confirmation message on the right sidebar.
Now all the members of your server will be able to use the different available commands of Yggdrasil bot. To check what commands the bot provides, use –help command. When you enter this command, you will receive a direct message from Yggdrasil bot with a complete list of all the commands that are available in the Yggdrasil Bot.
Also, if you are searching for a leveling and moderation bot, you can look into Arcane Bot. It offers many features, such as leveling, moderation, reaction roles, welcome messages, and many more.
List of Basic Yggdrasil Bot Commands in Discord
General Commands
--about - bot info




--avatar [user] - show user's avatar




--credits - bot credits




--donate - donate to support the bot




--invite - add ygg to your server




--ping - checks the bot's latency




--serverinfo - shows server info




--userinfo [user] - shows user info
Fun Commands
--choose <item> <item> ... - make a decision




--8ball <question> - ask the magic 8ball!




--fiction <name> - infinite fictional database




--friendscore @user1 @user2 - friend compatibility score




--fortune - shows your fortune




--icecream [user] - makes your personal ice cream cone




--joke - random joke




--meme - random meme




--pokefusion - shows a random pokefusion




--quote <messageId> OR <@user> <quote> - grabs or creates a quote




--rip <user> - makes a tombstone




--roll <dice> - rolls dice




--ship <first> [second] - matchmaking!




--spoilers <text> - hides spoiler text




--toast <user> - makes some toast




--useless - link to a useless website




--wanted <user> - makes a wanted poster
Games Commands
--darts [guess] - play darts




--deathbattle @user1 @user2 - Death Battle!




--garage [car] - Look at what cars you have in your garage.




--race - race car!




--fidgetspinner [type] - spins a fidget spinner




--standoff - Have a good ol' fashioned standoff.
Phones Commands
--speakerphone - chat with random users all over Discord!




--eyephone - :eyes:




--flipphone - flips your conversation!




--fuwwyphone - corrupts your conversation to owo speak.




--scramblephone - chat with random users, but scrambled!




--userphone - chat with users and see who you're chatting with!




--hangup - Hangup the phone
Animals Commands
--bird - random bird




--cat - random cat




--dog - random dog




--fox - random fox




--panda - random panda




--snake - random snake
Soundboard Commands*
--tts <text> - text to speech




--airhorn




--brainpower




--cena




--cheer




--cricket




--dancemoves




--doof




--fakeerror




--fakeping




--granddad




--heyall




--heyguys




--jenkins




--knocking




--oof




--trombone




--vsauce




--wasted
*The Soundboard Commands can only be used in Voice Channel.
What are Phone Commands?
The Phone commands are one of the most popular features of Yggdrasil bot. These commands enable members to call random people or a random member from a different server into your own server. After that you will be able to communicate with that person as if they were a part of your own server. To do this, go to a general channel and type the command –userphone and the bot will automatically connect a random person from a different server. Using the –hangup command will hang up the call. The other commands are self-explanatory and you can experiment with them to see what fun stuff they do.
How to remove Yggdrasil Bot from your Discord Server?
There is only one way through which you can remove the yggdrasil bot from the server –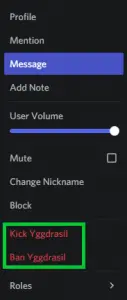 You can right-click on the yggdrasil bot icon and there you will find the option Kick Yggdrasil to kick the yggdrasil bot out of the server.

If you want to remove the yggdrasil bot such that no one can add the yggdrasil bot again to the channel then you can right-click on the yggdrasil bot and select the Ban Yggdrasil option from the menu. See the Image in the above example.
How do I get my discord bot to work?
Sometimes the Yggdrasil Bot might have issues, such as it may not respond and it may be offline. This can be due to a complete discord server outage, if you face the issue check on the discord status page.
Also, make sure that you have provided sufficient permissions to the yggdrasil bot (This can be done in the Settings tab).
If the yggdrasil bot does not respond after applying the above steps, then make sure you did not change the yggdrasil bot default prefix.
Aayush Kumar Gupta is the founder and creator of ExploringBits, a website dedicated to providing useful content for people passionate about Engineering and Technology. Aayush has completed his Bachelor of Technology (Computer Science & Engineering) from 2018-2022. From July 2022, Aayush has been working as a full-time Devops Engineer.