Eunseo is a fantastic card auction game and fun to play Kpop Discord bot. Players can play this fun and exciting game with Kpop groups and soloists. The bot comes up with new daily events and card challenges to keep its users hooked. The bot is easy to play and a simple one that relaxes and passes the time.
---
Eunseo Bot Discord Features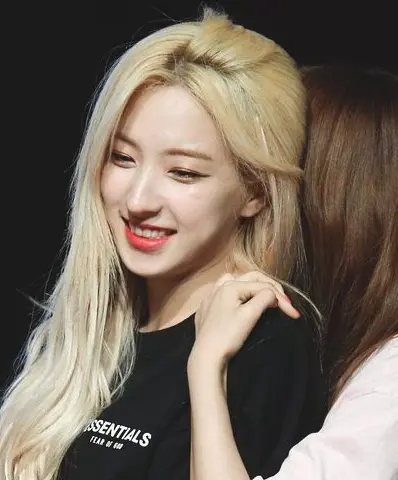 Eunseo Bot is inspired by Kpop Singer Eunseo. Therefore the Eunseo bot cards have Kpop Singers and idols.
The Eunseo bot offers new and unique features in its gameplay that hook up the users, giving them the best gameplay experience and a fun time. 
The bot has a unique feature where users need to collect gems each day. The Gems let the users buy new items and customize cards. 
Players can even manage inventory and spend their time customizing it. 
Completing eras and idols in the game will grant players the rare group and legendary card. These cards help the user to take the lead in the game over the rest.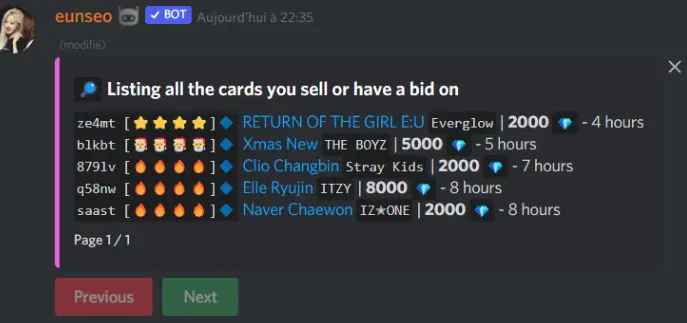 As players grow more and more in the game, there are new cards to be won. Players can also unlock special events with these cards to enjoy and have an even more exciting experience. 
Overall, the game stands well in the economy, gaming, Kpop, and other gaming experiences. 
The bot is the brainchild of Alexandre and is rapidly growing in the discord community. There are a lot of users of the bot now. It has an average rating of 4.2 stars and is a new one on the platform.
The bot offers the best card game experience but is yet to make a place on the discord platform.
If you are interested in card trading games for your server, you should look into Karuta Bot. Karuta is a collectible card game bot in Discord which allows you to collect, upgrade, trade and even earn anime characters.
The bot's features display unique thinking and extraordinary dedication in developing the bot. The bot is thus a must-recommend for your servers. 
The bot continues progressing daily and provides the best service to its users. The developing community keeps working to constantly update the bot and provide users with a relaxing and fun gaming experience.
---
How To Use Eunseo Bot Discord
Eunseo bot is a great auction card game bot with added Gatcha features. We will discuss various How-tos regarding the Eunseo bot. If you want your how-to question added to the post, just let us know your question in the comments.
Also, for those who love watching anime and playing games, the Mudae Bot is a divine addition to your list of Discord bots. You can also check this Bot.
Let's begin with How-tos of Eunseo Bot.
How to Invite Eunseo Bot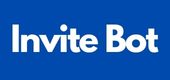 1- Click on the above invite button.
2- You can also invite Eunseo bot from the top.gg site
3- Select the server where you require the bot.
4- Provide the bot with sufficient permission to work.
5- Fill in the captcha and wait for a minute.
The Eunseo bot will be added to the server. Check for the Eunseo bot icon on the right sidebar to confirm.
How To Play Eunseo Bot
As the bot grows, the developer continues to release new cards. Players will win the latest new cards as they advance in the game. 
Players can also use these cards to unlock unique activities, so they can take part and win more rewards. This game feature has positively impacted gaming, the economy, k-pop, and other experiences of the bot.
As we understood its main theme, let's come to its central part, How to use Eunseo Bot Discord. 
Here, we will guide you with very straightforward steps so that you can easily understand how the Eunseo bot can use Discord.
1- First of all, you have to collect Gems. How will you do this? If you want to collect gems, you can use the '/daily', '/work' and '/vote' slash command.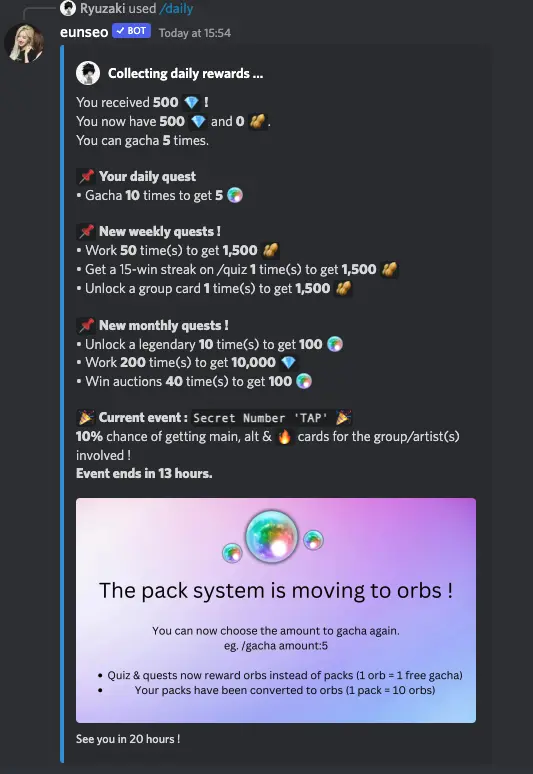 2- In the Next step, you will need gacha cards, and it is straightforward to get Gacha cards by using the '/gacha' command.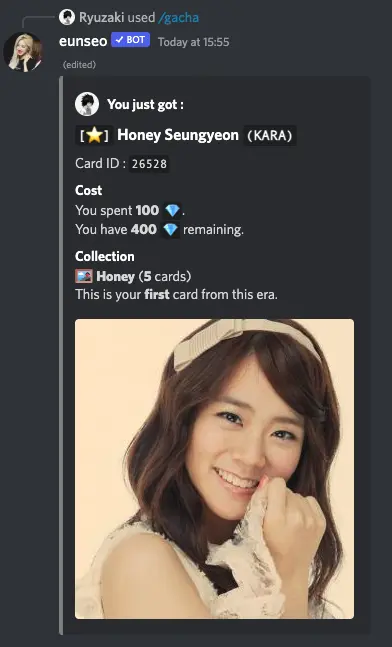 3- After this, complete your favourite groups, and As a reward, you Get Legendary Cards. 
4- In the end, You can Now Buy and Trade cards using the '/trade', and '/auc' commands.
5- To view the new Eunseo Bot Card ID list, you can join the Eunseo server and look in the "new card" text channel.
You have learned how to use Eunseo bot discord. Yes, it is easy to use the Eunseo bot. Keep these few steps in mind, and you can easily play the K-pop gacha bot. Get started today and collect your favourite cards.
How to Change Eunseo Prefix
You cannot change the Eunseo prefix as it has completely moved to slash commands. Just type slash and scroll for the Eunseo bot in the left bar.
---
All Eunseo Bot Commands List
Eunseo Bot has completely shifted to slash commands. Therefore, you don't require any prefix to use these commands.

Earlier, the default prefix for Eunseo Bot was Full Stop "!" 
Now, you have to type the slash commands and select that specific command containing the Eunseo Bot icon.
You can also view all these commands by typing slash '/' and selecting the Eunseo Bot icon from the left.

For simplicity, I have mentioned all the slash commands with categories for your ease.
Daily Commands
| | |
| --- | --- |
| Command | Description |
| /work | Used to claim 100 gems every 20 minutes |
| /w | Shortcut for the /work command |
| /daily | Used to claim 500 gems [1000 gems for premier and unlimited member] every 20 hours |
| /vote | Used to collect 500 gems after watching a short ad every 12 hours |
| /balance | Used to check your total gems and peanuts. |
| /cds | Used to see the time remaining for the /work, /daily, and /vote command. |
| /quest | Check on your daily, weekly and monthly quests for gems or peanuts. |
Gacha Commands
| | |
| --- | --- |
| Command | Description |
| /gacha | Used to pull cards! Can choose to pull between 1 – 10 cards at a time, with each pull using 100 gems. e.g /gacha number: 10 |
| /inv | Used to see your own or another player's inventory. Comes with 9 filters: (user) (query) (group) (era) (idol) (rarity) (fav) (unfav) (type) |
| /fav cards | Favorite cards by typing out the card ID's. Please note that any double space will make the bot not register the command. |
| /fav last | Favorite the last card(s) pulled, up to a max of 10 recent pulls. |
| /unfav | Used to remove a card/cards from your fav list. |
| /burn cards | Burn cards by typing out the card ID's. Please note that any double spacing between the card ID's will make the bot not register the command. |
| /burn last | burn the last card(s) you pulled, can burn up to the last 10 cards pulled for gems and peanuts. |
| /burn all | Burn every card in your unfavs. WARNING: This will burn everything including event cards that are not faved and will only give 5 gems per card. |
Trade Commands
| | |
| --- | --- |
| Command | Description |
| /auc | Used to check auctions. Comes with 6 filters: (query)(idol)(group)(type)(wishlist)(me) |
| /sell card | Used to put cards on the auction market. |
| /sell last | Sell the most recent card obtained. |
| /bid | Used to place a bid on a card currently being sold. Please note that the minimum bid must be 50 or more gems from the current bid and cannot exceed triple the value of the current bid. |
| /trade | Used to initiate a trade with another player. |
| /add | Used to add cards to a trade. Must be in a trade for this command to work. |
| /accept | Used to complete a trade. |
| /cancel | Used to cancel an active trade. |
| /buy | Used to purchase an inventory expansion. Adds 500 card slots per 5000 gems. e.g. /buy item_name: inv_expansion |
| /craft | Used to craft any common card using peanuts. |
| /redeem | Used to redeem a premier or unlimited membership using your email. WARNING: please avoid using this command in public servers to avoid players potentially stealing your membership) |
Utility Commands
| | |
| --- | --- |
| Command | Description |
| /help | Quick guide to eunseo |
| /rules | View the rules to the bot. |
| /profile | View your personalized profile, see current cards, memberships, favorites, currently owned seasonal and event count, your own bio and now, your favorite featured card! |
| /profile user: discord id | You can check other user's profile |
| /profile new_bio: insert new bio | For changing your bio |
| /profile featured_card: 12345 | You can put any card of your choice. Legendary cards [gifs] will not work though. |
| /event | Used to view the current and upcoming event. |
| /lottery | Check for any upcoming lottery events. |
| /opengift | Open any gifts obtained from completing groups, eras or idols. |
---
How to Fix the Eunseo Bot Not Working Issue?
You may occasionally experience the Eunseo Bot not working. However, this is entirely possible to be a frequent issue for you. If you have similar questions, read through them to get clear answers in the next section.
Your internet connection or a bot server outage could bring on the Eunseo Bot not working problem. First of all, check to see if your internet connection is stable or not. If your network is unstable, try once with another network connection and check whether your issue is resolved.
If the Bot is still not working, check the Eunseo bot status by checking the Eunseo Bot support community server. Sometimes new updates cause the Bot to be offline, and the Status channel in the support community contains information if such happens.
Keep in mind whether you have given all the permissions to the Eunseo Bot so it can work properly. You can check the permission and change it using Discord's settings tab.
---
FAQ for Eunseo Bot
Which Are The Top Servers Using Eunseo Bot?
According to the players, it is a fun Bot, and the event aspect of the Eunseo Bot discord game is the most loved part of all players. Engine's play, official BTS AR, and Xiana are some of the top 3 servers that use the Eunseo bot.
What does Eunseo bot discord do?
Eunseo bot Discord is a simple and entertaining card game. Players can play this game with both singles and K-pop groups. The Bot keeps its users engaged the entire time by bringing them new events and challenges every day. Playing the Bot is a simple and fun way to spend time.
With Which Command You Can Buy And Trade Cards?
If you want to trade or buy cards, you have to use the commands'/trade' and '/auc' commands. With the help of these commands, you can trade and buy very quickly.
What can I do if I accidentally burned a card?
There will be no compensation for it. You need to trade, craft, bid, or gacha the same card to have it again.
Can you unbid a card?
No, you can't unbid a card. Someone has to outbid you. In case you won both cards, the dupe will disappear on your inventory and will be automatically burned.
---
Conclusion
The above post taught us how to use Eunseo Bot Discord successfully. Such minigames on Discord servers suddenly got hyped because of the lockdown of two years, and the users who play these minigames are so addicted that they still choose to stick to these bot games over battle and action games. 
Through this article, we told you how you could use Eunseo Bot Discord, and then we have told you step by step how to fix the Eunseo bot not working. I hope you find this helpful article.
Aayush Kumar Gupta is the founder and creator of ExploringBits, a website dedicated to providing useful content for people passionate about Engineering and Technology. Aayush has completed his Bachelor of Technology (Computer Science & Engineering) from 2018-2022. From July 2022, Aayush has been working as a full-time Devops Engineer.